Looking for a St. Patrick's Day hair? With this fun holiday right around the corner, it's time to take out the green ribbon and start creating some super cute hairstyles.
St. Patrick's Day Hair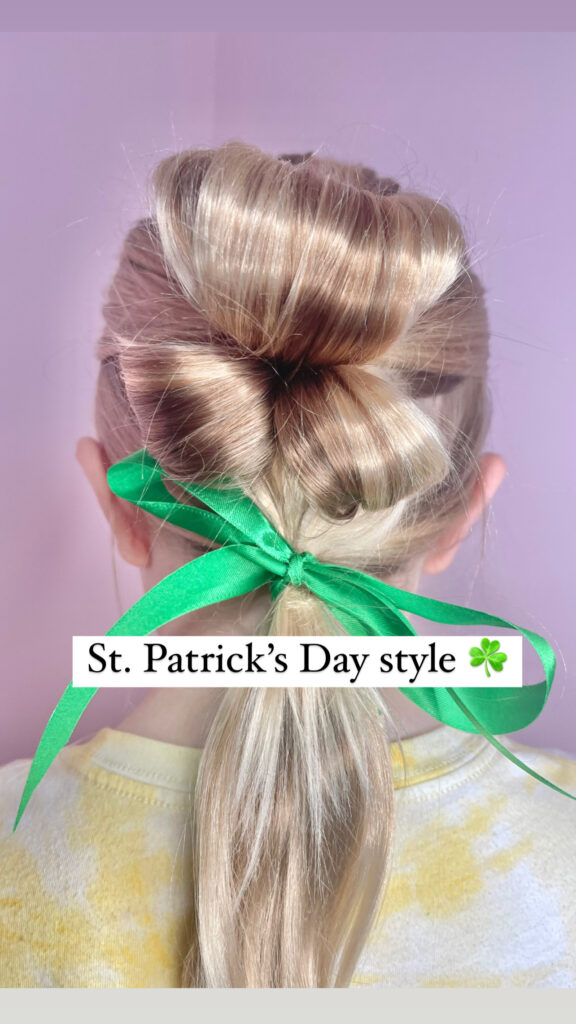 I'm all about finding an st. patrick's day hair that is quick and easy. I know when it comes to a cute hairstyle for girls, all you need is a bow sometimes, but it's even cuter to create a show-stopping style. If your little one has long hair the options when it comes to hairstyles are numerous and I'm excited to share this one with you today!
I've had a lot of luck creating the cutest St. Patrick's Day hairstyles with a few hair tools that you might want to make sure you have at home. I love to use clear elastics because it's easier to add ribbons and hide the elastic bands that come in color options. I also love to use a Topsy Tail to create shamrocks and really cute flips.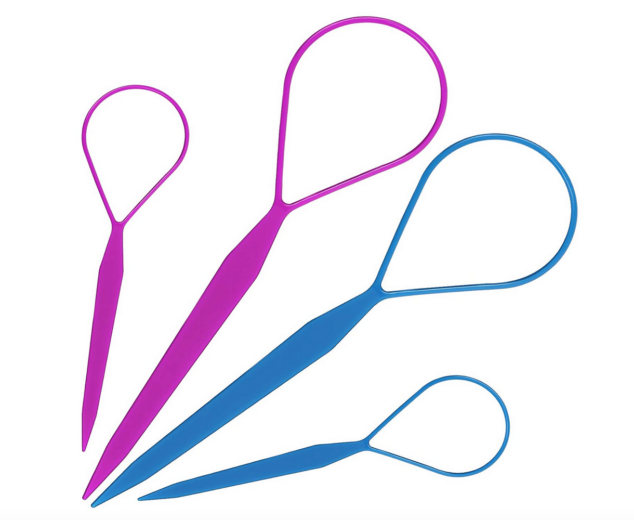 If you're unfamiliar with them, a Topsy Tail gives you the ability to effortlessly create an array of updos, flip, wrap, twist, tie or twirl. They are very easy to use and great for all ages and hair types (you can find a video tutorial online if you're having trouble figuring one out). The best part is that they're also very cheap and affordable, too.
The St. Patrick's Hair I'm going to share with you today is a cute shamrock hairstyle. The reason I love this one is that it's just one of those easy hairstyles to toss up and go! You don't a ton of hair ties or bobby pins to keep it in place. You don't even have to know how to do a two or a three strand braid for it. It's as simple as a ponytail and pulling hair through the Topsy Tail for this adorable shamrock or clover hairstyle.
Shamrock Hairstyle
View this post on Instagram
Let me walk you through this adorable hairstyle with some simple step instructions:
Take your hair and pull it half back and elastic band into place (just like a half ponytail).
Once you've done that, take your Topsy Tail and place it on top. Divide the ponytail section of the hair you've pulled back into three sections.
Take one section and loop it through the Topsy Tail and pull. As you're pulling, make sure you hold onto the loop of hair to keep it in the shape of a shamrock.
Move along to one side and repeat the same sequence. Take a section of hair and pull it through, but make sure the section doesn't loop all the way through. You want it to remain the same size as the "leaf" on top.
Move to the other side and repeat again. Make sure this section is the same size, too.
Once you've created the shamrock (or clover, whatever you want to call it) pull all the hair underneath together and elastic band into place. I love to add a green bow or ribbon just to make it one of those fun hairstyles for St. Paddy's day!
This one is so much fun because it's such a cute way to wear your St. Patrick's Day love! You could also add a hair band or something else to give this look a little bit of an additional St. Paddy's flair!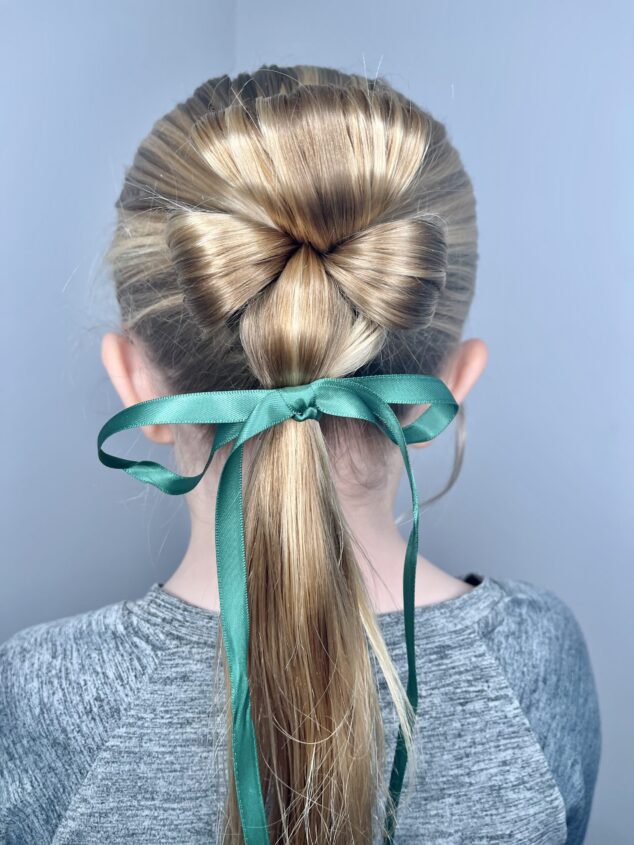 Let me know what you think of this simple and cute hairstyle for St. Patrick's Day for anyone. I feel like I could easily do my hair like this for a party. It's a fun and easy way to show your green pride and fun, especially since I'm Irish and I love wearing GREEN all day on the 17th of March.
If you're looking for any other additional hairstyles for St. Patrick's Day, I'll share a couple more below. I feel like all of these styles can be done quickly and easily. You don't need to be an expert in the hair department to make any of these work.
View this post on Instagram
View this post on Instagram
It's just always fun to see what you can do with hair for various holidays, but St. Patrick's Day allows you to have a lot of fun with different styles. I'm all about doing everything I can to make my daughter excited for the holiday and this is such a fun way to do it.
If you want other St. Patrick's Day hairstyles:
5 St. Patrick's Day Hairstyles
Again, if you're looking to purchase a Topsy Tail, head here.