There are certain hair products that we use daily to keep our hair shiny, smooth, and healthy. It's all about making sure we stay in a hair routine and make sure we're taking the best care of our hair that we possibly can.
Now when I say we… I mean me and Victoria (my daughter!). 🙂
The one question I get asked every single day is, "Can you share what you use in Victoria's hair?"
I love this question because I love the hair products that we use daily and I love to spread the word about them because they work well and keep her hair looking beautiful, shiny, and healthy.
Here are the hair products we use daily
Before any hairstyle, I always prep Victoria's hair with a leave-in conditioner spray. My favorite one is Aussie Hair Insurance.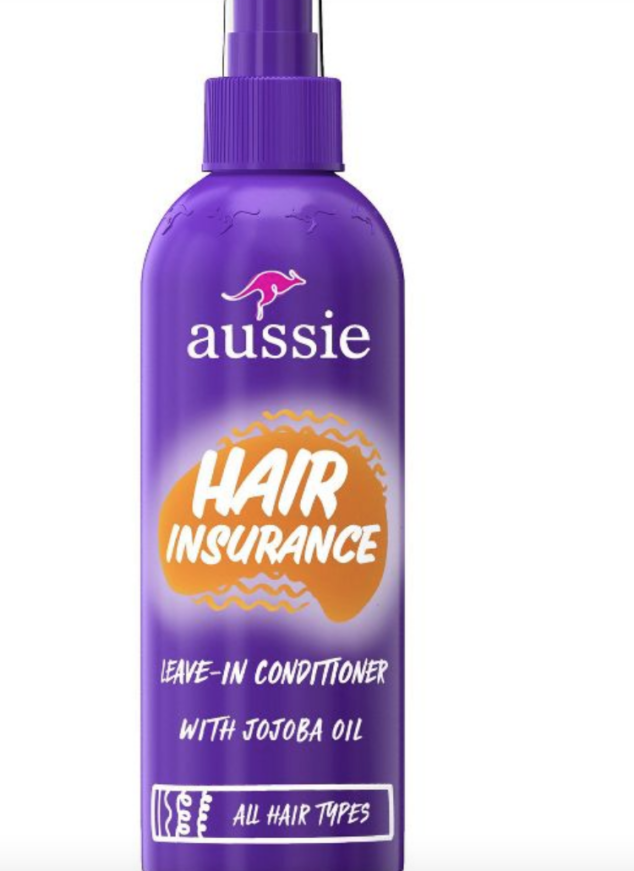 I take Victoria's hair and spray each section, giving it a dampness. The brush will glide right through it once it's been sprayed.
This hydrating leave-in hair conditioner is the assurance your hair needs to look and feel its best. Aussie Hair Insurance instantly tames frizz and softens hair. It'll leave your hair looking polished, feeling more manageable, and, of course, super soft and smooth. This hair mist can work as a leave-in conditioner for curly hair as well as any other hair type. Aussie loves jojoba oil for hair-that's why it's infused in this leave-in conditioner spray formula. The juicy citrus scent is a bonus. Plus, this leave-in hair conditioner is certified PETA Cruelty-Free. It's a cinch to use-simply spray on damp hair and go. Enjoy soft and conditioned hair-no need to rinse.
The best part is that it's VERY inexpensive, it's only $4.99.
Once I've sprayed Victoria's hair, I brush it to make it straight and smooth. My favorite brush to use (and we use it every single day) is DryBar's Lemon Drop Detangling Brush.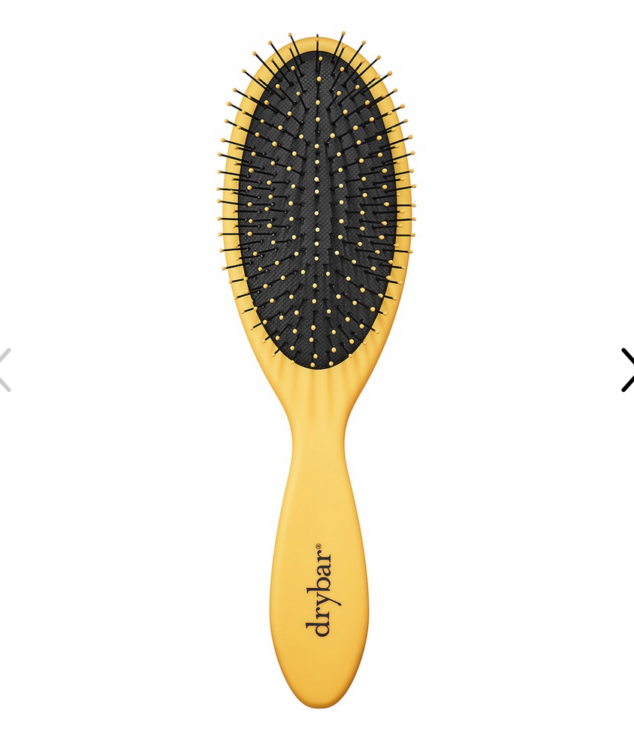 Which hair type is it good for?
✔ Straight
✔ Wavy
✔ Curly
✔ Coiled
✔ Tightly Coiled
What it is:
A hair brush with flexible bristles to easily untangle wet or dry hair.
Key benefits:
– Untangles hair
– Provides comfort
– Does not pull or tug
If you want to know more…
This is the ultimate detangling brush for wet or dry hair. Featuring a stronger, long-lasting structure with a soft-touch handle that is lightweight and slip-free, this must-have brush has flexible bristles that work through tangles—without pulling or tugging. Plus, it's great for brushing out extensions.
You can buy it here. I love love love it!
When we're doing hairstyles, it always requires us to use hair elastics. I love using a particular kind, which is Hairitage Hair Elastics.
I love these HAIRITAGE BY MINDY Super Stretchy, Hair Elastic Rubber Bands – Snag Free Damage Free because they don't hurt the hair.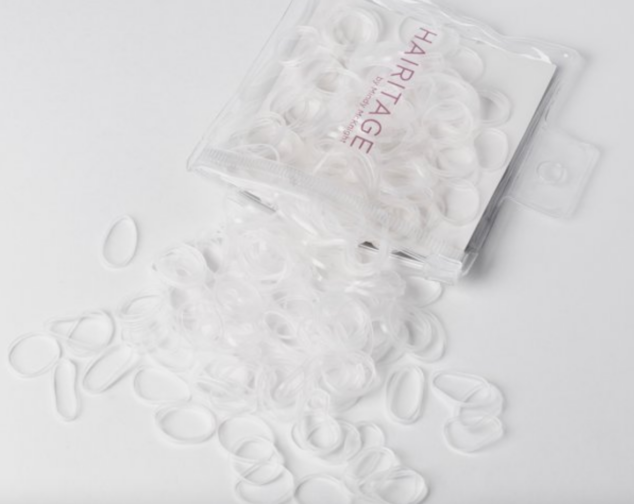 The Hairitage by Mindy Super Stretchy Hair Elastics are snag-free elastic hair bands that stay all day! Perfect for quick and easy on-the-go hairstyling and they can be removed from hair effortlessly, these elastic hair bands are a hairstyle staple for braids, buns, ponytails, pigtails, and any style in between! Metal-free and non-damaging, these rubber bands are gentle to use on adults and kids and perfect for fine, thick, curly, straight, wavy, and coily hair types.
These are where you can buy them.
I also use Argan Oil every day in Victoria's hair and my own hair because it helps keep is shiny and healthy, too. I'll use it to help tame flyaways and also to keep the hair nourished.
I love (2) hair oils:
Hairitage Argan Oil is a great one.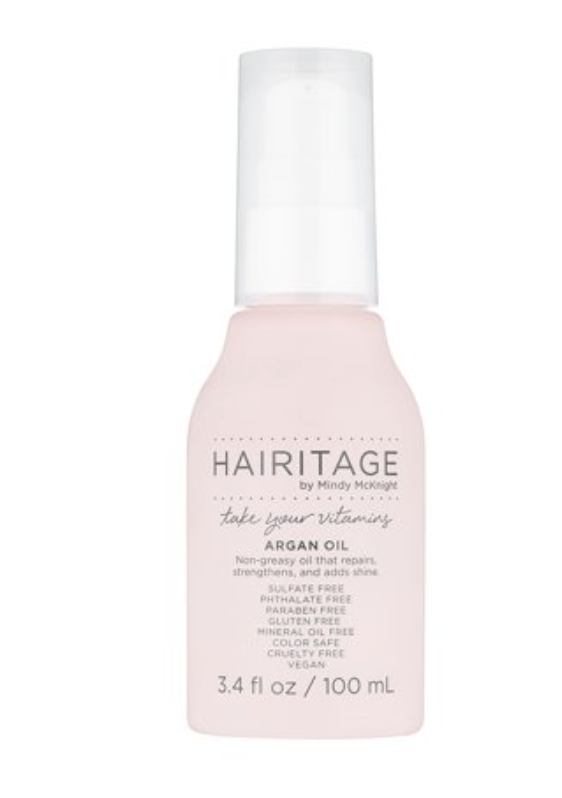 Hairitage Take your Vitamins Argan Oil is a lightweight formula that is perfect for conditioning, styling, and finishing. Recommended for all hair types and textures. Even if you don't take your vitamins, this hair oil will make it seem like you did. Non-greasy oil that repairs, phthalate-free, Paraben-free, gluten-free, Mineral oil-free, color-safe, cruelty-free, vegan. Use on clean damp hair, and dry hair to tame stubborn flyaways, condition split ends, and polish your look.
You can buy it here.
The other hair oil I love to use is Sol de Janeiro Brazilian Glossy™ Nourishing Anti-Frizz Hair Oil.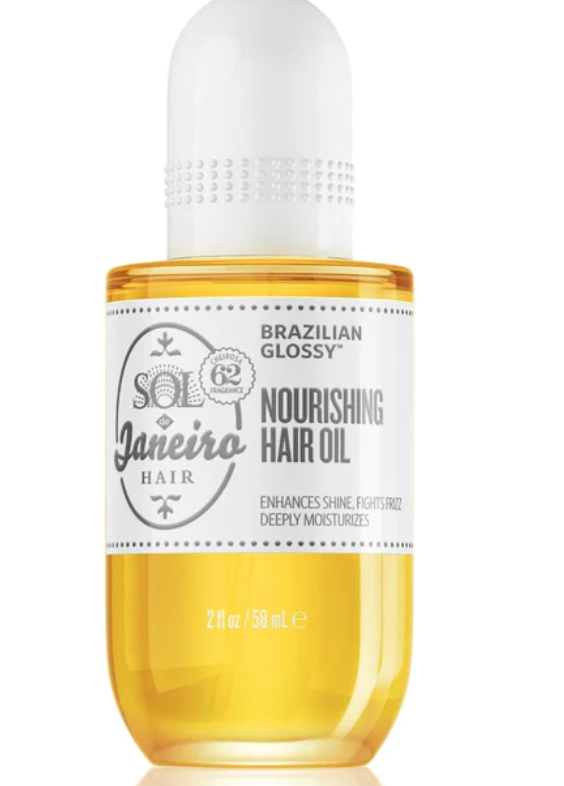 Formulated to improve the health and appearance of dry, lackluster strands, this formula contains Brazilian patauá and pequi oils high in antioxidants, fatty acids, and essential vitamins for deeply moisturized, smooth, shiny hair. Just a few drops of this versatile hydrating oil can be used on damp or dry hair to eliminate frizz, provide heat protection, and add weightless moisture.
This is where you can buy it.
**BONUS**
I don't wash my hair every single day, but when I do I make sure I'm using this shampoo and conditioner.
Hairitage has Outta My Hair Daily Shampoo and Conditioner that works GREAT!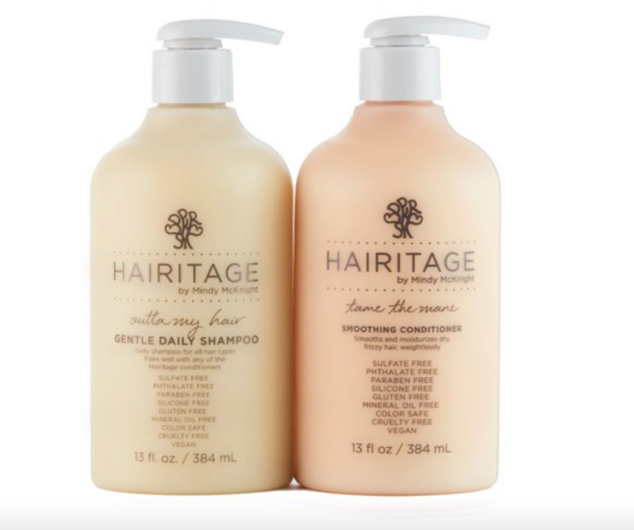 Hairitage Outta My Hair Gentle Daily Shampoo: Formulated for all hair types & textures (1A – 4C). Hairitage Outta My Hair Gentle Daily Shampoo is an ultra-mild, moisture-rich daily shampoo formulated with a unique blends of potent ingredients to help cleanse the hair of impurities and excess oils without it feeling stripped. Great for everyday use. Hairitage Tame The Mane Smoothing Conditioner: Formulated for all hair types & textures (1A – 4C). Hairitage Tame the Mane Smoothing Conditioner is an effortless detangling conditioner that fights and prevents frizz to provide smoothness, hydration and shine to frizzy hair. Your tresses will feel ultra-soft, fortified strands.
Formulated for all hair types & textures (1A – 4C)
Crafted without SLS/SLES, phthalates, parabens, silicones, gluten, and mineral oil
Cruelty free, color safe and vegan
Buy it here.
These are the products we use every single day! 🙂
If you're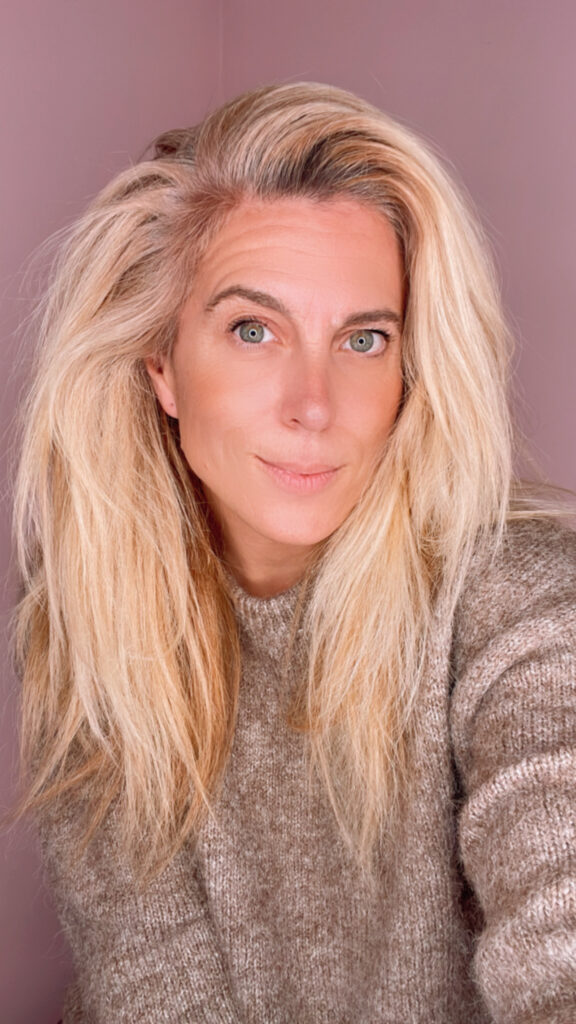 , these are the hair products we use, too.