It's almost time for Easter and I know many of us are wondering where to get all of our Easter essentials. I'm all about keeping it quick and easy so I love to go to BJ's Wholesale Club to get everything I need for the day.
EASTER ENTERTAINING IS ALL ABOUT THE YUMMY, SEASONAL FOODS, AND GETTING TOGETHER WITH FRIENDS AND FAMILY TO CELEBRATE.
BJ'S WHOLESALE CLUB MAKES ENTERTAINING A BREEZE BY MAKING PREP EASY AND AFFORABLE FOR ITS MEMBERS. YOU CAN FIND ALL THE FRESH INGREDIENTS NEEDED FOR YOUR EASTER MEALS LIKE THE SMITHFIELD SPIRAL SLICED HAM, YOUR FRESH PRODUCE SUCH AS CARROTS AND ASPARAGUS, AS WELL AS DELICIOUS DESSERTS FROM BJ'S EXCLUSIVE WELLSLEY FARMS BRAND, INCLUDING THIS DELICIOUS CARROT CAKE AND COCONUT CAKE.
OR, IF YOU ARE HOSTING EASTER BRUNCH THIS YEAR, BJ'S HAS YOU COVERED WITH ALL THE ESSENTIALS FROM MUFFINS AND BACON TO BAGELS AND CREAM CHEESE, AGAIN ALL EXCLUSIVELY FOUND AT BJ'S, UNDER ITS WELLSLEY FARMS BRAND.
ONE OF MY FAVORITE BENEFITS ABOUT BJ'S WHOLESALE CLUB IS THAT I CAN SAVE UP TO 25% OFF GROCERY STORE PRICES EVERY DAY. TALK ABOUT INCREDIBLE SAVINGS!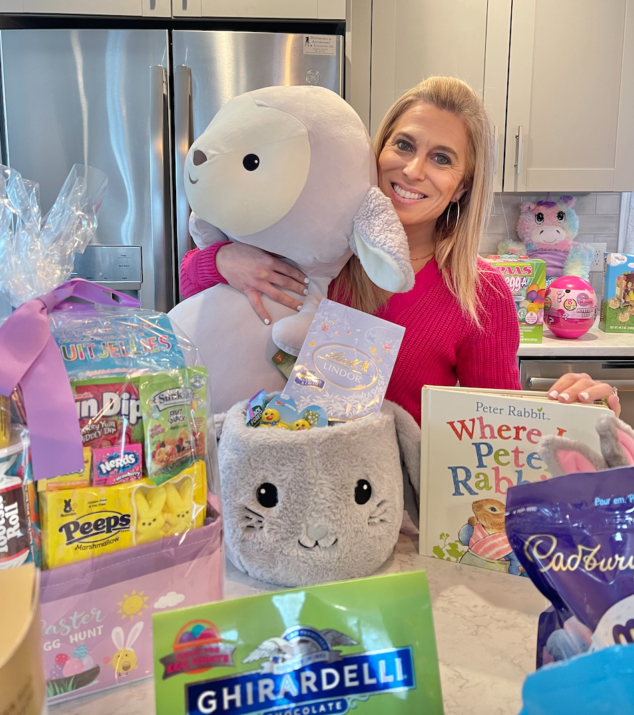 BJ'S OFFERS LOTS OF FUN AND FESTIVE EASTER BASKET MUST-HAVES, FROM THESE ADORABLE PLUSH BASKETS TO ALL THE OTHER GOODIES TO FILL THE BASKET, LIKE BOOKS, TOYS, CANDY, AND SO MUCH MORE! BJ'S REALLY IS YOUR GO-TO ONE-STOP SHOP BECAUSE IT REALLY HAS THE BEST ASSORTMENT FOR ALL YOUR EASTER ESSENTIALS, ALL AT UNBEATABLE VALUE.
AND, LISTEN TO THIS – MEMBERS CAN EARN ADDITIONAL SAVINGS WHEN THEY STOCK UP ON THEIR EASTER ESSENTIALS BETWEEN MARCH 23 AND APRIL 9. WHEN BJ'S MEMBERS SPEND $150*, ON PRACTICALLY ANYTHING, IN ONE TRANSACTION BETWEEN THOSE DATES, EITHER IN-CLUB OR ONLINE, THEY WILL RECEIVE A $15 DIGITAL COUPON TO BE REDEEMED BETWEEN APRIL 13 AND APRIL 23.
TO QUALIFY, MEMBERS WILL JUST NEED TO CREATE A DIGITAL ACCOUNT ON BJS.COM, SO THEY CAN RECEIVE THEIR COUPON IN THEIR GALLERY, EITHER THROUGH THE BJ'S MOBILE APP OR ONLINE AT BJS.COM.
AND FOR ADDITIONAL SAVINGS, BJ'S OFFERS COUPONS ON EVERYDAY ESSENTIALS AND CELEBRATION MUST-HAVES. LIKE RIGHT NOW THROUGH APRIL 9, MEMBERS CAN GET A $5 OFF COUPON FOR THIS SMITHFIELD SPIRAL SLICED HAM. PLUS, YOU CAN SAVE EVEN MORE BY USING A COMBINATION OF BJ'S COUPONS ALONG WITH MANUFACTURER'S COUPONS. BJ'S IS THE ONLY WHOLESALE CLUB THAT ALLOWS YOU TO STACK COUPONS AND YOU CAN ADD THEM RIGHT TO YOUR MEMBERSHIP CARD IN THE BJ'S APP.
If you're not a member, head to BJs.com to become one!