Easter is right around the corner and as you're finalizing dresses and skirts, and the perfect Easter outfits, I wanted to share some cute Easter hair accessories, too.
Cute Easter Hair Accessories
I thought it would be fun to share some super cute and adorable Easter accessories for your hair. I know when it comes to prepping for the day, I love making sure Victoria's hair is set, too. Hair accessories are fun for Easter, too – they're also easy!
You might not have the time to prep a braid or bun hairstyle, but it's very quick and easy to pop in a hair accessory. Every year I love to see what kinds of new Easter hair accessories are out there. I think it's such a cute hair add-on, not to mention – really cute for Easter baskets, too.
Favorite Easter Accessories for Hair
None of these are in any particular order! 🙂 I just found some ones that I loved and wanted to share over here. You can shop these online or even do pick-up in-store if you don't want to wait for them to be shipped to you (there's still time!).
Girls' 5pk Easter Bunny Headband and Clip Set
This is an easy one! Everything is right here in the full set (and for only $6).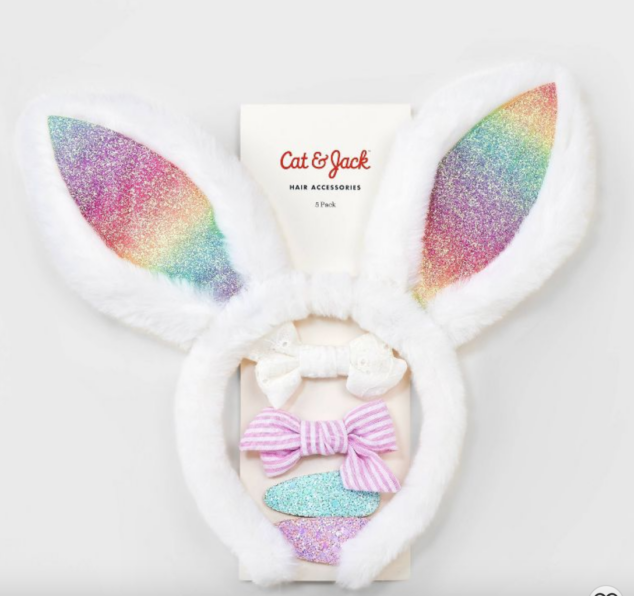 Bring out the bunny this Easter with this Girls' 5pk Easter Bunny Headband and Clip Set from Cat & Jack™. Featuring fluffy bunny ears on top of the headband, it's sure to be a crowd favorite. The Cat & Jack™ easter bunny headband and clip set is perfect for dressing up and celebrating Easter or spring time parties.
Easter Bunny Ears Glitter Bow Hair Clips – 2 Pack
How sweet are these? I love how cute these bunny clips are for the hair. You can place these right into the top of the hair.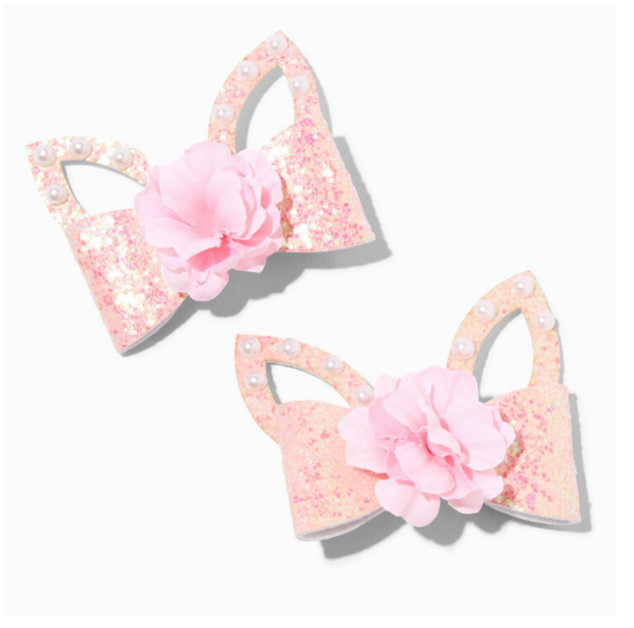 Glitter makes everything more festive! These sparkly hair clips are the perfect addition to your Easter attire, with a glittery bow design with faux pearl embellished bunny ears, and a pink faux flower.
Pack Size: 2
Length: 3 in. / 7.62 cm.
Closure: Snap clip
Material: Metal, Plastic
Easter Bunny Ears Bow Hair Clip
There's nothing like a big bunny bow! Perfect to pop above a ponytail, braid, or bun.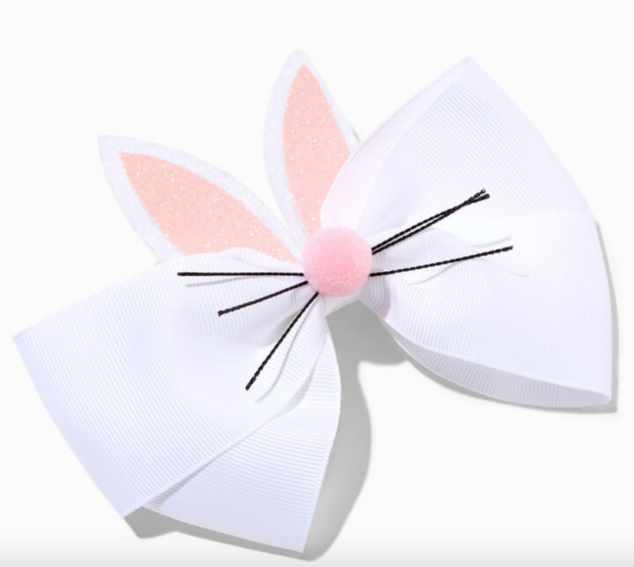 Somebunny will love wearing this adorable hair clip! So cute for Easter or anytime, it has pink glittery bunny ears and the sweetest pom pom nose.
Closure: Alligator clip
Length: 6 in. / 15.24 cm.
Material: Metal, Polyester
Claire's Club Glitter Bunny Rabbit Hair Clips
These are so cute and easily just clip right into the hair. They're $7.99.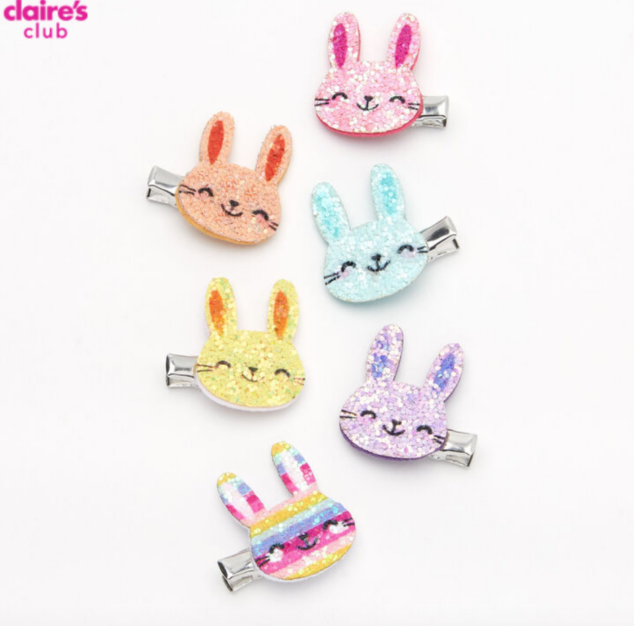 Get hoppy with this set of adorable bunny hair clips. The pack of six includes glitter details and all of your favorite colors.
Hair Clips by Claire's Club
Pack Size: 6
Length: 1″
Closure: Alligator clip
Material: Metal
Suitable for ages 3+
Mommy & Mini "Bunny" Headband 2-Pack for Women & Girls
And how cute is this option? You can twin with your little one! Just a simple and adorable headband for your Easter parties.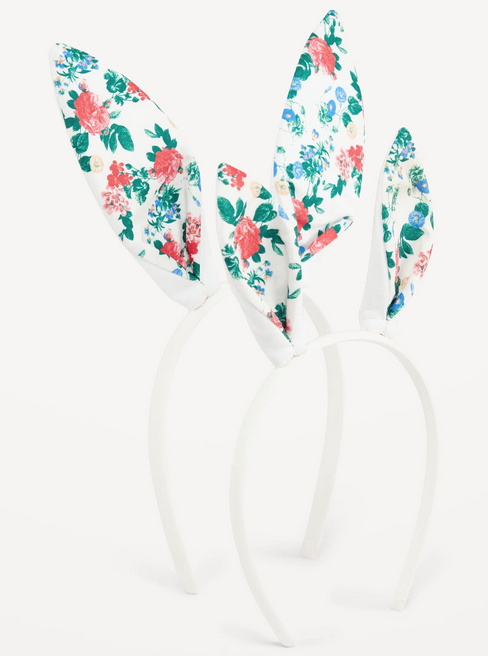 This pack includes two fabric-covered headbands—one for you, one for your mini.#winningtwinning👩‍👧
Soft-woven fabric-covered headband, with "bunny ears" at crown.
Adult headband approximately 10.5" L x 7" W.
If you're not into twinning, this also comes in the single form, too – just for the kids.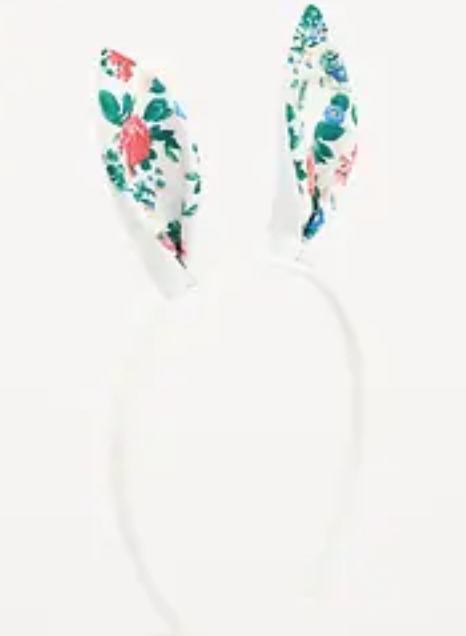 You can buy this headband here.
These are so elegant and pretty. I love these simple clips for the little and big (wink, wink) kids.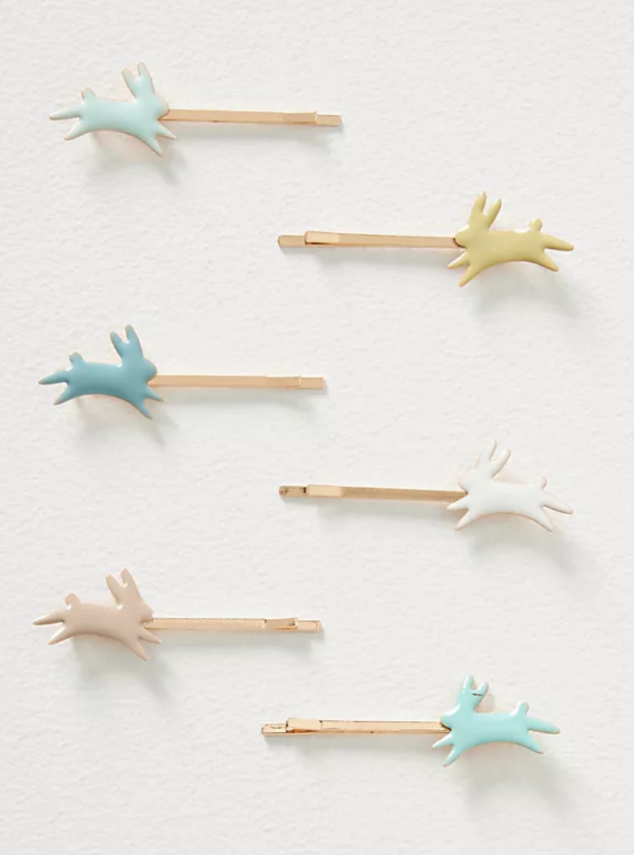 Enamel: Set of six enamel and brass clips
I hope these Easter hair accessories make your day! 🙂 They're so pretty and cute!
I also wanted to share the Hair Products That We Use Everyday.
This lists the hair elastics, leave-in conditioner spray, hair oil, and brush that we use! But always feel free to reach out and ask me, too!