There's nothing worse than doing a hairstyle and then looking in the mirror at all of the flyaways. You want it to be nice and smooth, and flyaways just don't look great when they're sticking out all over the place. The key is to know how to get rid of flyaway hair, and I promise, you can.
How To Get Rid of Flyaway Hair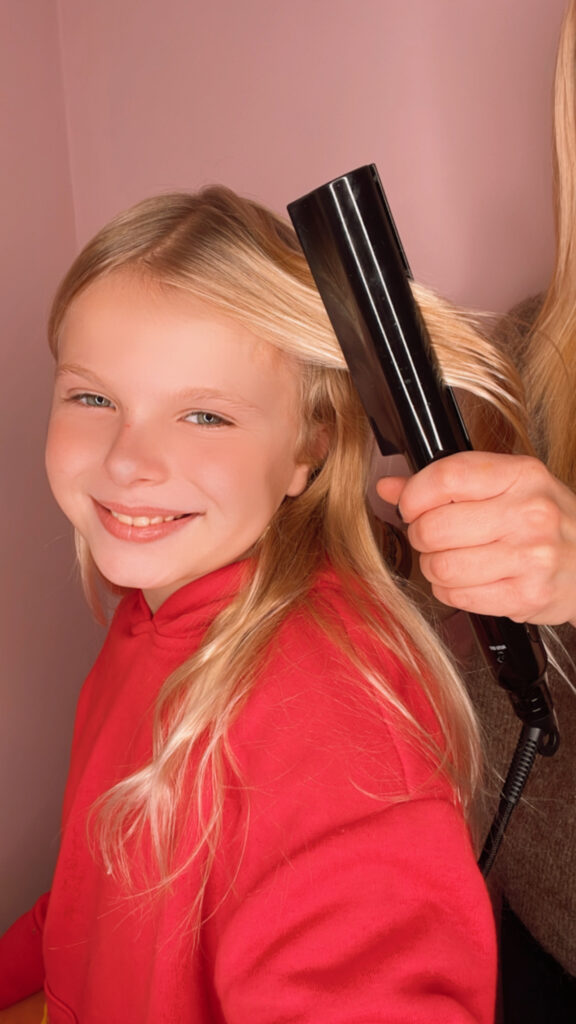 When it comes to getting rid of flyaways, it's not always easy and many times people don't have tons of random hair products hanging around. I know with my own hair flyaways are like little neon signs above my head. It's tough not to see them! They're right there, open to the world (or at least, that's how I feel!).
My daughter gets lots of flyaways, too, but I try my best to tame them and reduce them as much as I possibly can. I will say though, one of the most common questions I get in our inbox regarding our hairstyles is how to get rid of flyaway hair because it's one thing everyone wants to know! 🙂
Getting rid of hair flyaways is easy, but it's also something you have to think about beforehand. Obviously, flyaways on some people are worse than others because it really does depend on your own hair. Many people wonder how or why they get flyaways. Well, it's pretty simple – flyaways are the result of damaged, broken hair or new baby hairs that happen to be growing in.
I'm going to share with you some pieces of advice and also some hair products that we use to reduce, tame, and get rid of the flyaways. Now, I'm not a professional hairstylist, just someone who is obsessed with doing hairstyles and loves to stay in the know about products and hair tips and tricks. So please take my tips as they are, just tips from a mom! 🙂
How to Tame Flyaways
Tip #1: Argan Oil
I am OBSESSED with Argan Oil for my hair and my daughter's. What I love about it so much is that it has helped keep my hair and my daughter's hair healthy, which in return has helped reduce the number of flyaways, especially on my daughter. I use Argan Oil when the hair is wet and ALSO when it's dry to help tame some of the flyaways. I have to say, it always works like a charm!
There is one Argan Oil in particular that I love, it's the Hairitage Argan Oil.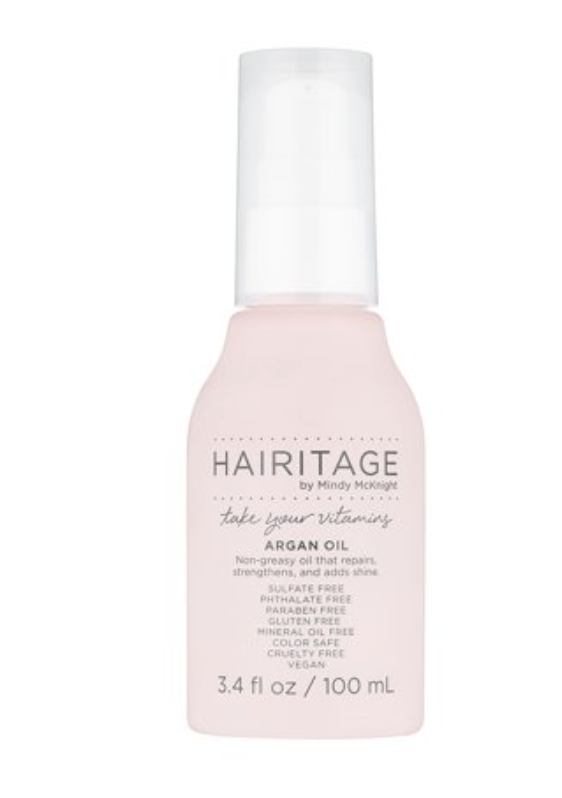 Hairitage Take your Vitamins Argan Oil is a lightweight formula that is perfect for conditioning, styling, and finishing. Recommended for all hair types and textures. Even if you don't take your vitamins, this hair oil will make it seem like you did. Non-greasy oil that repairs, phthalate-free, Paraben-free, gluten-free, Mineral oil-free, color-safe, cruelty-free, vegan. Use on clean damp hair, and dry hair to tame stubborn flyaways, condition split ends, and polish your look.
For hair types 1A-4C
Non-greasy hair treatment for repairing, strengthening and adding shine to dry damaged hair
Made with organic Argan oil and Avocado oil
Rich in vitamin A, E and D
Buy it here. (It's also under $9.)
Tip #2: Make Sure You're Using a GOOD Brush
I know this tip seems like it's pretty basic, but it's true. You need to make sure you're using a good brush for your hair and that it's not pulling too hard or damaging your hair. I was given the advice a few years ago to invest in a good detangling brush because these brushes are actually made with particular bristles to detangle the hair. My daughter's hair gets VERY tangled at night, so it's imperative that I make sure I'm using a good brush on her hair or it hurts to brush it.
My advice would be to look for a "detangling brush." I would actually google that or when you're in a store, ask for that kind of particular brush and then check out the options.
We've had success with DryBar's Lemon Drop Detangling Brush. I can't say enough about it. We have 3 of them… one upstairs, one downstairs, and one in Victoria's swim bag.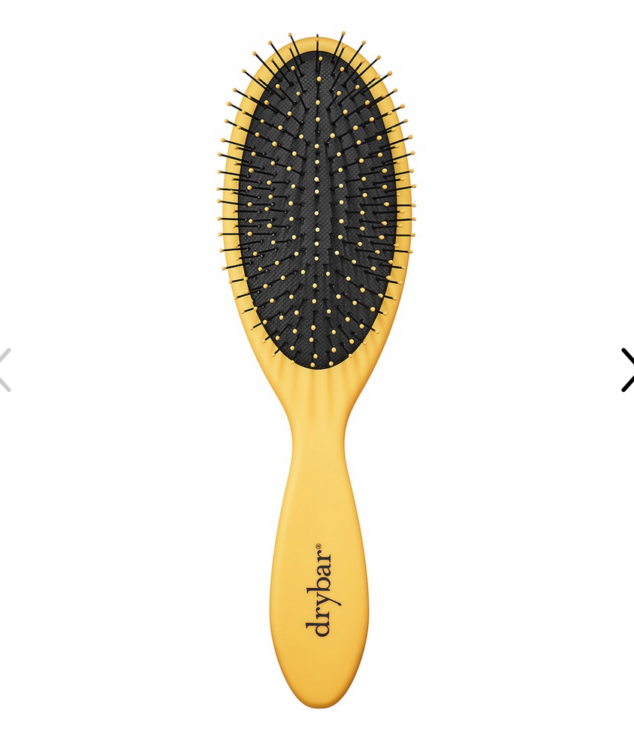 Which hair type is it good for?
✔ Straight
✔ Wavy
✔ Curly
✔ Coiled
✔ Tightly CoiledWhat it is:
A hair brush with flexible bristles to easily untangle wet or dry hair.
Key benefits:
– Untangles hair
– Provides comfort
– Does not pull or tug
If you want to know more…
This is the ultimate detangling brush for wet or dry hair. Featuring a stronger, long-lasting structure with a soft-touch handle that is lightweight and slip-free, this must-have brush has flexible bristles that work through tangles—without pulling or tugging. Plus, it's great for brushing out extensions.
Buy it here.
Tip #3: Using Frizz-Free Shampoo and Conditioner
I'm someone who doesn't wash their hair all the time, I go every 4-6 days without washing because I don't like using so much heat on my hair afterward. My hair isn't the kind of hair that can just easily dry on its own, it… unfortunately or not requires some styling. I've been on the hunt for some shampoo and conditioner that tames the hair and keeps it smooth and healthy.
Hairitage has Outta My Hair Daily Shampoo and Conditioner that works GREAT!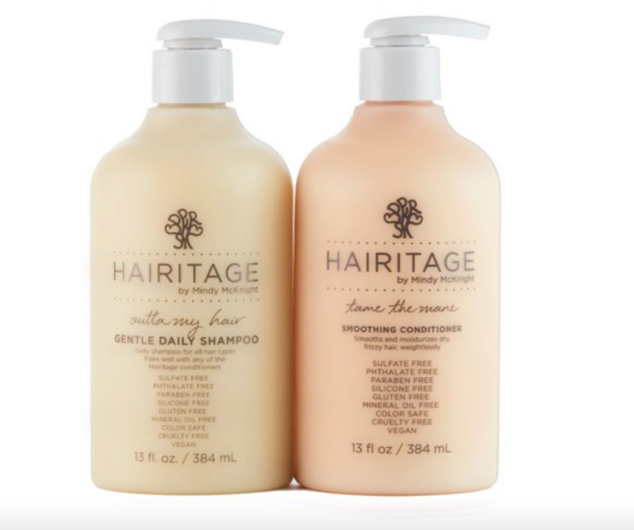 Hairitage Outta My Hair Gentle Daily Shampoo: Formulated for all hair types & textures (1A – 4C). Hairitage Outta My Hair Gentle Daily Shampoo is an ultra-mild, moisture-rich daily shampoo formulated with a unique blends of potent ingredients to help cleanse the hair of impurities and excess oils without it feeling stripped. Great for everyday use. Hairitage Tame The Mane Smoothing Conditioner: Formulated for all hair types & textures (1A – 4C). Hairitage Tame the Mane Smoothing Conditioner is an effortless detangling conditioner that fights and prevents frizz to provide smoothness, hydration and shine to frizzy hair. Your tresses will feel ultra-soft, fortified strands.
Formulated for all hair types & textures (1A – 4C)
Crafted without SLS/SLES, phthalates, parabens, silicones, gluten, and mineral oil
Cruelty free, color safe and vegan
Buy it here.
Tip #4: Use a Nourishing Hair Oil
I started using hair oil a few months ago because I had a friend raving about the look and health of her hair. I searched high and low and landed on Brazilian Glossy™ Nourishing Hair Oil to try. I absolutely LOVE IT!!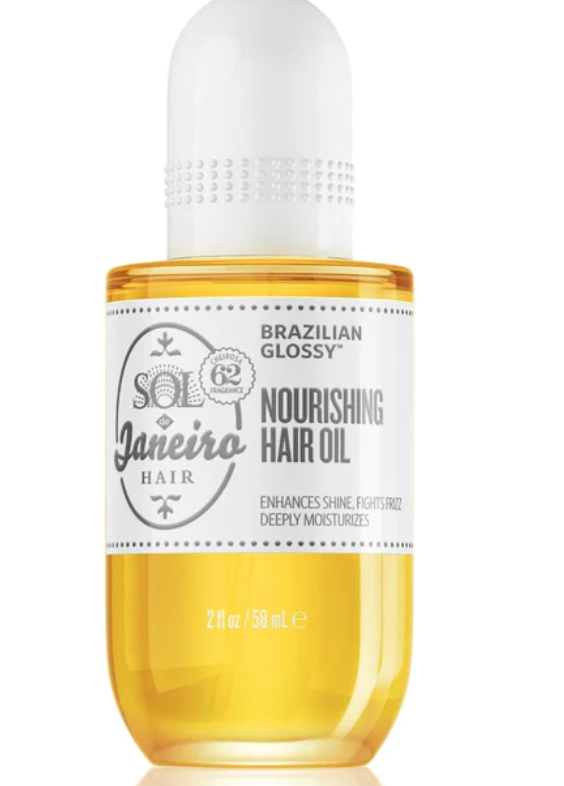 This hair oil not only smells out of this world, but it works incredibly. I've seen my hair truly change.
Infused with a powerful blend of Brazilian oils. This nourishing hair oil fights frizz for up to 72 hours, adds mirror-like shine, repairs damage, and deeply moisturizes thirsty strands
Brazilian Patauá Oil and Pequi Oil boast antioxidants, fatty acids, and essential vitamins to deeply moisturize, smooth, and add natural-looking luster.
Formulated with our iconic Cheirosa '62 scent you know (and love!) so your hair always smells amazing.
Plus, you'll enjoy healthy hair that is simply free to sway, bounce, and move naturally. P.S. in Brazil, we call this Ginga.
After One Use/Clinical Results:
In a clinical study when used as directed conducted by an independent 3rd party lab:

72-hour frizz control
Clinically proven to repair split ends
Up to 450° heat protection
Buy it here.
Tip #5: Deep Conditioner Treatment
Taming flyaways is many times about making sure your hair is healthy. It's always a good idea to try a deep conditioner treatment whenever you have the time and ability to do so. There are so many deep conditioner treatments out there that you can buy, many of which are very inexpensive.
Hope these 5 tips help you out!! And of course – as a bonus – you can always use a light hair spray to tame the flyaways so they'll stay down and put! 🙂
Let me know what you do to tame your flyaways! I know there are more tips, but I just wanted to make sure I shared a few!
If you're wondering how to get shiny hair, check out this blog post.