Victoria has loved pigtails ever since she was old enough to know what they are. Even at 9 years old, she still loves a cute pigtail hairstyle. I styled her hair in these cute pigtails last week and I can't get over how adorable they look on her.
Cute Pigtails for School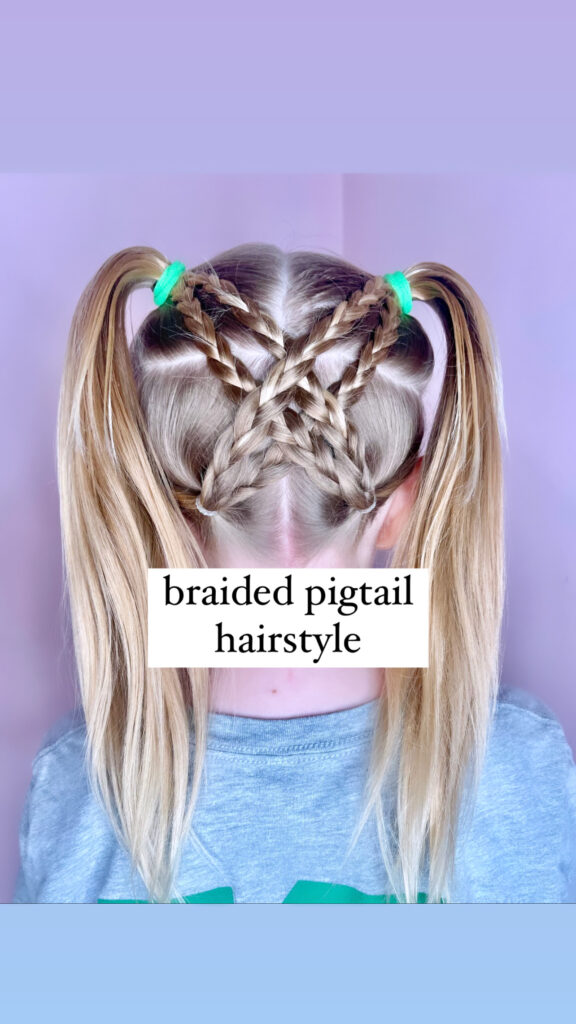 When it comes to hairstyles for school, the best ones are the easiest ones. I'm all about a hairstyle that isn't going to take 30 minutes to do, especially since I know my daughter loves it when I do her hair in the morning.
These cute pigtails can be done quickly because the only real "big" step is making sure you have sectioned off the hair into 4 sections. I know this can be the time-consuming part, but my hair hack is to use a comb head as a guide to section and part the hair the best you can.
A few months ago I tried this hairstyle by braiding the top pigtails and crossing them over to the opposite pigtails. I thought it would be fun to go from the bottom to the top and see how it looks for this hairstyle….. and I loved it!
Hair Tutorial for Pigtails
I'm all about trying to come up with hairstyles that will last throughout the day at school because I know Victoria is a mover and a shaker! She's not someone to sit still for long, so I was happy to see that this hairstyle stayed put all Saturday, which means it can definitely hold up to a day at school! 🙂
View this post on Instagram
What You Need for this Hairstyle
For this particular hairstyle, you need:
(I'm going to link all the ones that we love and use below for you)
I'm someone who loves using particular hair products because I know that they hold well and the quality is good. So rest assured that when I recommend a product, I've used it multiple times to make sure it works and is amazing for you.
Steps for Cute Pigtails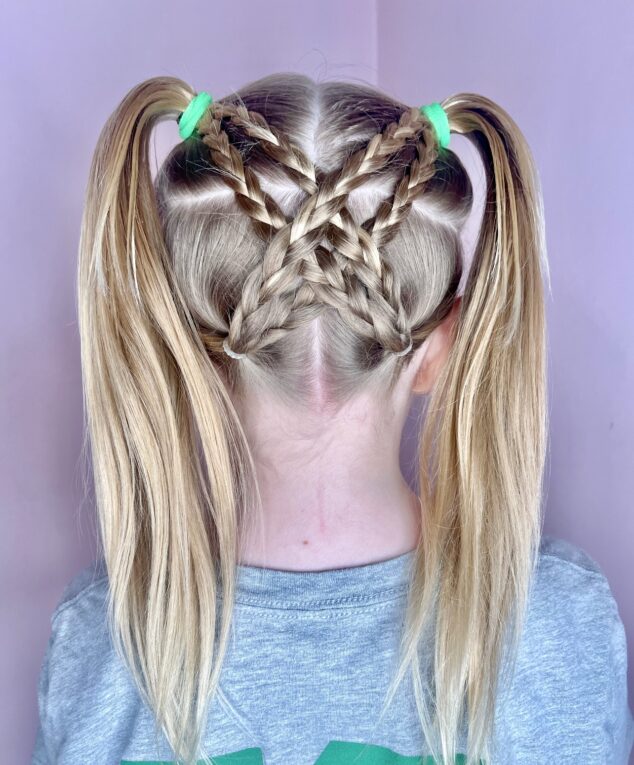 Here are the easy steps for re-creating this hairstyle:
1. Part the hair down the back into 2 sections
2. Take one section and then divide it into 2 sections (one on top and one on the bottom, so you have double ponytails)
3. Take the bottom ponytail pigtails (I hope that makes sense) and create 2 braids on each pigtail
4. Take 2 of the braids from the same ponytail and cross them over to the top pigtail and hair tie into place
5. Repeat on the other side
6. I then take out the hair elastics that were holding the braids and smooth the hair down with leave-in conditioner spray
This is such a cute and easy hairstyle when you're done with it. I hope you love this one as much as I love it, too!
Here are two other hairstyles for you to try: