I love a good scent. I love smelling good and having people remember me for my scent. It may sound silly but to me… it's important. The one thing that I've perfected throughout the years is finding the best perfumes that last all day.
Best Perfumes That Last All Day
When it comes to finding the best perfumes that last all day, many times it's a trial and error type thing, which is why I wanted to write this blog post. I wanted to take the guessing game out of it for you and list out perfumes, fragrances, and body sprays that you know will last you all day long.
There's always a caveat, too when it comes to perfumes. You don't want to repel people from you because the scent is so strong that it literally knocks people down. Quite the opposite, you want to find a scent or fragrance that smells amazing, but also is light and airy and not too overpowering.
Best Fragrances for All Day Wear
I'm going to list out (5) scents that I have been using (around the clock lately) that linger and last all day long. The great thing about these scents is that they're pretty, delicious (yes, that's how I describe them), and light. They will not knock you down, but they will leave you wanting more.
One of the biggest compliments I get is someone asking me what I'm wearing because I know that they must love it and want to go check it out. It's a question I often ask people when I'm with them and smell something good. And I always love to know if it's a scent that sticks around all day or disappears after an hour or so.
(1) Sol De Janeiro Mist Sprays
Topping the charts for me right now are ALL of the Sol De Janeiro body sprays. Hands down. These are the ones that I wear and use every single day.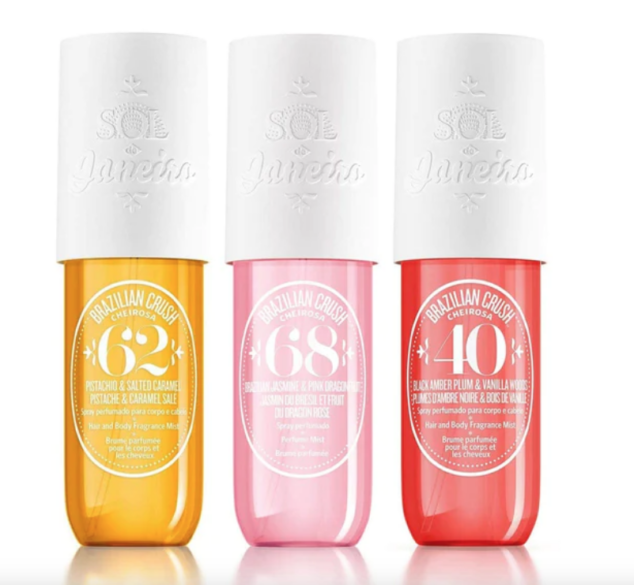 Brazilian Crush Cheirosa 62 Perfume Mist – Our first crush is the iconic scent that started it all. This warm, sunny scent with notes of pistachio, salted caramel, and vanilla conjures the happiest vibes and instant smiles – not to mention serious compliments.
Brazilian Crush Cheirosa 68 Beija Flor™ Perfume Mist – This fruity floral scent invites you into our lush garden by the sea—a sun-dappled oasis brimming with vibrant flora and abundant sunshine. The scent is kissed with joy, dancing with notes of Brazilian jasmine, pink dragonfruit, ocean air, and a sheer touch of Tropicália vanilla.
Brazilian Crush Cheirosa 40 Bom Dia Bright™ Perfume Mist – Our signature scent for our Bom Dia Bright™ Cream is sultry and paradise-rich. With notes of black amber plum and dark yet sweet crème de cassis mingled with warm vanilla woods, fresh jasmine blooms, and a hint of musk to reveal an intoxicating-yet-delicate experience for the senses.
If you've tried these before, you know what I'm talking about. If you haven't, they have this (3) pack sample with all 3 that they offer that you can try. They smell absolutely amazing! You will fall in love with these amazing scents and keep coming back for more.
Buy the 3-pack here.
And get a look at all the other Sol De Janeiro products here.
(2) Jennifer Aniston by Jennifer Aniston
I bought this 3-pack for a trip recently and was SO impressed by the scent and that they lasted all day long. This is one of those instances where someone actually asked me what I was wearing. Each scent has a distinct yummy and warming smell. You will LOVE this trio-pack.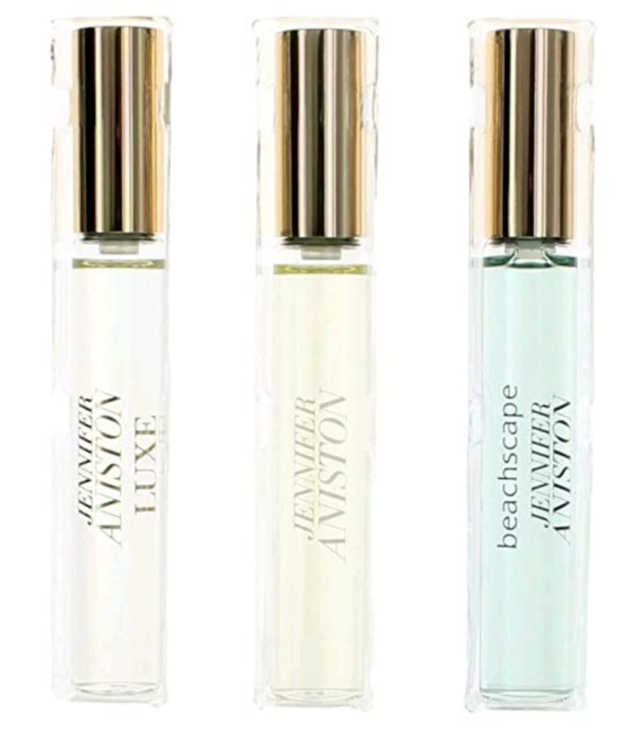 This Jennifer Aniston set comes with 3 rollerballs. The three scents are Luxe, Beachscape, and Jennifer Aniston. These are perfect to toss in your bag, your desk at work, or a clutch.
The price point is great at $23.
Buy it here.
This is probably one of the perfumes I will keep on my shelf forever. I worked for Donna Karan right out of college and I fell in love with this scent the second I started working there. It not only lasts all day, but you will also smell it on you the next day, too. But not in an overpowering, someone help me, way. It's a beautiful scent that is VERY popular.
Donna Karan Cashmere Mist Eau de Parfum is an intoxicating sheer floral fragrance inspired by the feel of cashmere upon a woman's skin.
You will love this scent and it's worth every single penny. I promise.

Buy it here.
*I share a little bit more about my true love for Donna Karan Cashmere Mist, here.
(4) La Vie Est Belle Eau de Parfum
This is another one that I LOVE! My friend wears this one and it's like her signature scent. It smells light, pretty, and fun! It also has the prettiest package!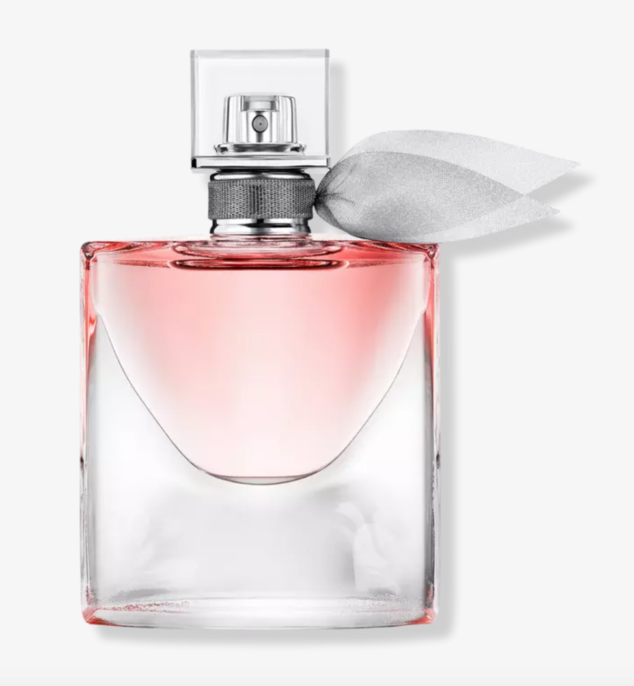 Lancôme La Vie Est Belle Eau de Parfum, French for "life is beautiful," blends fresh spring iris with decadent spun sugar and warm vanilla for a floral gourmand scent that inspires your path to happiness.
Buy it here.
(5) COCO MADEMOISELLE Eau de Parfum
This is a perfume that I will forever have on rotation at home. I love, love, love this one. My Nana introduced me to this scent YEARS ago and I just loved it. It's a true signature scent and you will love this one.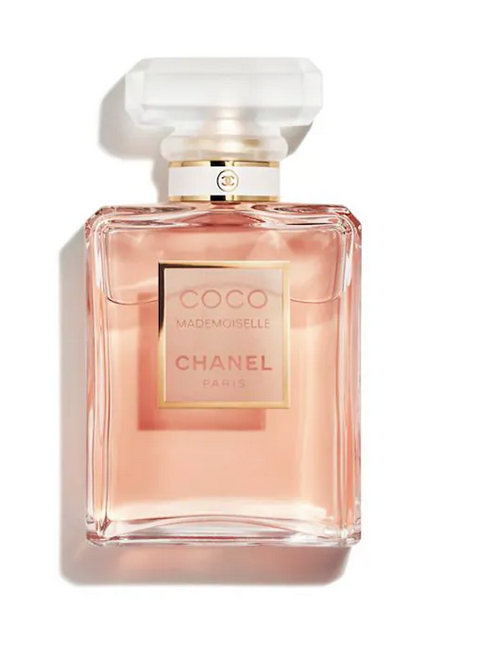 Irresistibly sexy, irrepressibly spirited. A sparkling ambery fragrance that recalls a daring young Coco Chanel. An absolutely modern composition with a strong yet surprisingly fresh character.
Believe me, you will LOVE this one!
Buy it here.
If you have any questions about any of these perfumes, let me know. I have tried and used all of them and truly feel like you can't go wrong with any one of these. I know smelling good is important for so many people, and I hope this helps you in narrowing down your search for the best one.
Don't forget, you can also go to most stores like Macy's, JCPenney, Kohl's, Sephora, ULTA, etc… and try them before committing to buying. I just wanted to share some of the best perfumes that last all day with you so it's worth your money.