Looking for hair elastics that won't damage your hair? I've got covered. I know it's not always easy to come across the best hair elastics, but I've tried so many that there are a few that are my all-time faves.
3 Hair Elastics That Won't Damage Your Hair
There are so many hair elastics out there and to be honest with you, it's tough to know which ones are the best to use. Before I really leaned into doing Victoria's hair so much online, I never really would have thought much about the hair elastics that I bought.
A hair elastic is a hair elastic, right?
Yes, but the one thing I've learned throughout the last couple of years is that not all hair elastics are created equal.
What are the best hair elastics?
I've tried just about every hair elastic out there that you can buy and find. I'm all about trying to find the best hair products at the best prices, but that's not always easy to do. I like to make sure whatever I'm investing my money in works and does its job.
My biggest thing was realizing that the wrong hair elastics can damage your hair immensely and that's just about the last thing you want. When I say damage I mean literally cause breakage. It's the worse thing because you're just destroying your hair simply by using the wrong hair elastic.
I'm going to highlight (3) of them that we're just LOVING at the moment:
(1) HAIRITAGE by Mindy McKnight – Hair Elastics
These are the ones we use all the time and really think they're the best. I have had the most success with these because their quality is AMAZING and they don't damage the hair. They actually work incredibly well and hold the hair perfectly.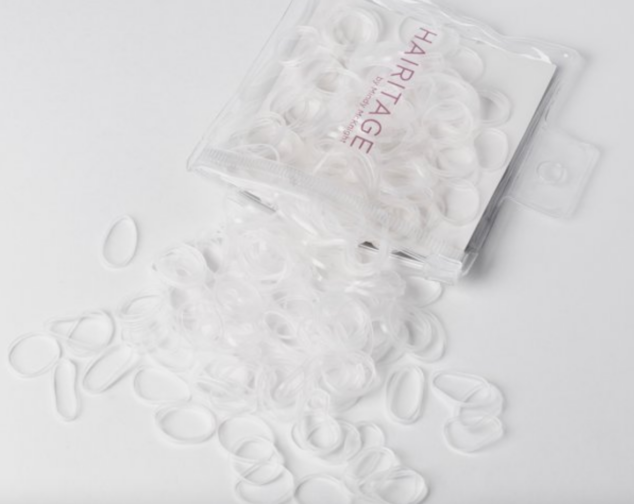 The Hairitage by Mindy Super Stretchy Hair Elastics are snag-free elastic hair bands that stay all day! Perfect for quick and easy on-the-go hairstyling and they can be removed from hair effortlessly, these elastic hair bands are a hairstyle staple for braids, buns, ponytails, pigtails, and any style in between! Metal-free and non-damaging, these rubber bands are gentle to use on adults and kids and perfect for fine, thick, curly, straight, wavy, and coily hair types.
Set of 300 clear elastic hair bands
Smooth rubber
Metal- free and snag- free designs is gentle on hair
Perfect for quick and easy hairstyling
For all hair types, textures, & lengths
Buy here.
(2) Proclaim Professional Braiding
These are ones that I was recommended to use by friends online. I had asked what hair elastics are ones that they would suggest trying and these came up from multiple people. I love these because the quality is INCREDIBLE and they don't damage the hair.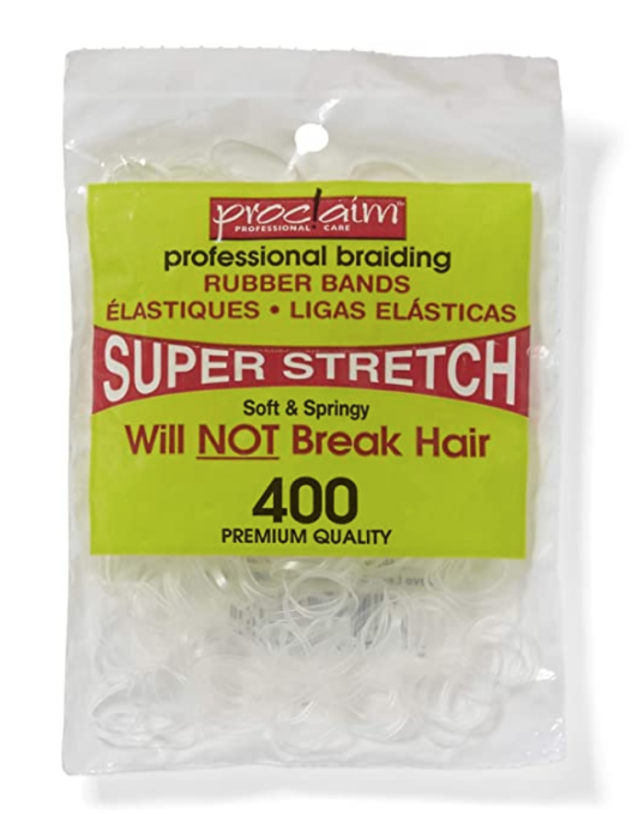 What is it?
Proclaim Rubber Bands are soft and springy, with super stretch that will not break hair, ideal for braiding.
What makes it special?
Soft, stretchy design holds hair in place without breaking hair during removal
Ideal for braiding
Great for styling
Buy here.
If you're looking for another option, try these! I love these because of the same reasons above. Great quality and amazing support, but they also don't damage the hair. I love love love these.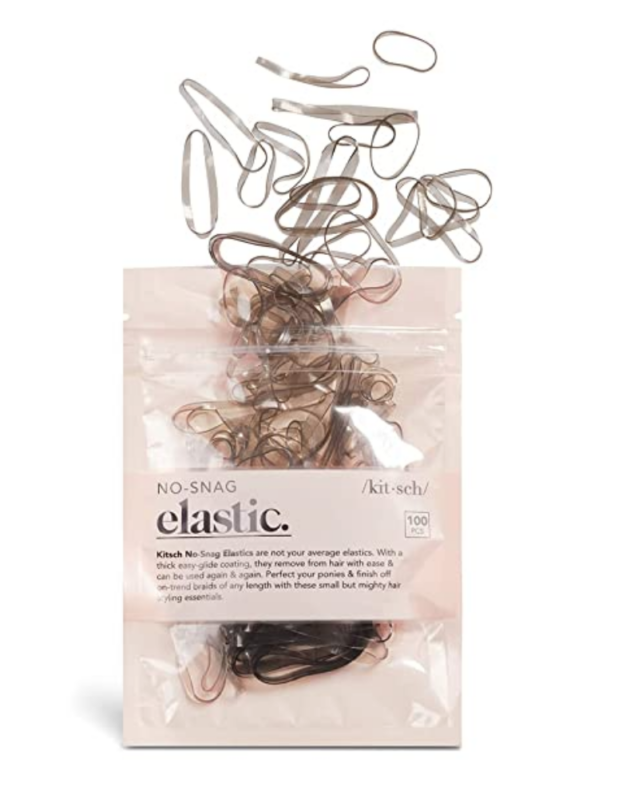 EASY GLIDE, NO SNAG COATING: Features a thick, easy glide coating so they can be easily removed from hair without painful snagging. Coating prevents tangling even in thin and fine hair.
Buy here.
Also, if you're looking for the best way to remove hair elastics, I've got you covered, too. I've been using this Hairitage Hair Elastic Cutter, but you can use any kind of hair elastic cutter that you can find.
This is a hair cutter I recommend, too.
If you're wondering about other products to use, let me share this with you:
How To Easily Remove Hair Elastics