Early last evening, Barry and I headed over the bridge (for you Rhode Islanders) to join our daughter Jane and her fiance Brian at their new home.
Their new home is not really new… it's 1900 new and in Bristol, a beautiful harbor town on a quiet street.
On our way to meet Jane & Brian, I was thinking how funny and interesting and miraculous these things happen.  You know… settling.  New houses.  Wedding plans…
Jane and Brian were on wildly different paths when… well, their paths crossed one unexpected moment at a running event one warm August evening in 2009…
The run was the 200th Red Rooster Ramble race, so a photographer from a local newspaper, the Warren Times-Gazette, was there to document the event, incredibly allowing Jane & Brian to have photographic documentation of the night they met…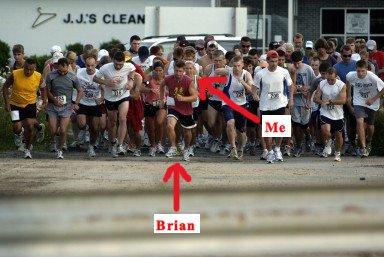 Brian was born, had grown up and today has his own business in the town where the new house is.  Jane was born and had grown up two towns over, but Barry and I had moved to that same harbor town when Jane graduated from high school and was off at college.
By 2009, Brian was immersed in his business and Jane was one month from heading to a job in New York City.
I still remember the night, after the run, when Jane joined Barry and me at a little cafe in East Greenwich and said, "There was this guy…"
I knew at that moment.  I truly did.
But Jane went off to the Big Apple in September.  And her heart was where Brian was… in that little harbor town.
Almost 6 months later, Jane would follow her heart.
Two years later, Jane & Brian are planning a wedding in that same beautiful town… and as of yesterday, own their own home on a quiet downtown street in that same beautiful town.
My heart was full of these funny, interesting and miraculous things when I stepped out of our car last evening in front of Jane & Brian's new home.  It was only 6:00, but it was already November dark.  Jane & Brian were just turning into their driveway, so no lights were on in the house or outside in the driveway.
It was beautifully quiet and still.  Miraculously still.  The kind of still that you wish you could document because it is still for a reason… breathing-it-all-in kind of reason…
I turned on my cell phone video camera… even though I could not see one single thing.
Jane & Brian were deep in their driveway.  I could hear their voices.  Barry was walking toward them.  I could hear is footsteps and his voice.
Then I heard the reason for the darkness, the quiet, the still.
Church bells were ringing through the early evening of this new home night.
It was a mesmerizing sound.  Lovely.  Welcoming.  Musically sacred.
I kept videoing as I walked toward Jane & Brian.
Life was happening as real as real could be.  Jane couldn't find the new home keys.  Brian was his perfect patient self.
… and the church bells kept bringing me back to the moment.  The miracle of all of this…
This love journey.  This special evening.  This calm.  This darkness.  This quiet.  This still.  This miracle.
This moment.
Life is all about the unexpected moments,
That lead to new doors to open…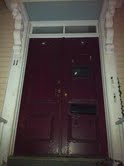 Congratulations and great blessings and more love than I can explain to Janie and Brian on this wonderful new journey!