I feel like I've been one big fitness FAIL this week.
I know I should probably cut myself some slack, given that we just purchased a house on Monday and began doing renovations… but I only got one workout in all week, and, well… that's not going to cut it if I'm going to be a fit bride.
The "busy-ness" of everyday life aside, I'm still dealing with that foot pain that has kept me from running since March. Finding ways to work out that don't aggravate my foot is challenging – but not impossible. Sometimes I just have to modify exercises – and remind myself that modified workouts are better than no workouts.
This morning I woke up early and did Level 1 of the Jillian Michaels 30 Day Shred DVD. I'm going to a yoga class in a little while because I really need a good stretching/strengthening/clearing-of-the-mind session.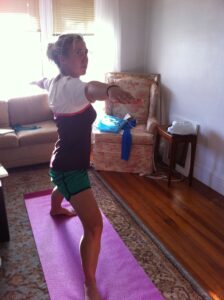 I'm glad I got the day started right with a workout… a few more days of consistent exercise and I will really feel like I'm back on track!
How do you bounce back from a "fitness FAIL" week?