Raise your hand if you over-indulged over the holidays.
(See me raising two hands?)
Between the Christmas cookies, pies, cakes, apple crisps (read: SUGAR!) – not to mention all the yummy (and fattening) appetizers and side dishes at holiday gatherings – oh, boy, did I eat.
The upside? I enjoyed all the delicious food, as well as the company I had while eating it. The downside? Now my clothes are too tight.
The problem? When my clothes don't fit right, I don't feel as confident as I'd like to.
So I'm doing something about it: I have signed up for a Special K plan with the goal of losing 10 lbs. in 35 days.
The Special K brand recently commissioned a national survey among women ages 25-54 and found that the New Year was the number one moment in time in which women said that they plan to start or re-start a weight management plan (67 percent).
So the brand has marked today, January 2, 2012 as National Weigh-In Day.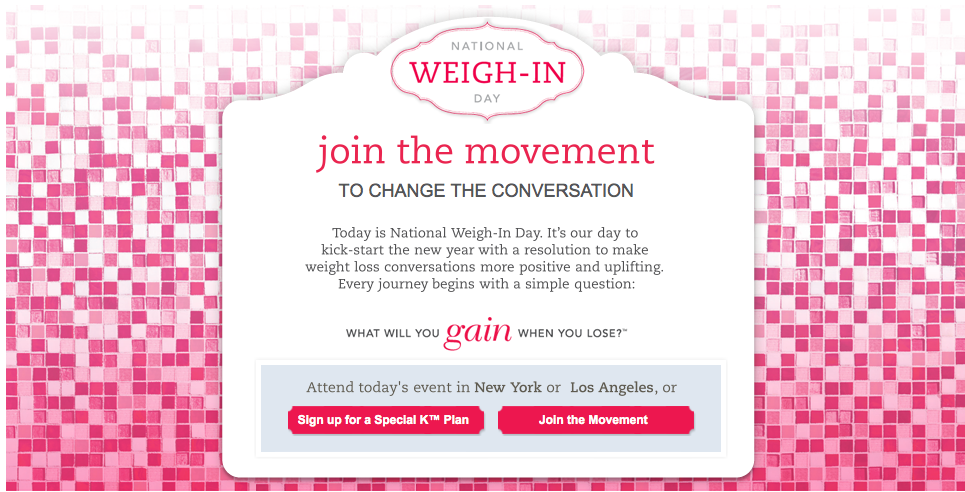 But "rather than focusing on the numbers on the scale, the Special K brand wants women to imagine what they will gain emotionally when they achieve their goal."
It's a day for us to "weigh in" on the topic of weight management, as well as why and how we plan to accomplish our weight loss or maintenance goals.
Personally, I've had my ups and downs with weight management throughout my adulthood. Right now I'm a little down on myself because my weight up to a point where I'm not happy with it. I don't need a number on the scale to tell me this. As I mentioned, I know it in the way my clothes fit – and I also feel it in the way I carry myself.
When I like the way my clothes look and feel on me, I'm more confident. I look forward to picking outfits out of my closet, rather than dread trying to find something that fits. I also I feel a sense of accomplishment, seeing the results of my effort and hard work. Because changing eating habits and making time for exercise takes some adjustment, and sometimes it really is hard.
And that's why I'm so excited to have signed up for a Special K plan. I love that I was able to customize my program based on my goal.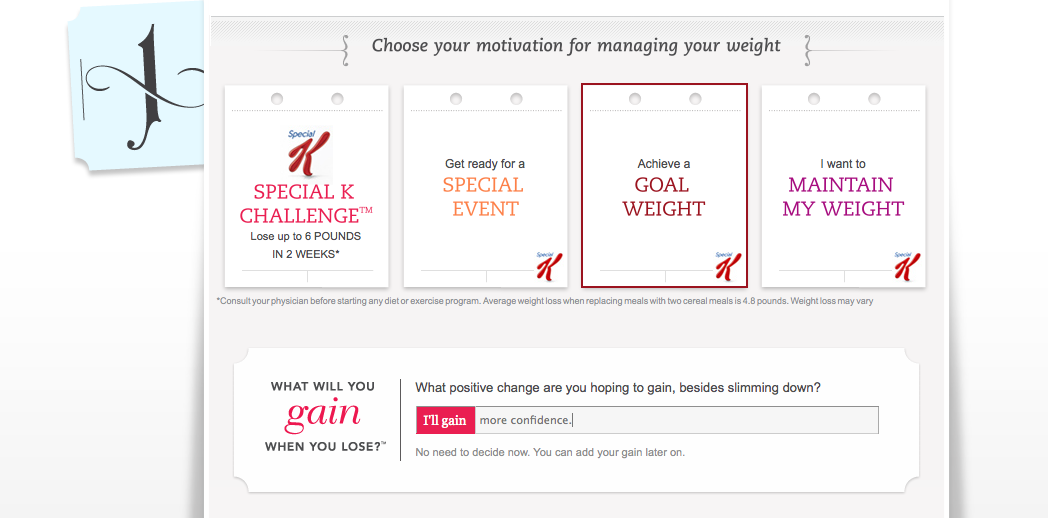 I'm looking to achieve a goal weight. My wedding is coming up in just over six months, and I want to look and feel great on my big day. And I want to feel confident in my beautiful, form-fitting Ann Taylor dress!
Based on the plan I chose and my goals, I got got a meal plan just for me!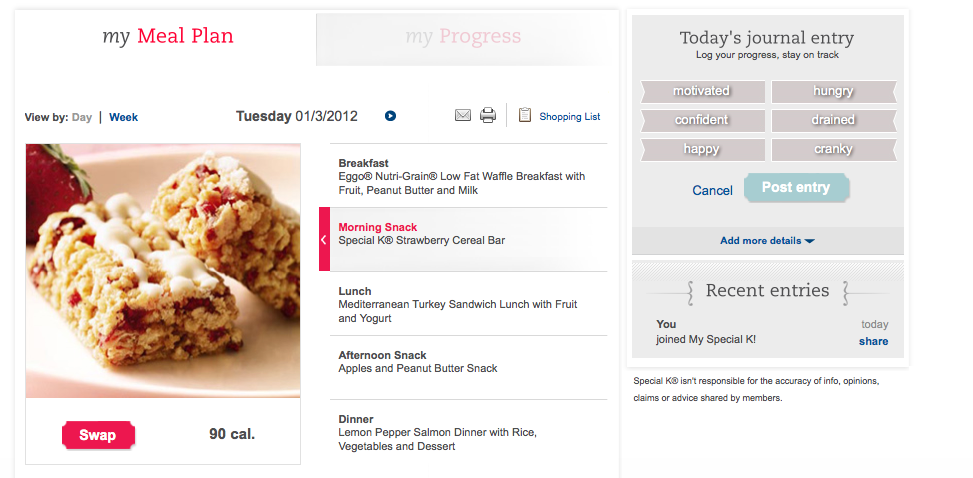 With everything laid out on the Special K site this easily for me to follow – daily plans and recipes for all meals, a way for me to track my moods, weight and exercise levels – there's no excuse for me to not stay on track.
I'm excited that my pantry is stocked with Special K goodies – how can I not be excited about Chocolatey Pretzel Cereal Bars!? – and I'm looking forward to share my progress with you… let me know if you're joining in, too! And tell me: based on your own personal experience, what are your thoughts and opinions on maintaining or losing weight?
Consult your physician before starting any diet or exercise program.  Average weight loss when replacing meals with two cereal meals is 4.8 pounds.  Weight loss may vary. Average waist circumference reduction when replacing meals with two cereal meals is 1.3 inches. Weight loss may vary.
Disclosure: I participated in this program through a partnership with TheMotherhood on behalf of Special K. I received product and supplies to complete the plan. All opinions and statements are based on my own opinion and experience.