We listened to this advice from a plumber:  "Call Roto-Rooter first thing in the morning."
Picture this.
Day 3 in your new "old" home, as in 1880's old.
There's already been a plumbing problem with the pipe servicing the upstairs toilet, sink and shower.  A friend, a plumber, has already made a late night visit to assess the damage and repairs… but has discovered another problem.
That problem is a 2-inch deep and rapidly growing puddle of water at the other end of the cellar, far from the remnants of the water problem he's come to assess and repair… and it hasn't rained in days.
Question: "What water source have you been using today?" 
Answer:  "Downstairs toilet.  Kitchen sink.  Dish washer."

The plumber investigates further to find a gush of water gurgling from a front-of-the-house corner pipe, a pipe whose cover has burst with the pressure of a couple of years of vacant-house stuff growing and settling in there… and that water is spreading over our cellar floor.
Plumber's Assessment:  "Call Roto-Rooter first thing in the morning to clean out this pipe."
That was me.  Two nights ago.
My husband did call Roto-Rooter Providence RI very early the next morning to set up an appointment.  It was a soaking wet with driving rain kind of morning.  We were, thankfully, put on the morning schedule.  Then I stood in my new and completely unorganized kitchen and stared out the window as my husband drove off to work. I was thinking, "Oh, how I hate doing this pipe, plumbing, puddle stuff alone."
Is it just me, or do other women dread the man work of plumbers and plumbing?
But before I had time to lament my situation, I saw the Roto-Rooter truck turning into my driveway.  Moments later, on that dreary, rainy morning, a Roto-Rooter Service Technician was knocking on my side door.  He wore a big, big knowing kind of smile.  A kind smile.
The man with the kind smile and calm demeanor was Jim Hoxeng.  Handshake…. a let's get to work to fix your problem kind-of-guy. I immediately felt at ease, like this pipe problem would be taken care of,  as we headed to the cellar and Jim began his investigation and assessment of our old pipes.
I followed Jim around our big, old wet cellar as he pointed his flashlight at various things and explained what needed to be done.  He was thorough in his inspection, detailed in his explanation to me and downright happy on the job.  I cannot begin to explain how I appreciate people who love their jobs… because this is all about character, integrity and incredible customer service.  And more so, I appreciate the respect that Jim had for me as a worried new home owner and a woman.  My man work attitude went right out the old spider-web covered cellar window.
Then Jim said what was pipe music to my ears… it would be taken care of and I'd be up and running with running water.  (Not the gushing from the pipes kind, but the user friendly kind!)
I went about my work of organizing my tons of move-in stuff that didn't require water, feeling upbeat and happy with the work going on in my cellar… even beginning to enjoy the patterns of the rain on the roof of my new home.  There's something to be said, too, about feeling confident with work going on in your home.  I felt this…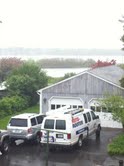 Bottom line, seems we had significant root infiltration, where the roots had invaded the sewer line.  Jim did a video inspection of our sewer line and was able to determine the problem.  But the fun part (if it can be fun peeking deep inside a sewer line!) is that I was able to watch the video, too.  Actually, it was fascinating as Jim explained the process and the procedure of snaking and clearing a root clog… and even a bit of evidence…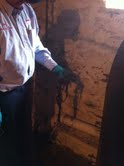 Jim further treated the pipe with Pipe Shield and Root-X, and treated my cellar floor with a non-toxic anti-bacterial substance and made further recommendations because of my fear of the waste that had escaped from that pipe and backed up on the floor.  I appreciate that.
Jim also wrote up a detailed REVIEW of the problem and SOLUTION for further consideration on our part, and wrote detailed RECOMMENDATIONS for treatment… such as yearly root treatment.  I like having these detailed records as dated reminders.
So picture this.
In my deep, dark, damp and rather gross front-corner of my big, "new" old cellar…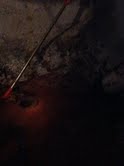 I found the help of a friendly, competent, detailed Roto-Rooter Service Technician named Jim.
I appreciate this.  And when my husband returned home, all was well with the world.  Well, at least with the Root Infiltration.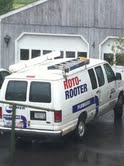 Thanks, Roto-Rooter Providence RI.
Thanks, Jim.
And thanks to our plumber friend, who knows who to call!