On June 11, my Dad's 65th birthday, I found out that I was pregnant. On September 25, my nephew William's 9th birthday, I found out that the baby is a boy! (I guess I like horning in on other people's big days. 😉 ) (Also, I called it!)
I had promised William a few months ago that since I was finding out the baby's gender on his birthday, he would be the first (outside of me, Brian and the ultrasound technician) to know what I was having. And even though I found out that the baby is a boy at around 9:30 a.m., I waited until William got out of school at 3:00 p.m. to reveal the news to the world. Believe me, keeping it to myself was hard!
I had driven to Audrey's house to await my nephews' arrivals home from school. My mom, dad and grandma were there, too, since we all wanted to wish William a Happy Birthday in person and give him his gifts. My parents were chomping at the bit to know whether they were expecting grandson #8 or granddaughter #4, but they respected my promise to William and didn't try to pry it out of me.
When William and his brothers got home from school, I brought him outside and showed him my ultrasound picture, which said "BOY!" right on it, with a circle around the boy parts. William was so cute – he said, "It's a boy? Nice!" and then touched my belly and said, "Hi, little cousin!"
Before we walked back into Audrey and Matt's house, I put a big blue ribbon with a little pacifier attached to it around William's neck. My mom had given me two pacifiers, one with a blue ribbon and one with a pink ribbon, and I had told everyone that they'd know the baby's gender by whatever color ribbon William was wearing.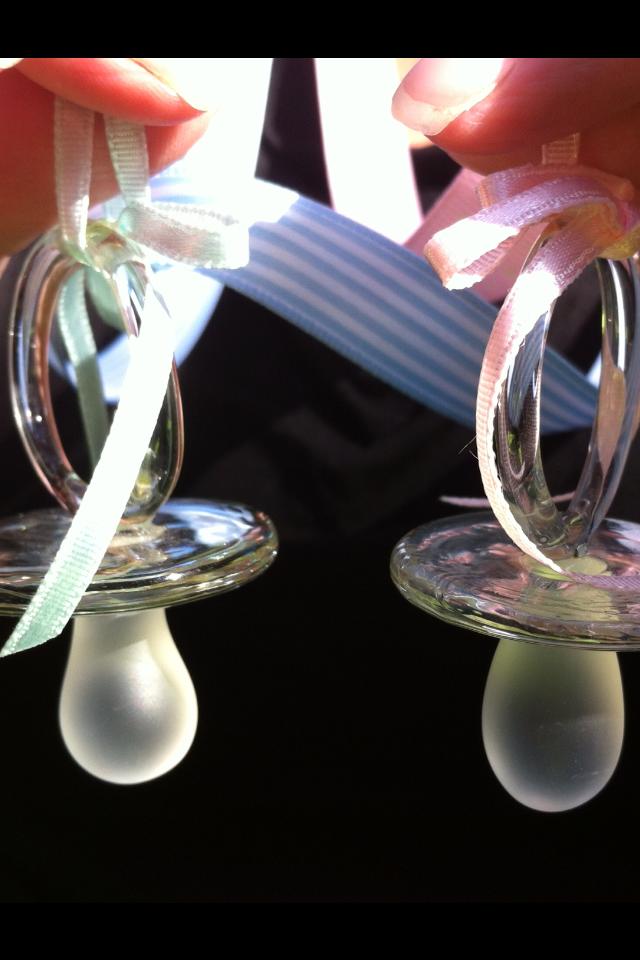 We walked into the kitchen and everyone was waiting for the big reveal. I don't know who exactly, but someone saw the blue ribbon William was wearing and yelled, "It's a boy!" And then there were a ton of smiles and hugs to go around.
My mom then gave me a little gift to open. Inside was a little onesie with a doggy on it – perfect for baby's going-home-from-the-hospital outfit – and some blue socks and hats. (She had also bought some pink socks and hats in case the baby was a girl, but those are going to Victoria now. 🙂 )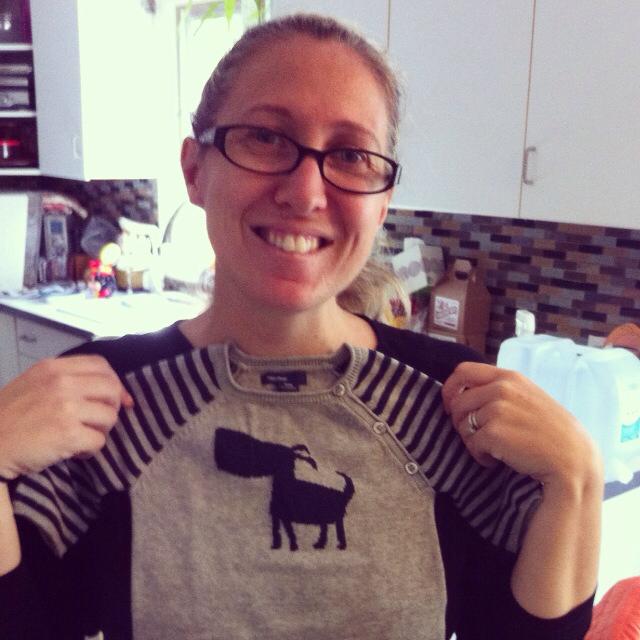 Then I could finally tell the world the BOY news! Some of my friends had been texting me all day waiting for the announcement. Since I was with four of my seven nephews, I took a picture with Audrey's boys and put on Facebook: "It's a good thing I'm used to being around a lot of boys because… IT'S A BOY!!!"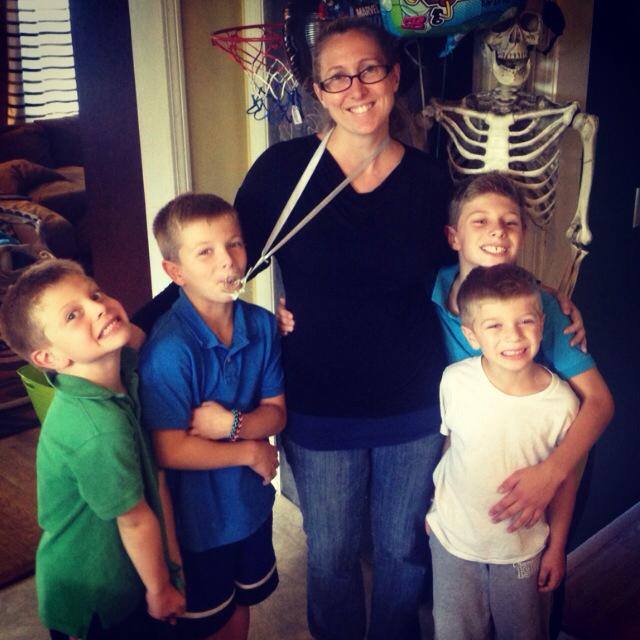 I love being able to call this baby by name now – Brian Jr. 🙂
He is already one loved little boy and we can't wait to meet him in February!