101 Mystery Date Ideas
Dates for me and my husband have always been pre-planned. We've always planned a dinner at a certain restaurant or planned to see a certain movie at a certain time or planned to meet up with a group of friends at a certain bar.
Planned.
Planned as you can be.
I've actually really never thought anything about the whole planned-date-night-routine until my friend Tammilee told me that her and her husband do Mystery Dates with each other. I thought this was amazing, we don't do this and it's something I'd love to add into our marriage fun! With 5 kids it's not easy to always be on top of the romantic department, but mystery dates would be fun and easy to do! Since we're starting from the beginning, we needed some ideas! 101 Mystery Date Ideas – is something we just kicked off and thought would be fun to add into our life.
101 Mystery Date Ideas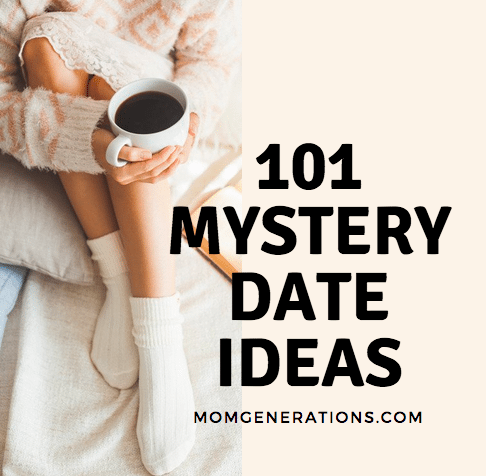 And I literally thought it was the coolest idea ever.
101 Mystery Date Ideas
Mystery Dates – where each partner plans a date day or night without the other one knowing what they're going to be doing. I love it. All that needs to be done is letting the partner know how he/she should be dressing for the occasion.
I started jotting down some ideas for me and Matt and had so much fun doing it because it really makes you think and want to put in some extra-special effort. I thought it would be fun to share 101 of my ideas and ask for YOU ALL to share some of your ideas, too!
Not that we'll get to 101 dates this year, but – hey… it's good to have options!
Need some inspiration for DATE NIGHT?
101 Mystery Date Ideas:
Picnic on the Beach
Private Wine Tasting
Hot Air Balloon Ride
Couple Cooking Class
Hot Yoga
Couple Massages
Private Karate Lesson
High Tea
Scavenger Hunt of Clues about your Relationship
Casino Trip
Rent a Hotel in your City and just SPEND THE NIGHT AWAY
Art Exhibit
Dinner at the 1st Place you Met
Karoke Night
Find their Favorite Author giving a Book Reading and Go!
Concert of their Favorite Musician
Ballet
Mixology Class – Learn to mix drinks
Spa Day Together
Mini-Golf
NASCAR Race
MLB Baseball Game
City Tour of your closest City
Guided Museum Tour
Private Zoo Tour
Brewery Tour
Private Boat Ride
Murder Mystery Dinner (something different right?)
Dinner Cruise
Backwards Date Night – Dessert first, etc!
Dinner under the Moon and Stars
Full Day in BED
No technology Date Night – HIDE PHONES
Rock Climbing
Bowling Night
Camping Trip
Rafting Excursion
Private Cheese Tasting
Test Drive a Sports Car
Visit an Amusement Park sans KIDS
Dance Classes Together
Birdwatching
Hiking
Comedy Show
Take a DJ class
Try a Different kind of Workout at a local Gym Together
Make your own Pizza Night
Pottery Class
Drive-in Movie
Learn to Skate Night
Roller Skating – bringing it back old school!
Clubbing – one night, feel like you're 21 again!
Morning Date – Breakfast and then a movie
Visit Local Landmarks
Fishing (my husband would go CRAZY over this one!)
Kayaking Trip
Ski Lessons
Mud Run (IF IN SHAPE!)
5K race Together (IF IN SHAPE)
Host a Dinner Party with all your closest friends
Coffee Tasting
Chocolate Tasting
Observatory Tour
Rent all the Star Wars and have a marathon
Rent all romantic movies and have a movie marathon
Make your own Candles
Painting Class
Visit a new Bar in your area
Fancy 5-star Dinner
Botantical Garden Tour
Bike Ride
Visit a Local Farm
Shopping Spree
Jazz Club
Opera
Waterslide Trip
Train Ride
Airplane Lessons for Flying
Zip-lining
Golf Lessons Together
Tennis Lessons
Day at the Beach
Make your own Ice Cream
Drawing Lessons
Scrapbooking Class
Laser Tag
GAME NIGHT
Pool Lessons
Relaxing Night In – Bubble Bath, Candlelight, etc
Sledding
Apple Picking
Pumpkin Patch
Wood Shop Class
Find a Local Carnival
Fortune Teller
Visit an Animal Shelter and adopt a pet
Hibachi Night
Visit Yard Sales
Learn about Beekeeping
Visit a Plantetarium
Weekend Getaway (because sometimes you need to just getaway!)
Hope you liked the 101 Things to Do with Your Husband I came up with – share what you've got, too!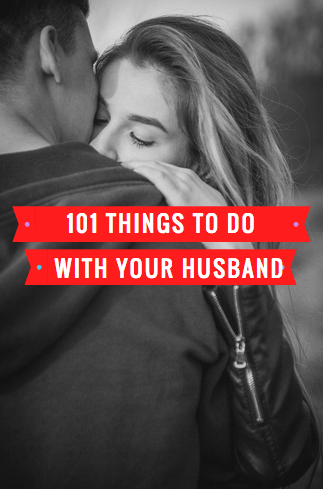 Check out my other 101 Series Blog Posts:
101 Things to Do with Teen Boys
101 Things to Do on a Friday Night
101 Things to Do with your Daughter