This post is very bittersweet for me because it's the conclusion of an amazing campaign and partnership that I've had with Alamo throughout the year. My partnership with Alamo kicked off this past fall and has gone throughout the seasons – winter, spring and now, the summer! The goal of this Alamo partnership was to inspire family travel, provide solutions to family travel issues that may arise, show how family travel can increase family bonding and celebrate the laughable moments of motherhood and family travel. If you follow my blog and follow me on Twitter, Facebook, Instagram and YouTube… you know that we're not short of any laughter in the McClelland family! Growing up, travel was always part of my life. My parents really did instill in me a love of family travel. The memories that were created throughout the years with my family when I was a child, these are memories I will hold in my heart forever. I want the same for my family, too. I've always felt that traveling as a family is the best way to bond and the best way to be together. It's a special gift to be able to give your children. So truly… this year with Alamo, it's been amazing. It's really made me concentrate on going beyond basic travel and make travel experiences this year memorable for me and my family.
This past weekend – thanks to Alamo – I had the chance to celebrate a SUMMER KICK-OFF PARTY with friends and family. Sunday (June 21st) was very appropriate for a summer kick-off party because it's the OFFICIAL first day of summer! The party was very meant to be because we had horrific rain storms ALL morning, but they completely cleared around 4PM for my 5:30PM backyard summer party!! I'm not kidding, I was beginning to panic because everything I had for my party was centered and geared for outside. When I saw the rain stop and the clouds begin to clear… it was the perfect way to celebrate this amazing new season.
We spent the morning — in the rain — prepping for the summer fun! The best part for my guys!? Blowing up the balloons with our very own helium tank! And hoping for the rain to stop!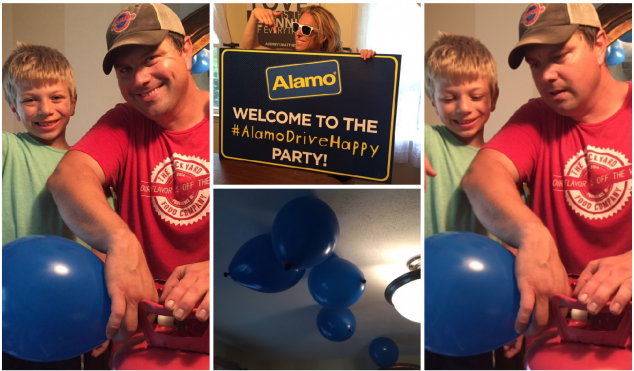 When it stopped, my husband helped me anchor the sign with balloons right out front of our house! It was funny because my sons wanted to put a "please HONK!" sign with it, too! We didn't, but they thought it was cool to have this big sign right out front for our guests to see!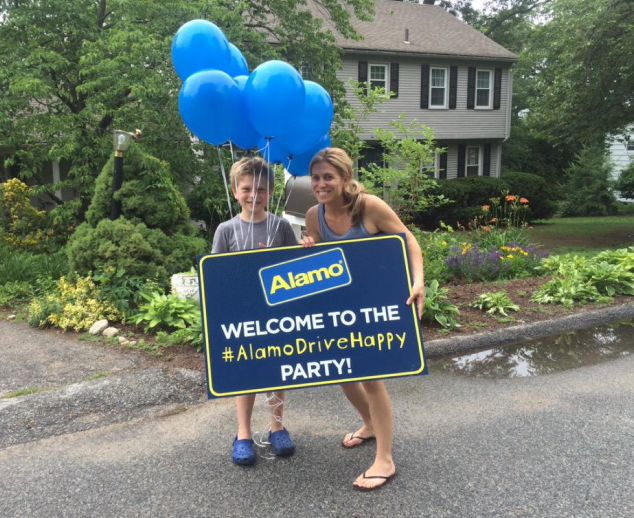 When it came to planning my summer party, I knew that I really wanted to hone in on 2 things – 1) friendship 2) no technology for the kids. Since my travel resolution was ALL about no technology for 24 hours, I wanted to have that same experience for my sons and their friends, too. I wanted the party to be fun and exciting and special for the kids, I didn't want to see them all glued to the TV in my living room or to their iPads. I really wanted them to be outside – laughing, playing, running, jumping, swinging and doing some FUN summer things! I went out and bought a new wiffle ball set, Jarts, NERF toys, a new football and some water toys for the kids, too (and Victoria!). I REALLY wanted to amp up the outside summer fun with NO technology. (I actually took all of their iPads and hid them.)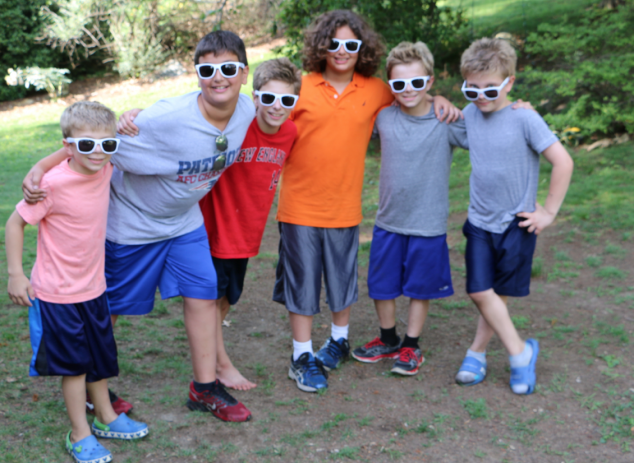 I don't know about you, but I'd say the kids had a BLAST! Between playing baseball, football, dancing and jumping on our trampoline – these guys had a GREAT NIGHT! Not to mention the GINORMOUS ice cream bar and dessert table I set up for the kids!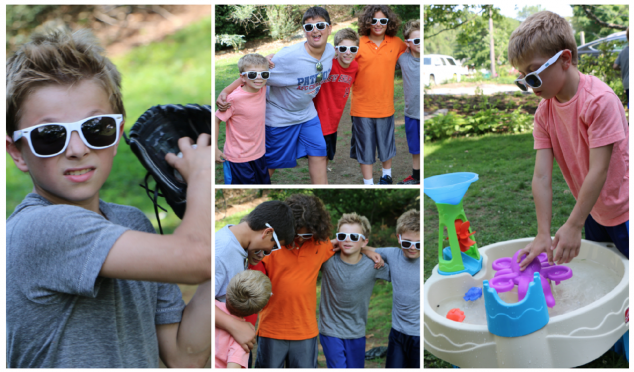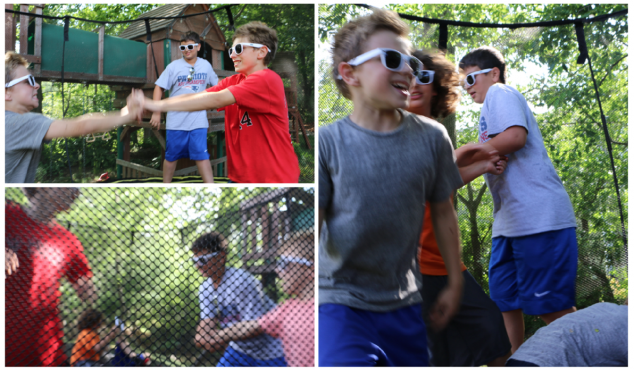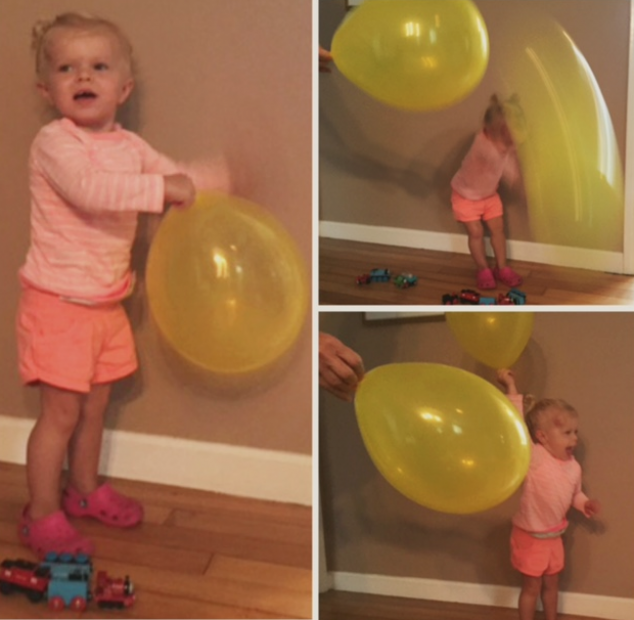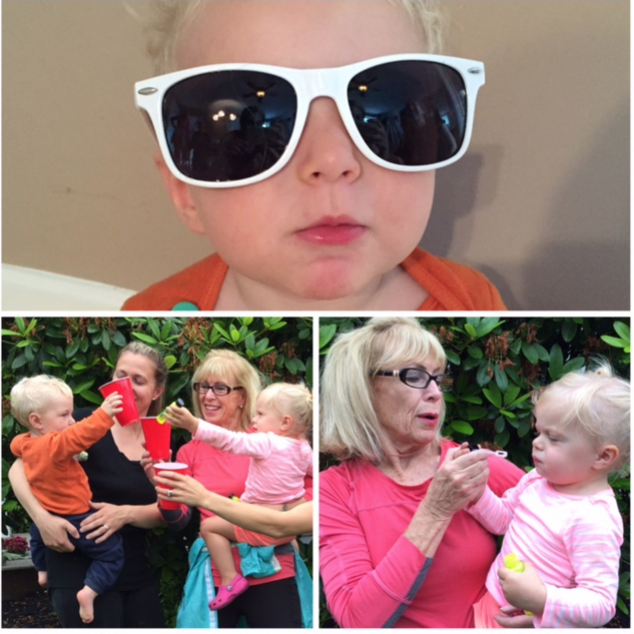 They LOVED the Alamo sunglasses! They wouldn't take them off!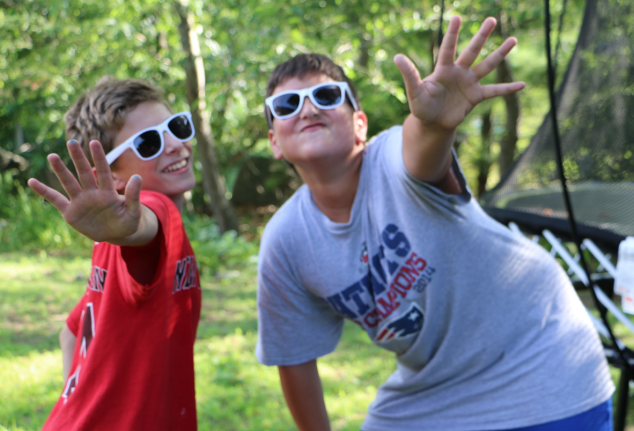 To me, the best part of the day was being with my family and friends and seeing everyone have such a wonderful time!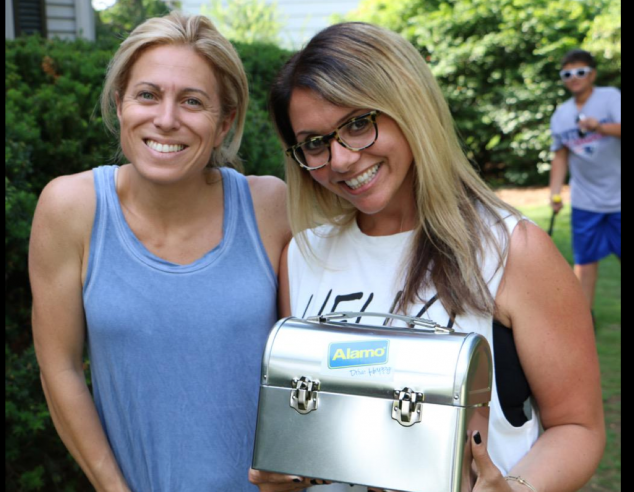 Travel was the topic of conversation throughout the night… and it was wonderful to share about the places we'd love to go someday or return to with our families. Alamo gave us the ability to really come together and talk our best family vacations and share some travel resolutions with each other.
The TOP 3 ONES EVERYONE LOVED:
1. No Technology
2. Journal Writing Together throughout the Vacation (each person taking part in it)
3. Once a destination is chosen for a family vacation – it's a great way to have a fun family conversation before the trip and to really plan it out together
Best part was seeing my family and friends write down their travel resolutions and travel goals and dreams for the next year! Everyone loved doing this!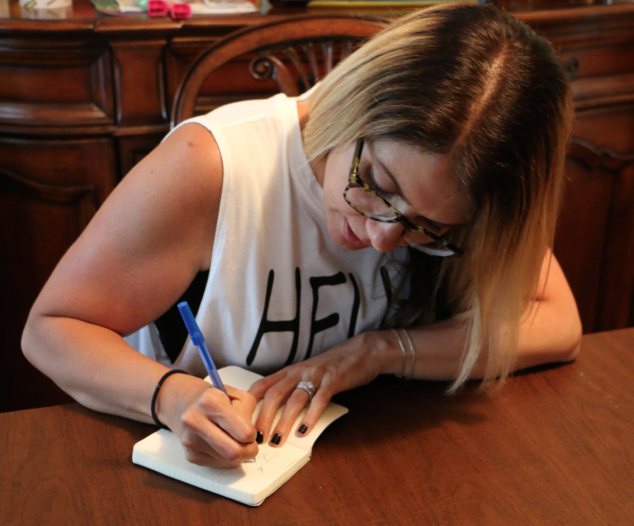 I have to thank Alamo from the bottom of my heart for giving me the opportunity to bring my family and friends together for a summer kick-off party. I have had a true pleasure sharing with other moms and dads about going beyond 'basic' family travel and setting achievable goals to take their family travel to the next level. I am so proud of me and my family for accomplishing our travel resolutions and goals this year!! It was SO MUCH FUN!!!!
To my readers, thank you for being part of this amazing drive (pun intended!) with me throughout the year!
Keep following the hashtag #AlamoDriveHappy and @Alamo on Twitter. Also, don't forget to sign up to be an Alamo Insider – it gets you an additional 5% off of Alamo's already low prices!
And PLEASE in the comments section, let me know what your upcoming family travels are, how you go 'beyond basic,' and how you plan on building family bonds.
Disclosure: This is a sponsored posting with Alamo.