Disclosure: Disney invited me to attend D23 Expo and covered my travel costs. All opinions are 100% my own.
My sons are gamers. They have been gamers since forever! It's something I actually love because me and my husband are able to join in on the gaming fun with them. I remember when I was a kid being obsessed with Nintendo's Power Pad. Did you have one of those? You could do "Olympic Games" with it and just have "athletic" battles with all your friends. That Power Pad got hours and hours and hours of playtime! I know that's how my kids are with games… they enjoy, they have fun and they have a blast playing with each other and their own friends.
While at the D23 Expo, I had the opportunity to go to the Disney Interactive panel. It's funny, out of ALL the panels, this is the one I know my 4 sons would have sat still and quiet for 90 minutes listening and soaking up every single second of information. During the panel I kept texting my husband with bits and pieces and he kept getting more and more excited! It was SO funny!! There was a ton of news announced during this panel and believe me – you're going to love it all (especially if you're a gamer!).
It knew we were in for some mega-awesome news when Jimmy Pitaro, co-chairman of Disney Consumer Products and Interactive Media and president of Disney Interactive announced, "We have the most exciting slate of upcoming game titles in our history, and we're also focused on new platforms and technologies that enable us to develop experiences we would never have dreamed possible just a few years ago."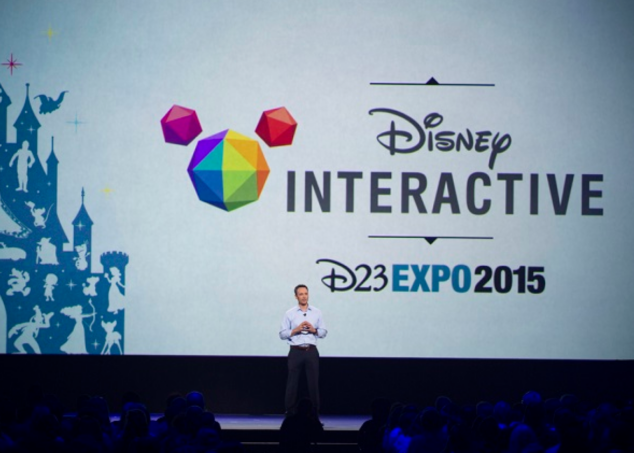 (Not to mention, he has a pretty amazing DREAM JOB!!)
I loved this because this is the kind of world my children are growing up in… every year there's new technologies and new innovations and new way to enjoy and experience gaming. It's a big wide and world and it was just jaw-dropping to be at this panel and hear all the upcoming news!!
So are you ready!!?? There's a ton of news to cover, so I'm going to dive right in!!
Let's start with Kingdom Hearts 3!
I've known about Kingdom Hearts 3 for awhile now. My nephew actually introduced me to Kingdom Hearts 3, which he LOVES!! With Kingdom hearts 3 you actually are able to be immersed in different Disney Worlds. It's off-the-charts cool!!
But the BIG NEWS at D23 for Kingdom Hearts 3?? They are going to be featuring a Big Hero 6 world!!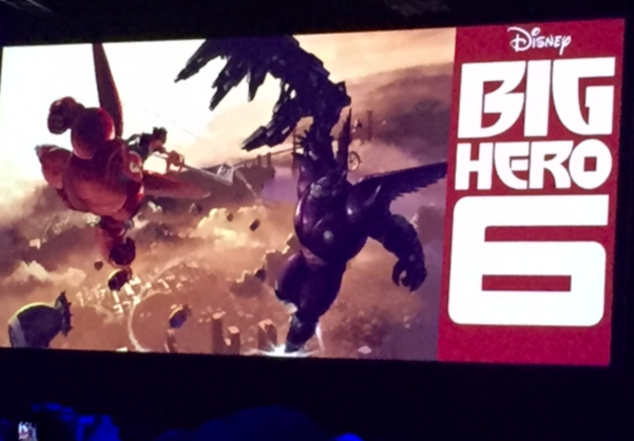 Check out this trailer announcement!!
Next up – Disney Magic Kingdom Mobile App!
I know my children are going to be NUTS over this app!! This – I have to admit – it pretty amazing!! Why do I love this one so much?? Your children (and you, too!) can create your very own Disney Park! You can create you complete own park and I think it's just amazing. As they were talking about it, I kept thinking how great this will be for kids who can't make it to the parks and how this will be a game changer (pun intended!) for them. I thought this was such a special and fun way to keep the magic alive at any time!! GREAT job on this mobile app!!
Playmation!!
I loved hearing about Playmation and if you remember, I had a up close and personal demo of Playmation a couple days earlier! I'm telling you, my kids are going to be begging for the Avengers Playmation for the holidays! This is the coolest digital play toy ever! LOVE it!! This will be available this FALL!! Don't miss out!!
Check out more info over at Playmation.
Star Wars Battle Pod!!
OK, are you ready for this!!??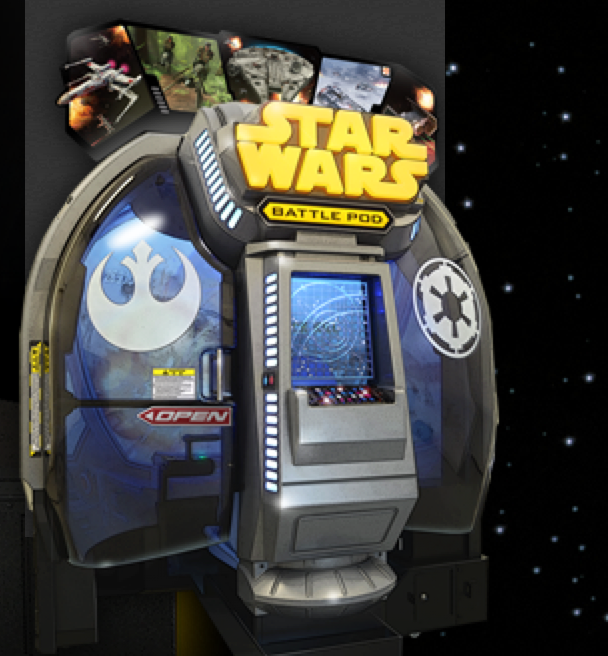 If you're an arcade gamer, you're going to go CRAZY over the Star Wars Battle Pod!! Star Wars™: Battle Pod™ is a experiential arcade game that features a dome-shaped screen, transporting players into heated battles in a galaxy far, far away. In iconic locations like the Death Star, players will be able to take control of some of the most memorable vehicles and morments in the Star Wars universe and pilot them to victory.
I'm telling you – the first thing my husband asked me when I sent him the news was, "When can we get one in our living room?"
Find out more info over at Star Wars Battle Pod!
Next up — MORE Star Wars NEWS!
I know my husband is going to be ALL over this one!!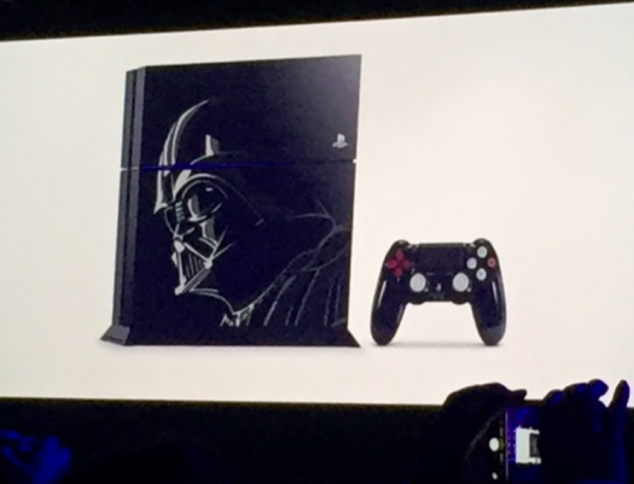 EA is partnering with with Disney on Star Wars Battlefront: Battle of Jakku. I love seeing 2 powerhouses coming together and make some so much fun and so special!! The BIG news is that November 17th, 2015 you will be able to purchase two very special limited-edition Darth Vader-inspired PlayStation®4 Star Wars bundles: Star Wars: Battlefront and Disney Infinity 3.0: Star Wars. The bundles include a fully customized PS4™ featuring an image of Darth Vader, a controller inspired by Darth Vader's suit and more!!
How. Cool. Is. This. RIGHT!!??
And – saving the VERY BEST FOR LAST… Disney Infinity 3.0!!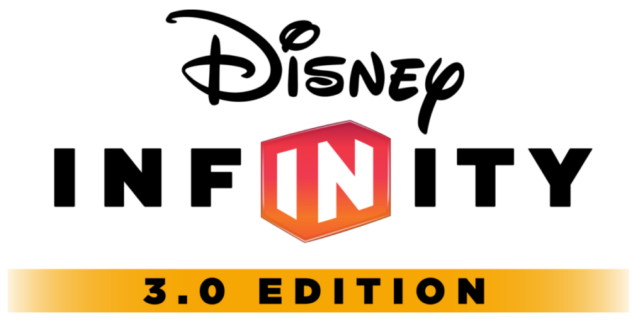 To say that my sons are excited is an understatement!! We are GIGANTIC fans of Disney Infinity 1.0 and 2.0. My sons absolutely love the interactive gaming platforms that Disney Infinity offers!! As a parent, I personally love that they can create stories and truly have amazing playing experiences with their favorite Disney characters. It's funny, my sons actually have their Disney Infinity characters set out on display in their bedroom like little trophies!!
Well, I'm excited to share that Disney Interactive announced its latest installment to the best-selling "hybrid toy/video game" this year — Disney Infinity 3.0 Edition. In its third iteration, players will utilize real-world interactive figures to activate original storylines (Play Sets) in the virtual game worlds of popular Star Wars franchises and create new adventures with other Disney Infinity characters from across the Walt Disney Company in the Toy Box mode.
WOOHOO!! STAR WARS!!
John Boyega and Daisy Ridley, co-stars of Star Wars™ The Force Awakens, surprised us all on stage and gave away their character figures, Finn and Rey, for the upcoming Disney Infinity 3.0 Edition Play Set based on the film!! The 2 kids that won were OVERWHELMED with joy!!!!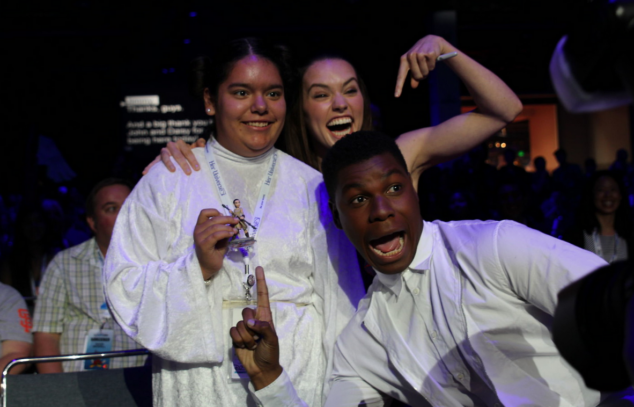 AND WAIT!! There's more news!!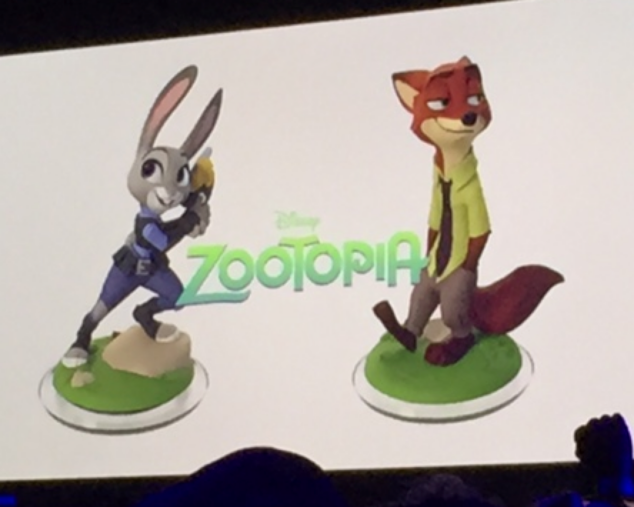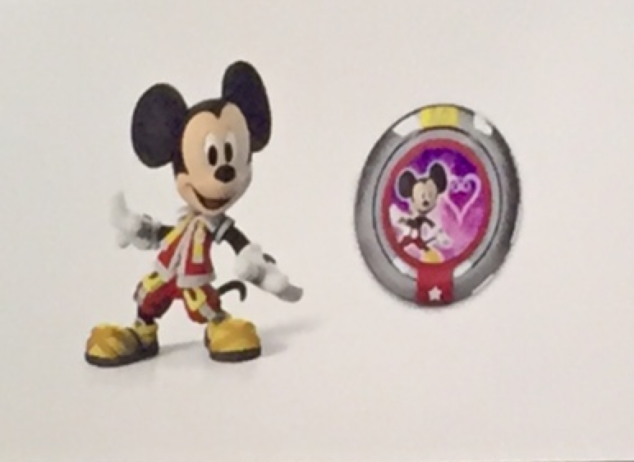 Other character were revealed, too!!
1. Nick Wilde and Judy Hopps from Walt Disney Animation Studios' Zootopia
2. Spot from The Good Dinosaur
3. Limited edition set of Light FX Star Wars™ character figures that light up when placed onto the Disney Infinity Base
4. Disney also announced that Peter Pan will also be a new character figure that will be released next year
I know my sons are going to be all over the characters from Zootopia!!
Perhaps the most exciting for me to be able to tell my sons was that I received a special Kingdom Hearts Mickey Costume Power Disc that unlocks a one-of-a-kind costume of King Mickey, Keyblade Master and King of Disney Castle for Disney Infinity's Mickey Mouse character and a classic Mickey Mouse figure.
Hearing all of this Disney Infinity 3.0 news was AWESOME! As a mom, I always monitor what games my sons are playing. They truly are gamers and they LOVE playing… but it's always important to me that the games are fun and appropriate. I NEVER have to worry when it comes to Disney Infinity and I love and appreciate this for my family. Thank you for creating amazing fun for kids and bringing the magic of Disney alive for them at home!