Confession: After having 5 kids, I have definitely experienced bladder leaks.
There, I said it.
I'm being open and honest and real and raw here. It's not something I talk about because (well) it's embarrassing. I'm only 39 years old, I didn't think that this happened to people my age yet!
The reality is that 1 in 3 women experience bladder leaks(1). I couldn't believe it when I heard that statistic, and I had no idea that it's so common among women. The problem is that nobody talks about it, so nobody really knows what's common and what's not. I have to say, I felt comforted knowing that bladder leakage is something that really does occur to more women than I thought. I feel like one of the reasons women don't talk about bladder leaks with each other is because it's (obviously) not sexy, not pretty, not fun and truthfully makes you feel less confident about yourself… especially when you're about to step out on the town either with your "girls" or on a date! Here was the BIG drawback for me when it comes to experiencing bladder leaks – I do not want to wear granny diapers! I'm 39 years old. Anything bulky, thick, big and ugly I'm staying away from and I'm not alone. 2 in 3 women who have tried bladder leak underwear avoid wearing them all together, even when they know they need them2.
Thankfully, Always Discreet Boutique is now here for us.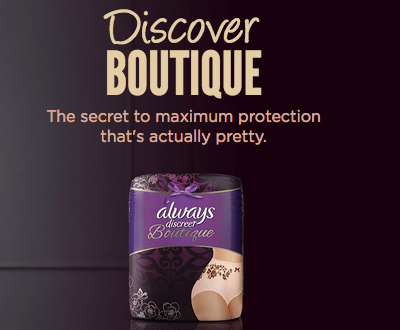 Always Discreet Boutique is on a mission to shift the perception of the bladder leak protection category through the creation of a beautifully designed product that offers maximum protection. That's right ladies – Always Discreet doesn't think there needs to be a trade-off between bladder leak protection and feminine underwear. They want women to feel beautiful and confident all the time. For this, I thank them!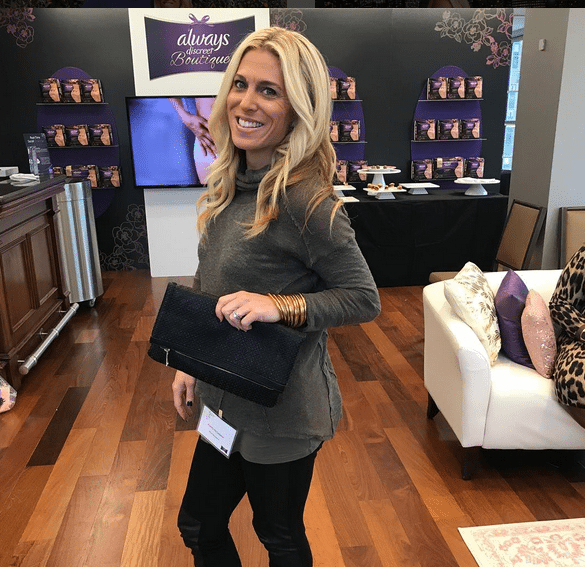 I had the wonderful opportunity to head to NYC earlier this month to check out Always Discreet Boutique up close and personal. It's always interesting to hear about a new product, but to be able to see, feel, touch and talk with the innovation team about a product, well – that's just the best for me. I must say, I was extremely pleasantly and fashionably surprised at how amazing the product is for women. I wasn't prepared to use words like: ultra feminine, pretty, chic and flirty to describe Always Discreet Boutique!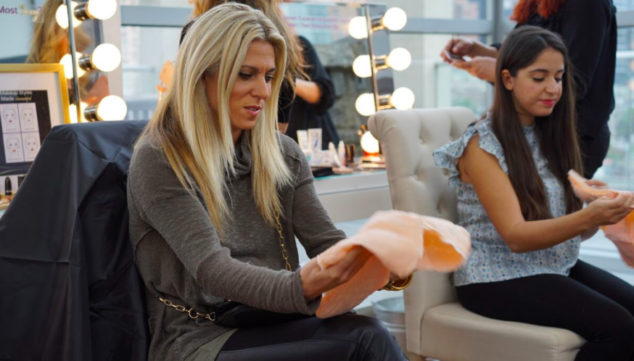 Considering Always Discreet found that…
– 88% of women say they would be more likely to wear bladder leak underwear if it looked and felt like regular underwear (2)

– 71% of women state that they would put their bladder leak underwear in their panty drawer if it was pretty (2)
Always Discreet is on to something VERY big with Always Discreet Boutique!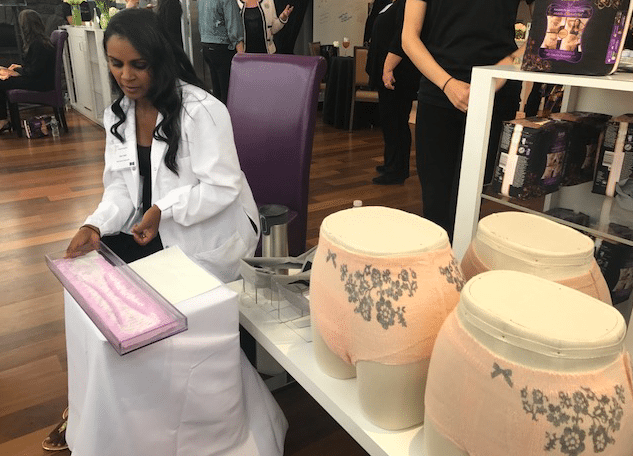 It was wonderful to see that Always Discreet Boutique is made with silky, smooth fabric that curves and contours. You feel it hug you and fit to your body like a glove. The rosé color is just perfect, it's soft and delicate and elegant, topped off with delicate lace prints. It's truly an item you want in your underwear drawer, which is not something you normally hear about when it comes to a bladder leak product. The best for me to learn was that the small/medium size is cut low so you can still wear the clothes and looks you love – you don't have to give up your fashion sense. The large size panty has a higher waistline and a control top feel because women who used the product stated this was the most comfortable cut for them.
But what about full protection for women?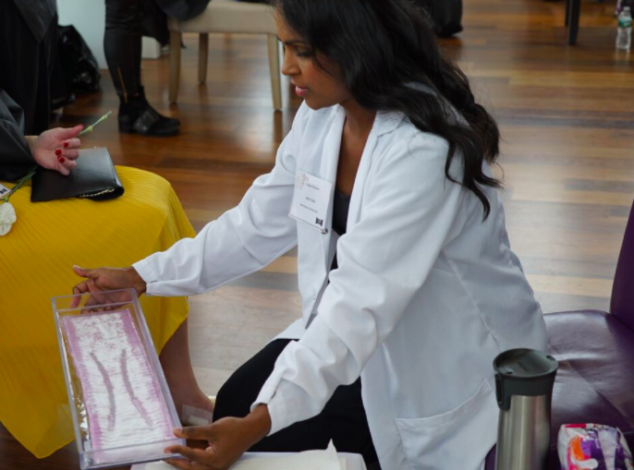 Always Discreet Boutique offers incredible-performing protection with a hidden super-absorbent core with unique RapidDry™ technology that absorbs leaks in seconds. I got to see this technology during a demo at our NYC Always Discreet Boutique event and it was evident immediately how much protection you're getting, even though the core is so thin, there's no worry. The OdorLock technology also helps neutralize odors instantly and continuously, and Absorbent Gel Material (AGM) helps lock the fluid deep within the core and away from the body.
As you can tell, Always Discreet has truly thought of everything.
I love that Always Discreet Boutique was designed with input from real women who were frustrated with the current bladder leak underwear on the market.
Who knows better than women who are actually going through this?

Who knows better than women experiencing this issue?

Who knows better than women feeling uncomfortable, un-sexy and not confident with themselves?
Women want to feel confident and beautiful, not embarrassed and Always Discreet Boutique has finally given an incredible option to allow confidence when it comes to bladder leakage.
Feeling confident and beautiful is something that's important to me. My husband and I love to go on date nights regularly and I'm someone who is (literally) obsessed with fashion. I want to feel my best. I want to look my best. I want to fit in my clothes beautifully and fashionably. Though I don't experience bladder leakage every single day, it's still something that I have to worry and think about in my life. I applaud Always Discreet for stepping up and creating a product that women can feel proud of wearing. I thank Always Discreet Boutique for bringing to the market a product that is something you're not embarrassed to buy or have in your underwear drawer.
Confidence is an important thing for women and Always Discreet has done an exceptional job at making sure ALL women are feeling confidently beautiful.
Thank you Always Discreet, for just ALWAYS being there.
(1) – Fem Care AI analysis – "Nielsen Homescan Panel ending March 2012 looking at Fem Care purchases in HH 50+ that have no teenagers at home."
(2) – The Always Discreet Boutique Online Study was conducted by MSLGROUP Research.
Disclosure: Sponsored posting with Always Discreet. All opinions are 100% my own.