Milano is Encouraging Women to Take "Me" Time
Do you take time for yourself?
EVER?
As I sit here writing this, I can tell you without a hint of hesitation that I do not take time for myself… not regularly. Oh! And when I do take a moment for myself, I actually feel mom guilt.
Milano Cookies (yes, those delicious, decadent and yummy cookies!) is and has been encouraging women to add some (much needed) "ME" time into their lives.
As they shared with me, "As we continue to see women redefining their role and reclaiming their time, their story and their voice, at the same time, Milano has undergone a very purposeful evolution of its brand, tapping into women's ownership of her own story and reminding her that it's good to be a little selfish every now and then with the rally cry to 'Save Something for Yourself.' The campaign actively celebrates women who redefine the art of compromise by savoring "me" moments in creative ways. What we know: Most women are fitting me-time into free pockets throughout their busy days rather than dedicating a bulk of time to it. And they are doing so in really creative ways."
I can definitely say that me-time to me is ALWAYS in quick, fast, bite-sizes. Gone are the days of a long, hot bath or an hour long manicure and pedicure without checking my phone to see what time it is. Any me-time I get needs to be fast and furious… with 5 kids, it's my me-time normal.
I need to change this and Milano made me realize the importance of this when I attended their event in NYC last week! I usually don't get the chance to attend too many events in NYC because I live in Rhode Island, but this was a sweet treat for me (pun intended!).  I had the best time working my way through the creative and fun event… each room bringing and offering a fun way to bring some me-time into my life!
Even when I was checking in, I had the option to check my bra! How amazing is that?? They wanted me to be totally and utterly comfy while at the event. I thought this was super genius for all the women to have this as an option!
The first room was all about having the perfect Morning Mindset!

In the morning I always grab my cup of coffee to get me started! It is my morning jolt! While at the event during evening hours, Milano offered yummy caffeine jolts in the form of espresso martinis! Talk about a little me-time to kick off the event!
Next up for me…
My Morning "Me" Time
Milano understands that mornings are crazy (hello 5 kids!)  – trying to get ready for the busy day and get your kids ready… all while making it look like you didn't just roll out of bed. What I adore about the Milano campaign is that they are seeking out to inspire you to reclaim some "me" time in the morning and take a moment to focus on YOU. All it takes is a simple shift in the way you reflect in the mirror.
I had some fun snapping a photo in the mirror!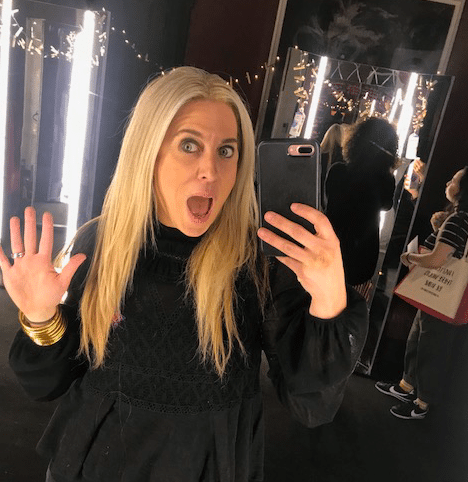 My "Me"me Mind
See the play on words there?
Meme!! They are my fave!!
You know the plan, but your intentions might not always go the way you hoped. Plans go arise and you know, it's not just happening to you. You flexed your creative muscles by punctuating something that happened this week, good, bad or ugly the best form of pop culture comedy- MEMES. This is the meme I picked for my "this is so me" moment?
It was a photo of Oprah with her arms spread out wide with the caption… "This is how I feel when the kids are all in bed!"
Afternoon Pick Me Up
You've reached that point in the day that everyone can relate to: the afternoon slump. Why not sweeten that afternoon pick me up with your favorite Milano? A sweet Milano pairing can happen at any time of the day, which whatever you have available to you. For you to enjoy at home, I'm sharing the pairings I tasted that elevate every Milano moment.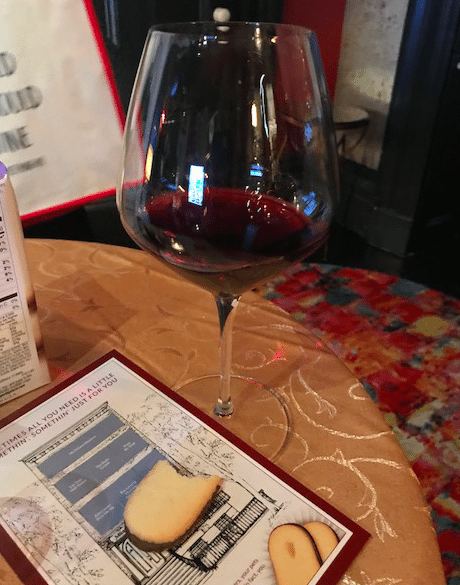 | | |
| --- | --- |
| Milano | Beverage |
| Dark Chocolate Sea Salt | Cabernet Sauvignon |
| Mint Chocolate | English Breakfast Tea |
| Double Dark Chocolate | Pomegranate Juice |
| Double Milk Chocolate | Espresso |
| Strawberry | Sparkling Rose |
| Toasted Marshmallow | Mexican Hot Cocoa |
Step by Step
There are so many daily routines that rack up your weekly steps and you may not even realize. On those days that you just can't get to the 6pm spin class or complete your to-do list, consider all that you've already accomplished. How many steps did you generate with your weekly routines?
I realized this is how many steps I've done in a week with just my normal mom routine!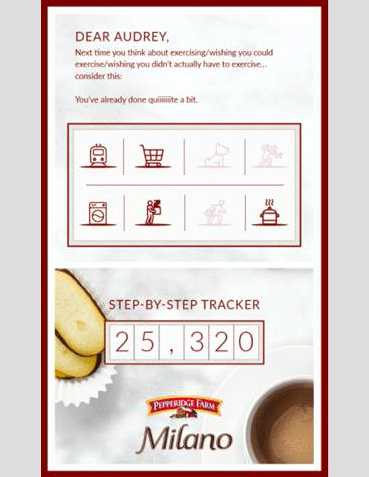 The Daily Crumb
As life gets more complex and the number of hats you wear grows, things start to slip through the cracks. Milano has some INCREDIBLE  brand partners who offer ways to help you maximize your day to find more time for a "me" moment. Who are they??
I had the opportunity to order some Chatbooks and they literally blew me away! I started crying when they arrived because I never, ever, ever do this for ME!!! I took my Instagram account and synced it up and was just completely dazzled by the books I got back!! You NEED to do this with your photos!! I mean NEED TO!! I shot an Instagram Story about it… so make sure you check it out, too!
@AudreyMcClellan on Instagram!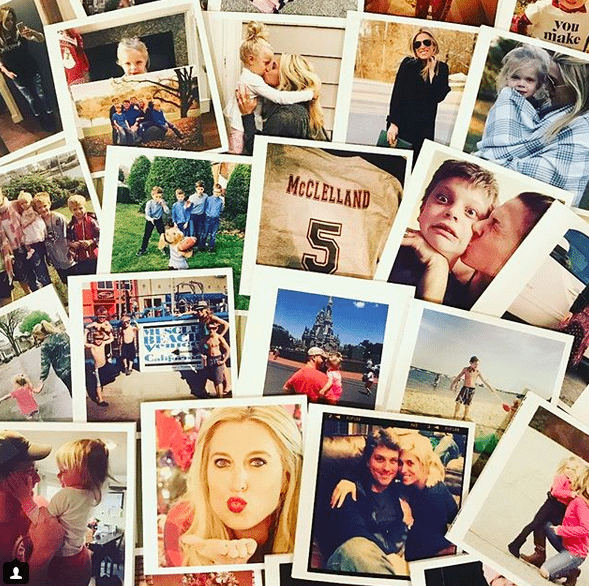 And perhaps my favorite!!!!!
Let Your Hair Down!!!!!!
Dance party!! On days when life dictates your next move, owning the next song in the que, sometimes feels like the only way to take the reigns. The end of the day deserves some tunes, some jams and some time for you to unwind and let loose.
I loved this Save Something for Yourself Event because it really hit home for me. Milano's latest expression of the campaign, the 'Save Something for Yourself' event, offered a perspective on what "me" time really means today and where we can steal a few "me" moments throughout the day, even when we don't think there's time. Real women experience "me" time much differently than what we see on TV. It's usually not that hour in the bath tub with a glass of wine, or that invigorating spin class at a luxury gym – and that's okay (and real!)
Thank you Milano for the invite and bringing me some much needed me-time!