Are you excited for a giveaway!?
I'm all about being able to give stuff away that I love and that I use to my readers!
As you know, I'm part of the P&G Fabric Care Advisory Board. I have loved being part of this for the last 2 years because Tide is the ONLY detergent I use and it's the one that I grew up with, too! Since I do about 2-3 loads of laundry a day (yes, a day!), I depend on Tide to make sure my laundry gets clean and smells amazing!
I'm thrilled to share with you that I have a Tide GIVEAWAY – Two Tide PODS Child-Guard Tubs + 2 Tide PODS Child-Guard Packs.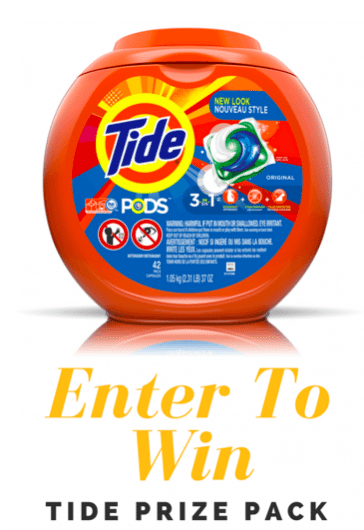 Amazing, right? This should take care of your laundry needs for a couple of months!
What's also amazing is that the Tide PODS packaging is childproof, meaning it helps keep your little ones safe while offering you advanced cleaning power. We still store our detergent up and out of sight, but it's great that the packaging still acts as a deterrent!
I love being able to share giveaways like this because laundry detergent is something we all use and we all need. My loyalty with Tide is deep, so for me… it's extra fun to be able to share this giveaway with you! I just started to teach my oldest son how to do laundry, so I'm seeing history start to repeat itself with Tide, too. I remember my own mom teaching ME when I was a teenager. She taught me how to divide the laundry – a pile of colors and a pile of whites. She also taught me to wash towels separately from the rest of the laundry. This is something I still do today! It was fun starting the "laundry tradition" with my son. He's going to be going off to camp this summer where you need to do your own laundry, so this is something that will come in handy for him, too!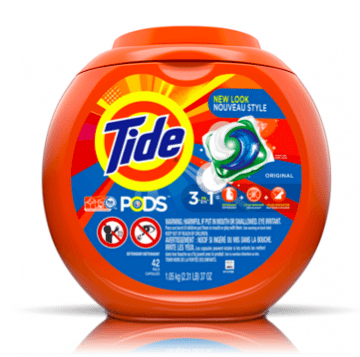 And so… I'm happy to share the Tide love with you, too with both its re-engineered, upgraded formula Tide PODS and new product, Tide Ultra Oxi PODS!
Tide Ultra Oxi is Tide's first detergent combination that gives consumers the benefit of tough stain fighting (thank goodness because we always have a ton) with built-in pre-treaters.
Enjoy Tide for yourself!
Enter Today!
Use the form below and enter to win. This contest will run for one week.
Disclosure: I have partnered with P&G Fabric Care. All opinions are 100% my own.