Are you ready for some Easy and Delicious Mocktail Recipes?? This is NOT a pregnancy announcement, so don't get any ideas! I'm all about sharing some fabulous mocktail recipes because not everyone drinks and this is something that I'm very passionate about sharing.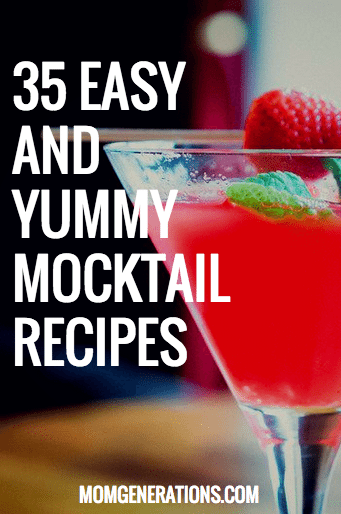 Mocktail Recipes
I love being able to enjoy a yummy cocktail without alcohol in it! I always think it's important to make sure I have some of these staple drinks on hand for occasions. It's truly one of the best things to know for guests who aren't looking for alcohol.
I've been pregnant 5 times. That's 40 weeks, 5 times. That's a long time to be pregnant. 4 of my pregnancies were during the summer months. What I always appreciated during the summer was when my friends had some easy and delicious mocktails for me to enjoy!
Obviously when you're pregnant, you can't drink… so it's a great opportunity to enjoy a mocktail! If you're not familiar with what a mocktail is, it's a nonalcoholic drink consisting of a mixture of fruit juices or other soft drinks. It can be anything in the world to mix with, but it's something that you should really have some beverage fun with at the same time.
I'm seeing a true baby boom right now, so many of my friends are expecting (not me!!!!!!) and I want to make sure this summer I have on hand some yummy Mocktail Recipes for them! I spent all last night (while watching the Celtics game) researching different mocktail recipes online.
I want to find some different ones and some standard ones for my pregnant mama friends! And you know what, for just anyone who doesn't feel like drinking any alcohol! Mocktails are super fun and easy to make, so I'm excited to see all the different options and recipes that I can create this summer!

Make sure you bookmark this post or print it out so you have this on hand throughout the summer! Everyone loves to feel refreshed in the summer, so live it up with these mocktail recipes! Mocktail Recipes in NO particular order here. They really are some delicious ones here to play with and have some mocktail fun! You'll be happy to try a few here and there and perfect them yourself.
My full list of mocktails are right here:
Here are 30 Recipes from Parentables:
1. Arnold Palmer: Equal parts lemonade and iced tea
2. Shirley Temple: Ginger ale with a splash of grenadine and a maraschino cherry
3. Non-Alcoholic Sangria: A mix of tea, various juices, fresh fruit, and seltzer water
4. Virgin Hibiscus Cosmopolitan: Hibiscus tea mixed with honey, lime, coconut water, and lemon-lime soda
5. Baby Bellini: Substitute sparkling cider for champagne and mix with peach nectar
6. Monkeylada: Fresh pineapple and coconut milk mixed with pureed banana
7. Passion Thyme Mocktail: Passion fruit, thyme, lime and pineapple juices mixed with simple syrup and water
8. Tricky Mary: Vegetable juice, celery salt, Worcestershire sauce, Tobasco sauce, lime juice, salt and sweetener
9. Frosted Strawberry Lemonade: Lemonade mixed with frozen strawberries and ice
10. Nojito: Mint leaves and lime juice mixed with simple syrup and club soda
11. Pink Grapefruit Margarita: Pink grapefruit juice, pomegranate syrup, and lime with decorative sanding sugar
12. Virgin Mint Julep: Sugar, mint, lemon, and maple syrup mixed with water
13. Virgin Tom Collins: Lemon juice, simple syrup, and club soda with fresh lemon and a maraschino cherry
14. Orange-Lime Relaxer: Orange juice, lime juice, and lemon-lime soda with a lime wedge
15. NYC Maternitini: Raspberry sorbet, orange juice, and fresh lime juice topped with rock candy
16. Pomegranate Spritzer: One part pomegranate juice to three parts seltzer water
17. Chocolate Coconut Kiss: Coconut milk, cocoa powder, milk, and almond extract
18. Citrus Cream: Orange juice, grapefruit juice, grenadine, and heavy cream
19. Berry-Lime Water: Lime, blueberries, blackberries, and sparkling water
20. Steve McQueen: Apple cider, orange juice, ginger, bitters, sugar, and an orange wedge
21. Safe Sex on the Beach: Cranberry juice, grapefruit juice, peach nectar, and a maraschino cherry
22. Watermelon Agua Fresca: Watermelon, water, lime juice, sugar, and club soda
23. Canteloupe Seed Drink: Canteloupe seeds, vanilla extract, honey, and a pinch of salt
24. Frobscottle: Kiwi fruit, fresh lime juice, raspberry yogurt, lemonade, and cream soda
25. Ray of Sunshine: Lemon sorbet, apple juice, pineapple juice, cherryade, and pear drops
26. Virgin Hurricane: Orange juice, cranberry juice, grapefruit juice, and apple juice with an orange slice
27. Unfuzzy Navel: Peach nectar, orange juice, lemon juice, and grenadine
28. Not So Dark and Stormy: Ginger beer, molassas, fresh lime juice, and a lime wedge
29. The Revitalizer: Tea, lemon juice, banana juice, honey, and ginger beer
30. Minted Grapefruit Cooler: Grapefruit juice, lemon juice, ginger ale, and mint
Here are 5 Mocktail Recipes from Parenting.com:
36. Sparkling Sangria – Add sliced apples, strawberries, oranges, and frozen grapes to sparkling grape juice. Garnish with a candy fruit gel slice
37. Faux Champagne – Combine equal parts ginger ale, white grape juice, and pineapple or orange juice. Garnish with frozen grapes and a curly straw.
38. Shirley Temple – Rim glass with pink Pop Rocks. Add 4 Tbsp grenadine syrup to 16 ounces ginger ale. Garnish with a maraschino cherry.
39. Chocolate Mock-tini – Coat inside of glass with chocolate syrup. Blend together 1/2 cup chocolate milk, 1 cup mint-chocolate chip ice cream, and 4 ice cubes. Garnish with candy cane.
40. Cran-Apple Cider – Rim glass with cinnamon sugar. Combine equal parts cranberry juice and apple cider. Garnish with a rock-candy swizzle stick.
I hope you enjoy or at the very least print this out so you have these on hand for your guests!
Here some some cocktail drinks if you're OK with having alcohol!
Make sure you have something on had for pregnant guests whenever you can! Check out these great pregnancy boards and items from BabyCenter.com.
Let me know what I'm missing, too! If you're someone that loves to experiment and try new drink formulas and choices, make sure you let me know! I'm all about adding them to my list and seeing what I'm missing! It's all in the sharing with each other. So happy to be able to have a list to reference when I need it! Happy SUMMER!