Tennis for Beginners I'm sharing all you need to know and what you need to know. I'm all about tennis and making sure it's a sport I teach my kids. I know it's a great sport that you can do as you get older, too. I'm on the hunt for sports like that!

Tennis for Beginners
I'm all about sharing the tennis for beginners love. I've been trying to keep myself moving over the last few months. I love running and power walking. I love biking and hiking with my kids. I started swimming laps a couple of days ago, which was crazy because I was a competitive swimmer for 15 years and I hadn't been in the water since college!
And this week, I decided to take up tennis again! As much as I love running and doing some crazy hard workouts, there's also something about mixing it up and cross training that appeals to me, too. I just want to be active and keep myself healthy, so I'm willing to do it anyway I can… but I want it to be fun for me!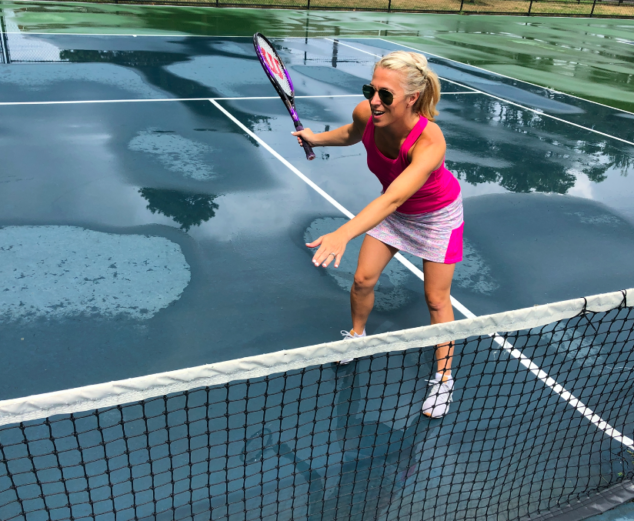 Tennis. It's a game I loved to play when I was in high school. I felt solid on the court, I knew I wasn't the best – but I knew I could hit the ball. I took a (ahem) 23 year sabbatical, but now I'm back and I really want to get myself back into the game. If you've been thinking about tennis lessons for beginners, take them!
I'm a beginner again, which is why I'm sharing all about tennis for beginners. I'm definitely not game ready. I'm definitely not quick on my feet. I'm definitely not as strong as I used to be. I'm taking it from the very beginning and training myself to get good again at tennis, but in baby steps.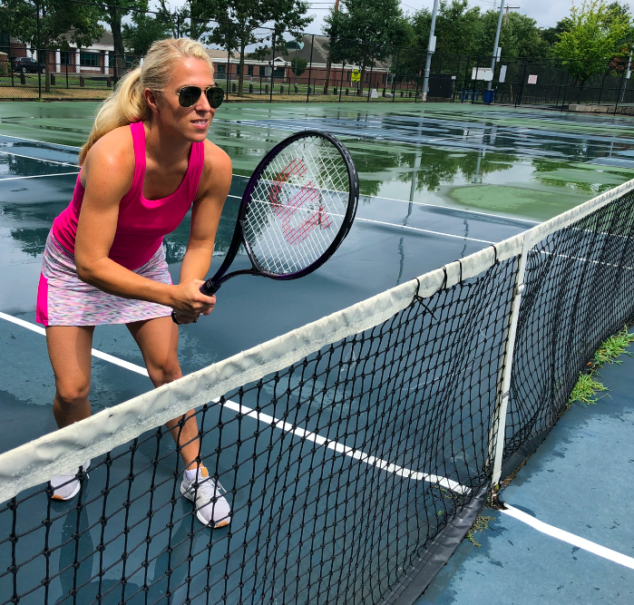 I wanted to share some Tennis for Beginners: What You Need to Know information with you because there are things that you need to make sure you're in the know about for the game!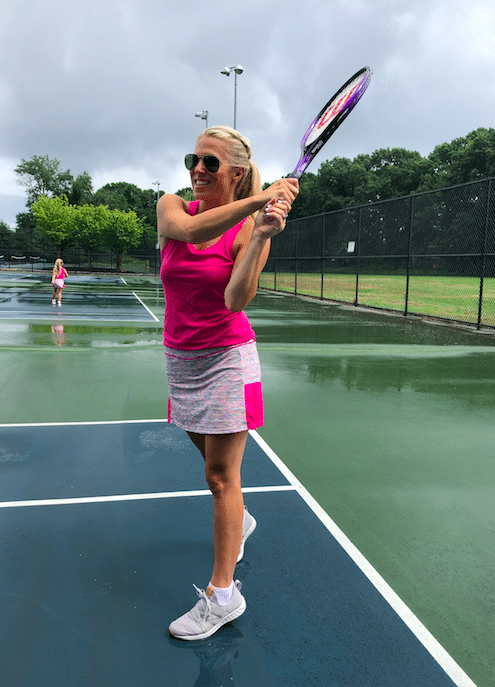 These tips are not in ANY particular order for tennis for beginners:
First and foremost, make sure you stretch out before you start playing. This is important because you will be using different muscles as you run around and hit the ball.
The point of the game is pretty simple, you want to hit the tennis ball over the court to the opposite player. If you're playing a game – you want to make that hit quick and swift so they'll find it tough to return the rally back. If you're playing for fun – you just want to get yourself into the groove of a simple and solid rally back and forth.
When you're about to hit the ball, make sure you're following through with your swing. Don't 1/2 it, really follow through and get a good hit.
There are 2 strokes – Forehand and Backhand. The Forehand is played with your right hand and the Backhand with your left. The Forehand is usually done with one hand and the Backhand with two hands. These are just good to know as you start so you can recall what stroke is actually which stroke.
Make sure you're standing at the baseline when you start playing, this will give you ample room to run around and get the ball when it's hit back to you. Think of that spot as your go-to position.
When you're starting out, allow the ball to drop 2 times before hitting it back. Usually you need to return the ball back after one bounce, but if you're new to the game…. give yourself the time to gauge and greet the ball in enough time.
Relax when you're playing. Don't get overwhelmed. Tennis is a wonderful game to play throughout the year, so give yourself the time to get comfortable and relaxed on the court. You'll pick it up quickly!
Make sure you're wearing comfortable clothing and sneakers you can dash around in quickly! This is important because you want to make sure you're doing everything you can to get yourself comfortable!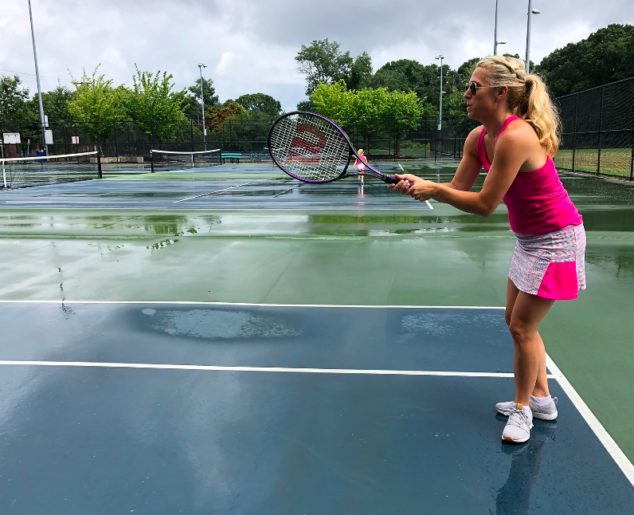 Tennis is a wonderful game because it's a game you can continue to play as you get older.  It's also a game you can play with your kids (as they get older) and really experience together as a family. It's also a great game to play with your friends. The workout is fantastic, but it really does come down to enjoying the game.
I'm thrilled to bring tennis back into my life. It was something I loved playing as a kid and so happy to have it back now, too. If you've into tennis for beginners I hope this inspires you to get back out on the courts OR try this sport for the very first time!
Also if you're looking for some tips on the best way to get a best home gym, here are some tips for you, too! Looking to get more into tennis – you need to be dressed for the part! Check out Dick's Sporting Goods for some great outfits!