Working out isn't always an easy thing to do. The biggest excuse is not having enough time. If you could workout at home and have the best home gym, wouldn't you? Sharing some of the best items to have in your home for the perfect home gym. Why leave your house if you don't have to?
Best Home Gym – Workout at Home
How do you start looking to create the best home gym? You start looking for items that will keep you moving and get you strong. This is something that I love doing because with 5 kids it's not always easy for me to go to the gym and workout. I need to do as much as I can from home because it's the easiest and most convenient for me.
It doesn't matter when you decide to change your life and really commit to working out and getting healthy. All that matters is that you make a decision to do it and go with it. You don't need the fanciest items or eve the most expensive items to get yourself moving. You need basic items that will help you go after your body and health goals.
Here are some of the best home gym items you can add into your life. I know that price points are a BIG deal for people, so I want to make sure I hit a variety of them. I don't want anyone to feel that they need to spend $10,000 to have the best home gym ever. I just want to be able to provide for you items that will allow you to workout at home and keep you healthy.
#1: BodyBoss Portable Gym – I love anything that is easy and portable. You could set this up anywhere in your house and get a full body workout. There's beauty in that kind of convenience. And if you're traveling? Bring it with you!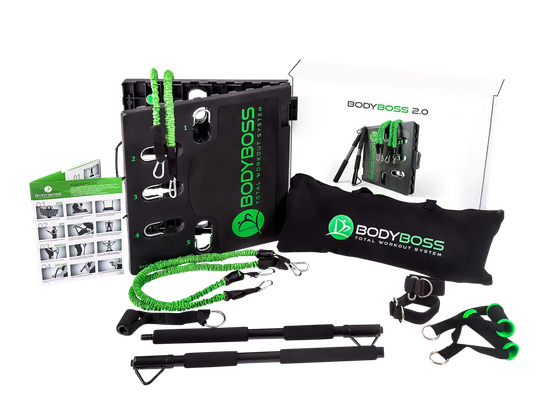 Allows you to use as a squat system

Allows you to stand on the platform and easily adjust band length through weaving

Allows you to workout your upper body

Allows you to workout your lower body

Allows you to meet fitness goals and take it anywhere you like to train at any level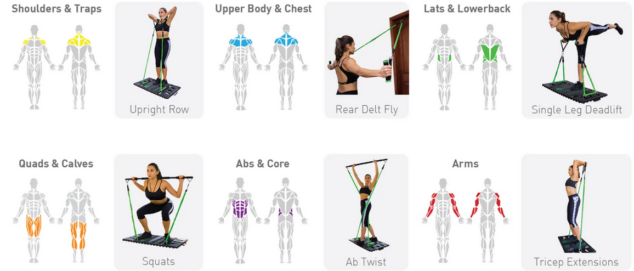 Read more about it here and purchase for $199!
#2: Escape Fitness Deck – Workout Bench and Fitness Station. This is what I love about this home gym set-up, as long as you have a good space for this – you will use this all the time.  This is an easy portable training system that works as an aerobic step, plyometric platform and adjustable strength-training bench.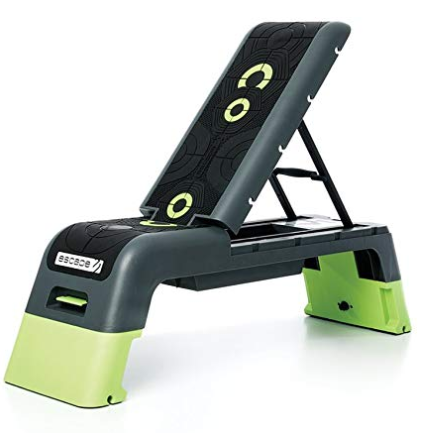 Perfect for step, weight training, circuits, Bodypump, bootcamps and more.
Multi-purpose. Aerobic stepping platform and adjustable strength-training bench with two different step heights.
16 configurations. Includes incline/decline 'ramp' mode and weight bench configurations.
Anti-slip top mat with anatomic target. Show optimal foot position for safety and confidence.
Resistance tube channels. For step, plyometric and resistance tube exercises.
Workout ideas and user guides on Escape's YouTube channel and Escape Your Limits app.
Developed by experts. From Escape Fitness, leaders in functional training solutions, and used by top trainers – our products look good and deliver optimal performance and results.
Read more about it and buy it here for $159.
#3: THE MIRROR – Which is blowing my mind and I want this in my house ASAP! Now before I talk about it, the price point on this best home gym item is $1495. Here's the thing, you can do payment plans with no money down for $42/month. That's a gym membership right there! I just wanted to lay that out there first!
This isn't just a mirror. It's a cardio class, it's a yoga studio, it's a boxing ring, it's your new personal trainer, and it's so much more.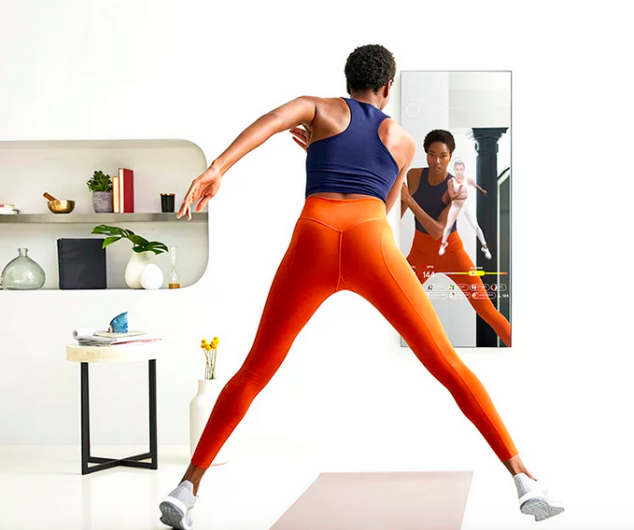 – expert INSTRUCTION: Certified trainers from the country's top fitness studios provide motivation and live feedback.
– real-time optimization: Get maximum results in minimum time with in-workout adjustments based on your goals, preferences, and personal profile.
customized playlists – Choose from curated playlists featuring popular music or sync your Spotify account to pick your own tunes.
Read more here and purchase it here.
#4: Weider Ultimate Body Works – this is totally old school, but totally amazing! My husband would be all over this one from the start! It's a body workout, but it's also one that will keep you focused and on target! I love how doable this one is to wake up and attack!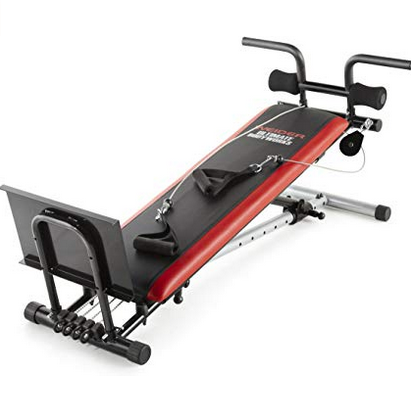 What can it do?
Over 50 body-shaping exercises: This versatile system offers 50-plus exercises to define and shape your arms, shoulders, back, abs, hips, thighs, and calves. 4 adjustable power bands: These durable resistance bands increase weight resistance beyond your own body weight, giving you up to 50 lbs. of additional resistance. Space-saving design: The Ultimate Body Works features convenient slide-away technology that allows for quick and easy storage. Workout guide: It lists which exercises focus on which muscle groups and how to properly perform specific exercises, along with additional exercise suggestions. Body weight resistance system: The Ultimate Body Works innovative resistance mechanism turns your body weight into natural resistance for a wide variety of exercises. Flexibility-strength training: An unrestricted cable and pulley system gives you greater versatility and greater range of motion, allowing for a wider variety of exercises that strengthen muscle and increase flexibility. Adjustable incline: Easily increase or decrease the intensity of your workout by simply changing the incline of the glide board, giving you 7 easy-to-change incline options. Built to last: Made of durable steel tubing, this system is designed for years of use. Features pulley system, squat stand, nylon strap handles, padded glide board, 4 power bands, and workout guide. Minimal assembly required. A renowned brand of fitness equipment manufactured by ICON Health & Fitness, Weider has remained one of the most trusted names in strength training for over 25 years. Weider manufactures free weight benches, variable rod resistance machines, and quality home gyms, ensuring that everyone, even those with busy schedules, can stay fit and healthy. The Weider name comes from Joe Weider, the publisher of Muscle and Fitness Magazine and the trainer of Arnold Schwarzenegger. The name continues to set the same standards for gym equipment that it did decades ago. Assembled dimensions: 71L x 25.
Read more and buy it here for $115.
#5: NordicTrack Total-Body Workout RW200 Rower – We love a rowing machine! Rowing is one of the most difficult and satisfying workouts ever! There are a bunch of rowing machines out there, this is a wonderful option if you're new to rowing!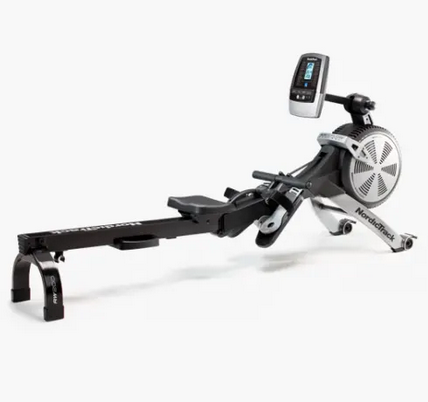 This is $799, but you can get it for $67/month. It's a great workout for the money! If you swapped this out with some running and/or walking, your body would be transformed in 3 months!
Read more about it and buy it here.
#6: Fluidity Barre – I've had this for the last few years and I love it. I haven't used it as much lately and I need to get myself back into the habit of using it!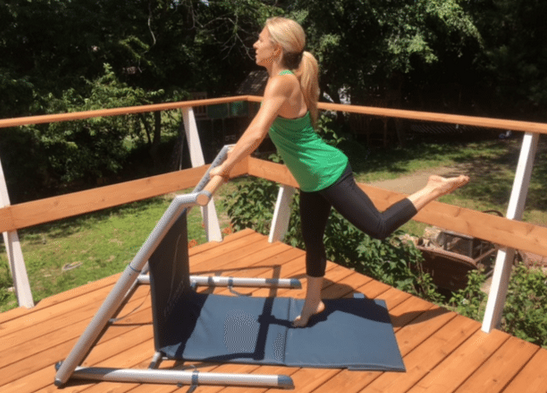 Beginner Workout – Fluidity founder Michelle Austin guides you through Fluidity's beginner movements with foolproof instruction that guarantees you proper form and maximum results.

Intermediate Workout – Take your workout to the next level with intermediate positions and resistance bands to intensify your upper-body workout.

Advanced Workout – The ultimate whole-body challenge! Evolve your workout to a whole new level of intensity with advanced movements and the Fluidity Ball, designed to increase the challenge while adding a little fun.

Fluidity Ball, Pump and Resistance Bands – The Fluidity Ball is designed to make even our most advanced Fluidity positions more challenging and fun. Therapeutic movements with the Resistance Bands develop functional strength in the complicated shoulder joint where weights just won't cut it.
#7: Treadmills. I mean, seriously – if you want a good workout, you might have to invest in a treadmill, but here's the good news! You can get them for so many different price points! You do not need to buy the one that's thousands of dollars! You don't at all and I promise you that! This one is around $550, but there are tons that are around $300, too!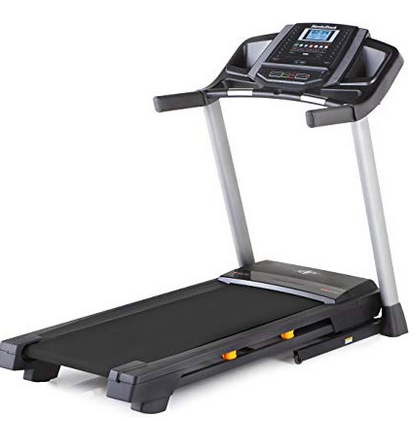 I didn't want to focus on any particular brand because I feel that there are so many that are awesome. I'm linking to this one because this is the one that I actually do have at home.
Read more about it and purchase.
#8: Bowflex Xtreme Home Gym – I wanted to highlight an actual home gym for you because I feel like this is what we all think about when we hear the words "Home Gym."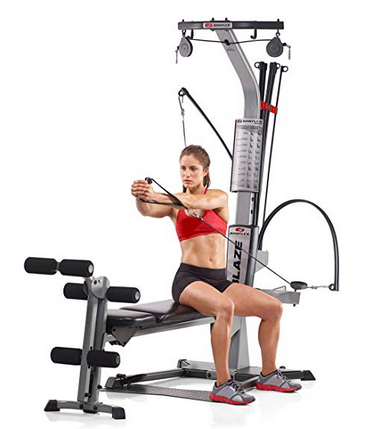 This gym is $799 and is a true full body workout at home. My husband used to have one of these in his apartment in college! He loved it and honestly – it was when he was at his best physical shape ever!
Bowflex Blaze Home Gym – The Bowflex Blaze home gym offers over 60 gym-quality exercises that work all of your muscle groups. The 210 lbs. of Power Rod resistance technology maximizes your strength training and fitness goals.
Taking care of yourself is one of the best things you can do for yourself. It just is. It's hands down the most important gift you can give your body, mind and soul. Take the time to take care of you! I'm giving you shortcuts as to how to make it doable and practical for yourself. When in doubt take 20 minutes and commit every single day to that, just 20 minutes!
Can you commit to 20 minutes a day?
Here's to creating the best home gym ever and working at home for yourself!