Disclosure: Sponsored post – How Always Discreet Boutique Has Helped my Back to Me Routine
My kids are my world, they are my everything. Watching them go off to school this year — all of them – was a very big deal for me. I watched my 13-year-old head off to eighth grade, my 12-year-old to seventh , my 11-year-old to sixth my 10-year-old to fifth and my 5-year-old (my baby!) to kindergarten! It was emotional watching them all go off on the bus, especially since this is the very first time I've had all my kids in school. When you're pregnant there are a ton of books to prep you as best as possible, even books for the baby and toddler years… but there's nothing to prepare you for these "older" years. It really got me this year, right in my heart.
Always Discreet Helping Me Out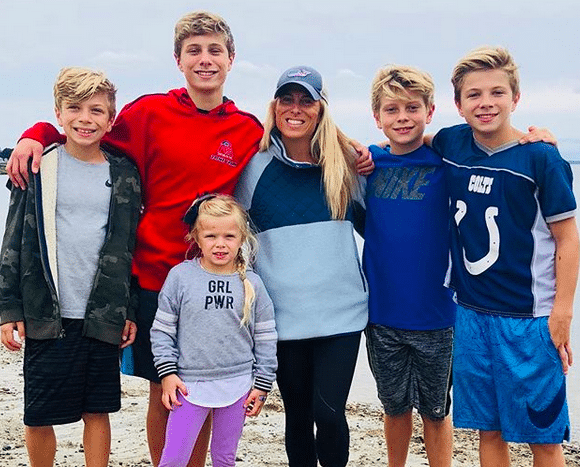 Motherhood really is the most amazing thing in the world. It's always an adventure and there's always something new popping up in your motherhood life that you just need to be prepared for and ready for along the way. With five kids – I feel like it's amplified! Besides being ready for anything that might come up with my kids, as I've gotten older… I've been experiencing some mom-body things that I also had to prepare for along the way.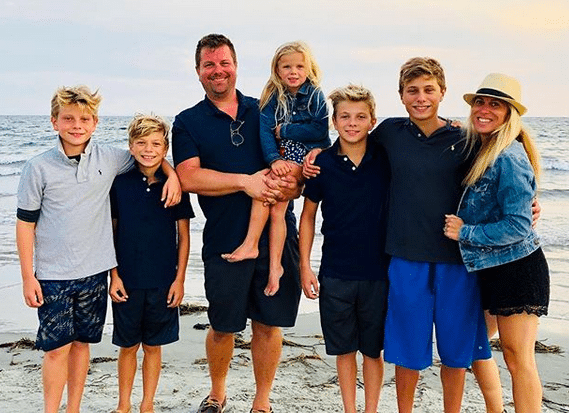 What am I talking about? I'm just going to say it – because – in all honesty, not enough women talk about it and it's something that's natural and common and (yes) even normal… bladder leakage. Believe it or not, 1 in 3 women experience bladder leaks.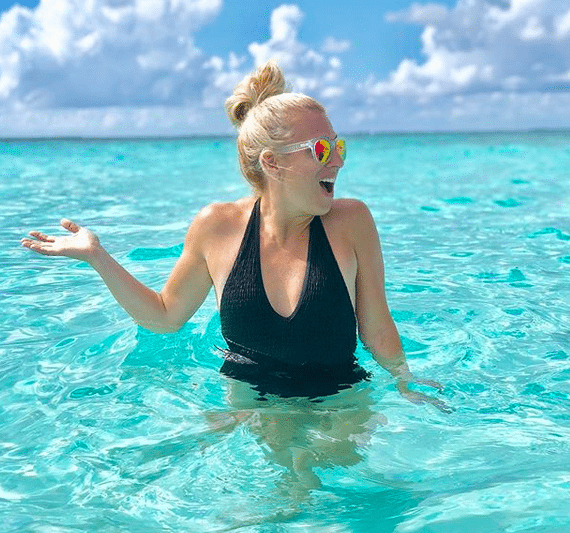 The facts – pregnancy, the type of delivery, and the number of children a woman has can increase the risk of incontinence. I've had seven pregnancies (two lost in miscarriage), three vaginal births and two C-sections. And… yes, five kiddos! I feel like incontinence was up there on the list of this happening to me. It's been something I've been prepared for from the get-go, but something that I didn't expect to happen so soon for me! I kind of thought this only happened to (I hate to say) "older" women. I'm only 40.
I wasn't surprised to learn that women with bladder leaks feel nine years older than they actually are! Yes… I get this. But – it has happened – from dancing with my daughter in the kitchen, to leaking a little during my morning runs, or even if I'm picking up Victoria (she still likes to be held!)… bladder leakage is a real thing that happens to real women and I just think it's important for us to share and let each other know that we are all in this together.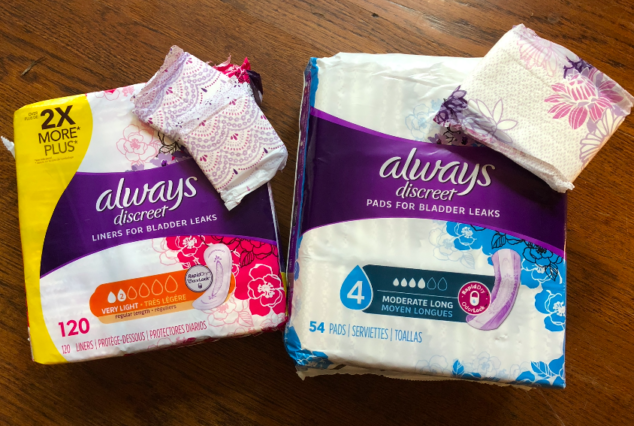 Always Discreet Liners and Pads
What has helped me immensely through this new mom adventure is Always Discreet Liners and Pads. They believe that every woman deserves to live her life without compromise, so they created Always Discreet, a unique line-up of bladder leak protection products from the #1 brand in feminine protection, Always. It's the perfect combination of form, function and feminine design. I'm telling you – I can't get enough how amazing these are for women! Nobody with bladder leakage issues wants to wear a big, bulky diaper. So the fact that Always has created a stylish option for women, made with silky-soft fabric and curve-hugging contours that come in delicate lace prints – it's beyond amazing. The Always Discreet Boutique designs are inspired by fashion industry and pantone trends, with a flowery pattern that goes from the front to the back on one side and come in peach and purple, so they really make you feel sexy and elegant.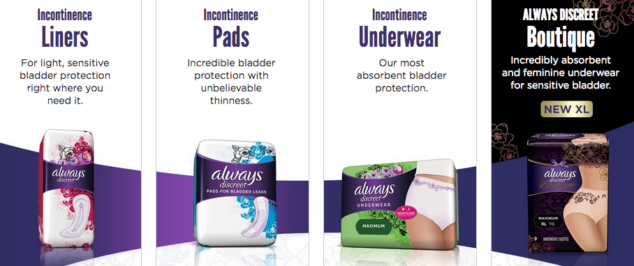 But the best part for women? We can stick with our routines! Especially right now for me and my life… it's non-stop with school back in session for the kids! I'm running to the bus stop. I'm rushing to work meetings. I'm on the soccer field. I'm on the pool deck for fall/winter swimming. I'm on the football field for flag football. I'm running, hiking, biking… you name it! Life is just busy and I can't be sidelined or feel anything other than happy with my family. Always Discreet offers incredible-performing protection, so I'm covered (literally) when I need to be. Hidden inside is a super-absorbent core with unique RapidDry™ technology that absorbs leaks in seconds, OdorLock™ technology that helps neutralize odors instantly and continuously, and Absorbent Gel Material (AGM) that helps lock the fluid deep within the core and away from the body. I'm telling you – moms – you can stick with your routine and feel fabulous doing it!
With Always Discreet, bladder leaks can feel like no big deal. And that's a really big deal.
Thank you, Always!
Read more about Always Discreet Boutique here:
Can Bladder Leakage Products Be Pretty?
https://momgenerations.com/2018/08/can-bladder-leakage-products-be-pretty-yes-thanks-to-always-discreet-boutique/
Always Discreet Boutique Making Bladder Protection Products Beautiful
https://momgenerations.com/2017/11/always-discreet-boutique-making-bladder-protection-products-beautiful/