Trend Alert! It's all about the camo this fall and winter! I'm a big camo fan, so I'm loving the fact that camo is just about everywhere right now. I've never owned a camo cardigan before, but I've been seeing there everywhere lately so I finally bought one and truly can't believe I went this long without one. It's such an easy trending piece to toss on and go. As a busy mom of 5, my fashion needs to be easy. I can't over complicate my life, so I adore and live for any pieces that I can toss right on and walk right out the door!
Best Camo Cardigan Options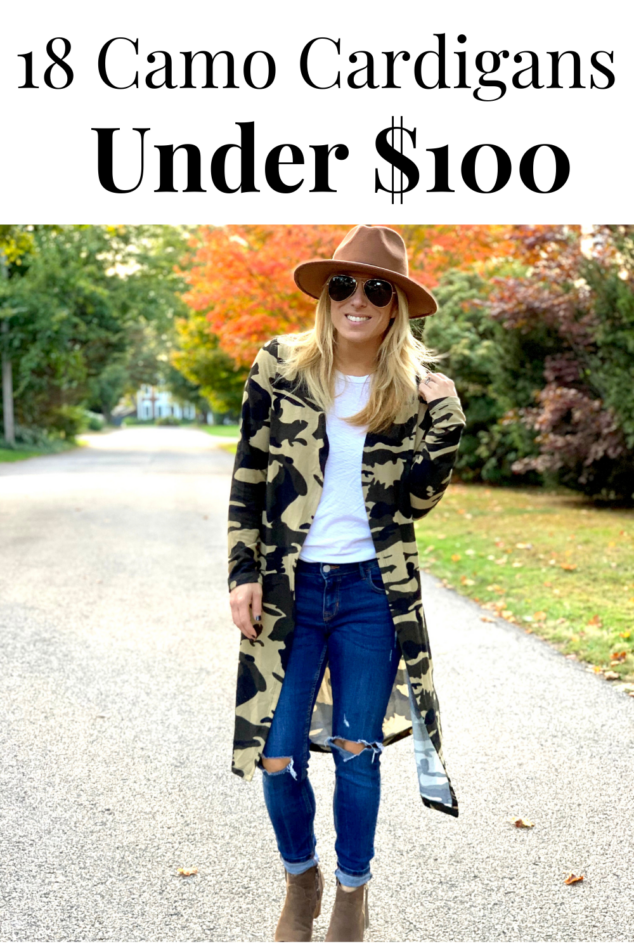 If you're a lover of camo, you're going to love a camo cardigan. I'm someone who has always loved blazers and cardigans because you can dress them up and dress them down. I love that I can use all of my tees and tanks from the summer and layer under all of these pieces. It helps stretch the use of my spring and summer clothing, too. I just think that anytime we can bring in fashion items that we know we will wear again and again (and again), it's a big win.
Since camo is trending heavily right now – I mean, you can find just about anything in a camo print. You can find wraps and scarves and sweaters and pants and dresses and shoes and so much more. I feel like every single time I turn around there's another camo something popping up. Since I'm all over the trend, this always makes me happy! If you're just getting into the camo trend, wearing a light camo cardigan might be an easy and good way to kick it off!
I found a really great camo cardigan on Amazon for only $25.99. Here's my thoughts with any clothing I order from Amazon, it's either a hit or a miss. If I don't recognize the brand, I need to make sure I touch, feel and see it. I loved what the camo cardigan looked like online, so was keeping my fingers crossed until it arrived.
Guess what? I feel in love with it! It's the perfect camo cardigan add-on for my wardrobe.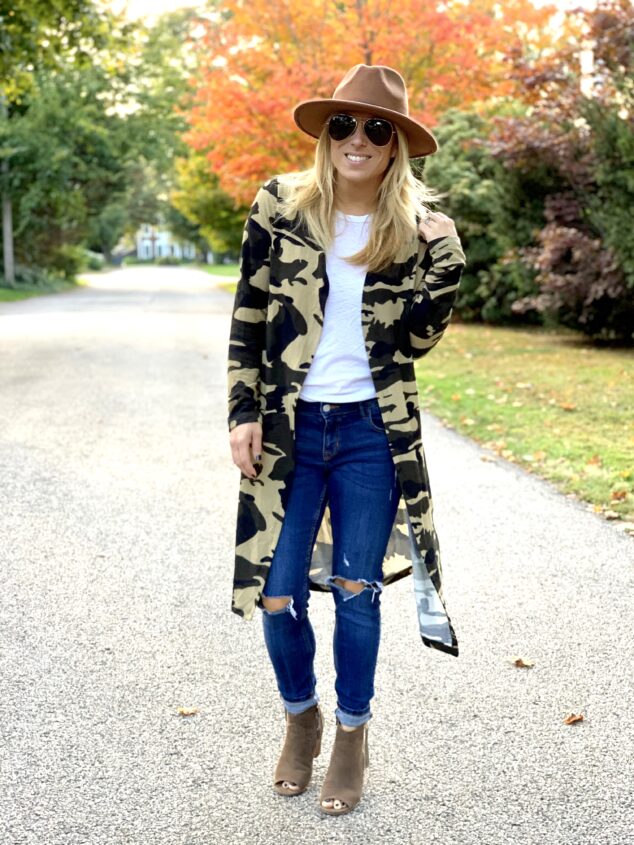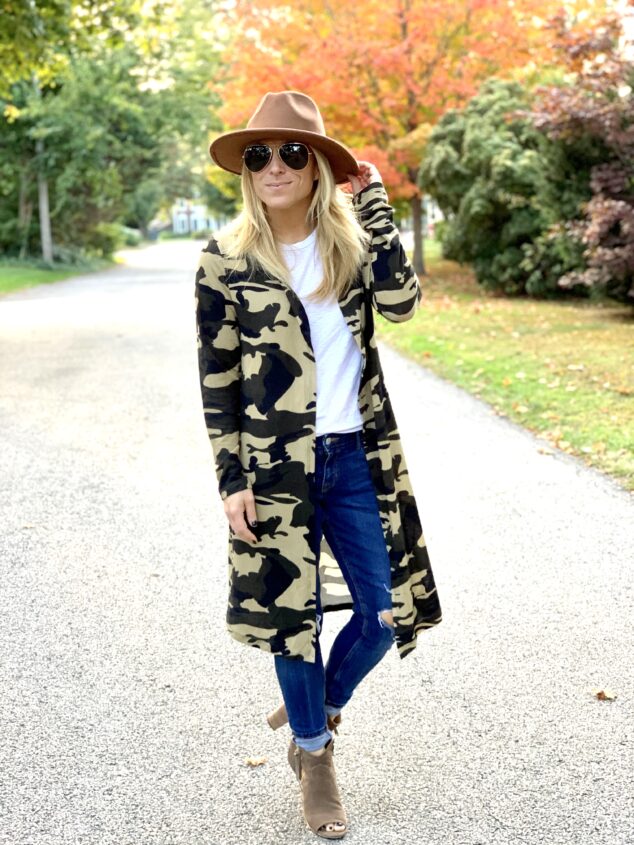 Designed with an open front, long sleeves and a relaxed fit with button closure, pockets, high low irregular Style.You will feel at home in this piece no matter where you go!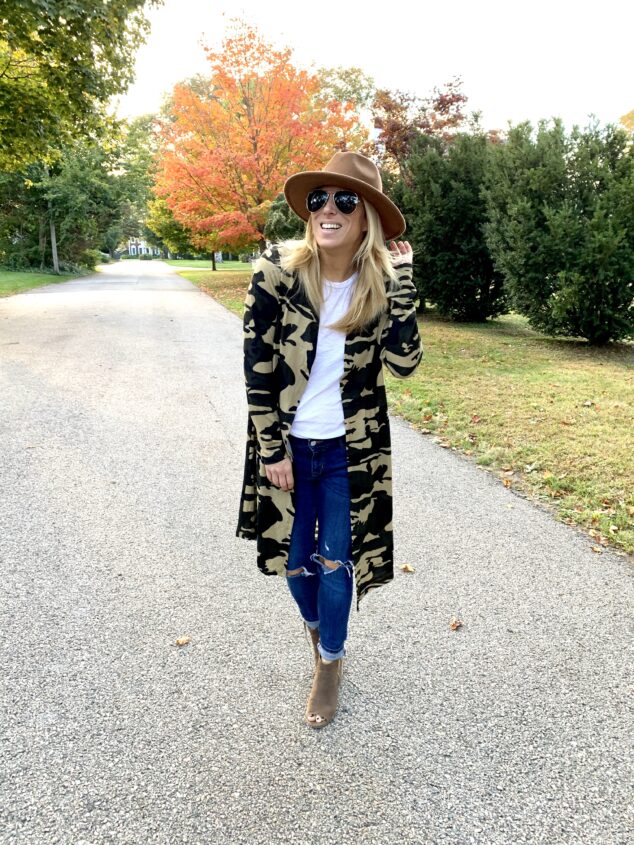 The long pocketed cardigan features a relaxed fit in a soft and stretchy fabrication.Take this extra long cardigan from work to leisure! A great piece to transition into the fall season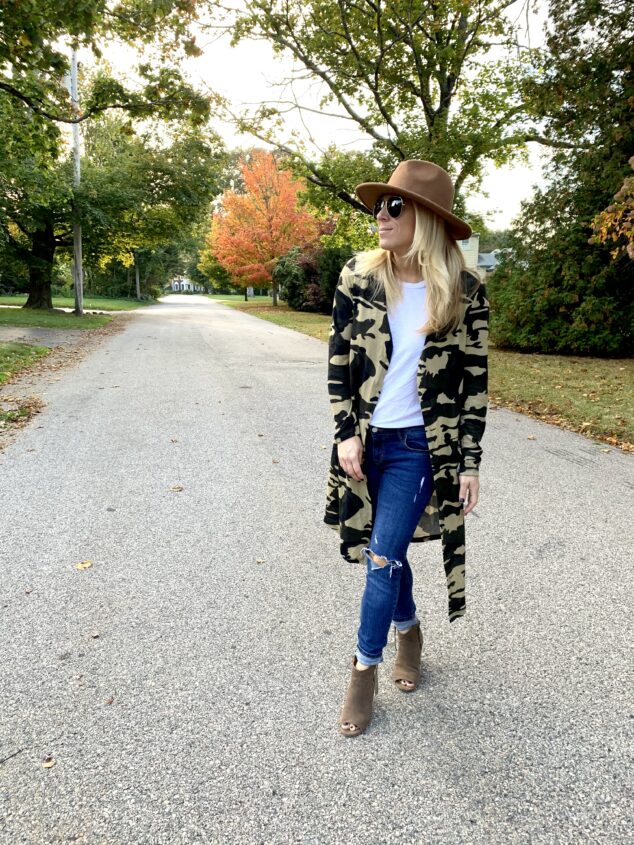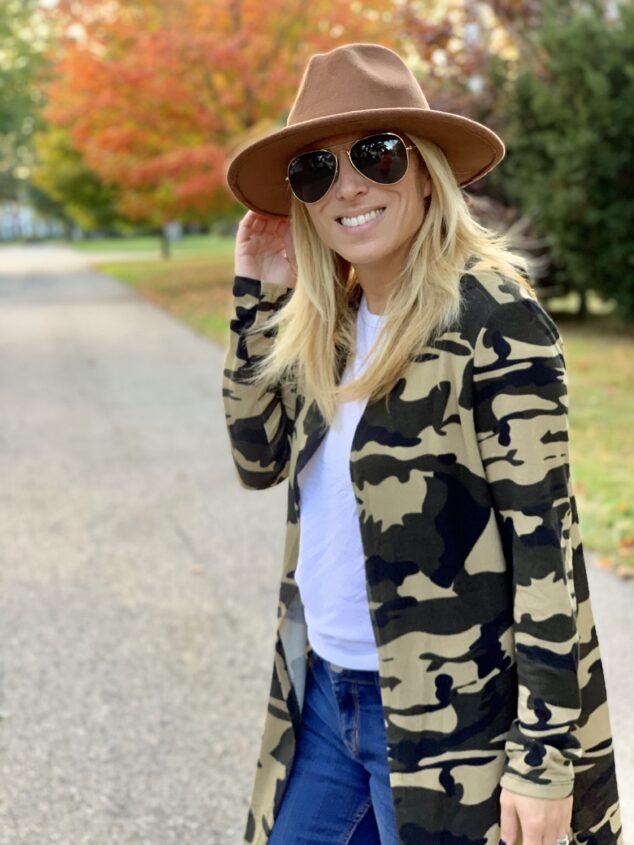 Can wear this long cardigan over a basic tee and jeans! Styled with the gold necklace, racerback tank, high rise relaxed denim or legging, faux suede block heel and highland bag.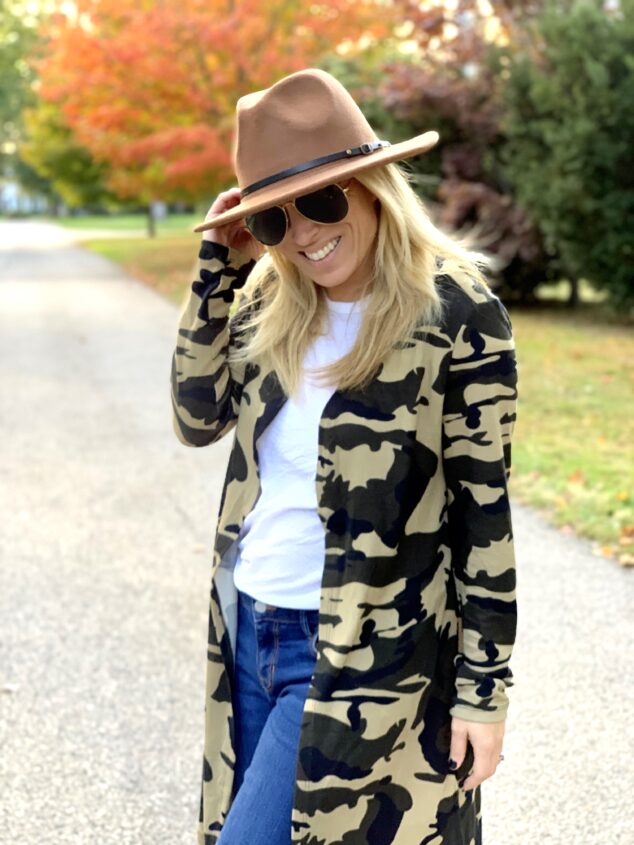 I'm telling you, this is a great option for your wardrobe! For $25.99 you're scoring big time with this one.
But wait, there's more camo cardigan options!
There's this great Camo Open Front Long Cardigan from LUCKY BRAND $110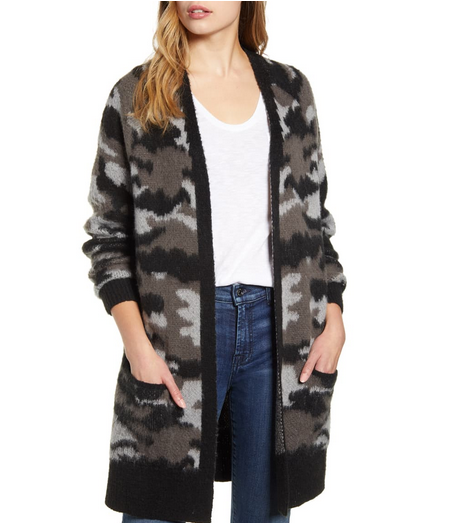 The pattern may be camo, but there's no disguising the cozy factor of this longline cardigan made from a wool-enriched blend. $110.

34″ length (size Medium)
Open front
V-neck
Front drop-in pockets
Ribbed collar, cuffs and hem
57% acrylic, 23% wool 20% nylon
Machine wash, dry flat
Vera Camo Cardigan Sweater at Anthropologie $120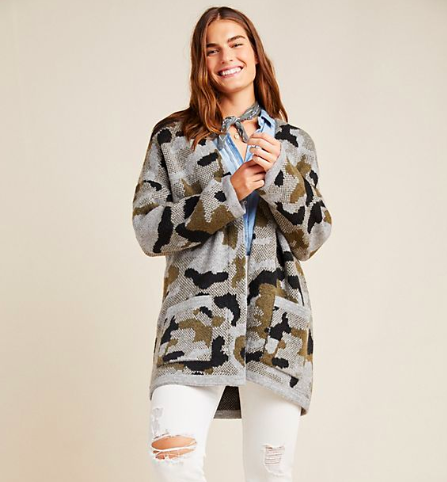 Who knew camo could be so cozy? This oversized knit brings warmth and charm to a classically edgy motif. $120
74% acrylic, 26% polyester
Front patch pockets
Open front
Hand wash
The Mint Julep Boutique You're The One Olive Green Camo Cardigan $39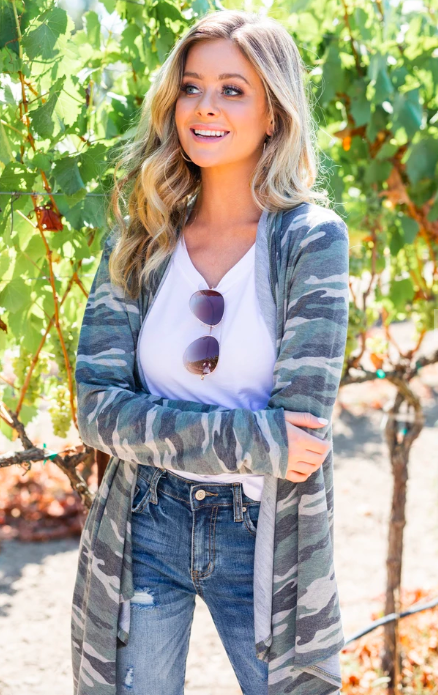 You're the one that needs this cardigan! It's so sassy and fun! That print is so trendy and we are loving that flowy fit! This cardigan is going to be so much this fall! It will add a fun pop to any lack luster outfit! This cardigan features long sleeves, open front, and a camo print. $39
Material has generous amount of stretch.
Hannah Godwin is wearing the small. 
Kohl's Women's Apt. 9® Printed Long Cardigan $39.99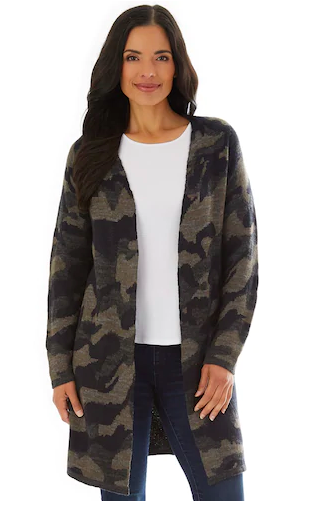 Love your look in this stylish printed cardigan duster by Apt. 9.
PRODUCT FEATURES
Ribbed
24″ sleeve
2 pockets
Drapeneck
FIT & SIZING
These are some of my favorite options at all different price points that are $120 and under. I think it's important to share a range because you can't always find items for as reasonable as you want, but we can find some gems if we look hard enough.
I'm also sharing below some additional options, too. These camo cardigan options are perfect for any woman, at any age. I think it's fun to experiment with trends that are out there right now in full swing. You can look and feel your best, but you need to figure out what works best for you. Remember… a cardigan looks fabulous with a white tank and jeans. It's an easy and fabulous look.
I'm all about a camo shirt to wear underneath things, too. It's a great way bring in a different look. I love to mix it up with a little different print. And if you're into camo pants, you'll love to read my What to Wear with Camo Pants post.