I've got the most perfect little black dress for you and I promise, once you try it you're going to love it. You're going to LOVE it so much. It's my new fave fall fashion find. I scored it for only $24.99 and it comes in a bunch of other colors. I'm someone who also loves to see how many different ways I can style and/or wear an item. With a black dress the opportunities are endless when it comes to styling. You can really have some fashion fun with it, just by looking in your own closet! Start there first!
Perfect Little Black Dress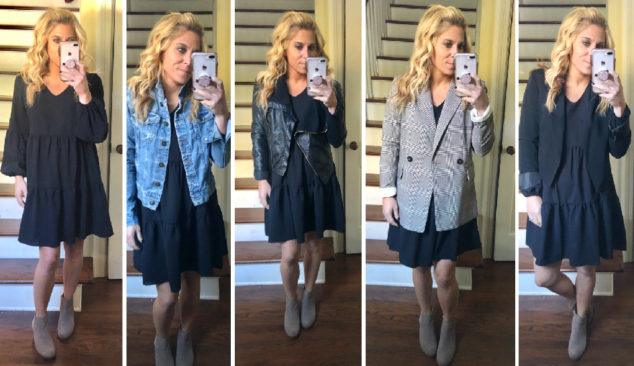 I've often said this and I will say it again and again. I love finding and buying items that I know I can wear over and over and over again. I might not want to wear my Little Black Dress "as is" every single time I'm out, but it's the kind of dress that I can change up easily. It's one of those items that I can really have some fashion fun with and extend quite a bit by knowing how to change the look of it.
What I love about this dress is that I'm going to show you how I can wear it 5 different ways. You don't always have to stick with one way, you can change it up. The best part? It doesn't even look like it's the same dress in every photo. I mean, YOU know because I'm telling you (LOL!), but if I was heading out with friends, they might not know it's the same dress I wore out last week, too!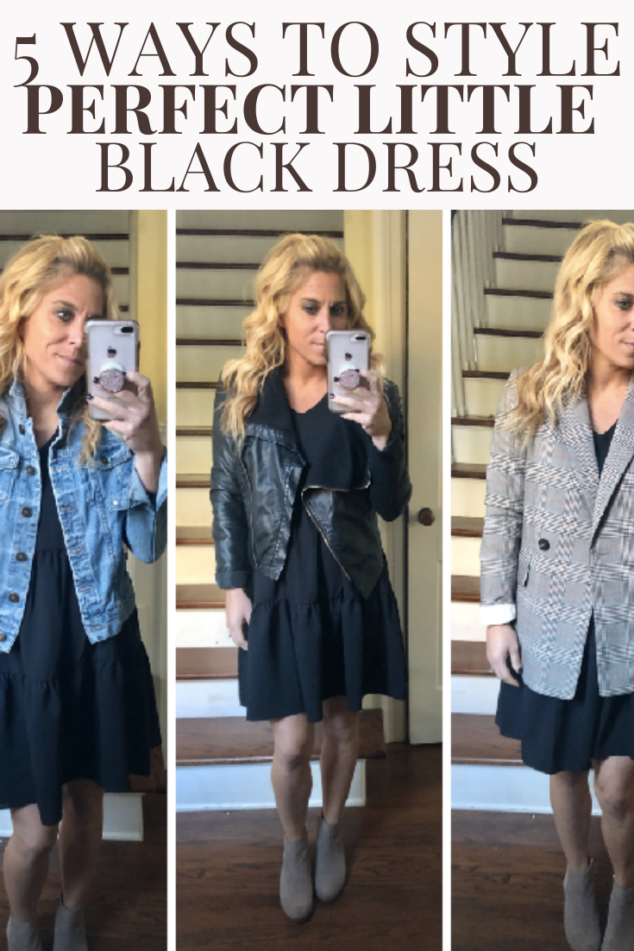 Here are my "rules" or – better said – guidelines for styling a Perfect Little Black Dress:
1. Find items that you love in your closet that are great layered pieces (jackets, blazers, wraps, etc).
2. Think about the length of your Little Black Dress (this one is on the shorter side, so I'm wearing items with it that work with the length)
3. Think about your shoes (make sure it's a pretty versatile shoe that you're rocking)
So here's my Perfect Little Black dress. I've talked about this gem a bunch of times, but I love it. I love it so much and I will keep wearing this dress a million times this season. Once I find something I love, I stick with it. I got this for $24.99 and it's a great quality, easy toss on and go type of dress. I've washed in the washing machine (cold rinse, by itself – just to ensure it would do OK!).
Here are 5 different ways to style it and make it work for different events and occasions!
Style #1: Moto Jacket! I'm a HUGE moto jacket fan. I have about 5 of them, but this one is my favorite. It's actually from the Kardashian Collection. I bought it years and years ago, but it's still one of my faves! I wish wish wish I could find another one like it, their Collection at Sears was my FAVORITE! If you're looking for a moto jacket like this, I've found one for under $45! Why break the bank, right? I love this over a Little Black Dress because it's easy and it's chic at the same time.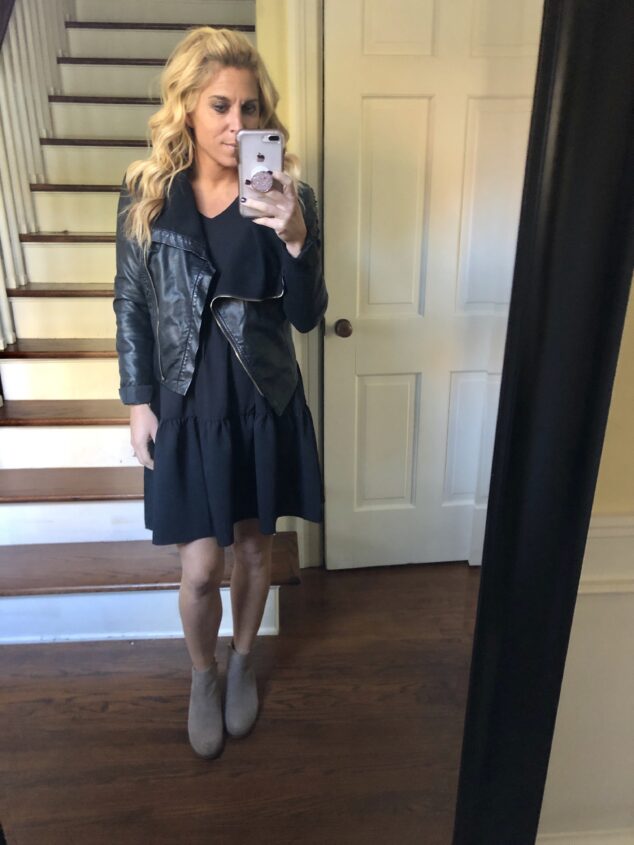 Style #2: Menswear Long Blazer – This is the first season I've bought a long blazer. I've never really gotten into them before, but this one really jumped out at me. I love the plaid print and it's such an easy blazer to wear to so many different things. You can wear this with a tank and jeans or with a dress! Either way it works beautifully! This is only $34.99!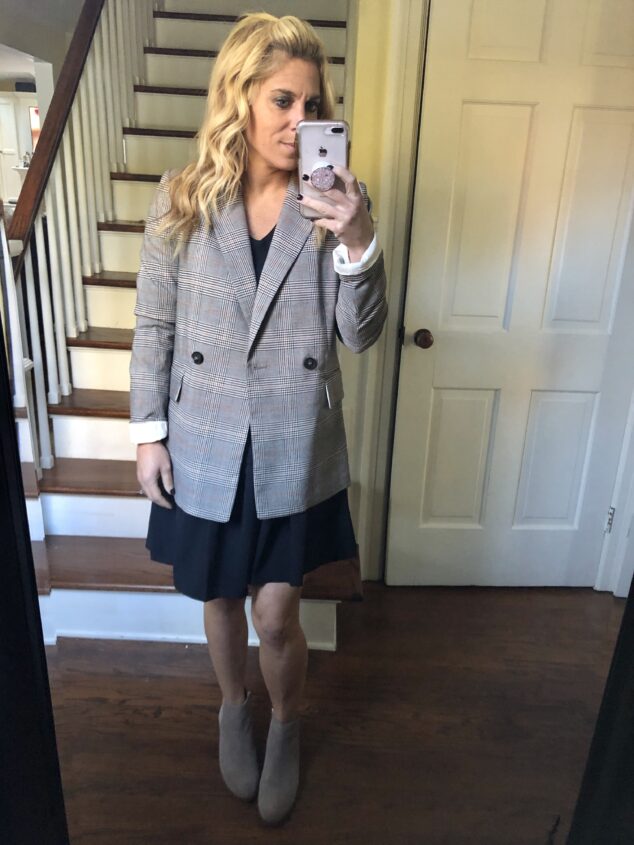 Style #3: Denim Denim Denim. I'm telling you, every single woman should have a denim jacket in their closet! EVERY SINGLE WOMAN. They are gorgeous and just sweet as can be. They (literally) go with everything! I think they are just a great add on over any item, but with a Little Black Dress, it just adds a layer of relaxed chicness.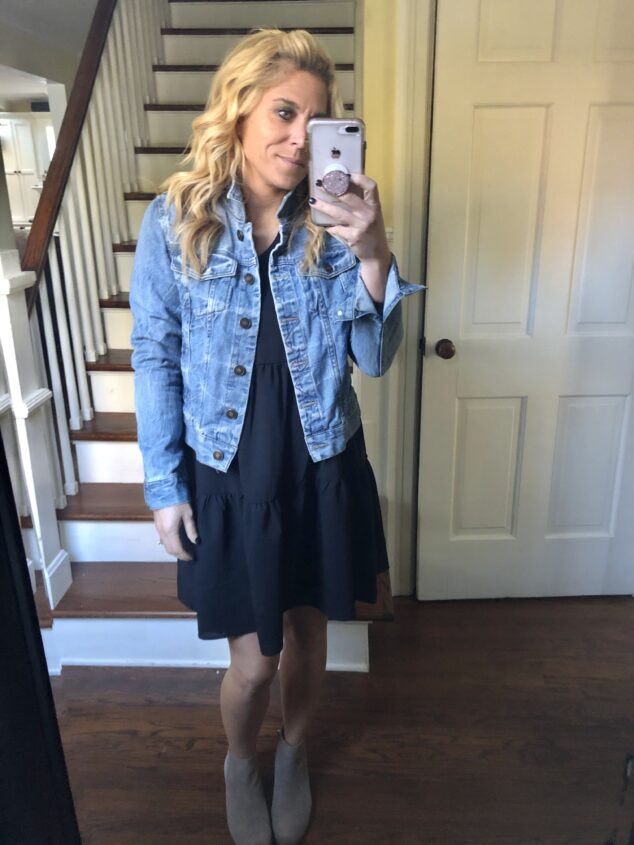 Style #4: Faux Fur Vest – This is a seasonal hit! I love a good faux fur anything! This is such a wonderful option and I think it's so elegant for the fall and winter. I love adding it to this dress because it amps it up a bit for the winter months ahead! It's just a really adorable option to wear and get some additional use out of your vest.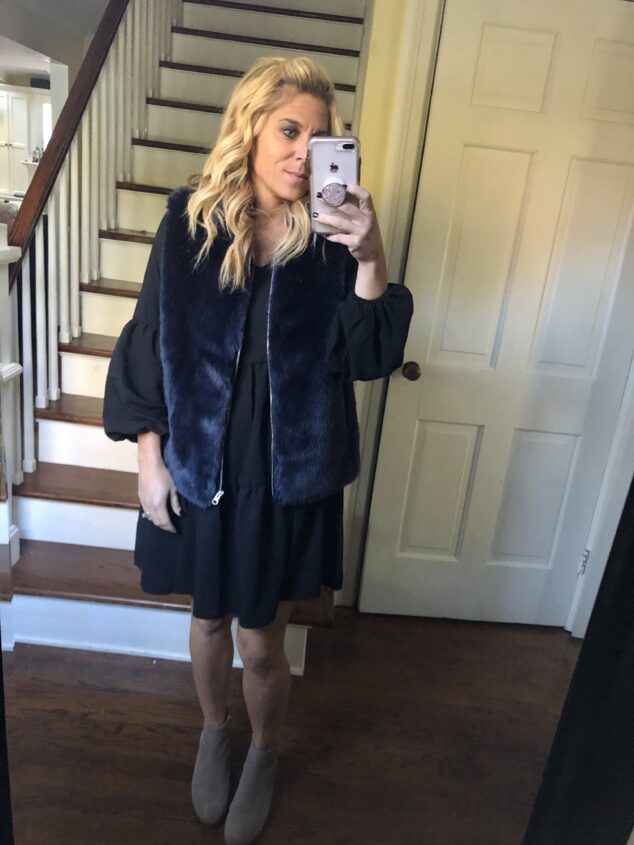 Style #5: Cropped Blazer. OK, with a short dress like this – my advice is to either go long or short. There's really NO in between. You want to make sure it's working for you the best way possible, so I'm all about cropping it with a blazer, too. This blazer cropped blazer I've had for ever, too. I love tossing on items that I just adore and love to wear over and over and over.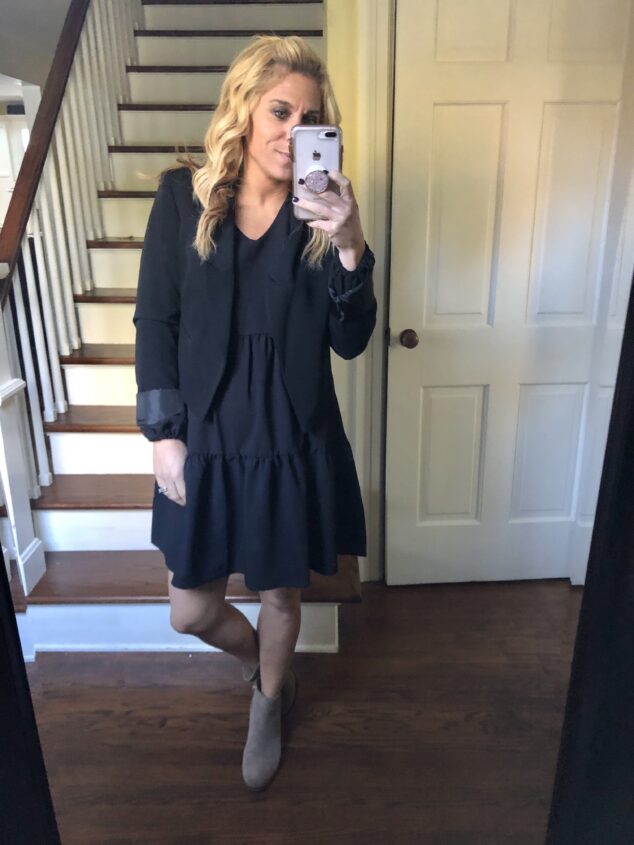 If you're loving the Perfect Little Black Dress, check out my post on 10 of the most Perfect Little Black Dress options, too! I wanted to make sure I hit all price points.
I also have a Fashion Over 40 group that I would LOVE for you to join! I share trends and styles every single day in there, along with the best sales online for fashion. I fully believe that you can and should be able to look your best without breaking the bank. You want to feel confident and beautiful and you CAN! I hope my info helps! We have a ton of fashion fun in there!
Join here!!!! YOU DON'T NEED TO BE 40+ TO JOIN!!!!! 🙂
You can click on all the bold words to buy the items OR I created this easy widget below for you to SHOP!!
*Affiliate Links within this Post.