We're at the point right now where Victoria (my 6 year old) wants to call Santa Claus. She's excited to tell him what she wants for Christmas and to make sure that she's on the "good list!" As a 6 year old (as you can imagine) this is the only thing on her mind right now. She just wants to make sure she's being a good girl and that Santa sees everything she's doing to make that happen. She doesn't understand why Santa Claus isn't in my phone for her to call like Grandma and Grandpa are!
How to Call Santa Claus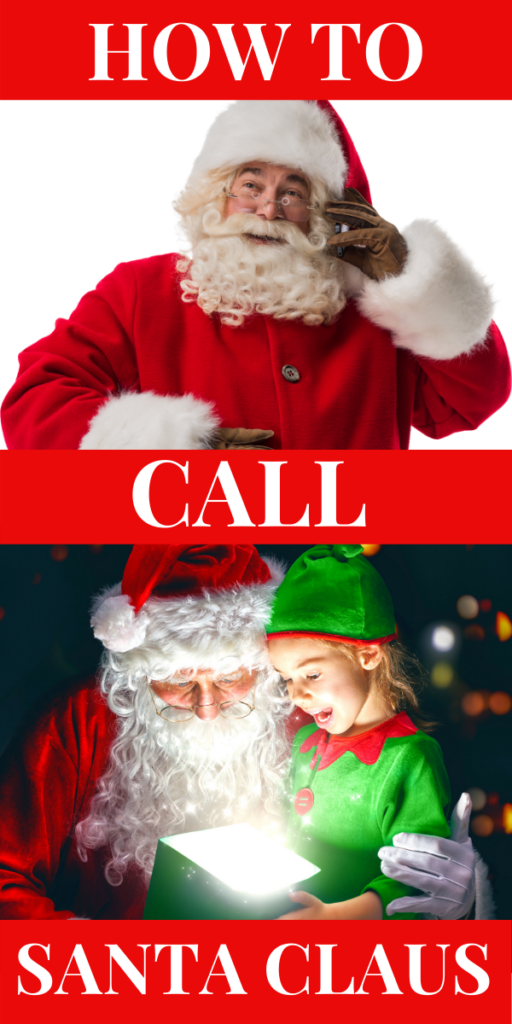 Little kids don't understand there's no such thing as a Santa Claus Phone Number. You can't just call Santa Claus in a heartbeat from mommy or daddy's phone. You need to make sure you have something set-up and in place before you take on that task! You don't want to "mess up" or have your child think you're doing it on your own. Since Victoria is KEEN on making sure she talks to Santa BEFORE Christmas, I've been on the hunt ad I've found an awesome answer to my Christmas wish!
I'm going to start a new Christmas tradition with Portable North Pole (PNP)! Oh, yes. They are known for their customizable videos and calls from Santa himself! Looking to call Santa Claus? They make sure duper simple for you.
It's simple:
1. You Download the free app
2. Input a few details about your child that only you would know (maybe who they sit next to in school)
3. Upload a photo
4. And then – guess what? In just a few minutes, the Santa Claus video arrives!
I'm telling you, this is something that I know Victoria will absolutely love and get so excited about, especially right now as we're in the throws of making lists for Santa. The amazing thing about Portable North Pole is that kids are boggled that Santa knows their name, if they are on the naughty or the nice list, and that he actually gives them tips on how to improve to the nice list or how to stay on it. Not to mention, depending on what you share, he'll know what they want for Christmas.
They also have a few new digital products for 2019 that are worth taking a look at, too!
• A brand new special multi-device scenario straight from Santa's sleigh on Christmas eve with a personalized video message from Santa on one device (desktop, smartphone, or tablet) and integrated into the video message is a call from Santa to your phone during the video message. This message can be made for one child or the whole family.
• A total of five new Premium personalized videos with even more ways to personalize the message.
• Another new multi-device Premium video scenario with a group option. This is great for parents looking to encourage good behavior from their children in the days leading up to Christmas.
• The Reaction Recorder is now available on Google Chrome for desktop and laptop, as well as on the PNP mobile app to capture the moment your loved one realizes it's Santa speaking to them directly on one of our Premium videos and create a lifetime keepsake.
• New personalization options. Santa will know even more about your loved one, than ever before.
* All these extra features are only available with purchase.
Portable North Pole also has created the most adorable line of toys, books and games for Christmas, and of course, each of them comes with a redeemable code for a free video or call Santa Claus.
The Portable North Pole Toys and Gifts Collection
What makes the Portable North Pole 2019 Do-Good Deeds Toys and Gifts Collection so magical? These enchanting gifts center around Santa and his world and are here to encourage kids to touch and interact with them. Best of all, these toys and gifts are great tools to help promote good behavior and good deeds.
All Portable North Pole friends arrive with a code for an exclusive, personalized video from Santa that grown- ups can redeem and personalized online. They're only available with the purchase of the gifts, and those videos are related to the gifts themselves! In total, over a dozen PNP toys and gifts will be on store shelves and online for this season's Christmas celebrations.
Portable North Pole Do-Good Elf • From $22.97 (At Walmart and Barnes & Noble)
Creative Child Magazine 2018 Product Of The Year Award
Dressed in a high-quality velveteen outfit (it's washable!) this elf wants to be taught the difference between naughty and nice. Passport and stickers are tucked inside to personalize your new friend's travel passport. Find the included code to unlock FOUR personalizable videos from Santa for little ones with messages of how to be this elf's friend and mentor.
NEW! Portable North Pole Hani Reindeer Plush • $19.99 (Exclusively at Barnes & Noble)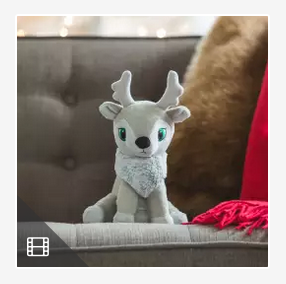 Baby reindeer Hani also hails from the North Pole's Polar Ranch. Santa asks youngsters to teach him teach him how to do good deeds, to be kind and brave, and to have lots of festive fun! Hani also comes with a magic code that allows you to unlock a personalized message from Santa and Hani.
NEW! Portable North Pole Senoki the Owlet • $19.99 (Exclusively at Barnes & Noble)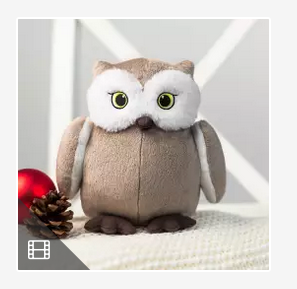 Whoooo's this? This snuggly owlet stands 7"tall and is from Santa's village in the North Pole. Children will learn in the video that Senoki is afraid of the dark and needs their help to overcome his apprehensions about turning off the lights. Claim your included code for a personalized video message for your loved one from Santa and his elves.
NEW! Portable North Pole Santa Letter Kit • From $9.97 (At Walmart and Barnes & Noble)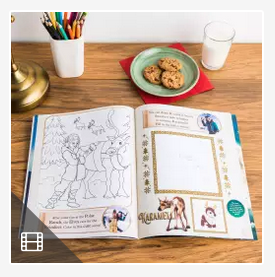 Write a letter to Santa so he knows how good you've been this year, and to tell him what you'd love to get for Christmas! And since it is from PNP, Santa will reply to your letter with a personalized message that will include the letter you sent him! Kit includes Letter to Santa, Thank You Santa card, Envelopes, Stickers, Stamp and Ink, and a code to unlock a personalized video
NEW! Portable North Pole Activity Book • From $5.97 (At Walmart and Barnes & Noble)
Here's a collection of seasonal activities including 30+ games and activities in full color. Give the gift of hours of Santa- approved family fun, including a code to receive a personalized video message from Santa.
NEW! Portable North Pole Do-Good Deeds Game • $12.97 (Exclusively at Walmart)
How do you guarantee a spot on the Nice List? Close your eyes and pick a good deed every day during the countdown to December 25. Kit includes 12 Good Deed cards, sticker sheet, and game poster, all packaged in a game box—plus a video redemption code for a personalized message from Santa!
NEW! Portable North Pole Mini Plush Ornaments • $5.97 (Exclusively at Walmart)
Brighten the Christmas tree with one—or all three— of these adorable friends from the North Pole—Karamelli the Reindeer, Okidä the Husky, and Kiki the Cardinal. Each plush ornament comes with a magic code that can be used to create a personalized Santa greeting for your loved one!
NEW! Portable North Pole Magic Key • $4.97 (Exclusively at Walmart)
Hang this magic key the night before Christmas to help Santa! The key is made from magic stardust so Santa can find every boy and girl, no matter where they sleep. Includes heavy-duty plastic Magic Key and a code for an exclusive personalized video from Santa, only available with the purchase of the Magic Key.
Discover all the Portable North Pole 2019 Do-Good Deeds Toys and Gifts Collection at Walmart and Barnes & Noble.
You can also Write a Personalized Note to Santa Claus, too! Here's how you can find it.