Pink is my favorite color, always has been and always will be. I'm sharing ways to style a pink sweater today! I'm all about adding some soft and pretty colors into my wardrobe each fall and winter. The cold weather in Rhode Island just about kills me, so I need some fun colors to make me smile and feel alive! I love pinks and reds because they really pop in the cold of the winter. I bought this pink sweater, which is a long cardigan last week and can't get enough of it!
Pink Sweater Styling – 5 Ways to Style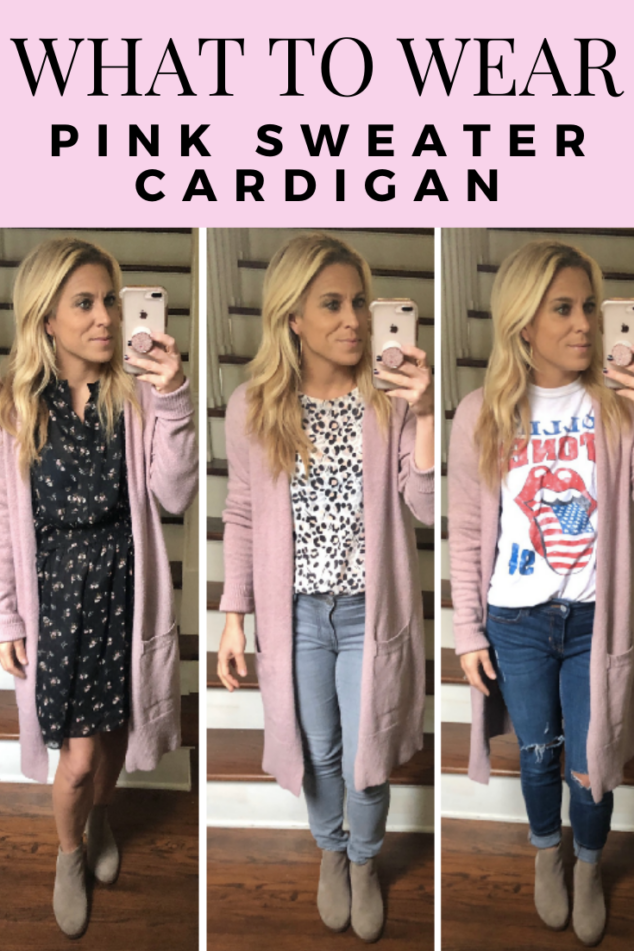 Here's the thing about pops of pink in the winter, it's soft and elegant. Regardless of where or how you wear it, it will look fabulous. I feel that with this pink sweater, it's such a great way to create multiple outfits with one piece. You need to make sure it's one that fits you well and one that (length wise) works for you and your body type. I love that I can style it a variety of different ways – dressing it up and/or dressing it down! I wanted to showcase how I've done it with items in my own closet.
Pink Sweater Styling – Check out the 5 different ways I decided to style this cardigan. I love that it's chic and trendy and also classic and elegant. I wanted to show how you can really switch it up and have some fashion fun!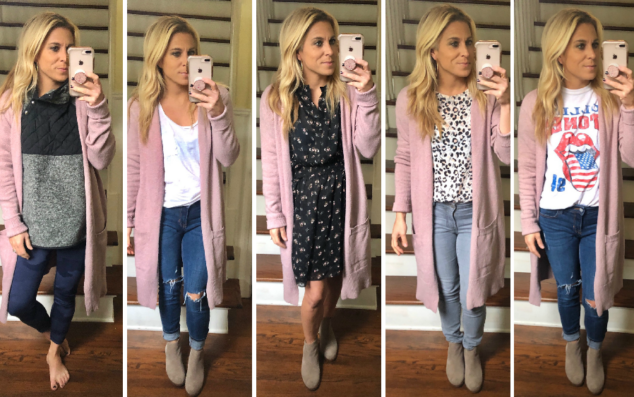 Style #1: I wanted to go as basic as basic could be with my pink sweater cardigan on look number one! I grabbed a pair of my distressed jeans, white tank and booties – and that was it! Basic, but comfy and chic and easy to wear just about anywhere! I love outfits like that that you could wear out to dinner with friends OR to the PTO meeting at school. These are the kinds of looks that I call mom uniforms! You hold on tight and don't ever let go!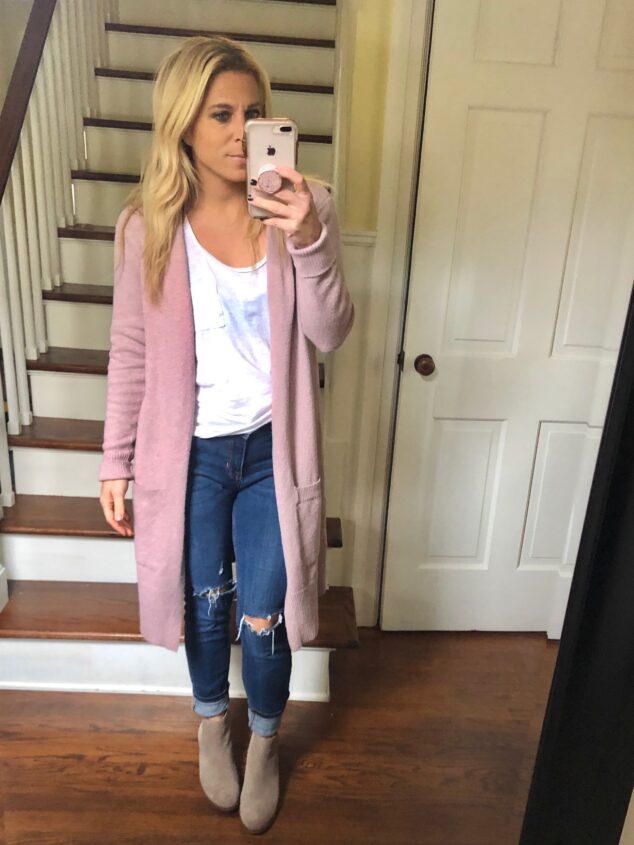 Style #2: OK, let's chic and edge it UP! I love that tee because it's just cool. I'm obsessed with graphic tees and think they are the funnest to wear during the spring and summer. When the fall and winter rolls around I usually wear them with blazers, but I'm switching it up and wearing them with cardigans now! Making this look work was fun and I even wore this exact look out on a date with my husband the other night!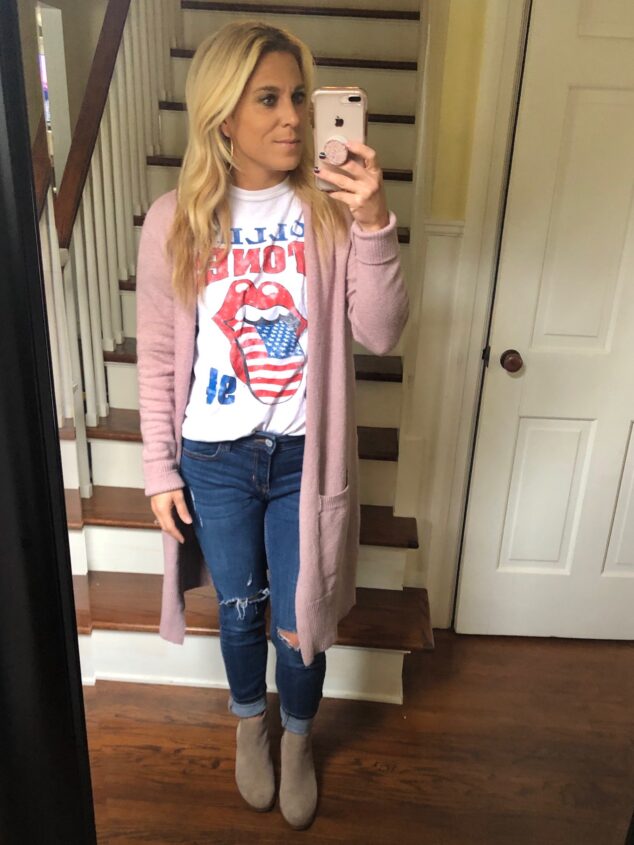 Style #3: I wanted to show how you could dress up a pink sweater cardigan. It's always easy to relax them down with some casual looks, but I really just wanted to make it soar for work. I grabbed a dress out of my closet that I usually wear to work or TV segments. I wanted to see if the sweater would work with this dress and it did! It DID PERFECTLY! I loved it so much and couldn't wait to have some extra fun with other dresses, too!! SO don't be afraid to add some dresses!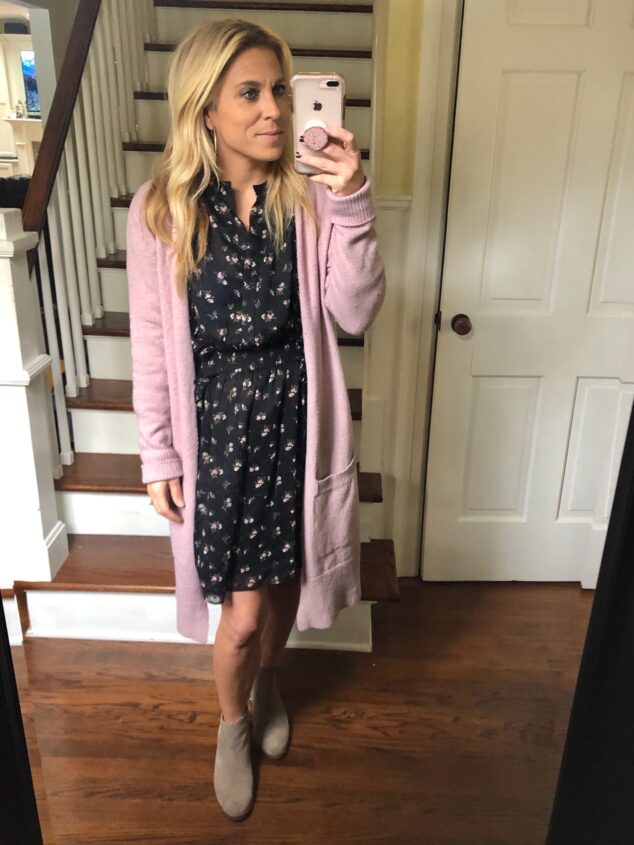 Style #4: Grabbed a printed top to pair with this sweater, too! The secret is find a top with color matching with your sweater! It really makes the sweater and the combo pop even more! I loved finding tops with a print, they're my favorite because they are just fun to wear and so elegant! I think this one works beautifully!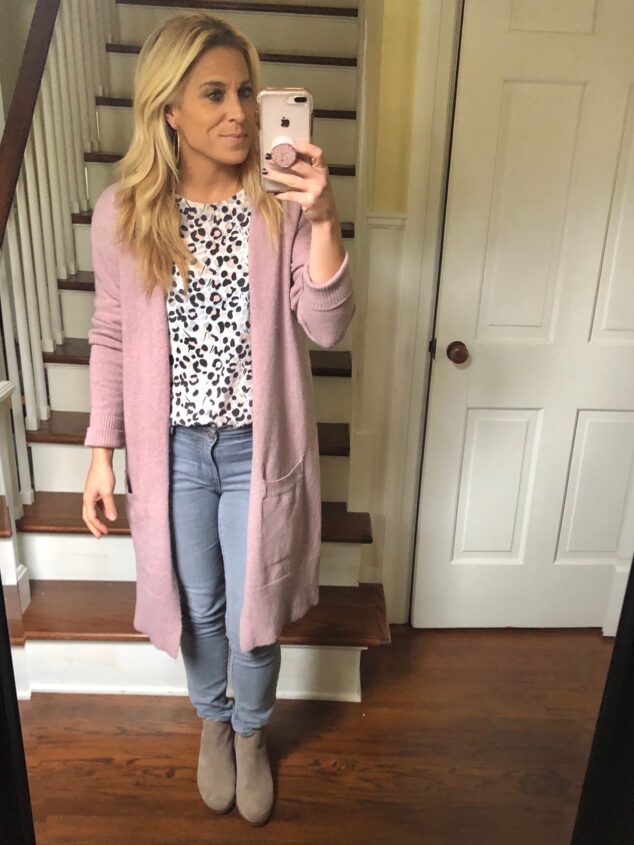 Style #5: I tried to see how far I could go with dressing this down! I grabbed some workout gear and paired with it, I wasn't sure I was going to love it – but I do! I think it works well as a top layer, it's something that I wasn't sure would work and as you can see – it does! I love that I can grab this pink sweater on the way to yoga or to the gym! Loving this easy, totally casual and relaxed look!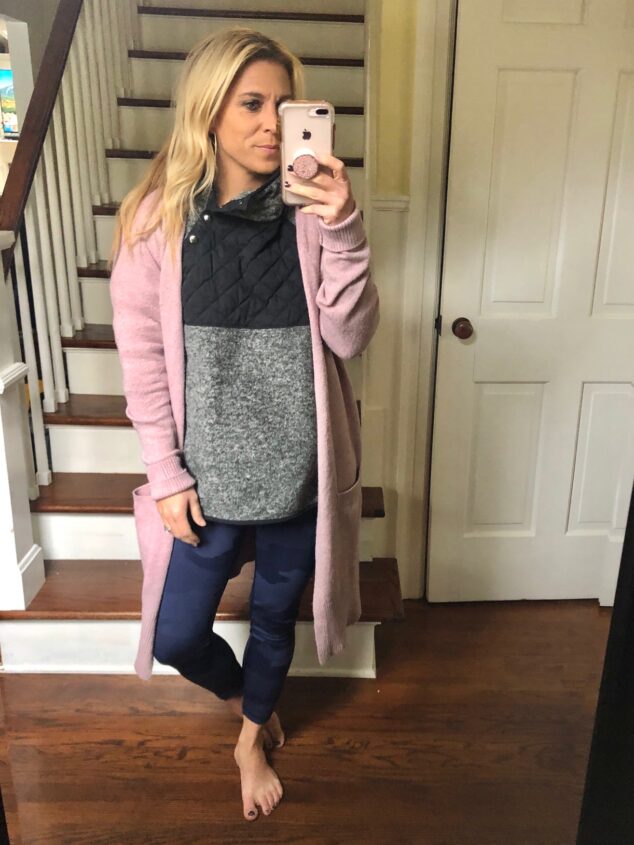 *Affiliates included
And for all of my mama friends! I also have a Fashion Over 40 group that I would LOVE for you to join! I share trends and styles every single day in there, along with the best sales online for fashion. I fully believe that you can and should be able to look your best without breaking the bank. You want to feel confident and beautiful and you CAN! I hope my info helps! We have a ton of fashion fun in there! And you don't need to be 40 years old!!!!!!!

HEAD ON OVER AND JOIN US HERE!!!
I also talked Sherpa Fleece Pullovers yesterday, come on over and see!
And check out my Old Navy Try On Sweater Post!