I'm a BIG believer in stepping out of your fashion comfort zone. I'm stepping out with this mustard cardigan right now. I'm someone who just started to experiment with different patterns and colors for myself. If you look back at my fashion photos throughout the years, I usually gravitate towards "safe" colors for me. I'm all about wearing navy, gray, black, brown and beige. I decided last year that I'm changing everything up right now on the fashion front. I'm going for bog, bold colors!
Mustard Cardigan – Stepping Out of Your Fashion Comfort Zone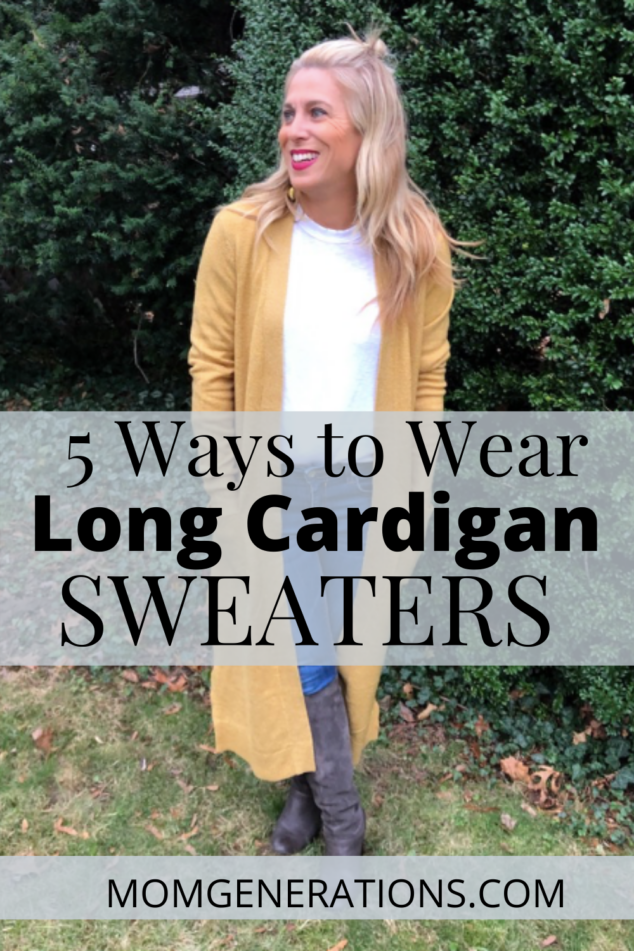 When was the last time you bought something that was out of your fashion comfort zone? Was it a red lipstick? Was it a higher heel? Was it a tighter top? Was it a brighter color? Was it a shorter dress? Was it something more luxurious than you're used to? Was it something that was a higher price point? How did you step out of your fashion comfort zone? What did you do and how did you do it?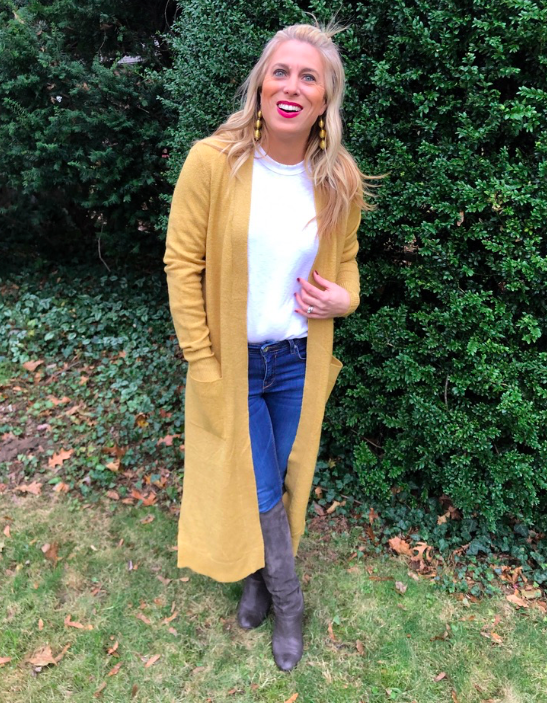 I went to LOFT last week and stepped out of my fashion comfort zone by buying a sweater that I normally wouldn't buy. Why? I've never thought of myself as someone who could pull off the color yellow. With light colored hair, I just didn't think it would look good. I always felt like it just washed me out and that I looked (dare I say it) silly! I decided to push that feeling away and go BIG with some YELLOW!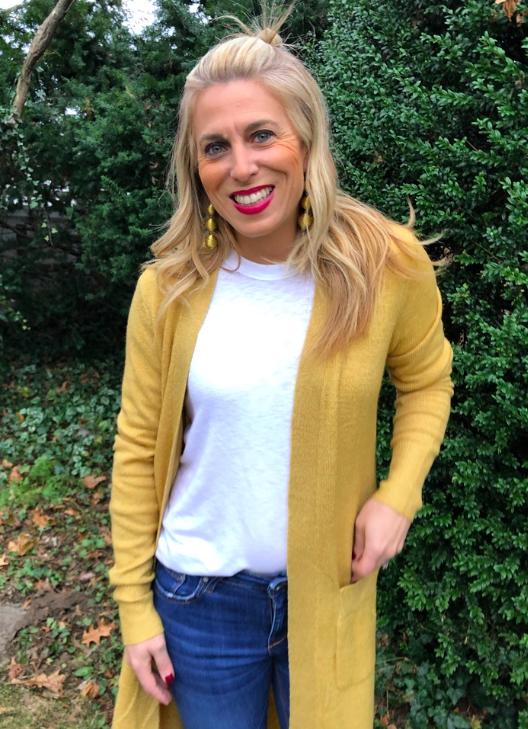 The second I put the mustard cardigan on from LOFT, I feel in love with it. I just really thought it was so perfect and so comfortable and so everything that I didn't think it would be on me! I just really loved it instantly! The mustard cardigan I'm talking about is really called the Pocket Duster Sweater! It's sweet and elegant and just super chic!
In an endlessly flattering duster length, this soft and cozy sweater is a must-have finishing layer. Long sleeves. Open front. Patch pockets. Side slits. • Softly fitted • Soft knit • Hits below the knee • 44 1/4″ long. Available in sizes XXS – XXL.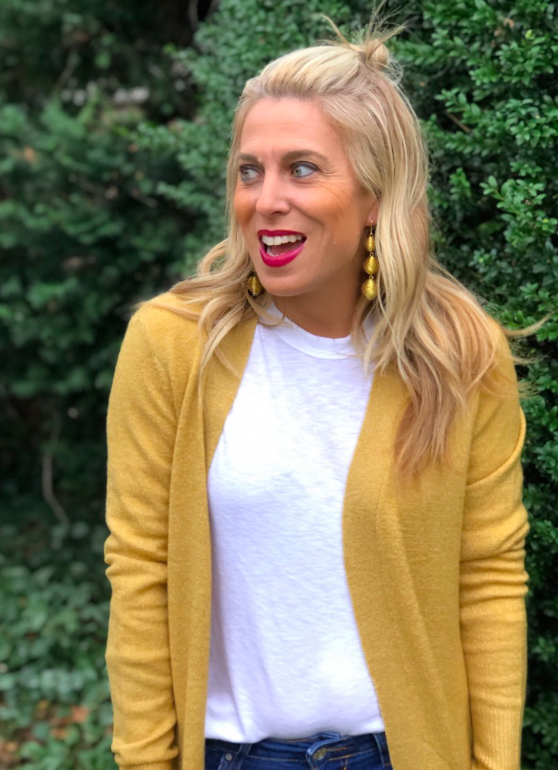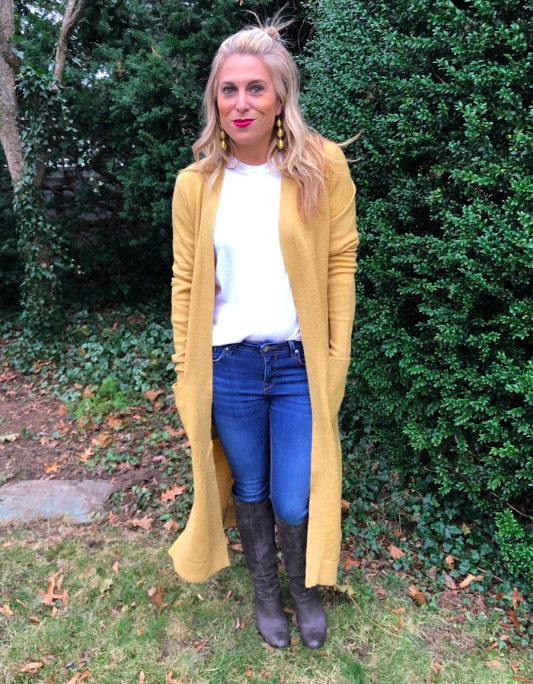 This is what I love about this mustard cardigan… you can toss it on and GO! There's no over thinking, there's no worrying about how it looks, there's no thought. You toss it on and off you go! I love anything that is as easy as that on the fashion front. The fun thing is that you can wear it over so many different fashion options, too. I wanted to show how basic you could take it with just jeans, boots and a white shirt. But think beyond just these basic fashion pieces.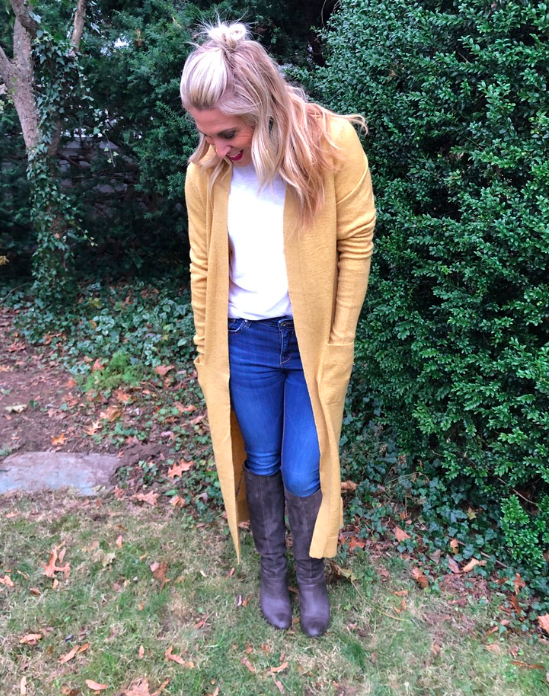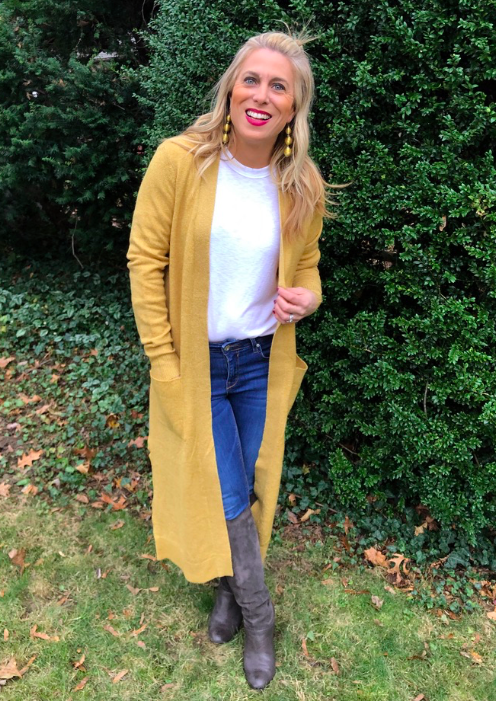 Think about wearing with this mustard cardigan:
Little Black Dress and Black Heels
Leggings with a Denim Shirt (tied at the waist)
White jeans (love them in the winter) with a white tee – the mustard cardigan would really POP with this look
Patterned dress for the winter – instead of a coat, use this gorgeous mustard cardigan
There are so many ways to style long cardigan sweaters because they are such a versatile piece to have in your closet. I love being able to stretch items on the fashion side of things as far as I possibly can! I think that they really make such great add on pieces because you're are able to wear them so many different ways. I'm all about trying to see how far I can go with an item! It makes me so excited to see something worn a variety of different ways.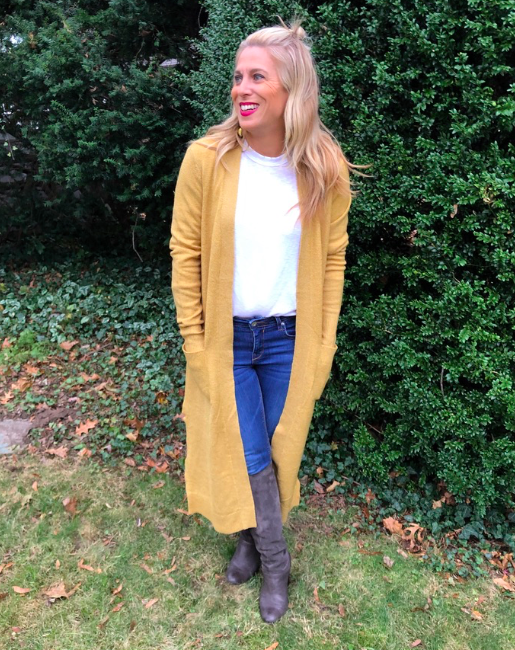 Share with me what you love on the fashion front! What makes you step out of your fashion comfort zone? I still can't believe I bought something mustard colored! I'm telling you, it's so different than anything that I have in my closet. But I'll tell you what – the color yellow has ALWAYS made me happy. It was my Nana's favorite color, she even painted her house yellow! So when I see something yellow, I always instinctively SMILE! This is what you want on the fashion front, items that make you happy.
This also comes in a gorgeous lilac color, which is a light purple. If you're someone who has stayed away from purples, let me suggest this one as an option for you! Plus (right now) EVERYTHING is 40% OFF the site, too! You can't beat a deal like that!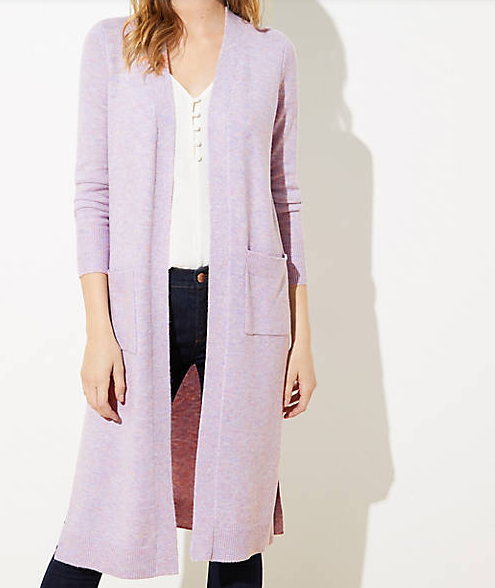 Everything is on sale! If you're a card holder, you even get 50% OFF! Not bad, right? You can really stock up on a ton of items at such great price points! Don't forget to check out my LOFT Plaid Wrap that I am officially in winter love with, too!
Please don't forget to join my Daily Dose of Style FACEBOOK GROUP!
And for all of my mama friends! I also have a Fashion Over 40 group that I would LOVE for you to join! I share trends and styles every single day in there, along with the best sales online for fashion. I fully believe that you can and should be able to look your best without breaking the bank. You want to feel confident and beautiful and you CAN! I hope my info helps! We have a ton of fashion fun in there! And you don't need to be 40 years old!!!!!!!

HEAD ON OVER AND JOIN US HERE!!!
Make sure you keep sending me what kinds of fashion and styles you'd like to see me share! It makes it so much more fun to create content when I know people are looking for certain things. I've been getting lots of requests for winter holiday dresses and jackets!