Looking for a spring jacket? You need a denim jacket pronto! Sharing my favorite petite denim jacket today and showing 5 ways to style it for the season. This is the only spring jacket you need for the warmer months ahead. Also sharing some of my favorite denim jacket options for you to buy.
Petite Denim Jacket – 5 Ways to Style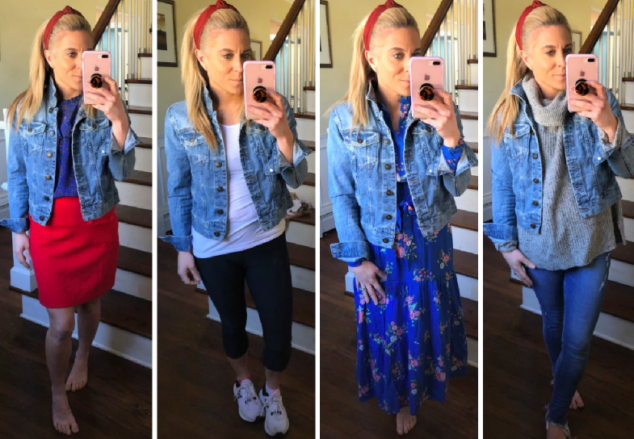 One of my favorite items is my petite denim jacket. I wear it all the time with just about everything. It's that perfect spring layer that you can toss on with just about anything and everything. I personally think it's that one items that everyone should have in their closet. It's that versatile item that can be worn year round, too. I personally love mine!
I'm excited to share with you 5 different ways to style a petite denim jacket. Please don't be hung up on the petite word either, it's for anyone at all! If you have a denim jacket, these styles will work perfectly for you, too! These are spring looks that are perfect for any woman to rock. As always I've got you covered on the fashion front, showcasing how to dress a petite denim jacket up, down and in between!
Let's get going!
Look #1 with my petite denim jacket: I'm keeping it super casual right now with this one. This is the kind of look you could go from the gym to the market or to school pick up in! I have my workout pants on, my sneakers and my workout top! This is actually my workout outfit ON, so this loo is truly a real one right here. My hair is done for the photos, but a few hours before this was the actual look I was rocking! Love that you can toss this on with your workout digs and make it look chic!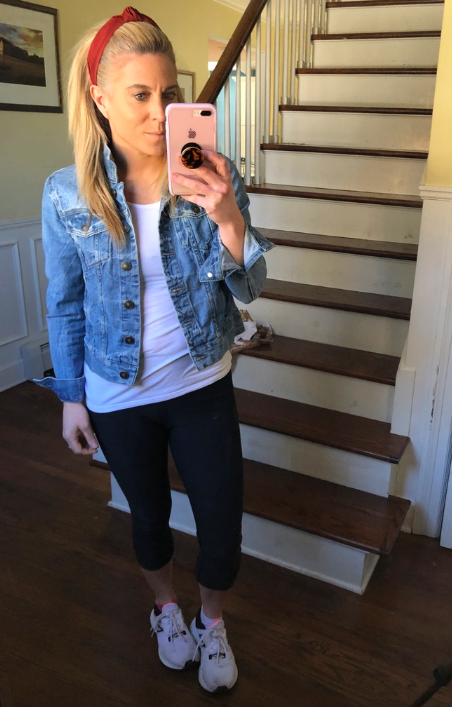 Look #2 for my denim jacket style: Mini Skirt Fun! I just bought this skirt at American Eagle last week and I've already fallen in love with it! Ruffle skirts are going to be HUGE this spring and summer, so if you have one – take it on out! If you don't have one, go buy one! I personally love this look because it's so chic and fun and adorable and cute! I'm telling you – this is my new fave look!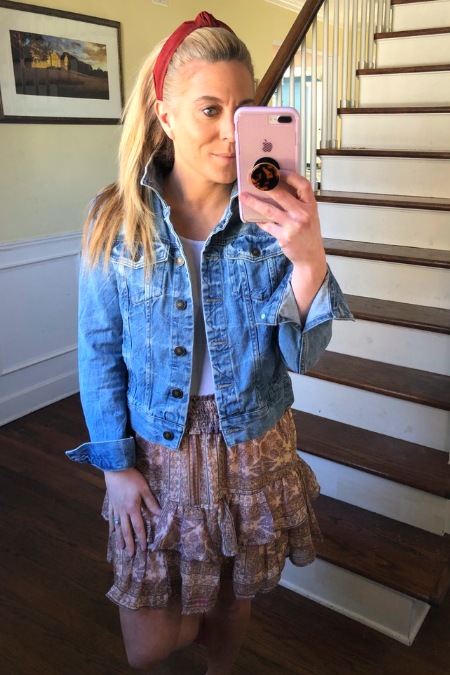 Look #3 with my petite denim jacket: Work it up my friends! This is my new favorite LOFT look for the spring. I grabbed my fave work mini skirts (this is my new red one!) and ruffle tops (this is my new fave one, too!).  I love how this look because it's professional and classic. I think it's great how the denim jacket gives this look a chic and fun look! I could easily toss on a blazer, but I love the difference with a denim jacket.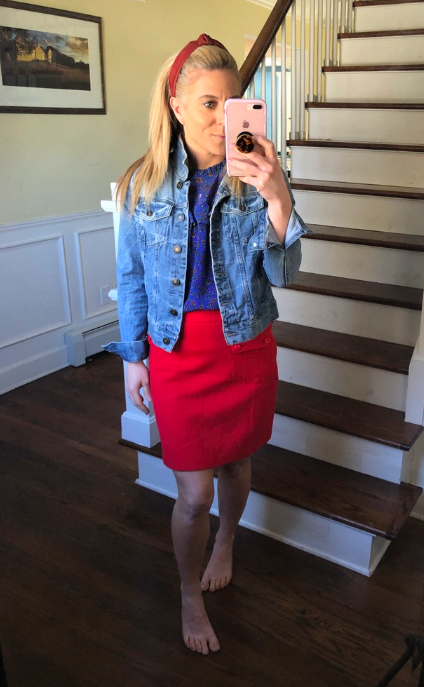 Look #4 look with my denim jacket: Dress it UP! I'm telling you right now, I love pairing my dresses with a denim jacket. When it comes to dresses, I love that denim jackets go with them perfectly. I love the look because it's sweet as can be! The cool thing is that you can grab any dress and try it with a denim jacket, it will look GOOD! This is the ultimate test of all… and it works every single time! I bring my denim jacket everywhere!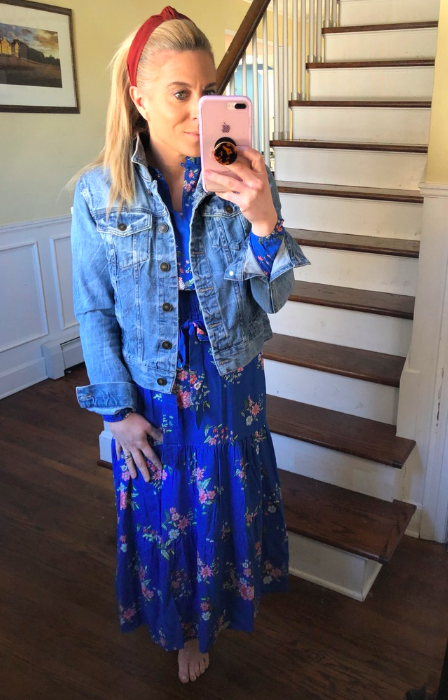 Look #5 for my petite denim jacket: Relaxed chic for the win! This is one of the simplest ways to wear the denim jacket. Grab your jeans with an oversized sweater or sweatshirt. I love this look because it's just easy and can be worn on the weekends or just for a day of chill! I love this look because it's a look that any woman can rock! My advice is to grab a size bigger than you actually need!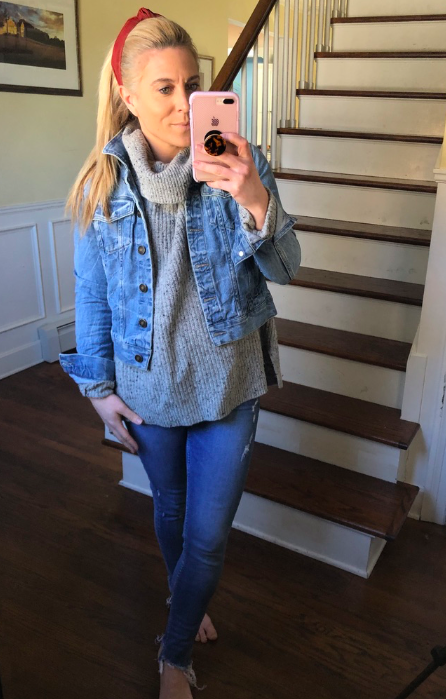 I hope these styles help you out along the way! These are only 5 different looks, but I want you to really know that even though I'm highlighting specific skirts and dresses… it works with just about any skirt and dress! This is just me using a couple of items that I have, but look in your closet to see what you have to make it work!!
These are some of the clothing I just mentioned above, so feel free to check them out! Also – if you're in the market for a denim jacket – this is a great option for you! I love this option because of the price and also the color of it. It's a nice denim wash that will go with just about anything!
Please don't forget to join my Daily Dose of Style FACEBOOK GROUP! This has turned into my favorite spot online and I love sharing there every single day! It's been an outlet for me to be open and honest about my fashion loves! It's a great place to learn new things, so I hope you come on over! I'm also going to be starting a kid fashion one soon, too!
Loving this Fashion Over 40 – Daily Dose of Style Facebook Group (that I would LOVE for you to join) and I share trends and styles every single day in there, along with the best sales online for fashion. I fully believe that you can and should be able to look your best without breaking the bank. You want to feel confident and beautiful and you CAN! I hope my info helps! We have a ton of fashion fun in there! And you don't need to be 40 years old!!!!!!!

HEAD ON OVER AND JOIN US HERE!!! I also share beauty tips there, too. Love your support and let me know what it is you're looking for, too!
Make sure you share with me if there's something you love and I missed it on the blog! See my last post on Tie Dye Clothing – 5 Ways to Style. Tie dye is such a huge trend this season, so for me it's a fun one to wear! Hope you like it!