Many of us are home right now with our kids. We're gearing up for school sessions at home and trying to make this time in our lives fulfilling and fun for our kids. Mommy and Me Activities are top on my list. It's important to find activities that YOU can do with your kids. I'm sharing a full list of activities that you can do with your kids right at home.
Mommy and Me Activities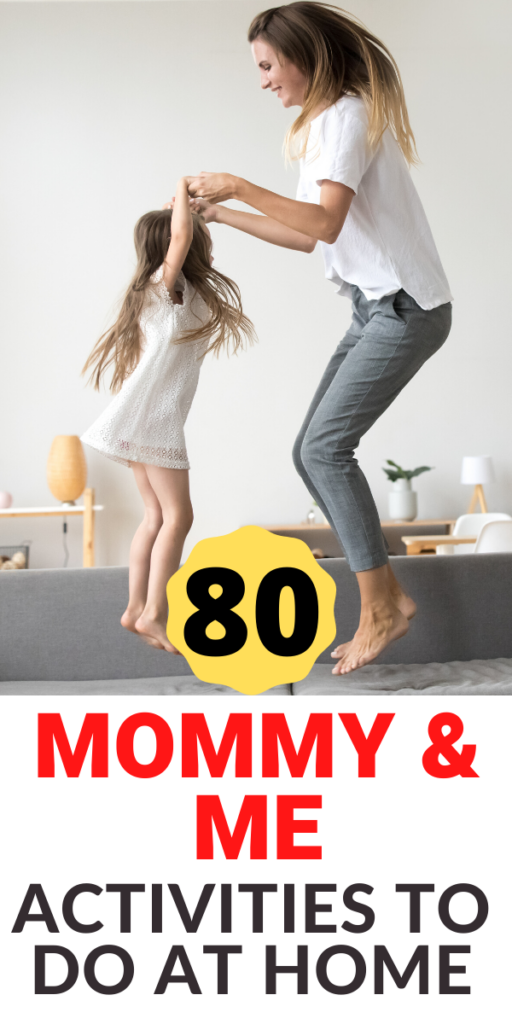 When we're looking to find some Mommy and Me Activities that we can do with our kids it's important to remember that for them (and us!) it's more than just an activity. This is time that we're spending one on one with our child or children (depending on your family). My 6 year old daughter soaks up this time when we do things together. It's meaningful to her and to me.
The best thing about Mommy and Me Activities is that you don't have to find things that are crazy expensive or over the top intricate. Sometimes the simplest things of all are the best activities to do together. Make sure you're working in some one on one time with your kids. It's such a gift to give your kids and it's a gift that you will love too.
Here are 80 Mommy and Me Activities:
Bake Cookies
Yoga
Scavenger Hunt in the House
Scavenger Hunt in your Backyard
Watch a Movie
Draw Pictures
Create a Science Experiment
Fly a Kite
Paint your Nails
Do your Makeup
Create a Spa at Home
Build a Living Room Fort
Read a Book Aloud Together
Organize Something in Your House
Learn An Instrument Together
Create a Music Video
Learn a Dance
Bake a Cake
Make Lunch Together
Make Breakfast Together
Build a LEGO Creation
Play a Board Game Together
Play a Video Game Together
Make a Scrapbook
Build a Birdhouse
Neighborhood Walk
Paint a Room in your House
Make a Milk Shake
Create Ice Cream Sundaes
Make Your Own Pizza
Paint Rocks
Dance Party Time
Start a Mom and Child Journal Together
Watch the Sunrise
Watch the Sunset
Make Your Own Jewelry
Paint a Canvas Print
Learn a New Language (online videos)
Write a Letter to Someone Special
Make a Flower Bouquet
Play Basketball
Play Football
Ride Bikes Around Your Neighborhood
Play a Game of Croquet
Do Your Hair Together
Create a Fashion Show
Go Through Old Photos and Videos Together
Plan a Picnic in your Backyard
Breakfast in Bed
FaceTime Someone Together
Plant a Garden Together
Try Making Balloon Animals
Make a Time Capsule
Karaoke Night
Create a Theme for the Day
Create an Obstacle Course
Binge Watch a TV Series
Sleepover in Mommy's Bed
Create Your Own Recipe
Have a Full Craft Day
Taco Night at Home
Work on a Family Tree
Dress Up "Fancy" Night
Make a Puzzle Together
Sew Together
Have a Brinner Night (breakfast for dinner)
Build a Train Track Around the House
Make Your Own Donuts
Start a Blog or YouTube Channel Together
Haircut Night at Home
Bedazzle T-Shirts
Play Cards
Plan a BIG Family Vacation Together
Play-Doh Creation Night
Tell Ghost Stories
Fondue Night at Home
Family Trivia Game Night
Make S'Mores Outdoors
Bake a Pie
Create Sidewalk Chalk Masterpieces
I hope this list helps you! I love the fact that you can do everything here right at home. There are is no traveling involved in this list. I appreciate any activity that is easy to do right from home. Not to mention – many of these activities can be done with kids that range in age from little to big. I have kids that range in age from 6 to 15 years old, so I love that this list works for all of them, too.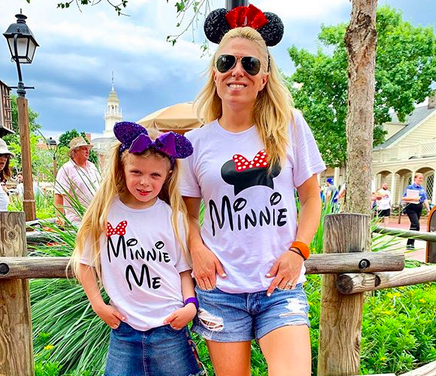 One of my favorite things to do with my daughter is to do Mommy and Me Matching! We love dressing alike and finding matching looks for each other. It's always a riot to see how excited she gets! Mommy and Me Clothes are something we love and really keep trying to bring into our fashion lives. If this is something you love, definitely have some fun with it!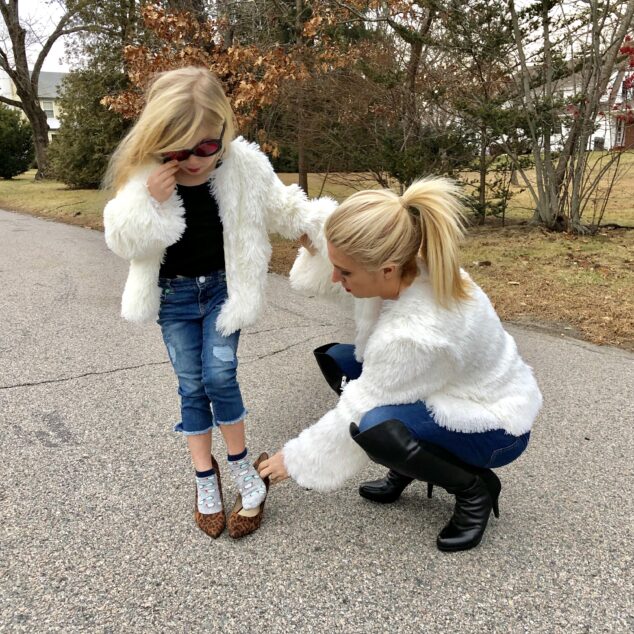 We're in a different time right now, so I really want to encourage you to do what you can with this time at home. It's a stressful time, so I'm hoping by sharing this entire list of Mommy and Me Activities it helps you spend some quality time with them.
This has turned into my favorite spot online and I love sharing there every single day! It's been an outlet for me to be open and honest about my fashion loves! It's a great place to learn new things, so I hope you come on over! I'm also going to be starting a kid fashion one soon, too!
One thing you can add to your activities with kids is Mini Pie Making Kit from Table Talk Pies. It's so much fun for kids to do with you.
Loving this Fashion Over 40 – Daily Dose of Style Facebook Group (that I would LOVE for you to join) and I share trends and styles every single day in there, along with the best sales online for fashion. I fully believe that you can and should be able to look your best without breaking the bank. You want to feel confident and beautiful and you CAN! I hope my info helps! We have a ton of fashion fun in there! And you don't need to be 40 years old!!!!!!!

HEAD ON OVER AND JOIN US HERE!!! I also share beauty tips there, too. Love your support and let me know what it is you're looking for, too!
Make sure you share with me if there's something you love and I missed it on the blog! See my last post on my Knot Bun Tutorial! I'm all about sharing everything I can when it comes to fashion and beauty! Hope these posts help you out!