I started spray tanning years ago. I've just always loved having a glistening glow during the non-summer months. Since I can't spray tan right now in my favorite salon, I started looking into options on how to spray tan at home. My big caveat? I want to make sure it's an organic spray tan at home. I don't want chemicals all over my body, I want to make sure I'm being smart.
Organic Spray Tan at Home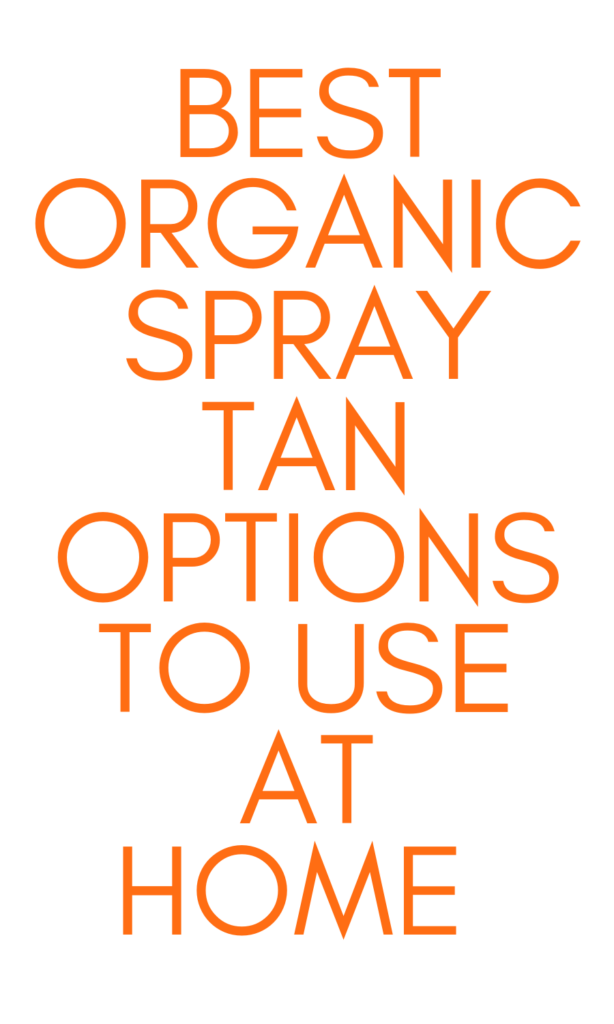 If you're someone who loves a spray tan, you know firsthand that it's important to ask what's being sprayed in your skin. You don't want anything on it that's not safe or healthy. I'm all about making sure whatever is being sprayed on me is organic. Since I have to do my own at home, finding the best organic spray tan at home has been very top of mind.
If you're like me and love a good bronzing, you'll love the organic spray tan options that I'm going to share with you. All of these products are perfect to use at home and safe to use at home. I've read all the reviews and asked some of my friends for these organic spray tan options. I feel like this is a solid list for people to work off of and hopefully will be helpful to you.
Norvell Sunless Kit – $279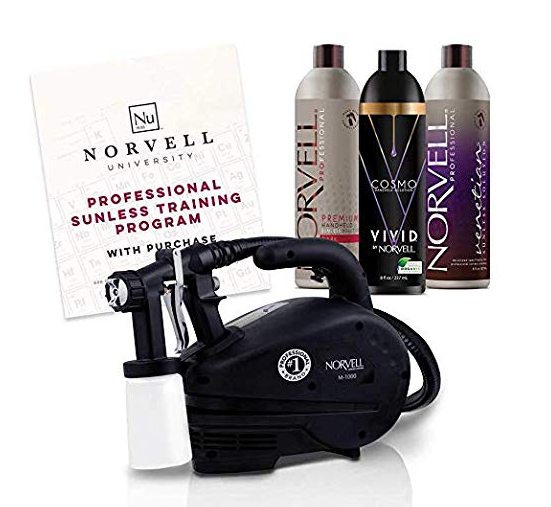 BUNDLE INCLUDES: Norvell M-1000 HVLP Mobile Spray System; Norvell Tanning Handheld Solutions – Ultra Vivid 'Cosmo Light' 8oz, Venetian 8oz and Dark 8oz; Norvell Training Program.

PROFESSIONAL #1 BRAND: Norvell Sunless Rated #1 Professional Sunless Tanning Brand by Professional Spray Tan Artists/Technicians October 2017 (Research conducted by Fieldwork/Webwork International Inc., a global leading market research company).

M-1000 HVLP MOBILE SPRAY SYSTEM: This top selling Model in the Norvell line, is expertly crafted from top to bottom for the optimal application of Norvell Premium Solutions, this lightweight system produces the ideal spray for a smooth application. Purchase Includes – Mobile M1000 Turbine, 10′ Quick Connect/Disconnect Hose, M Series HVLP Spray Gun, Standard 110v Electrical Cord, Spray Gun Quick Repair Kit, Operation Manual, Shoulder Strap for Added Portability. Use with Norvell Pop-Up Tent.

TANNING HANDHELD SOLUTIONS: Norvell Tanning Solutions are formulated with micro-nutrient technology to deliver a potent blend of vitamins and antioxidants to boost the skin's Just Off The Beach bronze tan without the orange undertone. Spray tan solutions are fragrance-free and enhanced with natural essences. Formulated without Parabens, Gluten, Sulfates, Phthalates, Synthetic Fragrance, Petrochemicals, GMO's, Tricolsan.
Norvell Professional Sunless Self-Tanning Mist – $40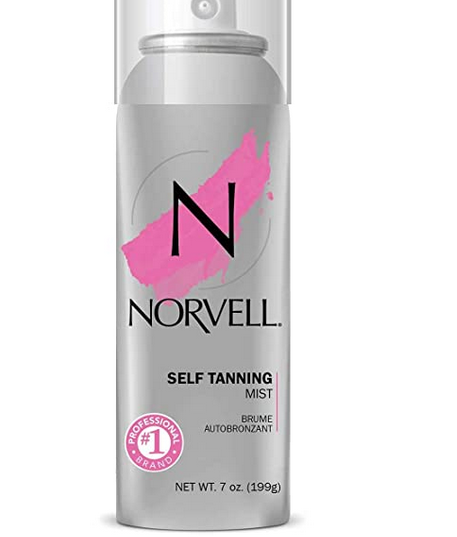 Skinerals Californium Sunless Bronzer with Organic and Natural Ingredients: $25.99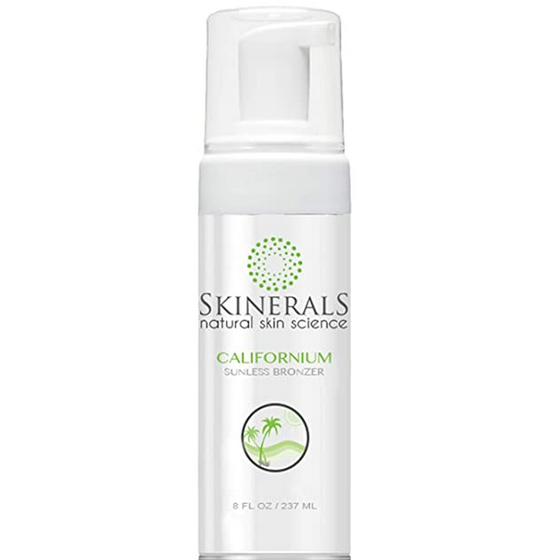 TANNING MADE EASY – Get a beautiful bronze glow for up to 7 days with Skinerals Californium long lasting self tanner; It's the ideal solution for giving lighter skin a rejuvenated tone and a gorgeous glow without streaks, blotches, or an unnatural orange tint.

SAFE SUNLESS TAN – Californium is perfect for lighter skin tones, and is the best way to get a healthy, natural glow without exposing your skin to harmful UV rays that can cause premature wrinkles and skin cancer. Californium contains as many natural and organic ingredients as possible for the safest tan possible.

FACE AND BODY APPLICATION – This self-tanner mousse is non-greasy, light, quick to dry, and has a soft, pleasant smell. There is no need to purchase a second product for your face as this product doesn't cause acne and can be applied under makeup.

PURE NATURAL BLENDS – Our bronzers contain lavender oil, orange peel oil, vanilla bean extract, and shea butter; This is a USA made cruelty-free, sulfate-free, paraben-free, aerosol-free, and vegan skincare solution.

SKINERALS NATURAL SKIN SOLUTIONS – Skinerals is dedicated to helping you get back the beauty you were born with through our full skin and hair care line. We use hundreds of different minerals and earth elements to promote healthy cell development, providing relief from many skin and hair conditions.
Self Tanner Sunless Airbrush Tanning Mist Spray – $34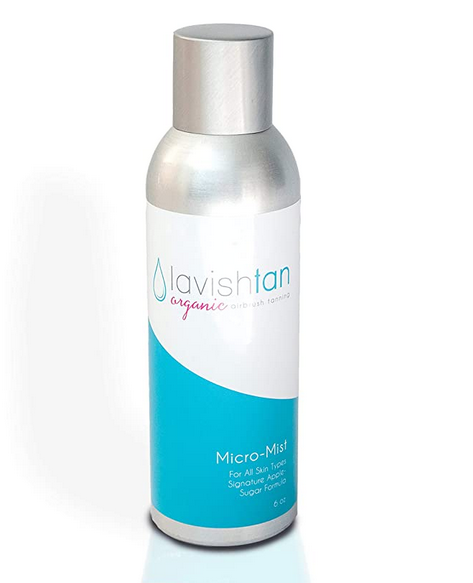 Organic Airbrush Spray Tan Self Tanner. "Best Self-Tanning Product!" -Allure 2012

6 oz Mico-Mist aerosol fine mist tanning spray. Easy spray applicator for flawless, even results.

Coconut-vanilla fragrance with instant bronzing color guide.

Lavish Tan's pateneted organic airbrush tanning solution formula.
Self Tanner with Tanning Mitt – Sunless Tanning Lotion w/Hyaluronic Acid & Organic Oils – $29.95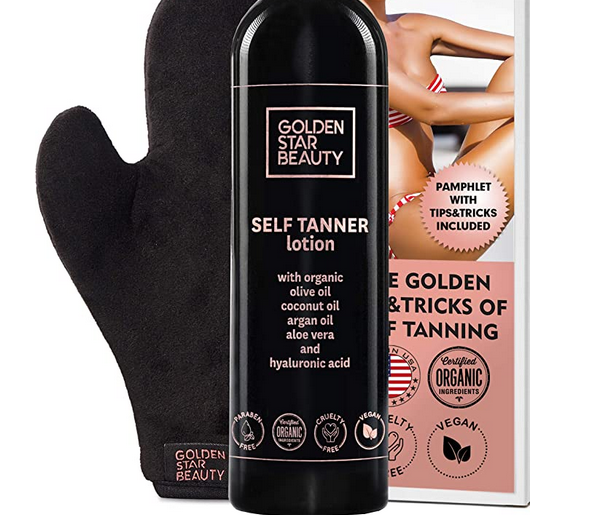 CERTIFIED ORGANIC OILS (olive oil, argan oil, jojoba oil, coconut oil, avocado oil), ORGANIC ALOE VERA, HYALURONIC ACID and INTENSE MOISTURIZERS. Our self tanning lotion is also PARABEN FREE, DYES FREE, GLUTEN FREE, VEGAN and CRUELTY FREE. Fight sunburn, early aging and skin cancer and reward your skin instead with our premium self tanner!

TANNING MITT INCLUDED FOR EASY AND FLAWLESS APPLICATION. Whether you are a beginner or an experienced self tanner, this formula offers an effortless application for a natural looking tan. As an added bonus, this bundle includes our durable and reusable super soft tanning mitt for an even easier application process!
I'm hoping these options help you out! These are organic and safe on your skin. When you're looking for organic spray tan at home options, these are good ones for you to check out. The price points are solid, too. When you're spraying outside of your home, it's usually around $25/spray. As you can see – the money balances itself out.
You're probably doing lots of beauty things at home right now. Make sure you check out my post on How to Cut Hair at Home.
Please don't forget to join my Daily Dose of Style FACEBOOK GROUP! This has turned into my favorite spot online and I love sharing there every single day! It's been an outlet for me to be open and honest about my fashion loves! It's a great place to learn new things, so I hope you come on over! I'm also going to be starting a kid fashion one soon, too!
Loving this Fashion Over 40 – Daily Dose of Style Facebook Group (that I would LOVE for you to join) and I share trends and styles every single day in there, along with the best sales online for fashion. I fully believe that you can and should be able to look your best without breaking the bank. You want to feel confident and beautiful and you CAN! I hope my info helps! We have a ton of fashion fun in there! And you don't need to be 40 years old!!!!!!!

HEAD ON OVER AND JOIN US HERE!!! I also share beauty tips there, too. Love your support and let me know what it is you're looking for, too!
Make sure you share with me if there's something you love and I missed it on the blog! See my last post on my What I Should Wear While Working from Home! I'm all about sharing everything I can when it comes to fashion and beauty! Hope these posts help you out!
*Affiliates within this post.