It's a question I'm getting all the time right now, "What should I wear while working from home?" I've had plenty of practice working from home, so wanted to share with you some of my go to easy looks and styles. The key is making sure you're professional, yet comfortable.
What Should I Wear When Working from Home?
If there's one thing I've learned about working from home over the last 10 years that the best thing you can do in the morning is get up and get dressed. As much as it might seem amazing to wear pajamas all day (OK, it is) and never have to ask yourself the question what should I wear, the truth really is… it messes with your business mindset.
The best thing you can do to get yourself in the best business mindset is to get up and get dressed. You don't need to be rocking a suit from head to toe, but wearing something that gives you a positive fresh breath of air is something you will appreciate!
So – WHAT SHOULD I WEAR WHEN WORKING FROM HOME?
I'm glad you asked.
I'm going to share with you 8 styles that work perfectly when you're working from home. No more asking the question what should I wear today, you'll have styles already in rotation to toss right on! I want to make this easy and fun for you. It's all about finding that perfect balance between professional and ultra comfy.
Here we GO on the "What Should I Wear When Working From Home?" front.
Style #1: Denim jacket as a top off is always the best way to go.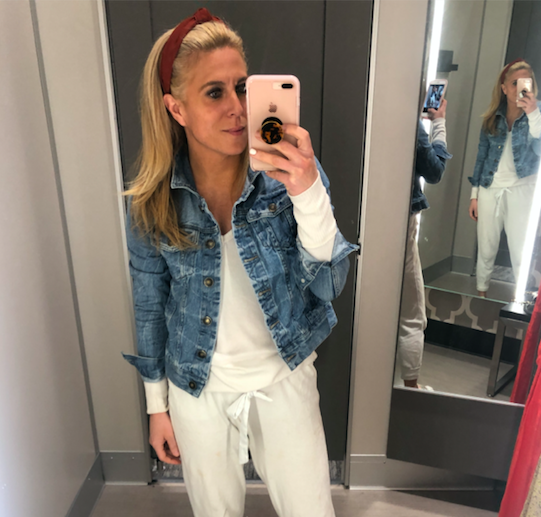 I love this style for working from home because it's the two things I love: comfort and style. I've said it before and I will say it again, a denim jacket never ever ever goes out of style. It's perfect to toss on during the day. You can layer whatever you want underneath. On the bottom? These joggers are my all time fave. They are comfy and cozy and perfect.
Denim jacket you can buy here.
White joggers you can buy here.
Style #2: Sweet on top and edgy on the bottom.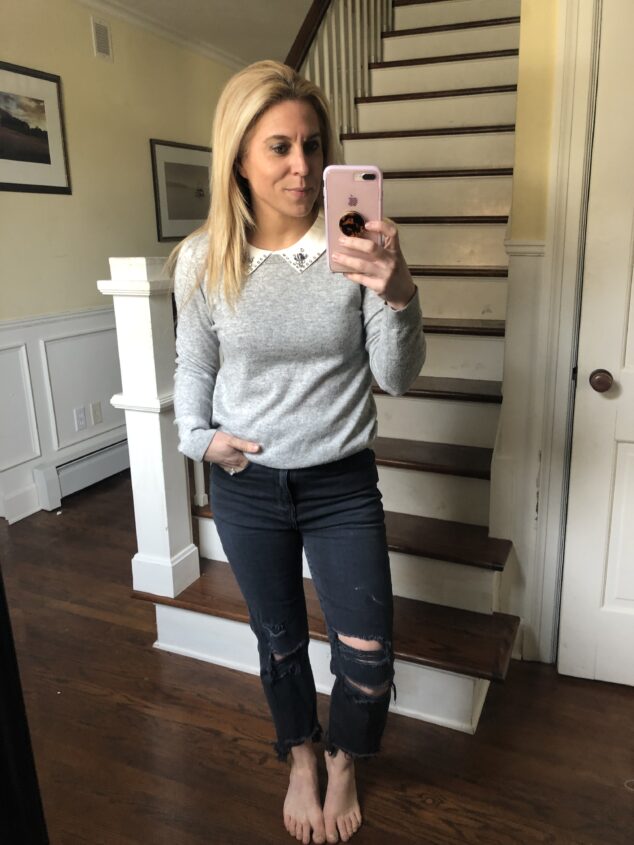 I love anything with a fabulous collar. This peter pan styled sweater is so sweet and cute and elegant. It's perfectly professional and on the bottom? I'm rocking it out with some super cool ripped jeans! Love this difference in appearance here.
Peter pan top you can buy it here.
Black ripped jeans you can buy it here.
Style #3: On what should I wear today – graphic top it up!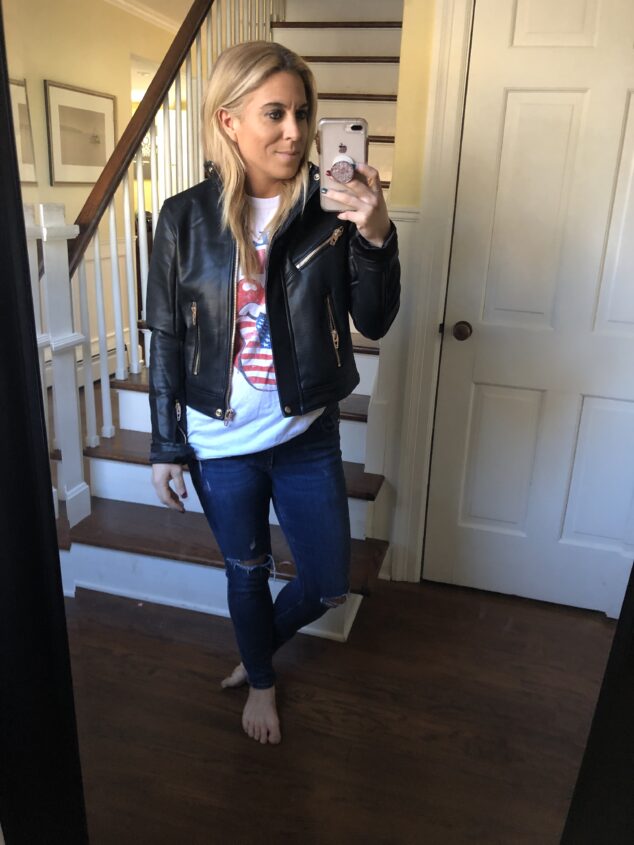 I love a good graphic tee! They're perfect for wearing at home, especially when you can layer it with a blazer or a cardigan! It's a stylish and chic look that I personally love to pieces. If you know me in real life you know that this look is definitely a go to style for me!
Rolling Stones graphic tee buy it here.
Faux leather jacket buy it here.
Style #4: Tie dye it up for a chic top!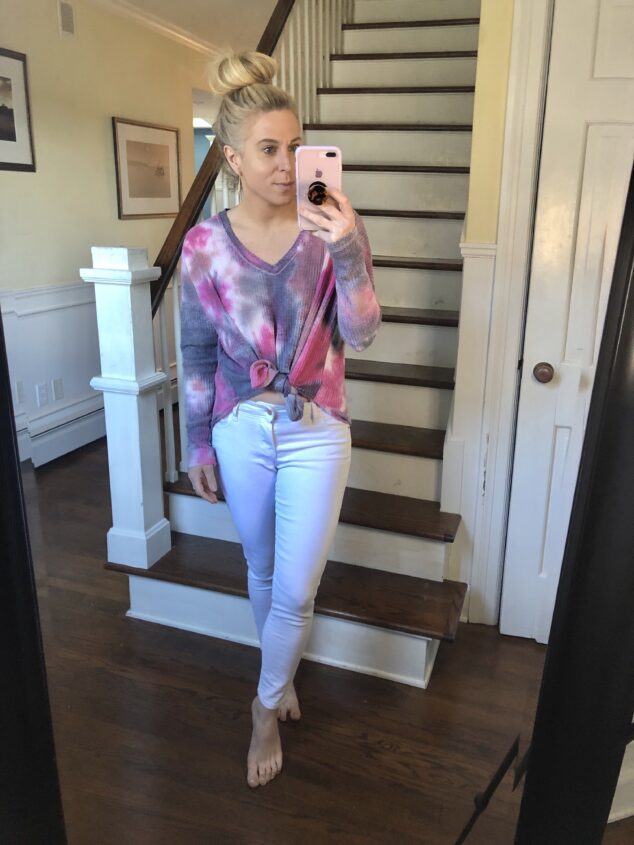 I'm a big fan of tie dye. I love that this top can be work casual, but also professionally too. I found this top at Target for $24.99 and loved it immediately. It just "fit" for me. I love the boho feel with the Free People flair! I think it's great with white jeans! Make sure you have some fun with this hot trend of the season!
Tie dye top buy it here.
Style #5: Dress it up with a fabulous top flair!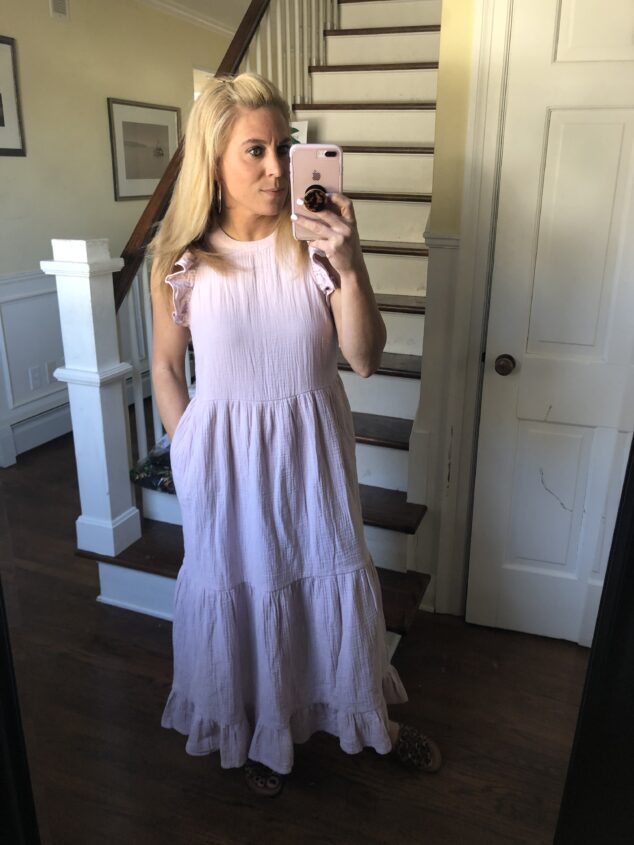 You don't have to stay away from dresses when it comes to working from home, you just want to make sure they're comfortable. I fell head over heels for this dress and couldn't get enough of it. It's a light gauze material. I love the pale pink color because it's so sweet. I love how this can be worn all day long.
Pale pink gauze dress buy it here.
Style #6: Tee shirt dress it out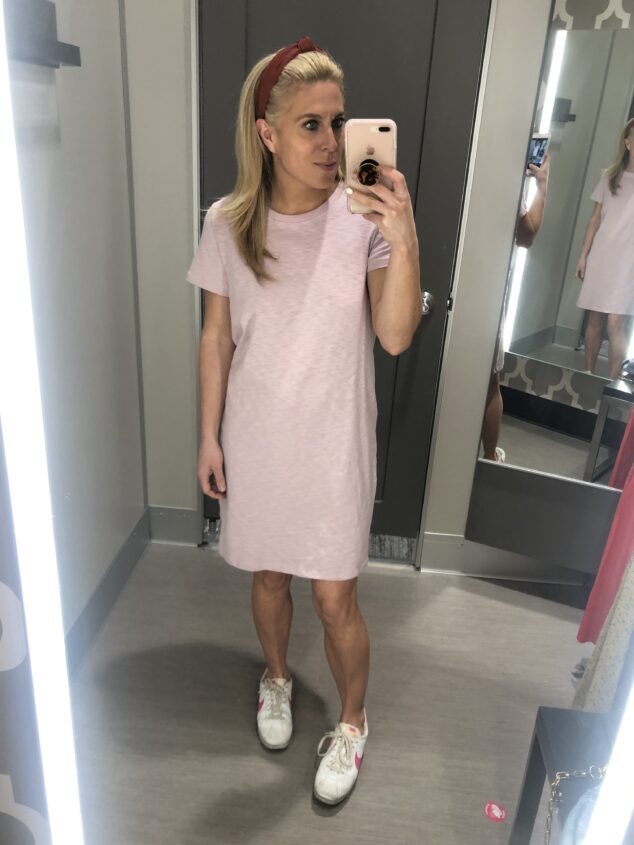 How adorable is this dress? This cotton dress is a tee shirt dress that is so comfortable and so perfect for any occasion. You can add on a jacket and a blazer, too. I love how this dress can be dressed up and easily dressed down. I love how great this option is for a work at home fashion. This is one item that you will never have to ask or ponder… what should I wear today? This will always win!
Tee shirt dress buy it here.
Style #7: Cardigan with shorts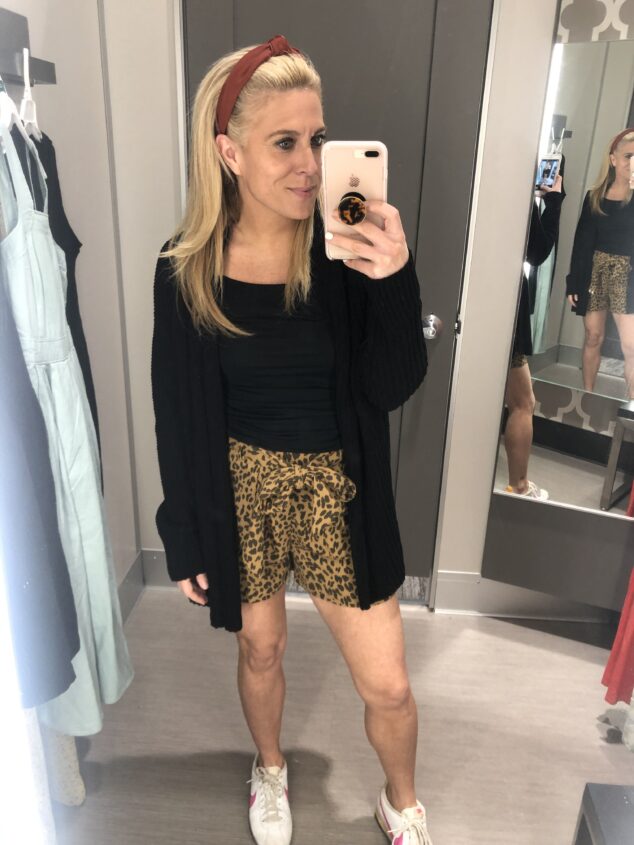 How cute is this look? I love ANYTHING leopard, so these shorts jumped out at me immediately! I paired with a tank and cardigan. I think this is such a great look for work and play! I love how easy it is to pair for work at home. Again – one never to ask what should I wear… this is always a standby.
Leopard shorts buy it here.
Style #8: Denim shirt for the win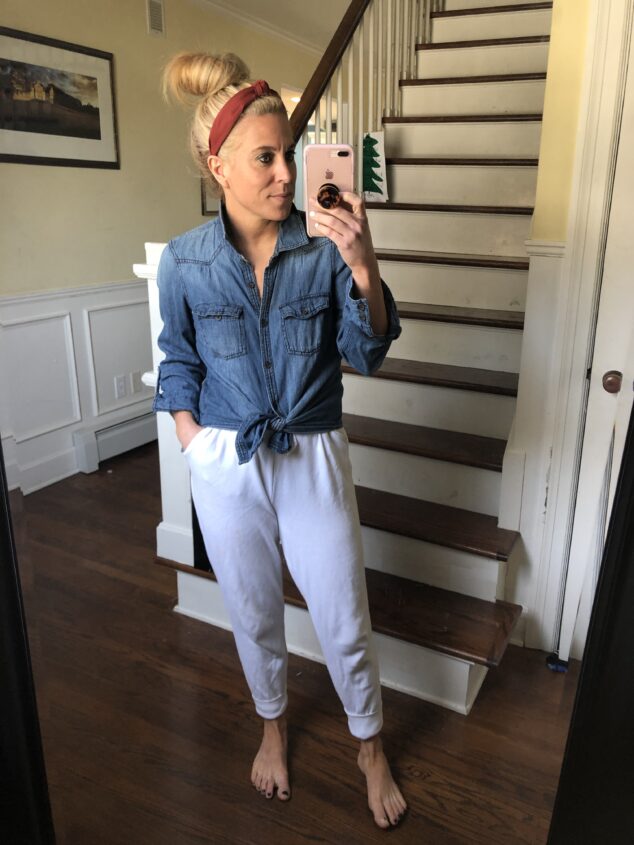 If you're looking for the best go to item, look no further than a denim shirt. It's as cozy as a denim jacket. You will love it and use it around the clock. If you're wondering what denim wash to wear, ANY wash will do! It's just a fabulous one item to wear with just about anything on the bottom!
Denim shirt buy it here.
I hope these what should i wear looks work for you when you're working from home. I'm all about the easiest styles of all. As you can tell these work for any age! I just want you to see that I truly do believe in the comfort and professional fashion balance!
Please don't forget to join my Daily Dose of Style FACEBOOK GROUP! This has turned into my favorite spot online and I love sharing there every single day! It's been an outlet for me to be open and honest about my fashion loves! It's a great place to learn new things, so I hope you come on over! I'm also going to be starting a kid fashion one soon, too!
Loving this Fashion Over 40 – Daily Dose of Style Facebook Group (that I would LOVE for you to join) and I share trends and styles every single day in there, along with the best sales online for fashion. I fully believe that you can and should be able to look your best without breaking the bank. You want to feel confident and beautiful and you CAN! I hope my info helps! We have a ton of fashion fun in there! And you don't need to be 40 years old!!!!!!!

HEAD ON OVER AND JOIN US HERE!!! I also share beauty tips there, too. Love your support and let me know what it is you're looking for, too!
Make sure you share with me if there's something you love and I missed it on the blog! See my last post on my FREE Makeup Samples! I'm all about sharing everything I can when it comes to fashion and beauty! Hope these posts help you out!
*Affiliates within this post.