I've been looking for some new sunglasses for the summer online because the prices are incredible right now. I don't like spending a lot of money on sunglasses because I always end up scratching or losing them throughout the summer. With our summer pool trips and beach trips, I never know what's going to happen. I would feel so scared rocking a pair of $500 sunglasses!
Sunglasses for Summer UNDER $70
I scoured the internet for some of the chicest and trendiest styles for the summer 2020 season. The short of it? OVERSIZED. OVERSIZED. And OVERSIZED. I know that not everyone loves this style, so I tossed in a few other options, too… but these sunglasses are all under $70 and just fabulous for you to rock.
What I love about sunglasses is that they can be the "center" piece of your outfit for the summer. You can wear some gorgeous sunglasses with just a white tee and jeans and look like a million bucks. Sunglasses are that kind of perfect accessory. The sunglasses below are my top 10 that I'm gushing over the summer season and will be picking up a pair or two (or three or four!).
These sunglasses are not in any particular order, look below where to buy your favorite pair! I hope these inspire you to find a summer perfect pair of sunglasses.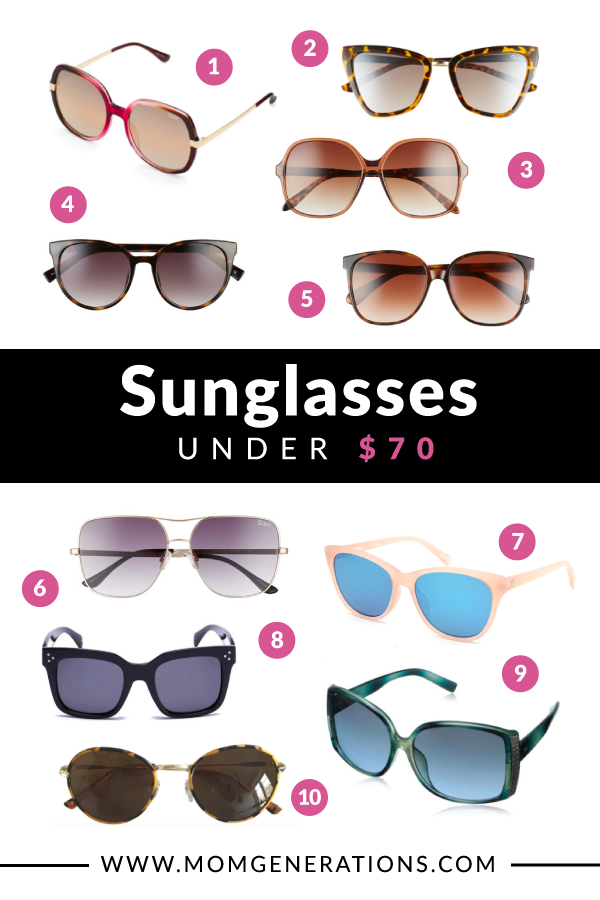 Here they are for you to check out up close and personal. Let me know what style is your favorite below!
#1 Quay – Gold Dust 55mm Square Sunglasses for $29 right now!
Metallic temples add a playful flash of shine to the oversized square frames of these vintage-style sunnies.
55mm lens width; 17mm bridge width; 148mm temple length
100% UV protection
Copolyester/metal
Imported
BP.
Item #5761810_1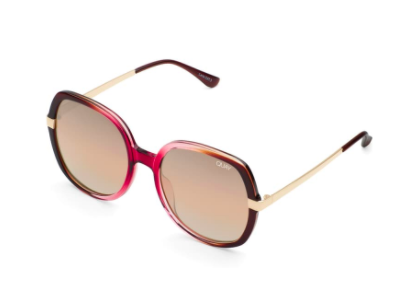 #2 BP 50mm Cat Eye Sunglasses for $7.60!!
These full-coverage sunglasses complete your everyday style with plenty of retro attitude.
50mm lens width; 20mm bridge width
100% UV protection
Acrylic lenses
Plastic
Imported
Not available for sale and shipment to Germany
Item #5943133

#3 BP 59mm Metal Detail Square Sunglasses  for $19
You'll instantly look more glam when you slip on these square sunnies with hand-polished frames.
59mm lens width; 10mm bridge width; 151mm temple length
100% UV protection
Plastic
Imported
BP.
Not available for sale and shipment to Germany
Item #5712612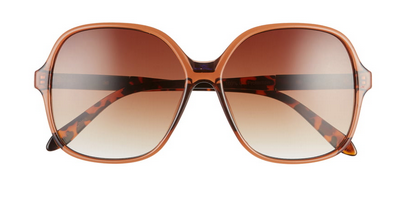 #4 Le Specs Armada 54mm Cat Eye Sunglasses  for $59
A softened cat-eye silhouette enhances the throwback glamour of lightweight, everyday sunglasses finished with Flagstripe logo plaques at the temples.
54mm lens width; 19mm bridge width; 146mm temple length
100% UV protection
Polycarbonate lenses
Plastic/metal
Imported
Item #5797660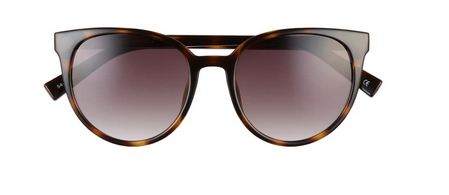 #5 Kate Spade Alianna 56mm Rounded Cat Eye Sunglasses  for $64
The new spade logo glints at the temples, extending the signature charm of striking kate spade sunglasses in a rounded, chic silhouette.
56mm lens width; 16mm bridge width; 140mm temple length
100% UV protection
CR-39 lenses
Acetate
Imported
Item #5938617_2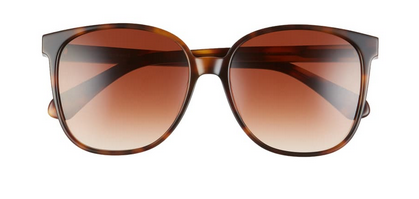 #6 Quay Stop & Stare 58mm Square Sunglasses  for $65
All eyes will be locked on you when you're rocking these oversized, squared metal frames that give off a cool '70s-glam vibe.
58mm lens width; 19mm bridge width; 135mm temple length
100% UV protection
Metal/polycarbonate
Imported
BP.
Item #5319586_2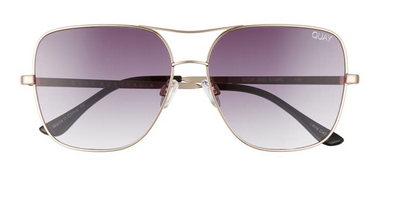 #7 SPY Refresh by Spritzer Matte Blush & Blue Spectra Sunglasses for $29.48
Spy Spritzer sunglasses. Part of the Refresh Collection. Constructed from virtually indestructible Grilamid®. 4-base polycarbonate ARC® lenses. Raised metal logo detail and screw hinges. Includes premium microfiber cloth case. 100% UV protection reduces eye fatigue and long-term sun damage. 55-17-140. Imported.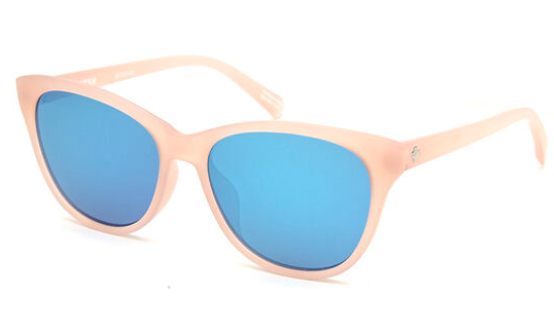 #8 Privé Revaux The Heroine for $29.95
Privé strives to keep you and your style fresh. To fulfill that promise, frames will be manufactured in limited quantities. The Heroine is strong, and so are her sunglasses. The thick, durable frames and temples are built with cellulose acetate, and held together with 3-barrel spring hinges for maximum comfort and fit. They are lightweight and impact resistant, with superior visual and polarization clarity like never before.
The polarized lenses are made from a high-end, multi-layered technology that blocks unwanted light, reduces glare with an anti-glare and scratch-resistant coating, and enables maximum optical clarity. They also block 100% of all harmful UVA/UVB rays as well as blue-light rays emitted from screens. The overall frame construction is still remarkably lightweight, for great comfort all day long. The Heroine sunglasses are timeless classics. Available in black and tortoise.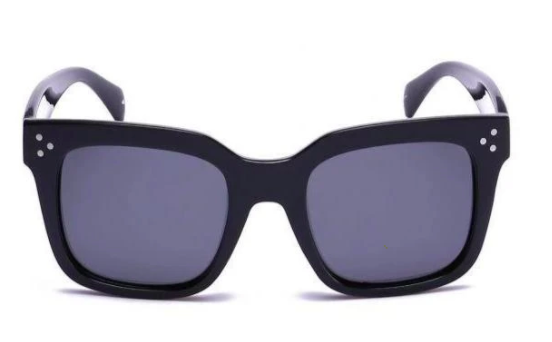 #9 Rocawear R3163 Butterfly Sunglasses  for $48
Launched off the meteoric success of co-founder, Shawn "Jay-Z" Carter, Rocawear represents a borderless global lifestyle. Rocawear maintains a focus of providing clever innovation in fabrication, application and design to its customer. Rocawear continually reinvents the pulse, as it defines the lifestyle for today's young, hip consumer.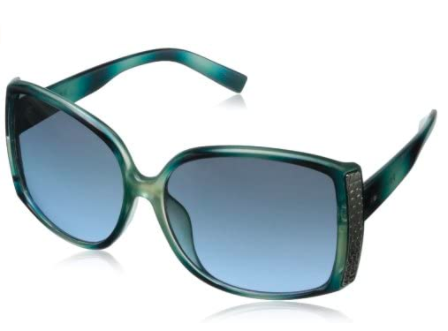 #10 Le Specs Multicolour Metal Sunglasses for $50.76
Categories : Women
Category: Accessories
Sub-category: Sunglasses
Designer: Le Specs
Condition: Never worn  
Material: Metal
Colour: Multicolour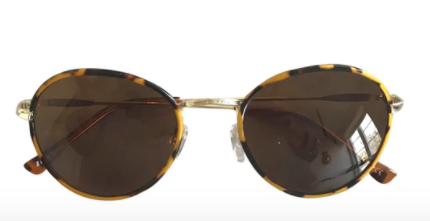 I hope these styles work for you! I also hope that they inspire you to buy a new pair for yourself! You don't need to spend a ton of money to look good!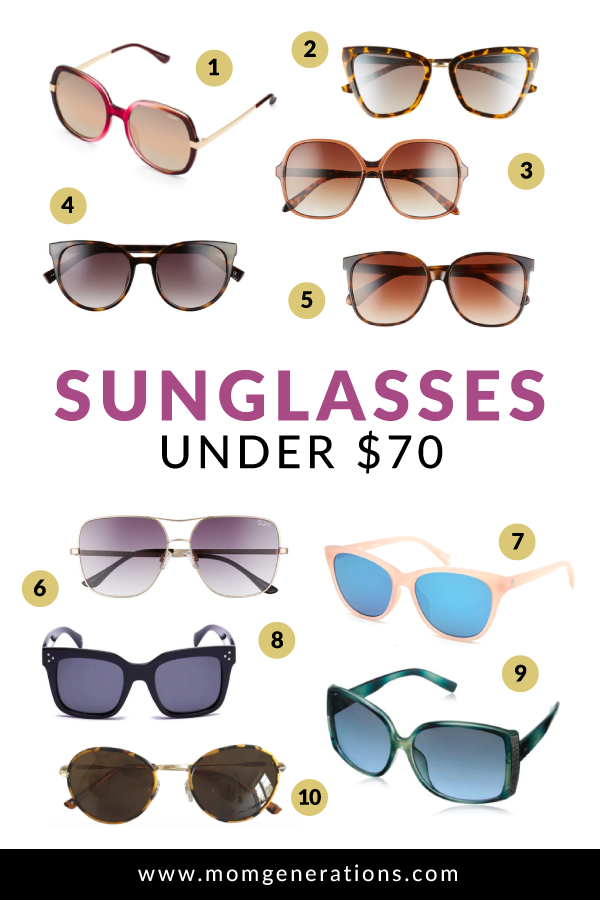 Don't forget – I'll be sharing more and don't forget to follow me on TikTok for more and more styles, too! I love to share Cute Hairstyles for Little Girls! Make sure you check it out! I'm all about creating whatever I can on the hair front, just as long as it's doable and easy for people to try out!
Also… for my fashion lovers, I'm loving my Fashion Over 40 – Daily Dose of Style Facebook Group (that I would LOVE for you to join) and I share trends and styles every single day in there, along with the best sales online for fashion. I fully believe that you can and should be able to look your best without breaking the bank. You want to feel confident and beautiful and you CAN! I hope my info helps! We have a ton of fashion fun in there! And you don't need to be 40 years old!!!!!!!

HEAD ON OVER AND JOIN US HERE!!! I also share beauty tips there, too. Love your support and let me know what it is you're looking for, too!
Make sure you share with me if there's something you love and I missed it on the blog! See my last post on my FREE Makeup Samples! I'm all about sharing everything I can when it comes to fashion and beauty! Hope these posts help you out!
Have a great day everyone!