I bought my first Tie Dye Crew Neck Sweatshirt last week and I'm in TIE DYE LOVE! I'm all about this hot trend of the summer season and I feel like it's not going away (at least not anytime soon!). Every single time I head to one of my favorite shopping destinations online, I'm seeing tie dye sweatshirts.
Tie Dye Crew Neck Sweatshirt – 10 Under $60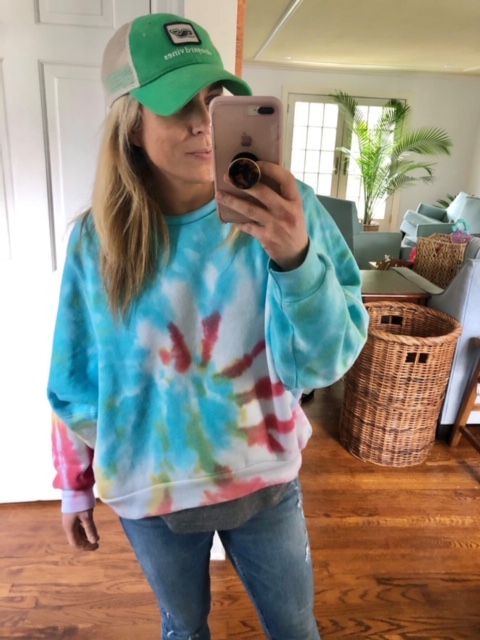 I'm not a fan of all things tie dye, but I do love a good tie dye crew neck sweatshirt. I feel like it's just an easy item to toss into your wardrobe for some fun, especially right now. I love wearing them with jeans or joggers or leggings.
I also think that tie dye is just a happy trend. It's full of color and brightness and boldness. I've been wearing my tie dye crew neck sweatshirt that I bought last week around the clock. Even my daughter has been trying to steal it from me and she's only 7 years old!
I'm excited to share with you some of my favorite tie dye crew neck sweatshirt styles that are all under $60. These are ALL going fast, so I'm hoping these are available for you to buy. The good thing is that these stores keep restocking because everything is so "hot" right now!
No Limits Blue Multi Spiral Tie Dye Sweatshirt – $50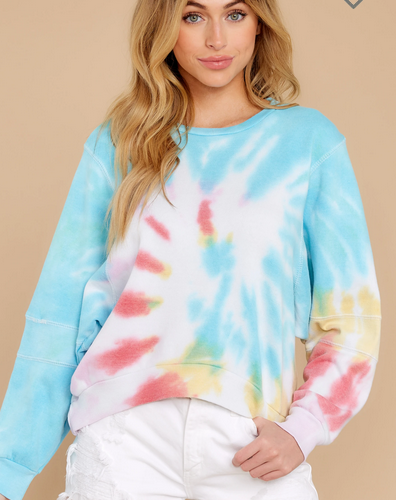 There's No Limits to her style and the ways she can wear this tie dye top. Oh yeah. She's causing all kinds of envious stares when she flounces by. Oh, did we mention? She's you… Tie dye pullover features a round neckline, long sleeves, and a high-low hemline perfect for any pair of leggings.
Tie-Dye Cropped Sweatshirt in French Terry – $34.95 (on sale)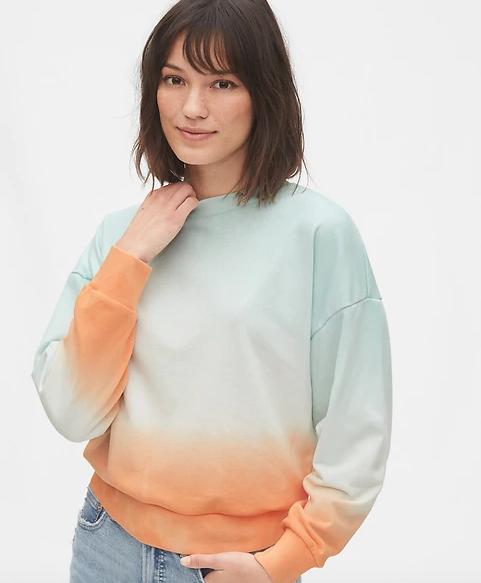 Soft french terry knit.
Long sleeves.
Crewneck.
Mostata Women's Sweatshirt Casual Plus Size Tie-Dye Long Sleeve Sweatshirt – $19.99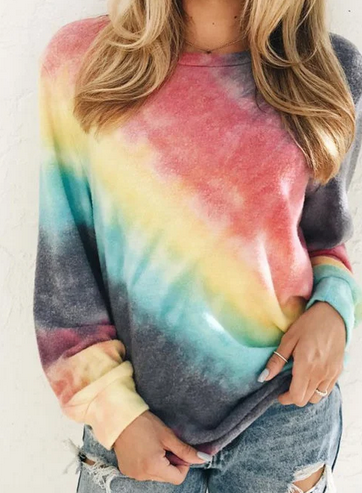 Urban Outfitters Tie Dye Sweatshirt $59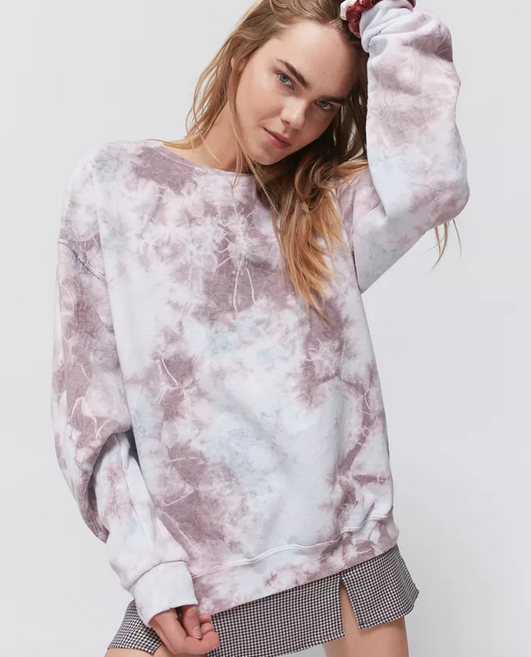 Oversized sweatshirt recycled by Urban Renewal with a tie-dyed treatment. Relaxed crew neck sweatshirt with long sleeves and rib-knit banding at neck, cuffs + hem.
Tie-Dye Wash Crew Sweatshirt – $49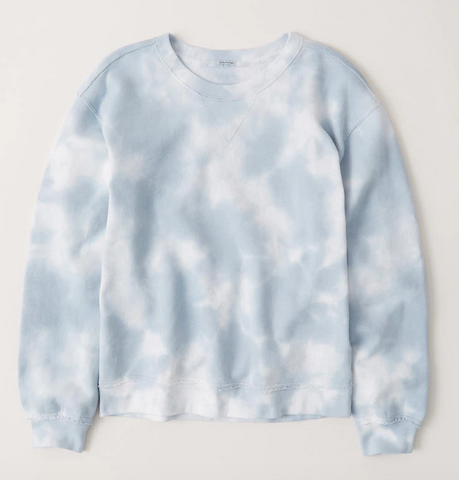 Long-sleeve sweatshirt with crew neckline in a relaxed fit with tie-dye pattern throughout. Imported Body:60% Cotton, 40% Polyester
Tie-Dye French Terry Sweatshirt – $20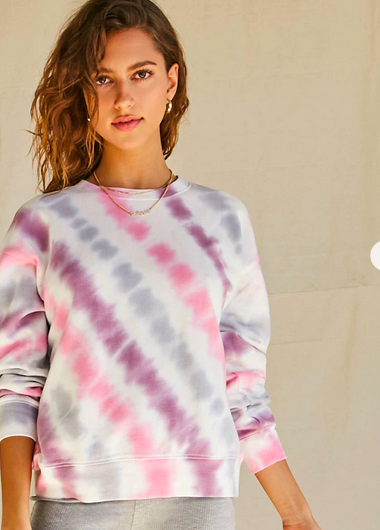 A French terry knit sweatshirt featuring a crew neck, diagonal striped tie-dye wash, micro-ribbed trim, and dropped long sleeves. – 58% cotton, 42% polyester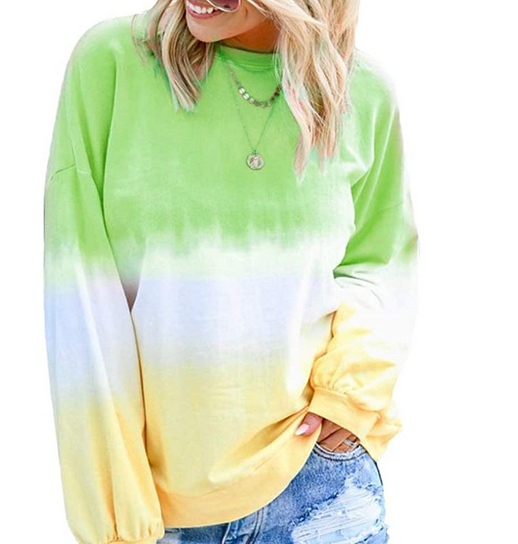 HIGH QUALITY FABRIC. 100% polyester. High strength and stretchy. The material is very durable, anti-wrinkle and no need to iron. Machine and hand washable. Lay flat to dry. (!!! Nigols has never authorized any seller to sell. Please confirm that sold by Nigols. And "Maximu" is a faker seller, they won't send you anything but deceive your money. Please check it carefully before purchase.)

SUPER EYE-CATCHING AND STYLISH. Retro round neck, contrast color design, harmonious color scheme, tie dye. A pullover that must appear in your wardrobe this year.
Blur The Lines Blue Multi Spiral Tie Dye Sweatshirt – $28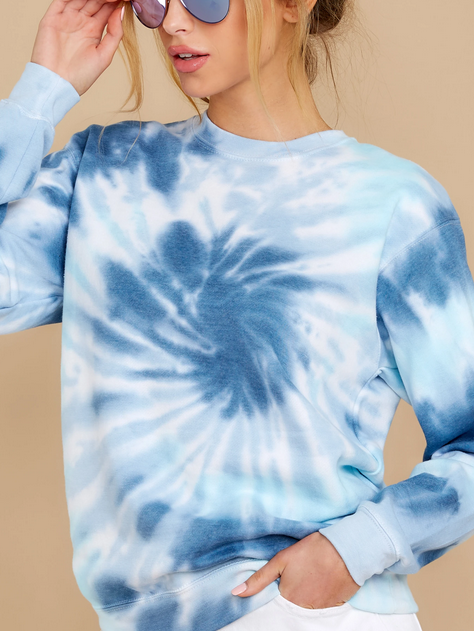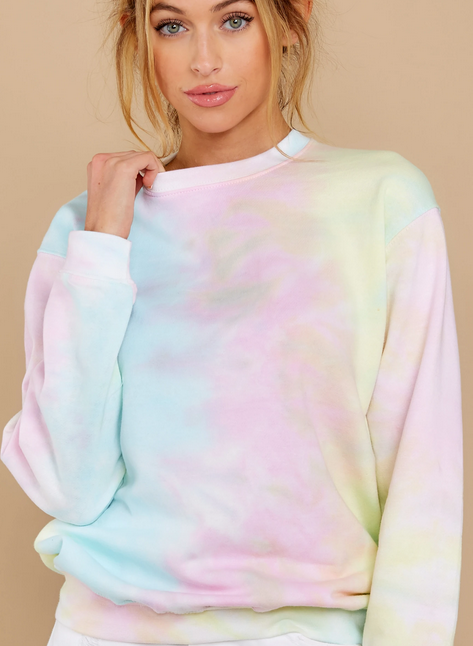 Comfort and fashion seem to be on opposite sides of the fence sometimes. But not with this sweet sweatshirt. Nope. It totally lets you Blur The Lines between being stylish and completely comfortable. Super soft and over sized make for a fit that leaves you with freedom and ease, and on top of that the trendy colors give it a hashtag worthy look!
Girl, you will have it all with this darling top! This sweatshirt features an over sized fit, a crew neck, long sleeves with dropped shoulders, and banded cuffs. Model is wearing a small. • 60% Cotton 40% Polyester • Hand Wash Cold • Unlined • Imported
Surprise Me Pink Multi Tie Dye Sweatshirt – $40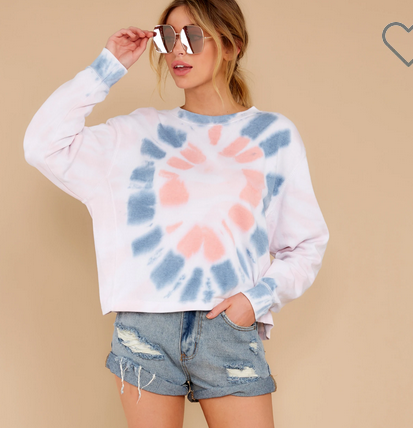 If you wanna Surprise Me with an early morning wake up call, you're gonna have to get up before the tweetie birds start twittering. You see, I have this vivacious new tie dye cropped sweatshirt and it keeps me looking fine and feeling ever so sharp, no matter the time of day. So, dearest, if you wanna give me a pleasant surprise, why don't you bring me coffee instead?
*Wink.* Casual tie dye sweatshirt features a classic round neckline, long dolman sleeves completed by ribbed cuffs, an a small banded hemline. Model is wearing a small. • 50% Cotton 45% Polyester • Machine Wash Cold • Unlined • Imported
I hope you like these tie dye crew neck sweatshirt styles! These are 10 of my faves and I *may* have bought a few of these already! I think they're just so much fun to wear right now. The best part is that you can wear with jeans, pants and shorts. Love to layer them, too. If you're wondering how to wear tie dye clothing, here are some suggestions.
Please don't forget to join my Daily Dose of Style FACEBOOK GROUP! This has turned into my favorite spot online and I love sharing there every single day! It's been an outlet for me to be open and honest about my fashion loves! It's a great place to learn new things, so I hope you come on over! I'm also going to be starting a kid fashion one soon, too!
Loving this Fashion Over 40 – Daily Dose of Style Facebook Group (that I would LOVE for you to join) and I share trends and styles every single day in there, along with the best sales online for fashion. I fully believe that you can and should be able to look your best without breaking the bank. You want to feel confident and beautiful and you CAN! I hope my info helps! We have a ton of fashion fun in there! And you don't need to be 40 years old!!!!!!!

HEAD ON OVER AND JOIN US HERE!!! I also share beauty tips there, too. Love your support and let me know what it is you're looking for, too!
Make sure you share with me if there's something you love and I missed it on the blog! See my last post on Lululemon Dupes.