I'm all about sharing nice and special things that we can do for other people. The world is a crazy place right now and sometimes the only thing we can do to feel like we have control is to do something nice. I want to share 10 NICE things to do for people right now.
10 NICE Things To Do for People
Doing kind things for people should be something we try to do every single day. Whether it's something small or big, it's meaningful. To be you going on this kind and nice train, I wanted to share 10 NICE things to do for people.
My advice is to think about people you know and don't know. I love doing nice things for people in my life – family and friends. I also love doing nice things for people I don't know. As you're reading these 10 nice things to do for people, see what works best for you.
#1 – Go to the Grocery Store for Someone – Right now more than ever, it's tough for people to get out. Whether they're worried about exposing themselves to anything right now or just short on time with so much that it virtual right now at home. If you're heading out to grab groceries offer to pick some up.
We have a mom in our neighborhood who has little kids who are in school. She doesn't have a moment throughout the day to go to the store because they're doing distance learning. Even heading out with her 3 kids is a chore. I always text her to see if I can grab her anything when I'm heading out. Nine times out of ten she says no, but I always ask.
#2 – Call Someone – People feel so isolated right now. Human contact is at al all time low and people are feeling it. It's important to have contact with the people you love. Make sure you're checking in and staying in touch with friends and family.
There's also many services right now that are looking for people to hop on the phone and talk to the elderly, too. It's pretty amazing just how much a 10 or 15 minute phone call can do for someone in their life. Out of the 10 nice things to do for people, this one is an easy one to do and cal go a long way.
#3 – Write a Letter/Send a Card – Really playing off of the phone call one from above. A simple letter or card to someone right now can leave a lasting impression. Mail is something that never stops, so to have a surprise in the mail or something to look forward to every week is a lifeline.
It's just a nice thing to do for someone – maybe it's your grandparents or neighbors. Just take the time to pop something in the mail and send some cheer.
#4 – Wave HELLO – I know, I know… this sounds like the simplest advice of all in these 10 nice things to do for people, but it is. With everyone wearing masks and not being able to see smiles, it's important to say HELLO.
My husband and I love to walk our neighborhood. It's been a saving grace for us over the last few months. We always wave and loudly and cheerfully greet people hello. It's important for people to feel that sense of friendliness right now.
#5 – Offer to Do Yard Work – We have older neighbors all around us and it's amazing to see everyone out and about and staying busy, but it's also a very cold winter season and a very hot summer. Don't be afraid to ask your neighbors if you can mow their lawn, shovel their driveway, bring up their trash buckets.
It's just a nice thing to do and reach out to someone with a helping hand. It's a simple act, but a kind act and it means something. I know that I would appreciate it if people offered my own parents that kind of help or assistance if it was needed.
#6 – Hold the Door – As we were walking into Chipolte last week my son held the door for an older woman coming out. She was so struck by the nice act, she actually said something. She was so appreciative of him waiting for her to make it to the door and holding it open for her.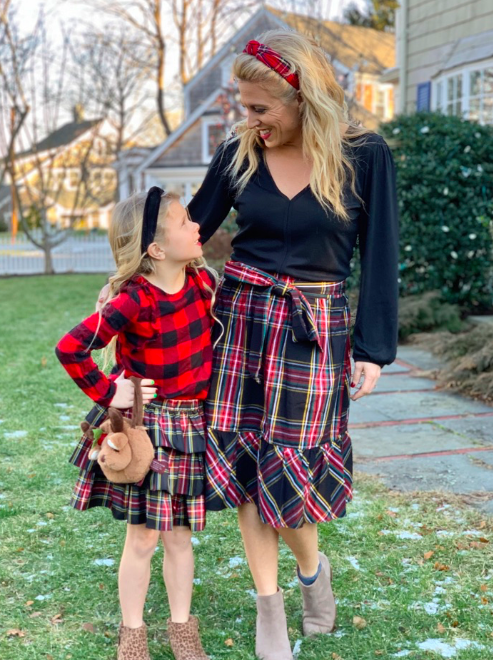 An act like this is a nice thing to do and just so easy. We're all so busy with life and moving here and there, that it's sometimes crazy to see people forget just common courtesy. Hold the door for someone, it will mean something.
#7 – Treat Someone – This is only if you have the means to do it. If you're able to pay for someone's coffee then go for it! I had it happen to me a few months ago and I couldn't stop thinking about it all day. This is a fun thing to do.
Next time you're doing a drive-thru at your fave coffee place (I'm a Dunkin' girl), just drop $10 and let it ride out to the people behind you. It's a super nice thing to do and will make someone's day, I promise.
# 8 – Compliment Someone – This is an easy one to do. See someone? Say something nice. It's that simple. Tell them you like their hair or coat or car. Just say one nice thing to them as a compliment. It's one of the nicest things you can do and make someone's day.
Whenever someone compliments me, I remember it all day. It leaves an impression. Just think about something you could say to someone that would make them smile and feel better about themselves. It could be anything.
# 9 – Gift Someone a Flower – There's something so sweet about gifting flowers to someone in your life. Flowers are beautiful. Flowers are special. Flowers are meaningful. Pick a flower or buy a flower. The point is that you're gifting someone with a flower.
I think it's such a beautiful symbol of friendship and kindness. It's just an easy gift to show someone. I also love that you can easily just leave it as someone's door. This is a beautiful and easy thing to do for anyone.
#10 – Special Gifting – I'm going to take this one step further. If you want to send a gift to someone, I think it's a special thing to do. I always get hesitant suggesting gifts to people, but I'm not talking about anything expensive. Maybe it's a book you've read. Maybe it's a movie you've watched. Maybe it's an item you've never worn. Maybe it's a special meal you've cooked.
Gift someone with something that's unexpected. These special gifts are the best kind to give. The reaction on someone's face is priceless. When you're thinking about 10 nice things to do for people. It's thinking about how you know you will make someone's life better. Share something special with them.
I hope this list of 10 nice things to do for people helps you out. I hope this list inspires you and motivates you to do something special and nice for someone. I've also written a post on how to spread joy. It's angled towards the holiday season, but these ideas you can do all year long!
Love for you to follow me on Instagram for more ideas on what to do for your family and friends!