If you follow me on Instagram or TikTok, you know I love sharing hair tutorials. It's funny, not many people knew I loved to play with hair until last year. Ever since I started sharing more and more hair videos over the last year, I'm asked all the time about my favorite hair products. To be honest with you – there are a ton of hair products that I just love to the core.
My Favorite Hair Products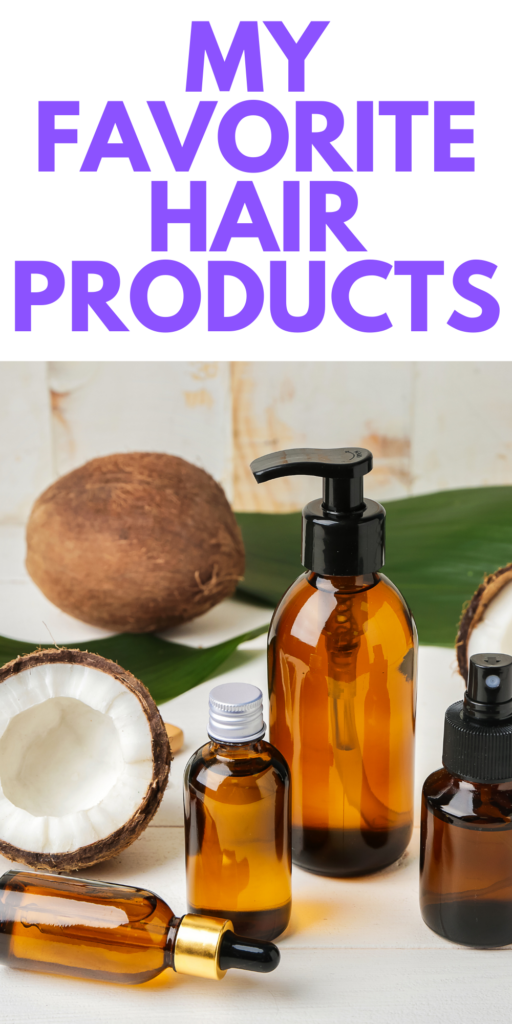 I've always been a big experimenter when it comes to trying new shampoos and conditioners and sprays and serums in my hair. I think it's important to have your standbys, but I also think it's important to try new things and see how it works on your hair, too.
I've realized throughout the years that the best products don't always mean they're the most expensive products. My favorite hair products are on the cheaper side because I know I can't be spending a ton of money on things for my hair. There's WAY more important things to pay for in my life than just my hair.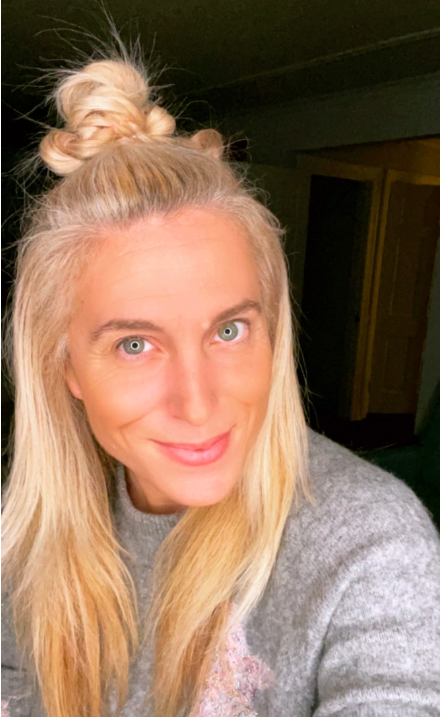 The good news is that there are a bunch of amazing hair products that are reasonable, work well and do exactly what they say they're going to do. That's really the most important thing of all, you want to make sure what you're buying works. It's pretty plain and simple. I'm excited to share my favorite hair products and showcase what we buy, love and use regularly.
*I will update this post regularly, too!
Best Hair Elastics for Styling
I love to do hairstyles on Victoria's hair and use elastics to keep it in place. It's important to get elastics that work when you're doing specific hairstyles. These are my favorite hair products to use on my hair and Victoria's hair.
No Damage Colored Hair Bands – I love these because they're thinner and smaller, so they work really well on hairstyles. They come in a package of 1000 for about $6.00. You'll have these elastics for months and months.

The hair band is made of Eco-friendly silicone, tiny and soft, but also has strong elasticity.

Thanks of the good material, it's comfortable to wear, and has strong grip but does not pull hair.

It is not easy to break force strongly pulling, be thicker than other rubber bands, and toughness is stronger.

Goody Women's Hair Ouchless – I love these because they're ouchless elastics bands, so they don't hurt when you put them in or take them out. I prefer these color options because they can match up with your hair color, too.

Dreamlover Hair Ties – These are perfect for hair retention. A must-have ponytail holder for daily use and workouts. Dreamlove hair ties can be stretched up to 9.8 inches but will not be stretched out easily, which is of great elasticity and good for thick hair. The hair ties no damage are made of thick cotton material and widened band, which could hold hair tightly enough without slipping and protect your hair better.
Best Leave-in Conditioning Sprays
My daughter's hair consistently gets tangles with small knots. I always need to make sure I keep it conditioned and brushed. Every morning I need to spray it to get it to be shiny, smooth and silky. These are my favorite hair products to use every single day.
Pantene Pro-V Moisture Mist Detangler – This is my go-to when it comes to the perfect leave-in conditioner spray. I love this spray and always have it on hand. It's reasonably priced, too. This moisturizing detangler provides a boost of hydration and helps eliminate tangles.

HASK Repairing ARGAN OIL 5-in-1 Leave In Conditioner Spray – I just bought this last week and I'm OBSESSED with it. First off – the smell is incredible and it works beautifully. This 5-in-1 Leave-In Conditioner penetrates the hair shaft, gently cleansing while it repairs damage and breakage, leaving even the most rebellious hair frizz-free, silky-soft and super glossy. It's color safe, gluten free, sulfate free, paraben free.




OUAI Leave-In Conditioner Multitasking Mist – This is another one of my favorite hair products for you to use to detangle hair, too. It protects hair from heat/UV damage, smooths split ends and frizz, detangles and conditions every strand. A few sprays will leave your hair with gorgeous shine. This one is a great option to use, too.
Best Hairbrushes for Styling
I'm all about finding the best brushes that work on styling hair. Victoria hates when a brush "hurts her hair" (as she puts it). I'm always trying to find brushes that will work well on detangling and smooth her hair easily. I like to use these brushes on my hair, too. These are my favorite hair products for brushing hair.
Detangle Brush – This is a great option when it comes to looking to detangle hair without it hurting. Great for all hair types and ages. Pain Free Detangling with this brush. Innovative and quality, the 274 flexible bristles will gently glide through knots creating less friction than ordinary hairbrushes, resulting in reduced hair breakage.
Wet Brush – I've had these brushes for years and love this so much. These are great for wet and dry hair. These Original Detangler Hair Brush features Exclusive, ultra-soft IntelliFlex bristles that glide through tangles and knots with ease.

Olivia Garden Ceramic + Ion Turbo Vent Oval Hair Brush – Looking for a great roll brush? This a great hairbrush that I use daily with Victoria. It's easy to use and brush through hair. When talking about my favorite hair products this is always on the top of my list.


High quality boar bristles for styling

Ionic bristles for detangling & brushing

Curved side for lift & shape, flat side for straightening

Eliminates frizz & flyaways

Smooth shiny finish

I will keep updating my favorite hair products on this post, too. These are the top 3 categories of products that people reach out about, so hopefully these will help you out.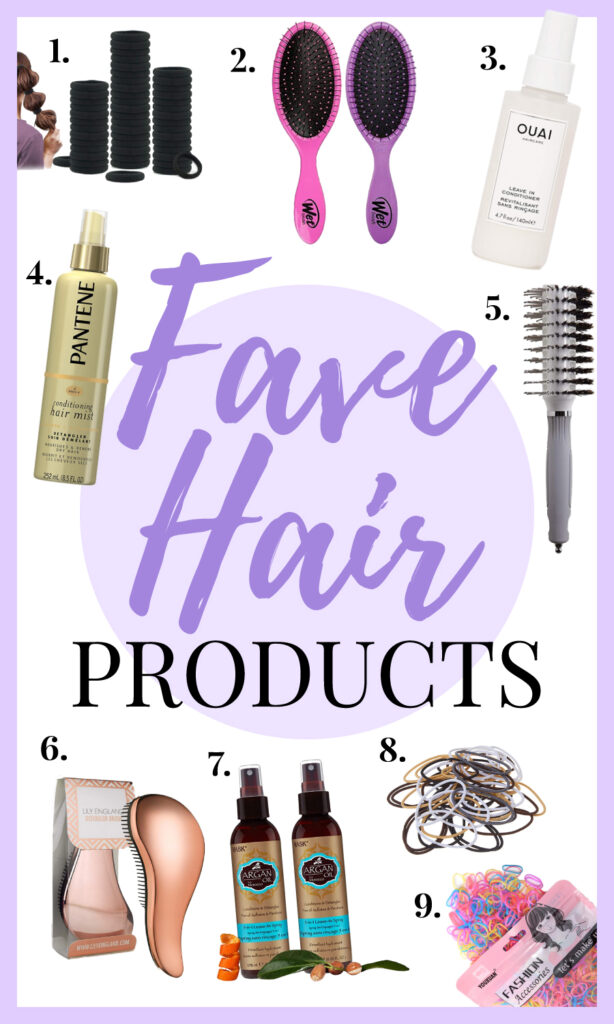 Make sure you check out these hairstyles for running late, too. These are Busy Mom Hairstyles that are great for you to try on your own.