Anyone else a busy mom? Ever feel like you're just constantly running and rushing places? As a mom of 5, I feel you and I get you. I wanted to create some busy mom hairstyles that could be done in minutes on the fly for other moms like me. It's not always easy getting everyone out the door, never mind trying to look good while you do it. I'm here to help!
Busy Mom Hairstyles
When it comes to finding some busy mom hairstyles that are worth sharing and doing on your hair, there are 3 things I always look for:
How quickly I can actually do the hairstyle.
Can I do the hairstyle with a child attached to my leg?
Will the hairstyle come out looking good?
Essentially if I can get a positive answer to all of these questions, it's a hairstyle that I just gotta share with you. With 5 kids I feel like throughout the years I've mastered the busy mom hairstyles. It's something that I've just had to get good at because time is always limited for me.
Two Strand Wrap Braid
Look at how simple this hairstyle is for you to do. It looks way more complicated than it actually is (I promise). This is one of those busy mom hairstyles that you will love. As long as you know how to wrap your hair, you'll be able to do this one.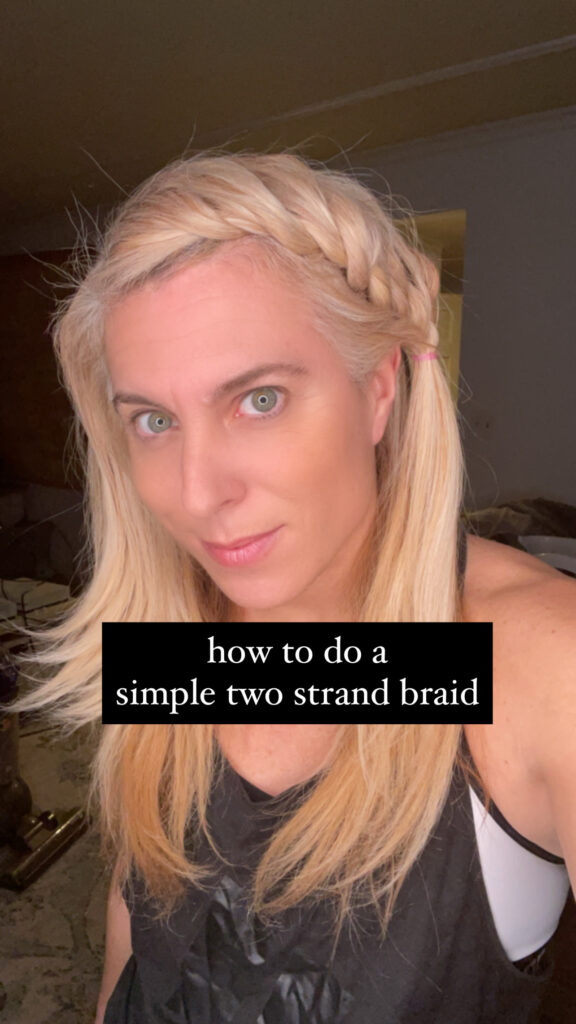 This is just a quick and simple hair tutorial on how to do a quick stranded braid. The reason I love this hairstyle is because you don't have to know how to actually braid. As long as you can twist your hair, you can get this style down. Check out this video on how to do it.
View this post on Instagram
Simple Pigtail Braids
When it comes to busy mom hairstyles, it's all about wearing some hats sometimes. It's the best way to hide an overgrown hair root and also perfect when you just need to hide messy hair. The cool thing is that once you have your hat on, you can have some fun with some hairstyles, too.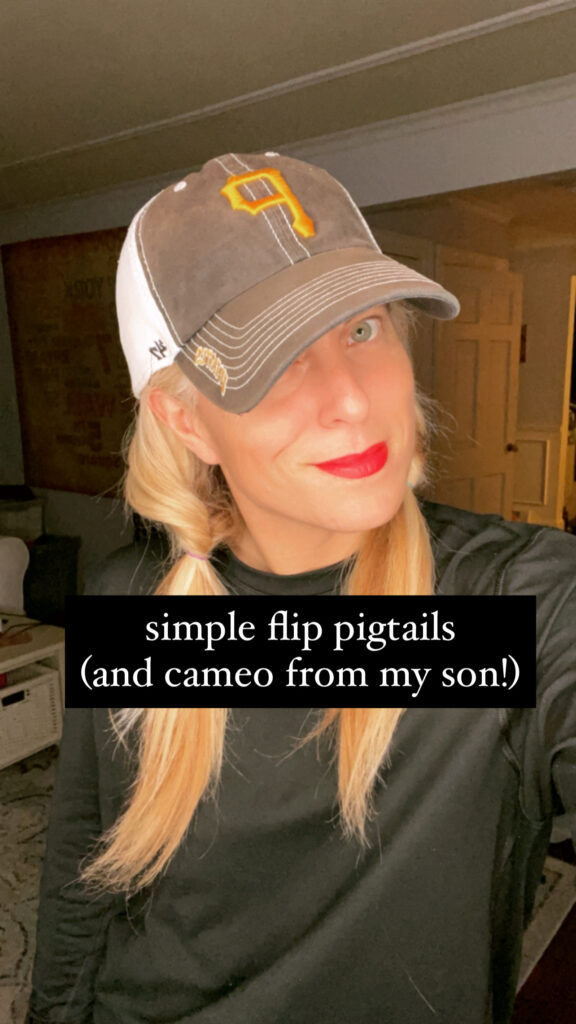 This is one of my favorite hairstyle options to do with a hat on. This is a cool pigtail hair flip and it's chic and sweet. I feel like this works for anyone at any age, too. The only caveat is that you need to have longer hair. This one might be tough to do with some shorter hair.
View this post on Instagram
Easiest High Ponytail Hair Hack
Are you sick and tired of popping your hair up in a basic ponytail? Well, I've got a new one for you that is just as easy as a basic ponytail. This high hair ponytail hack is an amazing one to master and keep on doing. It's one of those hairstyles where people will be asking you ALL about it!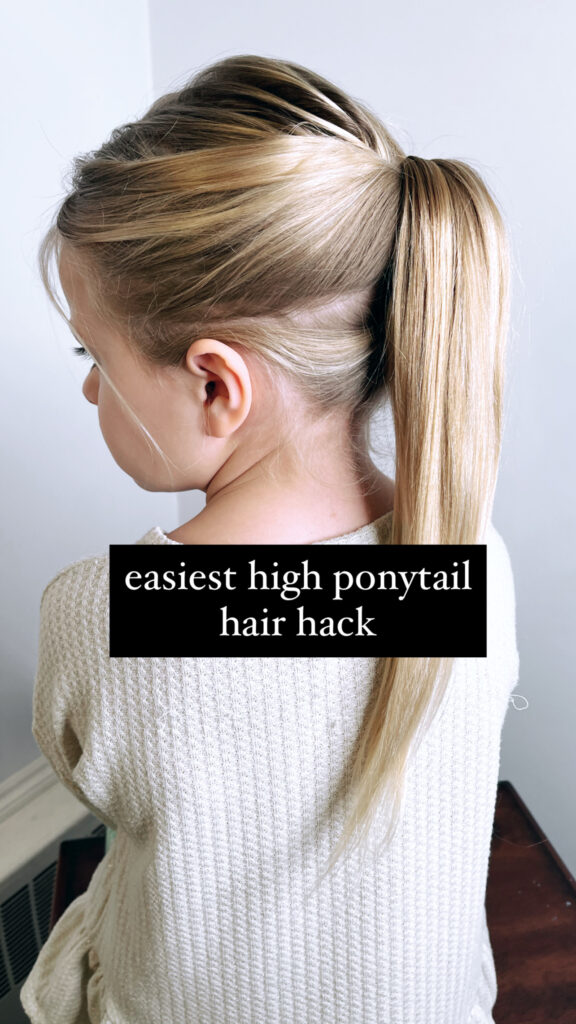 Make sure you keep this one in mind for busy mom hairstyles. This also doubles as a great back to school hairstyle, too. My daughter (as you can see here) loves this one because it's so cute and people always comment about it when she wears it out and about.
View this post on Instagram
Half Up Bubble Braid
Ready for a cute and chic style that's fast to do? Here is a fun and cool half up bubble braid. I do this one on my daughter all the time, but it's also perfect for YOU, too! As long as you can pop an elastic in your hair, you can easily do this hairstyle.

As you can tell all it comes down to us pulling the hair and making it bubble. I love to toss in a bow or a ribbon for some extra style, too. We did this one for Valentine's Day (to get ahead on some hairstyles) and feel in love with how it came out. Try this one when you're running late, you will love it!
View this post on Instagram
Simple Side Braid
As long as you can braid your own hair with a 3 strand braid, you can do this one. It's a simple, yet adorable hairstyle to do on your hair or someone else's. I'm all about trying to get some braid action into my busy mom hairstyles and sometimes braids are just too complicated. This one isn't – I promise!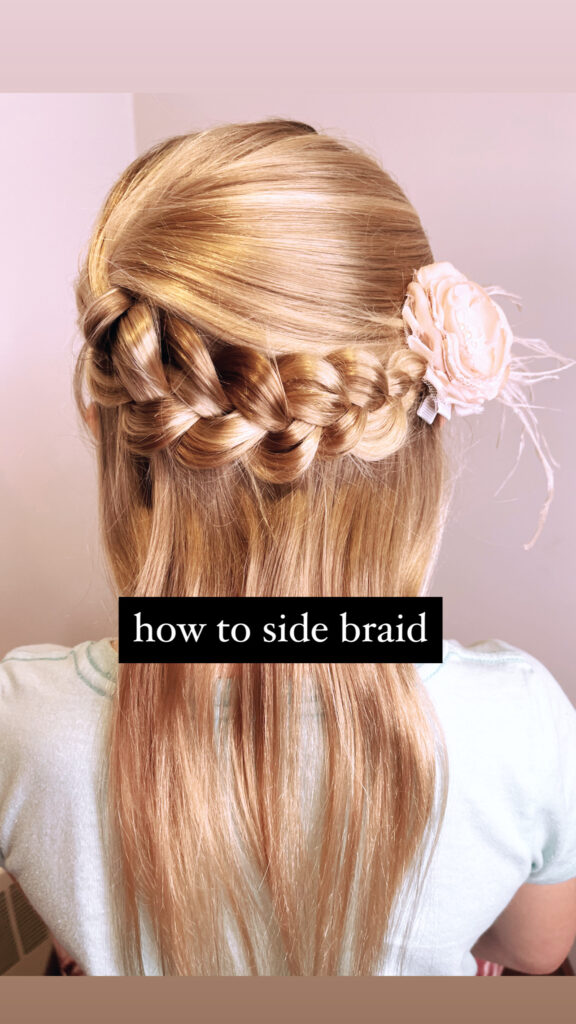 As you pop your braid in, all you need to do is simply pin the braid to the side of your head with some bobby pins. Don't be afraid to use 3 or 4 of them. You want to make sure it's secure and perfect in your hair for the day. Take some time to fan your braid out to make it puffier, too!
View this post on Instagram

Make sure you let me know if you try any of these hairstyles, too. It's all about trying to help you out and enjoy how to create some different looks in your hair. These busy mom hairstyles are sure to make your life easier and make you feel better, too!
I share hair tutorials every single day on Instagram and TikTok, so I would love for you to follow me, too. We also started a YouTube channel where we "slow down" some of our most popular styles for you to see how they actually are made. Head on over and check out all of these different social accounts and give me a LIKE!
Make sure you check out this blog post on additional Running Late Hairstyles, too! Here are also 6 Cute Hairstyles for Moms. I think this is one of the most important things you can share with other moms. I just love to try my best to make your life easier and make you feel the best version you can of yourself.
If you're looking to cut your hair at home, this is an easy way for you to teach yourself.