Looking for a cute heart braid hairstyle for Valentine's Day? Here's one hair tutorial that you will love to try on your daughter or on yourself. This is a sweet Valentine's Day hairstyle, but also can be worn year-round, too. It's always so much fun to create some cute hairstyles for fun holidays.
Heart Braid Hairstyle for Valentine's Day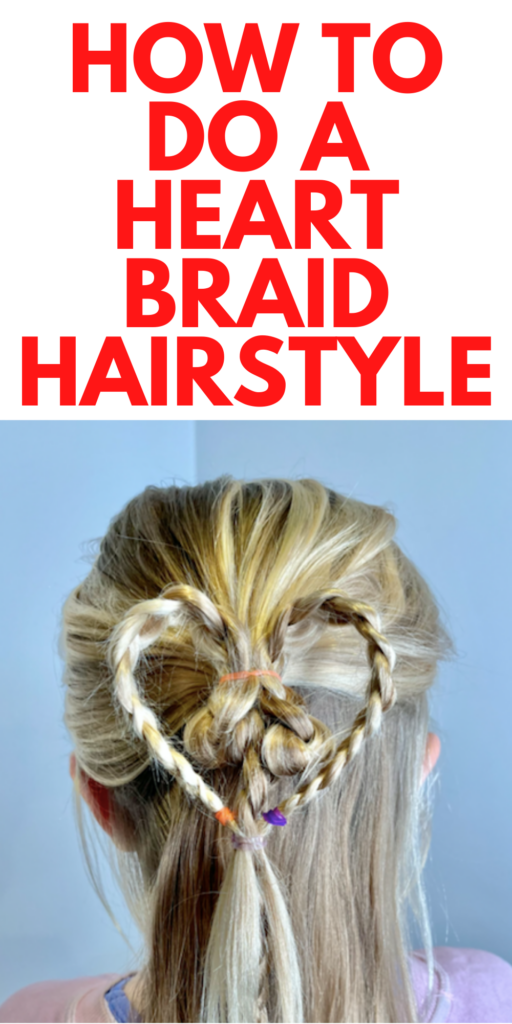 I'm all about sharing some of the best heart braid hairstyles for Valentine's Day, but this one is my favorite by far. It's simple and cute and (best of all) easy as can be. I love this one because it also works for any age. It definitely looks better on an (ahem) younger person, but it can work for anyone.
When it comes to Valentine's Day hairstyles there are a bunch of them that you can do. All you need to do is search Google and you'll find dozens upon dozens of heart hairstyles that are adorable and perfect for the holidays. I personally love to do simpler hairstyles because it's all I can do. I can't do intricate braiding, but I can do quick and simple when it comes to hairstyles.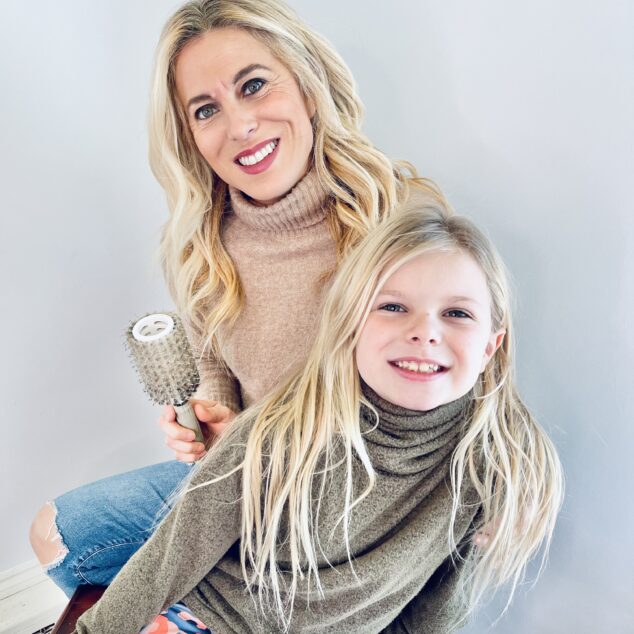 I'm hoping this hairstyle will make you smile. I think it's fun finding a heart braid hairstyle that will work perfectly on your little one. It's a sweet and fun time to have some fun with hair and fashion since everything is all about hearts right now. Hearts just seem to be popping up everywhere and I love it.
If this one catches your fancy, you don't need much to do this hairstyle. It's one of those hairstyles that doesn't require lots of bells and whistles, which is always the best kind. I'm all about finding hairstyles that don't require tons of elastics and bobby pins and clips and sprays.
This Heart Braid for Valentine's Day requires (4) hair elastics.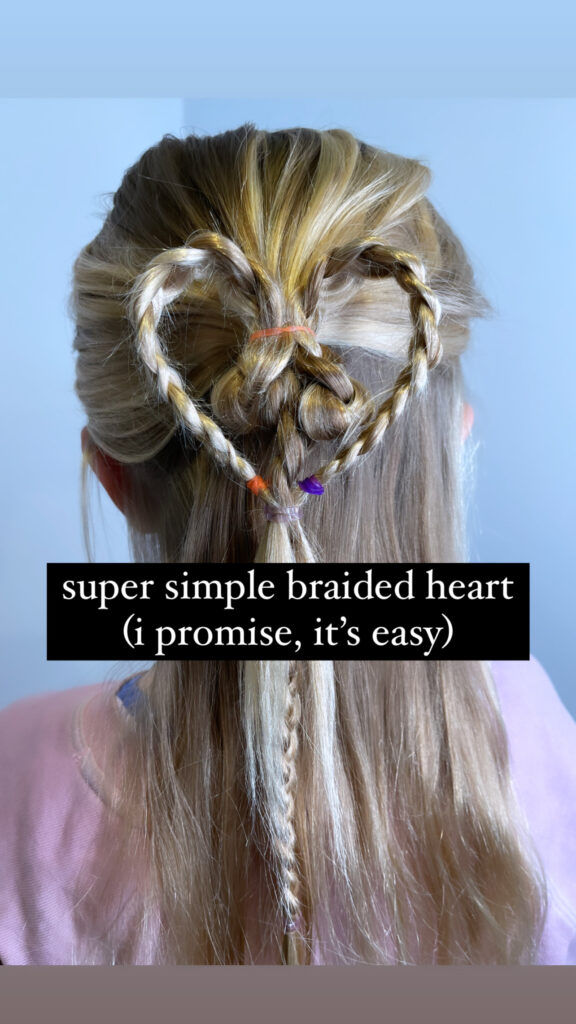 Here is a quick hair tutorial on How to Do a Heart Braid Hairstyle. I love doing this one on semi-damp hair because it's just easier to style it that way. You can also spray it with some spray in conditioner and damp it that way, too. I'm a big fan of using Pantene Mist Conditioning Spray.
View this post on Instagram
See how easy this one is? I love this one because it really is a quick one to do once you get the hang of it. I love it because after you get it "down" you'll be able to do it so quickly and (really) anyone can do this hairstyle, too.
Steps for the Heart Braid Hairstyle:
Take the crown of your hair and put it into a ponytail
Create (3) braids from this ponytail
Take the left and right braids and drag through the top of the elastic (see in video)
You will see the heart start to form
You can easily band the hair together on the bottom and see a cute hairstyle form
I'm telling you right now, this is the cutest Heart Braid Hairstyle of all. If you try this one out, make sure you share it with me on Instagram. I'm at the handle @AudreyMcClellan.
If you're looking for some additional Valentine's Day hairstyles, here are two of my favorites:
This is a simple Heart Hairstyle: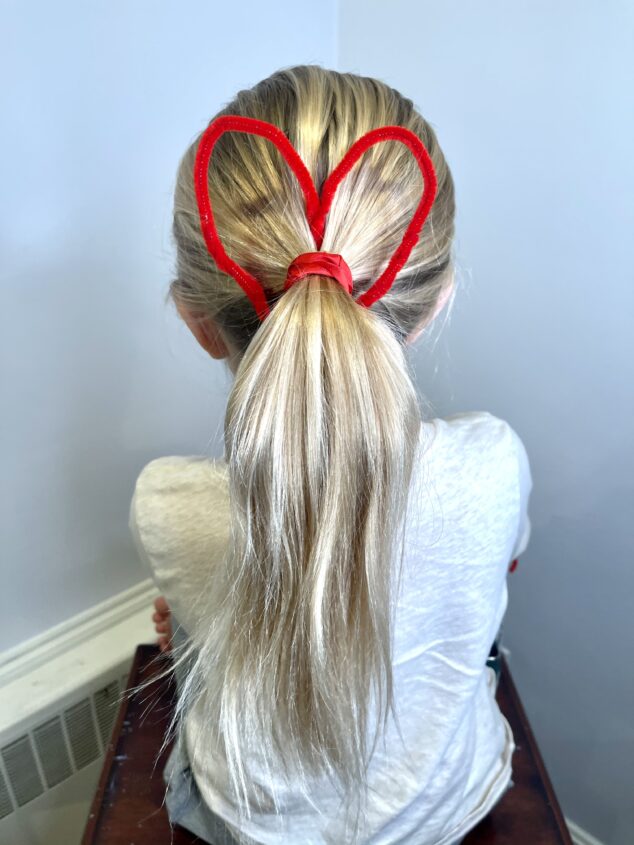 1. Create a simple ponytail. My advice is to make it in the middle of the head. You don't want it too high or too low.
2. Take (2) red pipe cleaners and connect them for the top of the heart. I just twisted them together and then formed into an arch for the top of the heart.
3. Carefully insert the pointed part (as you will see in the video) into the middle of the banded ponytail section. You can secure with a bobby pin to hold into place.
4. Take the bottom sections of the pipe cleaners and bring them together underneath, forming the bottom of the heart. Take bobby pins and secure the heart into place for yourself. This will keep the heart still.
5. Look back at the heart and fix or tweak it anyone you have to in order to make it look like a perfect heart-shape.
6. (optional) You can take a red ribbon and wrap it around the elastic band.
Here's another Heart Hairstyle for Valentine's Day, too! Such a fun one to create with your little one, too!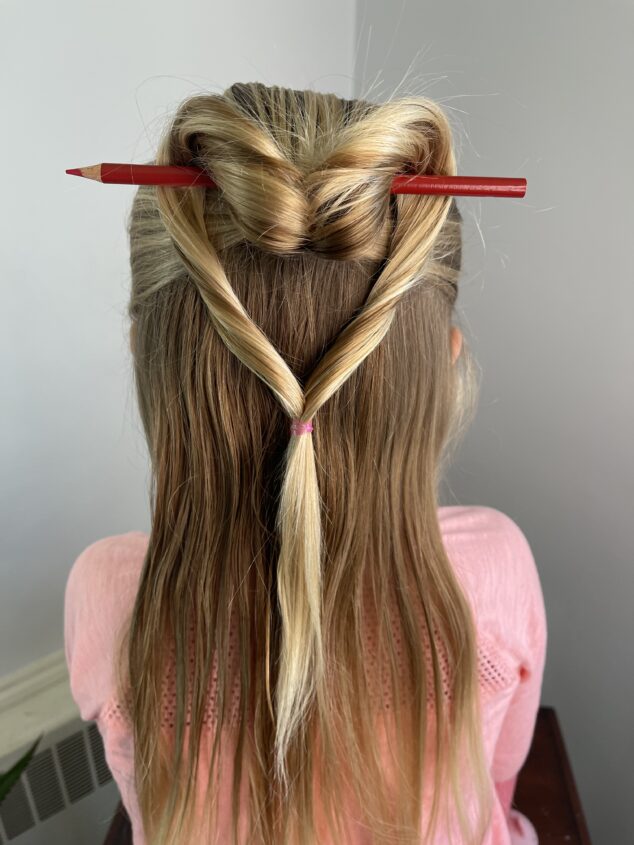 Take a small section of hair on the top of your head and create a ponytail.
Take an elastic band and loop it into the ponytail about 2 inches from the bottom (you can always adjust).
Part of the section of hair between the two elastics and loop the bottom through (you can see the tutorial).
Take your fingers and slowly pull up the section of hair and you will see a heart form (you can see in video).
Take the long object and loop it through the top of the heart to hold it in place.
I'm in love with all of these hairstyles. I think these are great to try now and throughout the year, too. These are also fun to do for special occasions.
If you're looking or wondering about some great products to use in your hair, I've got a full list of My Favorite Hair Products to use, too. I'm all about finding the best elastics and brushes and conditioners. Since it's not always easy to know what to buy or use, I thought this would be helpful for people to use as a guide.