Looking for some extra cute Heart Hairstyles for Valentine's Day? You've come to the right spot. It's so much fun to create some sweet and cute Valentine's Day hairstyles on yourself and your child. For the day of LOVE, it's always fun to create something extra special and fun.
Heart Hairstyles for Valentine's Day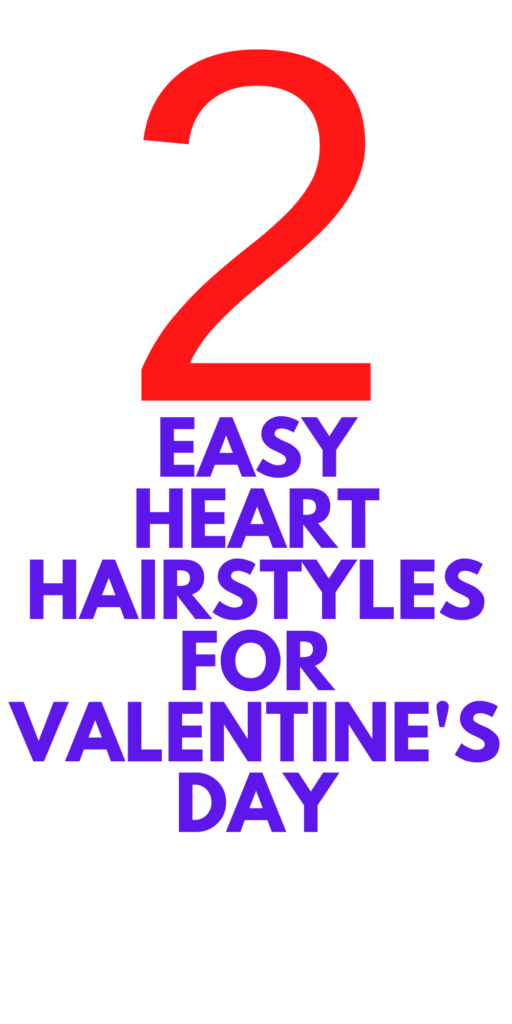 When it comes to Valentine's Day it's all about the hearts. I love to wear hearts on my clothes (and dress my daughter up that way too) and also wear heart hairstyles. These hairstyles I waited a long time to do on my daughter. I needed her hair to get long enough and for her to sit still long enough, too.
These (2) heart hairstyles I'm going to share with you today take little time to do and are very easy. I love these hairstyles because they're cute, but also really fun to wear. There's nothing more special than seeing your child get excited over a special outfit or even a special hairstyle.
Valentine's Day is just a fun day to have some fun and really let them enjoy the day. Whenever we got out and about with one of these hairstyles during the year people stop and comment on how cute it is. I can only imagine how people will react during Valentine's Day week. To wear a heart hairstyle is just a cool thing to do!
Heart Hairstyles for Girls:
Hairstyle #1 –
Heart Braid Hairstyle – This is my favorite ♥️ hairstyle for Valentine's Day! See how to do this simple heart braided ponytail hairstyle. I love this one for the holiday and it was also a popular video on my Instagram feed.
View this post on Instagram
Heart Hairstyle How-to: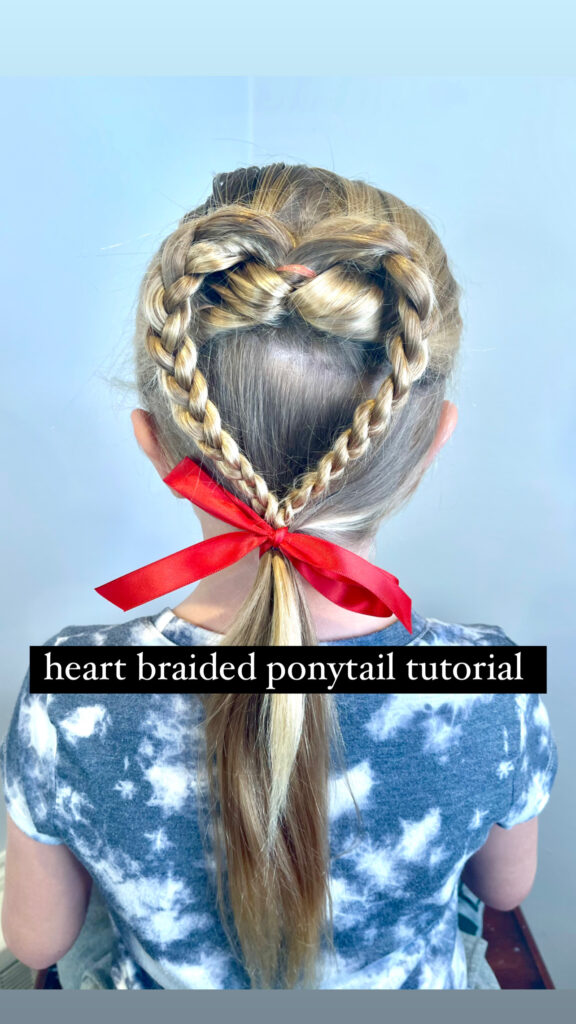 Make a ponytail and create it in the crown of your hair
Do an inverted pull-thru
Divide it in half and braid each section
Elastic band the end and make sure it's shaped into a heart
Hairstyle #2 –
This is a really cute hairstyle for Valentine's Day and beyond. It's a 3D puffy heart hairstyle that is just the cutest ever. Check out this fun hairstyle and try to recreate it on your hair or your child's. This is just a really fun and adorable hairstyle to do.
View this post on Instagram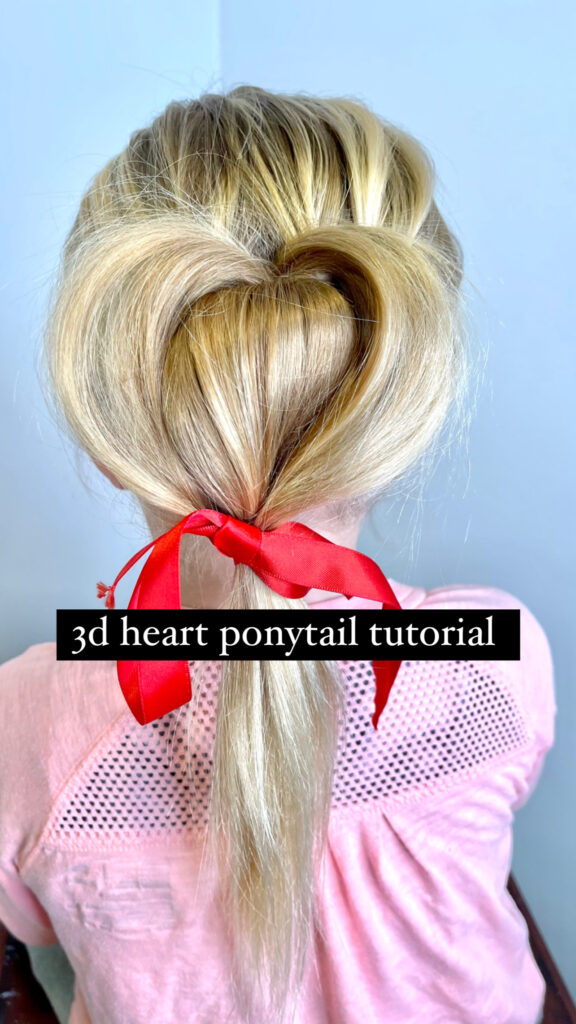 Heart Hairstyle How-to:
Make a low ponytail
Create an inverted hair flip with your ponytail
Divide the hair into 2 sections
Take the top section and divide into 2 sections and band the bottom into a tiny ponytail
You can take the top 2 sections and band them around the smaller ponytail
Start puffing out your ponytail and create the heart
What Kinds of Hair Products To Use:
I created a massive My Favorite Hair Products on the blog for people to use as a reference. These are the best elastics and brushes and conditioners. These are the ones we use and swear by. I'm all about sharing what I have and letting you know about them. These are literally all perfect for anyone, at any age.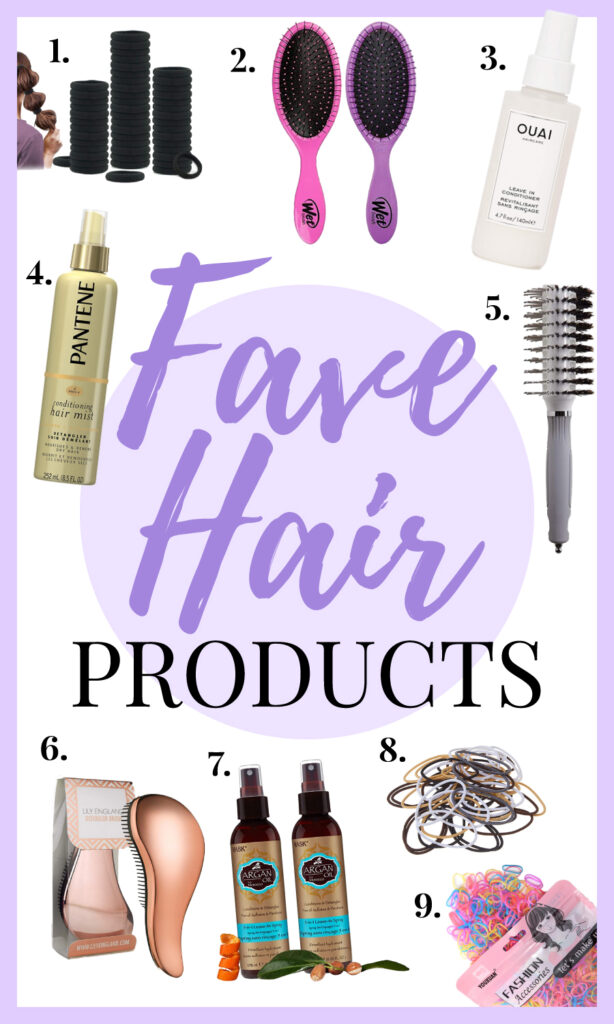 When you're thinking of buying hair products for hairstyles for your hair or your child's hair, these are the top things I would go for first. You want to make sure you have a great brush that is working through the tangles. You want to make sure you have elastics that hold and work. You want to make sure you have conditioners that will get the job done.
When Can You Start Doing Valentine's Day Hairstyles:
My advice? Start NOW! We've been doing them on Victoria's hair since February started. It's just fun to be able to do some really cute heart hairstyles and work them into your hair rotations throughout the month. I think it really keeps kids excited and it's a fun way to get them in the Valentine's Day mood.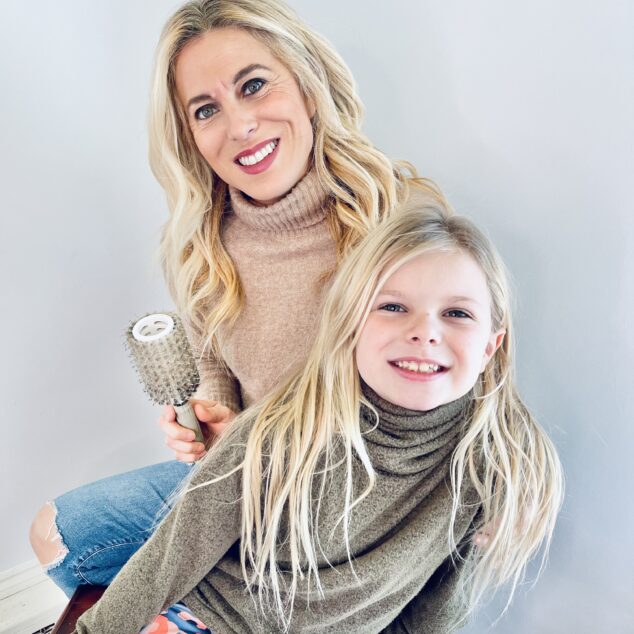 We've been sharing various hairstyles on the blog for the last few weeks. It's not just these 2 heart hairstyles. We've shared some heart braid hairstyles and also some DIY crafty hairstyles, too for Valentine's Day. I love each of these because they're super cute and easy to do, too. These hairstyles are also great to do this week and beyond. You don't just have to do these for Valentine's Day!
If you're into coming up with some fun hairstyles for St. Patrick's Day, too check out my round-up of St. Patrick's Day Hairstyles for Girls!
I'm also loving these cute Shamrock Pigtails that you can create for St. Patrick's Day (which is right around the corner!).
I would love for you to follow me on Instagram, too. I share hairstyles every single day over there that are easy and fun to do on yourself and your child. I'm all about sharing the easiest hair tutorials because not all of us are good at doing hair. It's important to make sure we have go-to easy styles to choose from for yourself.