A ponytail is a great look for day or night. It can be dressed up with some hair accessories, or paired with jeans and a t-shirt for an easy everyday style. This guide will teach you how to do a ponytail in three different ways: the classic ponytail, the high pony tail, and the low ponytail. Pick your favorite or try them all!
How To Do a Ponytail
Are you looking for the perfect ponytail tutorial? I've got a few for you that you will love that is easy to do on medium-length hair or long hair. The good news is that a ponytail is one of the easiest styles to do, regardless of your hair type. They work for thin hair, thick hair, curly hair, fine hair, wavy hair, etc. It's true that the longer hair you have, the easier it is, but you can always make it work! Ponytails are tough on short hair because you don't have a lot of hair to work with. If you have hair extensions or use your own hair, ponytails work like magic.
These are some of my favorite ponytail styles because they just look classic and beautiful. A ponytail is a perfect way to put your hair up and make it look chic and fabulous. Whether you have clean hair or dirty hair, a basic ponytail can change your look. Since there are many ways on how to do a ponytail, I thought it would be fun to feature a classic ponytail and then two other styles. They can be used for a special occasion or everyday wear.
I'm someone who thinks any kind of ponytail style looks good, even if it's a messy ponytail. I mean, you don't want it looking like a three-year-old did it, but you can make any kind of ponytail work. I'm going to share a video tutorial with each of my fave hairstyles and I hope these work for you. The best thing about a ponytail is that you don't need a ton of hair accessories, you just need: hair elastic (don't use a regular elastic band or rubber band!) and hair spray. You could even use bobby pins to help hold pieces in place.
Classic Ponytail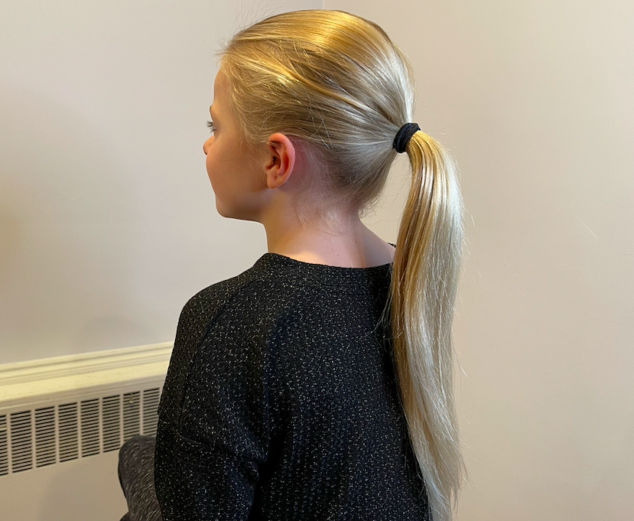 When it comes to a classic ponytail, this is the one style that everyone should know how to do. I call this one the basic ponytail because it's the most basic and easy hairstyle of all.
This hairstyle is the easiest way to get your hair off of your face and up! It's always a cute ponytail option, too and these are basically 2 simple steps:
Brush your hair all together and make sure it's smooth on the crown of your head
Take an elastic hair tie and make sure the rest of your hair is in it, band away!
You can make this classic option pretty much anything you want. You can create a sleek low ponytail with it or just give yourself a sleek look with it. You don't need any additional hair product, this one is pretty much done once the hair is banded together.
High Ponytail
This is a perfect date night ponytail and the best way to get some sexy hair! I have an easy and perfect solution on how to create a perfect high ponytail. There are actually two ways that I'm going to show you because each one gives you exactly what you desire, some height on that ponytail. I feel like this is a great red carpet style that you see celebs rocking. Many people just think you take your hair and band it on the top of your head and you're done! I just think it gives it a messy look. If you want that sleek ponytail style with some height, there are ways to make it work effortlessly.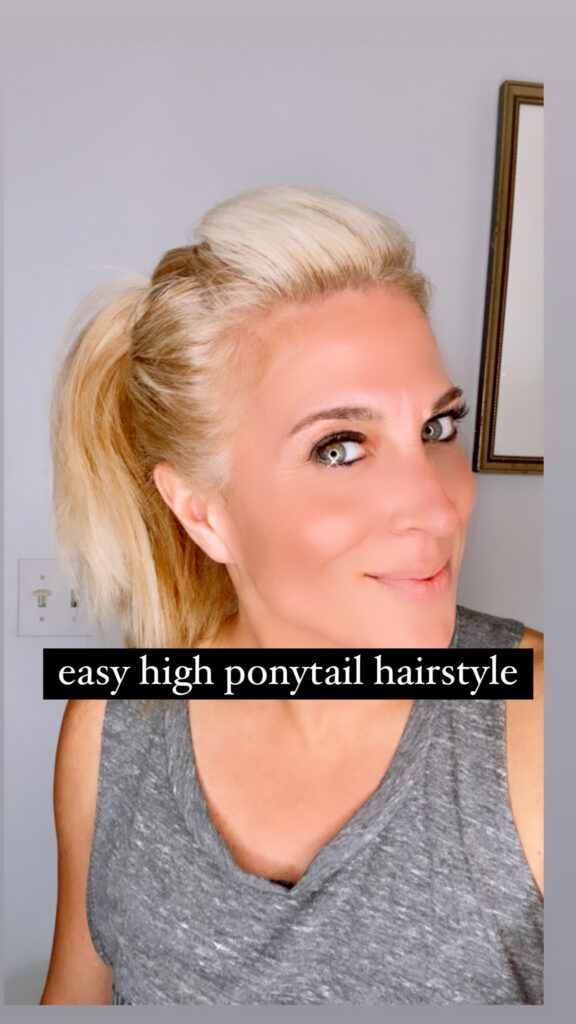 I start off by bobby pinning sections of hair from my bangs back. This is a great way to get some height and volume with the front sections of your hair. Then you take the rest of the hair and create that high ponytail. It's easy to do and gives the illusion of height, but it's really you taking the front sections and making it work and then taking care of the rest of your hair. You can even pull a hair strand down or two once you're done.
The other way to do your high ponytail is to create two ponytails (you will see the hair hack video below) and pull one of them through the other. It allows your hair to get some serious height.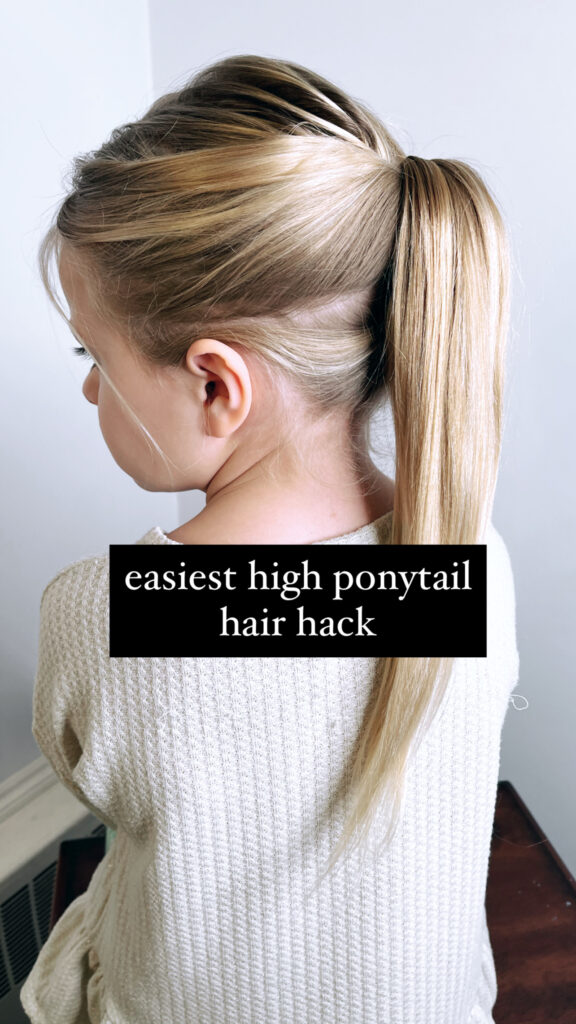 This is a perfect solution when you're looking to up your ponytail game. My advice is to use hairspray to make sure the style stays in place. This is a simple hairstyle that I personally just love.
View this post on Instagram
Low Ponytail
We've covered a regular ponytail (these are always in the middle of your head), high ponytail and now it's time for a low ponytail style with a twist. If this is your first time trying this cute hair hack, you might need to watch the video a couple of times.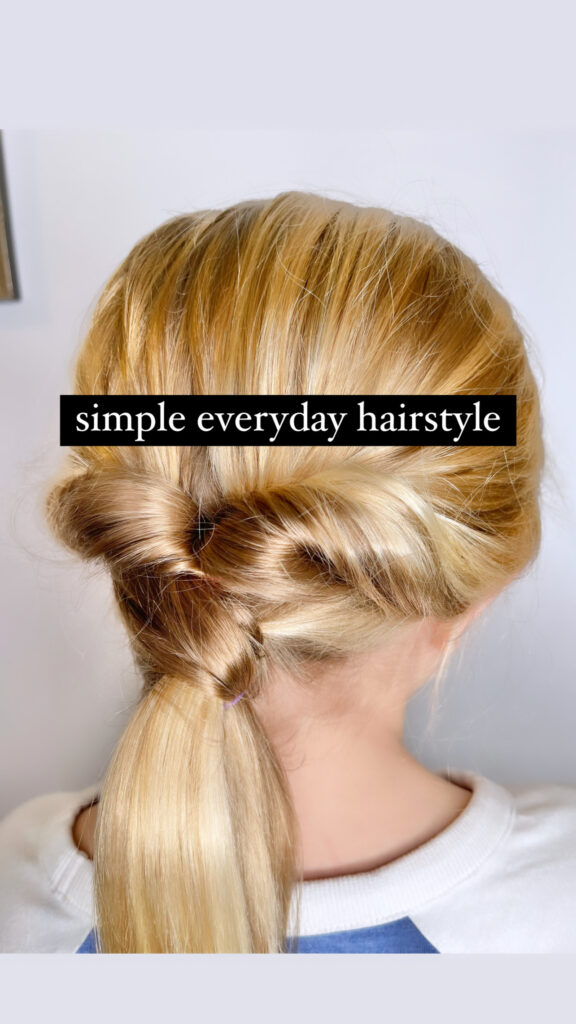 It took me a few times to get it down. You essentially make a low ponytail with a section of hair and then with the remaining hair, create a ponytail over it. You twist this hair and pull it through, the good thing is it's a small section of your hair, so it's easy to do.
View this post on Instagram
These are some simple ways when wondering how to do a ponytail. There are so many different ponytail styles you can do, too. You could do a side pony, a small ponytail that layers over your longer hair, a voluminous ponytail, a curly ponytail, a ponytail with big curls down the tail of it, or one of my personal faves… bubble ponytails. This is a style I do on my daughter all the time.
The great thing about a ponytail hairstyle is that whether it's your first hairstyle you're doing on yourself (or someone else), it's easy. Not to mention, there's so much you can do once you have your ponytail. You could add as much extra volume as you desire. You could take your curling iron through it from some additional curls. You could add a french or dutch braid to the tail of it. You could even add a hair band for a unique look, too. There are so many options and it just makes it easier to create that perfect ponytail hairstyle for you.
Products I Love to Use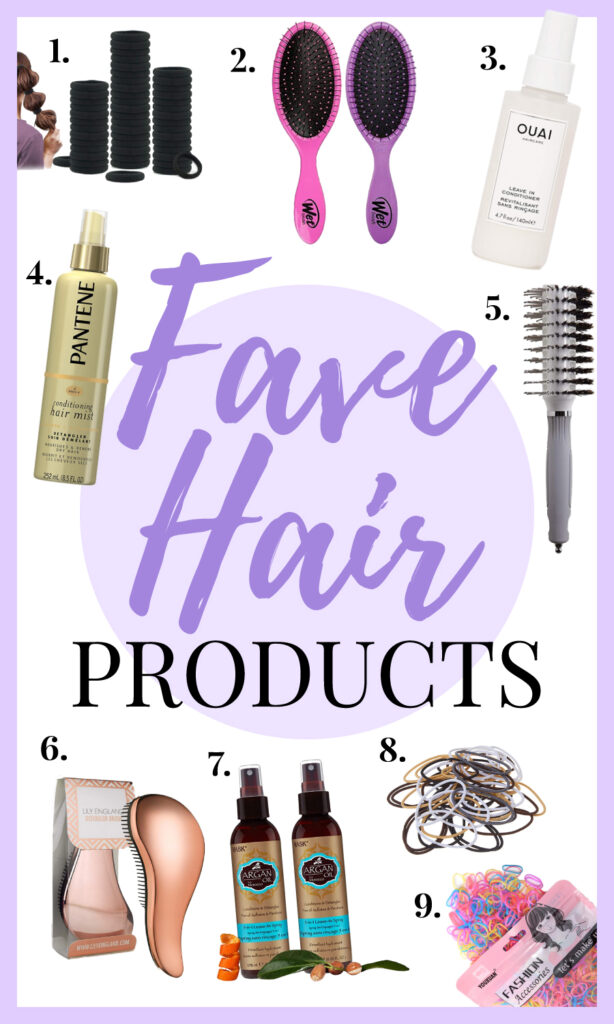 These are items I use every single day on Victoria's hair, exactly as they are below. I love all of these products because they make hair styling so much easier. Share with me in the comments any that you personally love and can't live without!
No Damage Colored Hair Bands – I love these because they're thinner and smaller, so they work really well on hairstyles. They come in a package of 1000 for about $6.00. You'll have these elastics for months and months.
Pantene Pro-V Moisture Mist Detangler – This is my go-to when it comes to the perfect leave-in conditioner spray. I love this spray and always have it on hand. It's reasonably priced, too. This moisturizing detangler provides a boost of hydration and helps eliminate tangles.
HASK Repairing ARGAN OIL 5-in-1 Leave In Conditioner Spray – I just bought this last week and I'm OBSESSED with it. First off – the smell is incredible and it works beautifully. This 5-in-1 Leave-In Conditioner penetrates the hair shaft, gently cleansing while it repairs damage and breakage, leaving even the most rebellious hair frizz-free, silky-soft and super glossy. It's color safe, gluten free, sulfate free, paraben free.
Hoping you will love some of these best tips on how to do a ponytail. It's just a fun hairstyle that you can do and will always enjoy!
If you love simple hairstyles, check out these hairstyle postings, too:
7 Easy Back to School Hairstyles