Braids are a great way to spice up your hairstyle and add some flair. If you're not great at braiding, don't worry. These are easy braids for beginners that anyone can do. Watch each easy tutorial and the different ways to make these work.
Easy Braids for Beginners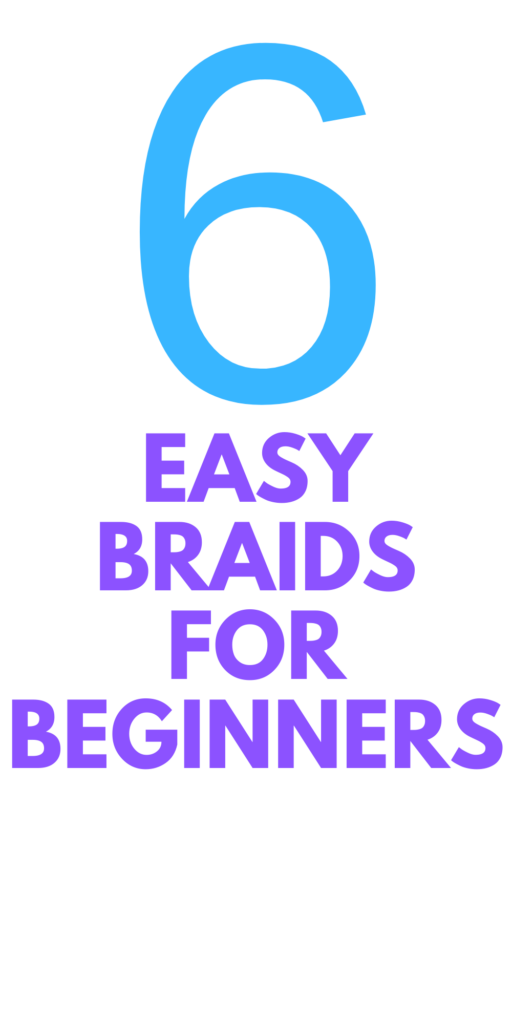 Whether you're going for a braided bun or braided braid down, I've got the perfect braided hairstyles for you! Since these are easy braids for beginners, you'll be able to do any of these. I'm not an expert at braiding. I used to get so nervous when my daughter would want a french braid, fishtail braid, waterfall braid, milkmaid braids, a mermaid braid, and double dutch braid. All I could do was a simple three-strand braid. These hairstyles are quick and easy to do and will last all day long.
I'm going to walk you through these easy braid hairstyles, step by step. I promise these braid tutorials aren't crazy intricate braids. Don't worry some of these will even work for short hair, not just on long hair. You can even do these on your own hair. These step tutorials will make the braid styles easy and quick to do! I'm not a hair stylist or a braid expert, I'm just a mom who loves doing easy hairstyles on her daughter's hair and wanted to share online.
Don't get discouraged if you aren't able to do some of these right away. These easy braids for beginners are meant to get you going. You might require a bit of practice, but I promise, once you can do a basic braid you will be good. Take it the simple way and watch the videos that I'm sharing. You'll get it down. An easy tip for me when I started out was to do the braiding on wet hair first. You'll hit a perfect braid, I promise!
Before we get going, one of the most common questions I get asked is what kinds of hair accessories and hair tools that we use. I'm all about particular items and brands, but I wanted to give you a high level of what you should have on hand in your hair arsenal:
Dry Shampoo
Bobby pins
Brush
Leave-in Conditioner
Hair elastics
*I will include a section at the end of where to buy these particular items, too. (It will include affiliate links)
Pretty Pull Thru Braid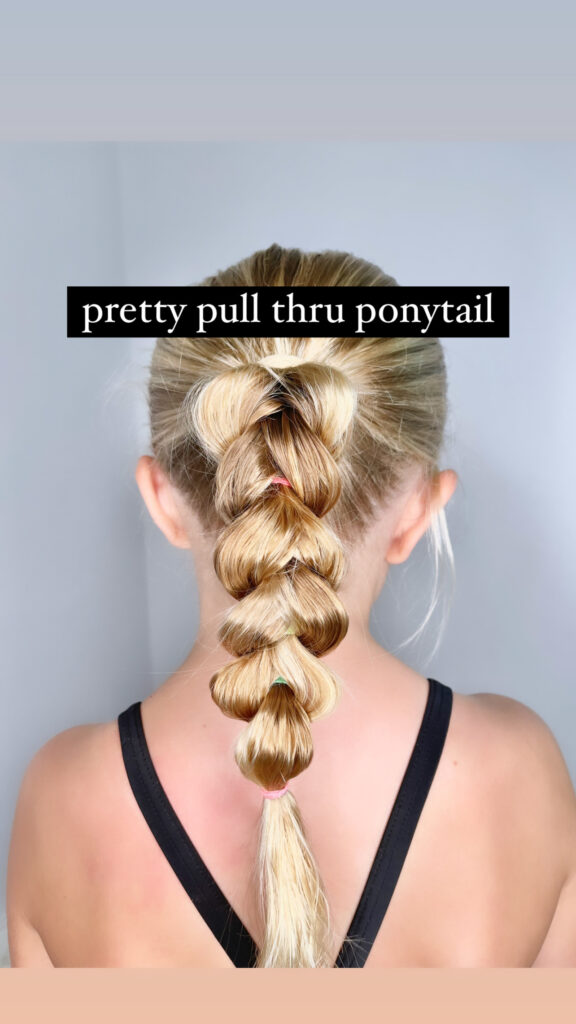 This is a cute hairstyle to do for an everyday look or for special occasions. The best part is that this perfect hairstyle works for really anything you have going on. Divide the ponytail into 2 equal pieces and simply start dividing the hair in half and smoothing it over the bottom section.
You just want to be mindful of the small piece of hair that you're using for the pull thru braid sections. I know that Victoria has much hair, so I love this one because it's an easy braid, so if you're looking for easy braids for beginners, this is a great one! *This won't work great if you have curly hair because it might not flow well, but you can try it!
View this post on Instagram
Double Thick Braid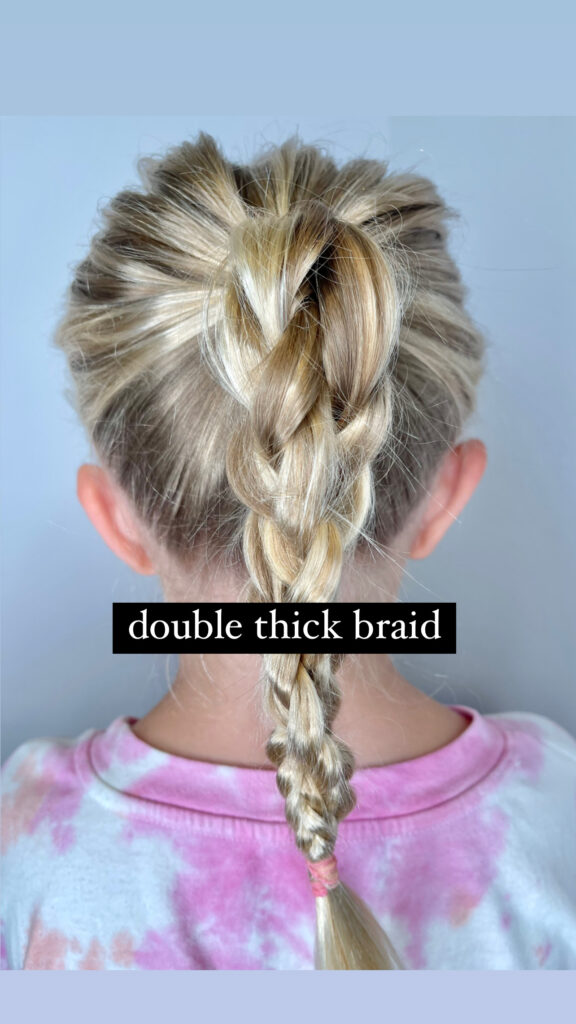 This one is perfect if your personal style is relaxed and boho. I do this one in real life for my own hair all the time. This is also great if you have the kind of hair type that is fine or thin because it makes a basic braid look thicker. Create a ponytail in your hair and then divide it in half. Create a classic three-strand braid on each section and then simply twist them together. Make sure you have clean sections of hair that will flow together. You can use hairspray to keep them smooth.
View this post on Instagram
Criss Cross Braids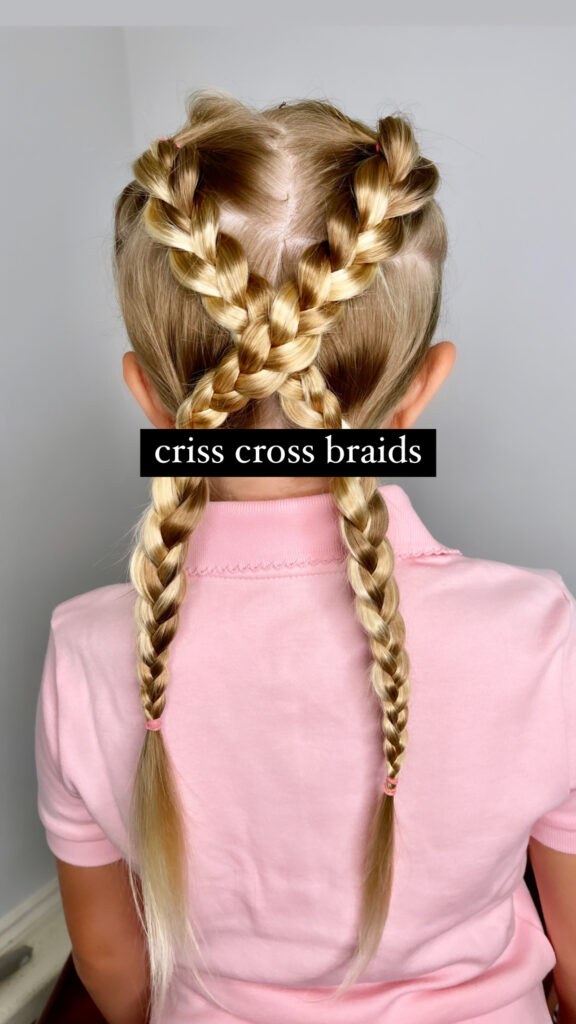 For the first step, you're going to section off your hair into four equal sections. You're going to braid each top section and then elastic band it over to the opposite side. You might want to use a clear elastic to make the braids look as if they're longer than they actually are. Once you've done this on both sides, you simply braid the ends of your hair down to the bottom. The good news is this comes out SUPER CUTE!
View this post on Instagram
Triple Braid Pigtails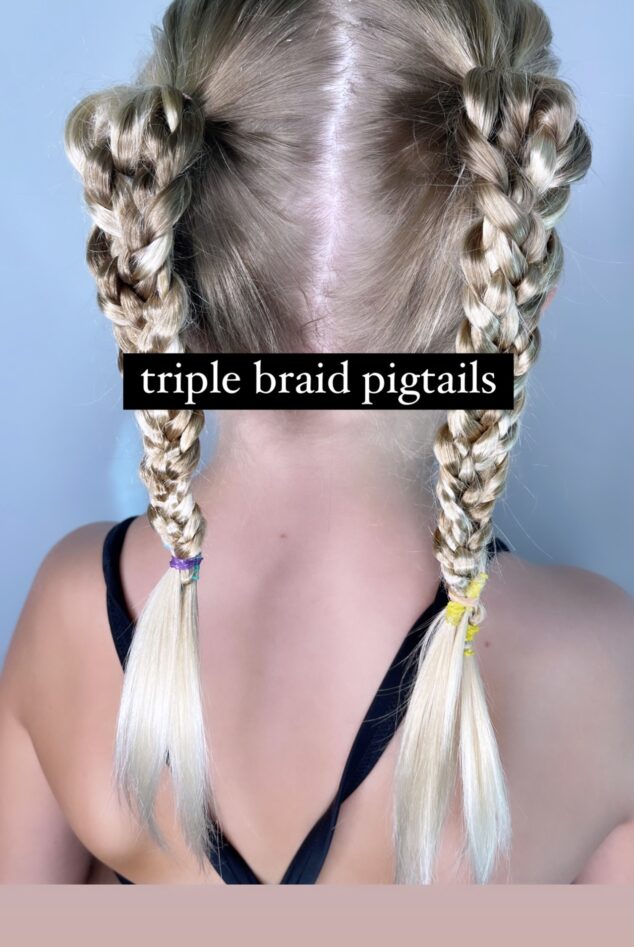 Make pigtails on the right section and the left section. Make sure the hair tie is tight enough to hold the pigtails. The key for this one is to make sure you have a great middle section part. Make three little braids and then braid them together. This is an easy hairstyle to do and these small braids look so cute when they're completed. You could even add in a ribbon for a festive feel, too.
View this post on Instagram
Faux French Braid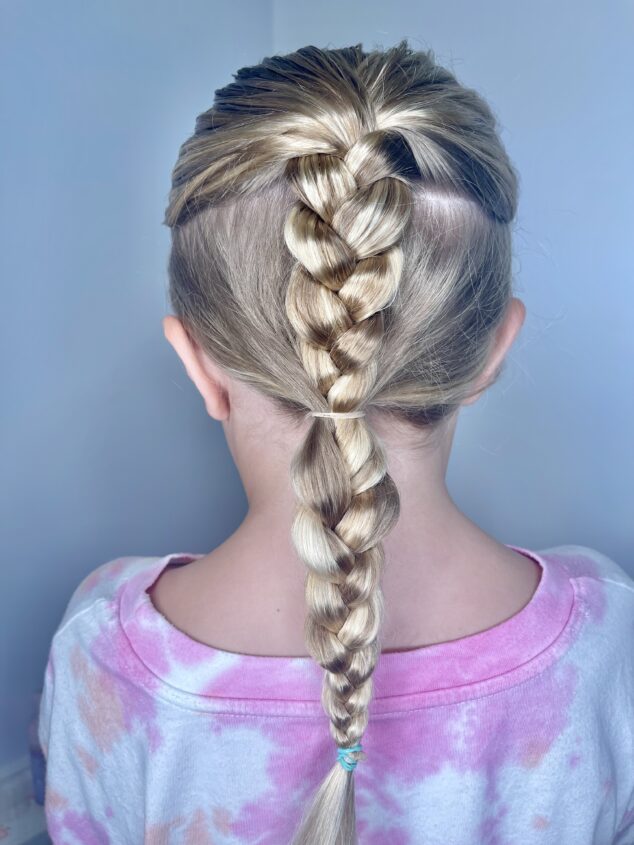 Create a ponytail on the top of your head and do a three-strand braid. Pin it to the top of your head and then start taking chunks of hair and an elastic band at the nape of your neck. Then pancake the braid out to make it look full and easy. You might have to watch the video tutorial a few times to make sure you have it down pat.
View this post on Instagram
Simple Braided Hairstyle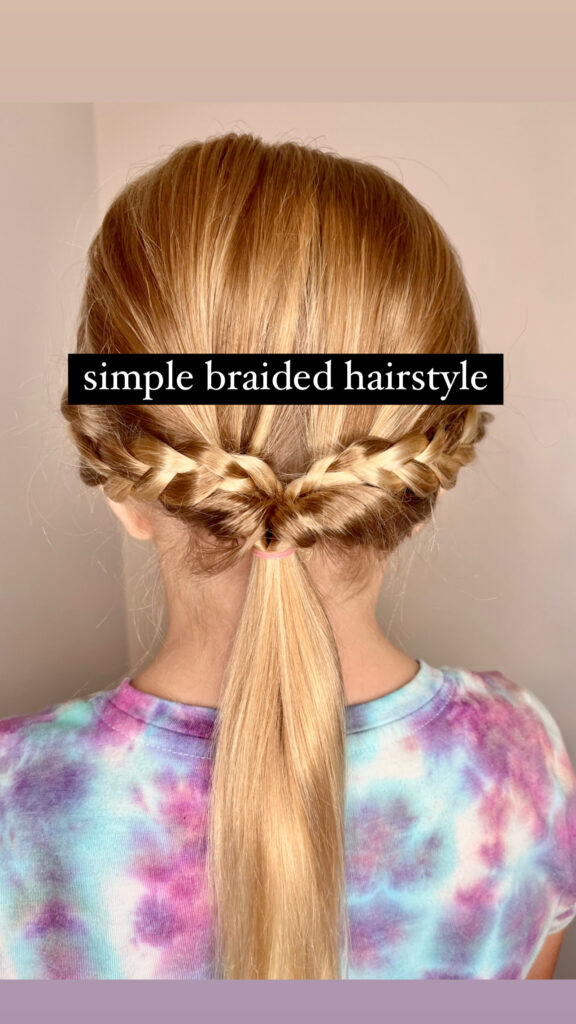 Take two small sections of hair on your right and left side and band off, then create a low ponytail with the rest of your hair. Take the hair on the right side of your head and braid it, then repeat on the left side of your head, too. Take the ponytail and flip it toward your head. Then take the side sections and tuck them into your low ponytail.
View this post on Instagram
Double Boho Braids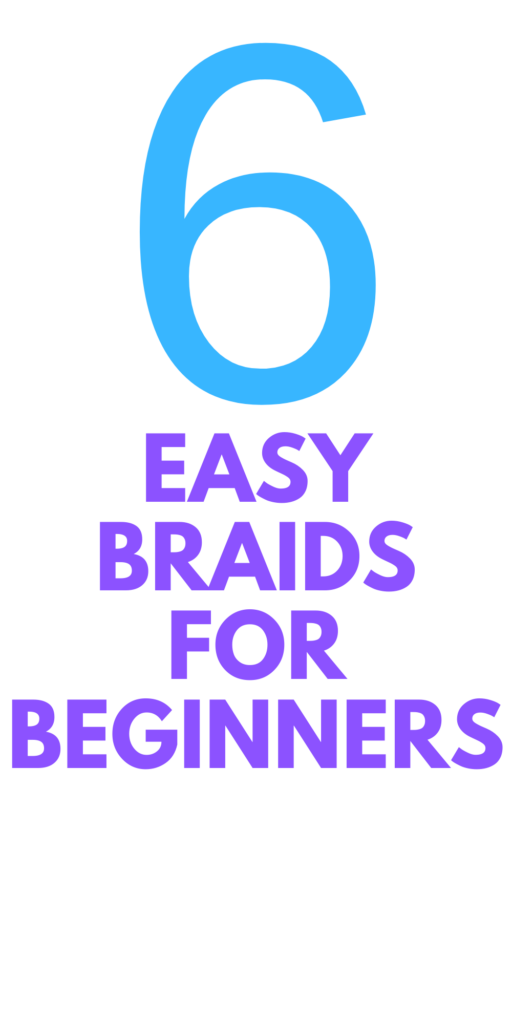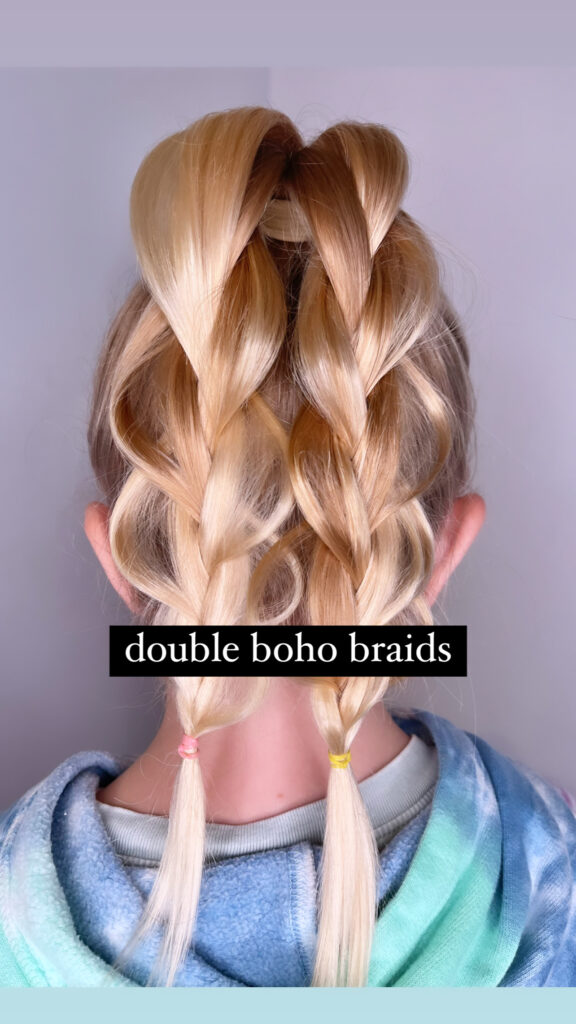 Divide the hair into two new sections. All you have to do for this one is create a simple braid in each section. This is an easy braided hairstyle that you can do for special occasions or an everyday look. In each section, you will do a regular three-strand braid. After you complete each braid, pancake them out. This is the easiest way to create a boho, puffed look.
View this post on Instagram
Hopefully, if you're looking for easy braids for beginners this post will help you out. It's definitely one that I feel would have helped me out years ago when I started doing hairstyles on Victoria. It's important to make sure you have go to hairstyles that will work effortlessly and easily for you.
My Favorite Hair Products:
These are items I use every single day on Victoria's hair, exactly as they are below. I love all of these products because they make hair styling so much easier. Share with me in the comments any that you personally love and can't live without!
No Damage Colored Hair Bands – I love these because they're thinner and smaller, so they work really well on hairstyles. They come in a package of 1000 for about $6.00. You'll have these elastics for months and months.
Pantene Pro-V Moisture Mist Detangler – This is my go-to when it comes to the perfect leave-in conditioner spray. I love this spray and always have it on hand. It's reasonably priced, too. This moisturizing detangler provides a boost of hydration and helps eliminate tangles.
HASK Repairing ARGAN OIL 5-in-1 Leave In Conditioner Spray – I just bought this last week and I'm OBSESSED with it. First off – the smell is incredible and it works beautifully. This 5-in-1 Leave-In Conditioner penetrates the hair shaft, gently cleansing while it repairs damage and breakage, leaving even the most rebellious hair frizz-free, silky-soft and super glossy. It's color safe, gluten free, sulfate free, paraben free.
Olivia Garden Ceramic + Ion Turbo Vent Oval Hair Brush – Looking for a great roll brush? This a great hairbrush that I use daily with Victoria. It's easy to use and brush through hair. When talking about my favorite hair products this is always on the top of my list.
Read more about my favorite hair products here.