There are a few hair products that I have to use every single morning on my daughter's hair, and a leave-in conditioner is one of them. I think I've tried about a dozen of them throughout the years, but I have my personal faves. I wanted to share the best drugstore leave-in conditioner hair products that we love and use.
Best Drugstore Leave-in Conditioner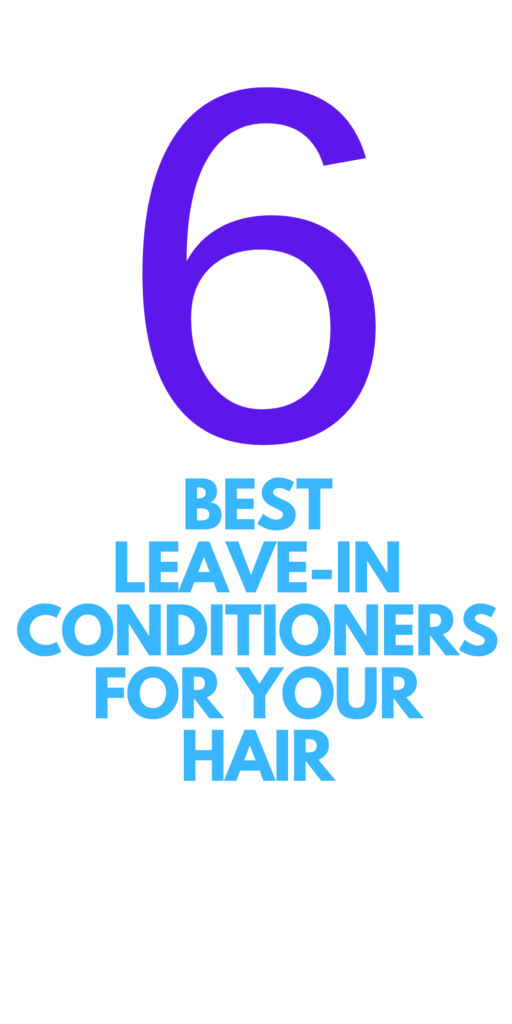 My daughter has hair that tangles very easily. When she was a toddler, I would keep her hair short because it was becoming too difficult to brush. It broke my heart to do it because I was dying to grow it long and create some fun hairstyles for her. My hairstylist suggested I try some detangler sprays on her, just leave-in conditioner type treatments to help get the tangles and knots out. I was thrilled to see how well some of them worked on her hair.
The reason I wanted to share this blog post is that when I first started researching leave-in conditioner treatments, some of them were too expensive for me. I didn't want to spend over $30 on a leave-in conditioner spray. So I started trying various drugstore leave-in conditioners and found some amazing options. I thought sharing the best drugstore leave-in conditioner hair products would be great to do for other moms and dads out there.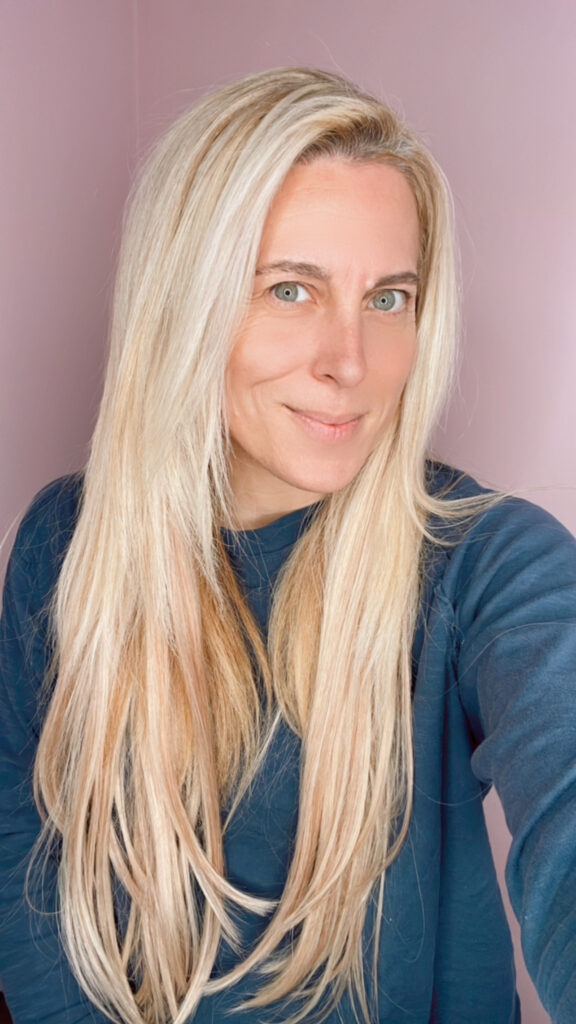 I know that when it comes to your hair type there are particular products that work better than others. I will say, with leave-in conditioners, I've had success with the ones I'm going to mention here for thick hair, thin hair, dry hair, and curly hair. I've used these on my hair, my daughter's, and my nieces (who have very curly hair). If you have fine hair or wavy hair, I know at least one of the products below will work for you, too.
I wanted to share products you can easily buy in your local drugstore. I know we're all busy, so I wanted to make sure I made it as easy as possible for people. The last thing anyone has time for is searching high and low for fancy leave-in conditioners that are too difficult to find. I love finding great drugstore products that work just as good!
Benefits of Leave-in Conditioner
When it comes to leave-in conditioner, let's talk about the benefits first. I know people can talk about the best products forever, but it's important for people to know the benefits.
Extra hydration and extra moisture for your hair
Helps control frizziness
Helps smooth hair
Easier to brush
Now with leave-in conditioner, I always get the best results when I use a solid spray on my daughter's hair. You can use it on dry hair, wet hair or damp hair. I use on dry hair when we're doing our hairstyles in the morning, so that's normally what we do at home. I know a little is supposed to go a long way, but my daughter's hair gets so tangled and knotted when she wakes up… I need to use a good bit of it.
Favorite Drugstore Leave-in Conditioners
There are not listed in any particular order. I know it's important for everyone to find the right product for their hair, so take a moment to check each one of these out and see which one will work best for you. As you can tell, these will work as a great hair treatment product, too.
Pantene Miracle Rescue 10-in-1 Multitasking Leave-in Hair Conditioner Spray – $6.99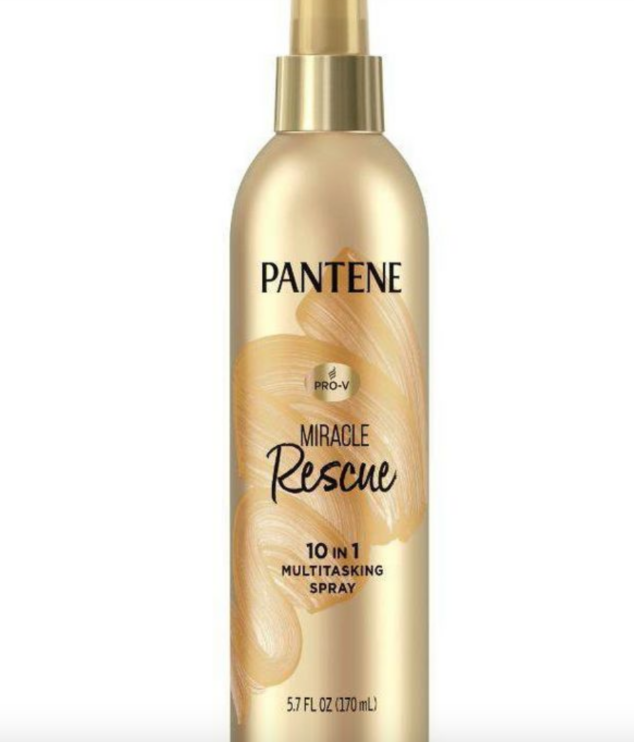 From detangling to strengthening to softening, this leave-in conditioner spray serves 10 functions in one product. Use on damp hair to repair damage, moisturize, detangle, strengthen against breakage, protect color, protect against heat, protect against UV light, soften, smooth, and improve the shine of dry, damaged hair.
The Miracle Rescue 10-in-1 Multitasking Leave-in is part of the Pantene Miracle Rescue product line. 10 Functions in One Spray: 1. Repairs damaged hair 2. Moisturizes dry hair 3. Detangles 4. Strengthens against breakage 5. Protects color 6. Protects against heat 7. Protects against UV light 8. Softens 9. Smooths 10. Improves shine
TPH BY TARAJI Ride or Die – $9.99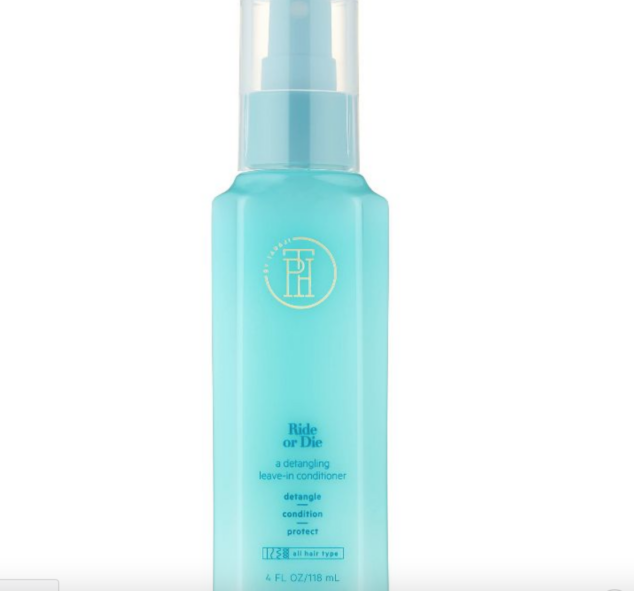 TPH BY TARAJI Ride or Die is a detangling leave-in conditioner that goes hard for your hair! Infused with Biotin, Marigold, Spearmint and Ginseng, this cruelty free leave in conditioner provides lots of slip to detangle, weightless conditioning, and frizz control for soft and more manageable tresses.
Consider this biotin leave-in conditioner your partner in crime for everyday hair maintenance and moisture. In dryness, dullness, and tangles, Ride or Die is with you to get through it all. Ride Or Die does not include parabens, SLS/SLES, phthalates, or mineral oil. Cruelty free, color safe and vegan.
TRESemmé Pro Pure Detangle & Smooth Leave-in Conditioner – $5.99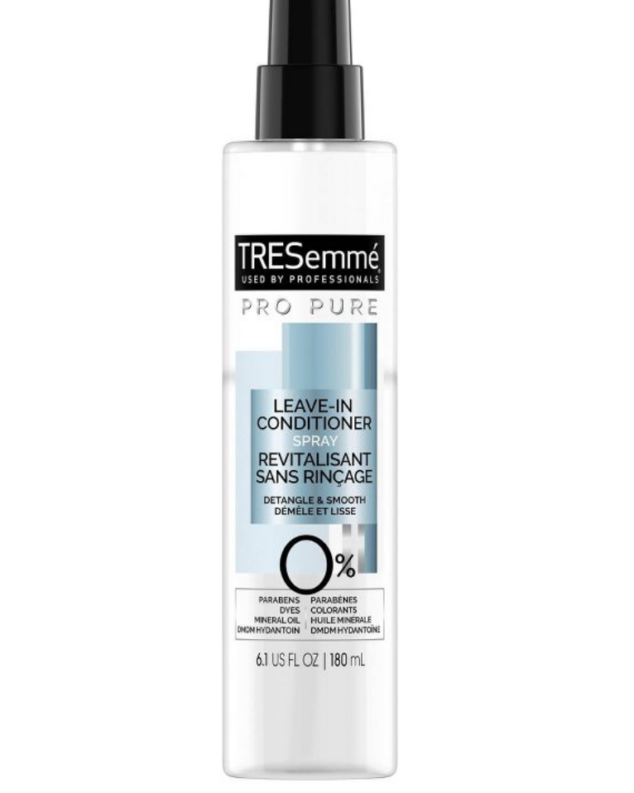 TRESemmé Pro Pure Detangle & Smooth Leave-in Conditioner for hair is made to provide a worry free hair experience
Our Leave-in Conditioner and all products in The Pro Pure Collection are Silicone Free, Paraben Free & Dye Free, so they are safe for damaged hair
A lightweight daily conditioner that detangles and smooths your dry, dull hair
Spray 3-4 pumps of the leave-in conditioner onto wet hair and work through. Massage into length of hair with fingertips for touchably soft, salon-healthy hair
A professional, affordable salon-quality leave-in daily conditioner without the salon price tag
Works great with any TRESemmé ProPure Shampoo, Conditioner, and stylers
Sun Bum 3 in 1 Leave In Conditioner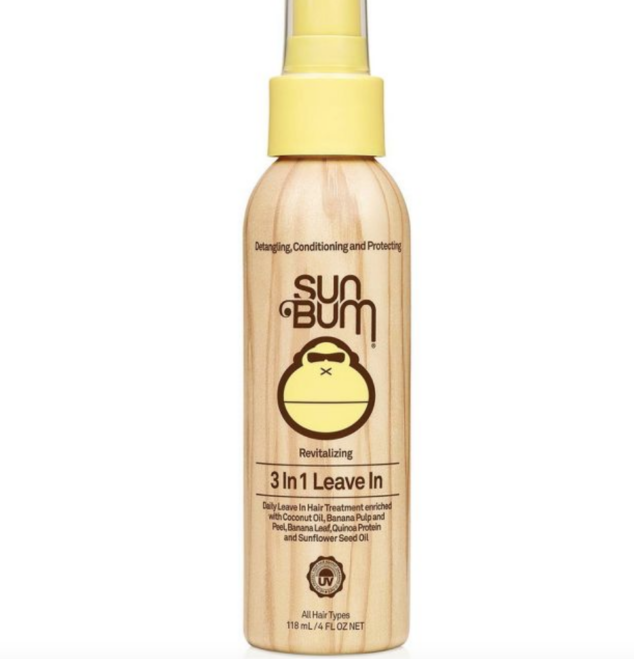 REVITALIZING 3-IN-1. By far the most "borrowed" item from our beach house, this Leave In helps detangle, condition and protect even the most damaged locks! Enhance and restore hair while controlling frizz and preventing split ends.
EVERYDAY HAIR TREATMENT. This special vegan blend helps restore moisture, repair damage, reduce tangles and slow color fading with sunflower seed oil and quinoa protein. It's perfect for all hair types and will leave your hair smooth and shiny!
HOW TO USE. Spray in wet or dry hair, comb through or tousle with fingers for hydrated, soft, and tangle free locks. No need to rinse! Sonny's Tip: For tight and tricky knots, spray liberally and use a wide tooth comb.
PROTECT YOUR HAIR. The key to maintaining healthy locks is healthy, natural ingredients. This revitalizing hair product is enriched with Coconut Oil and Banana and Pulp, and is Vegan, Gluten, Cruelty and Paraben Free. It's gonna be your new fave!
Hask Argan Oil Conditions & Detangles Leave-In Spray – $6.99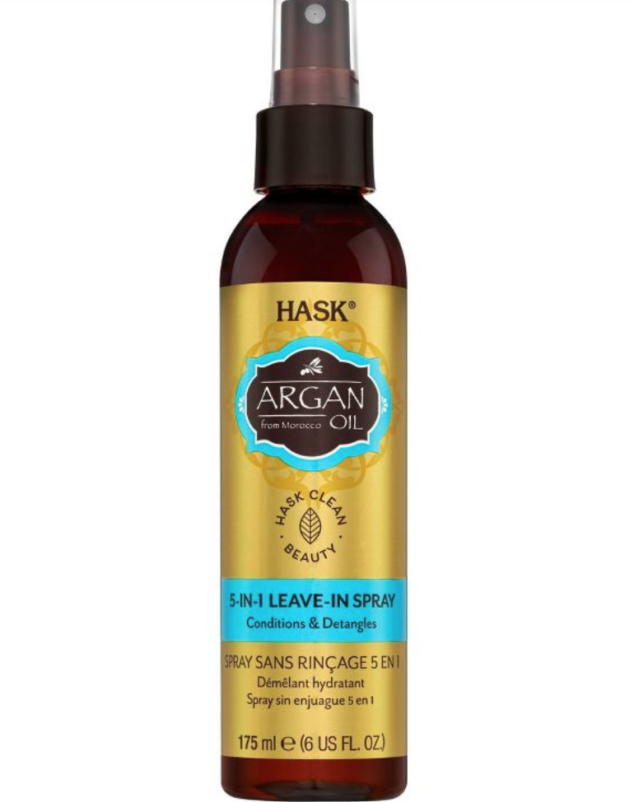 1 miracle product, 5 amazing benefits! Formulated with argan oil from Morocco, this specialty blend of ingredients is designed to pack your strands with moisturizing and conditioning agents that help restore dry, damaged hair.
1. Conditions & detangles 2. Adds shine 3. Repairs & controls frizz 4. Provides thermal protection 5. Moisturizes to prevent breakage HASK offers products that are kind to you, kind to the planet and kind to all. Free of: sulfates, parabens, phthalates, gluten, drying alcohol and artificial colors. HASK Clean Beauty | Cruelty-free | 0% Sulfates & Parabens
It's a 10 Hair Care Miracle Leave-in Conditioner Product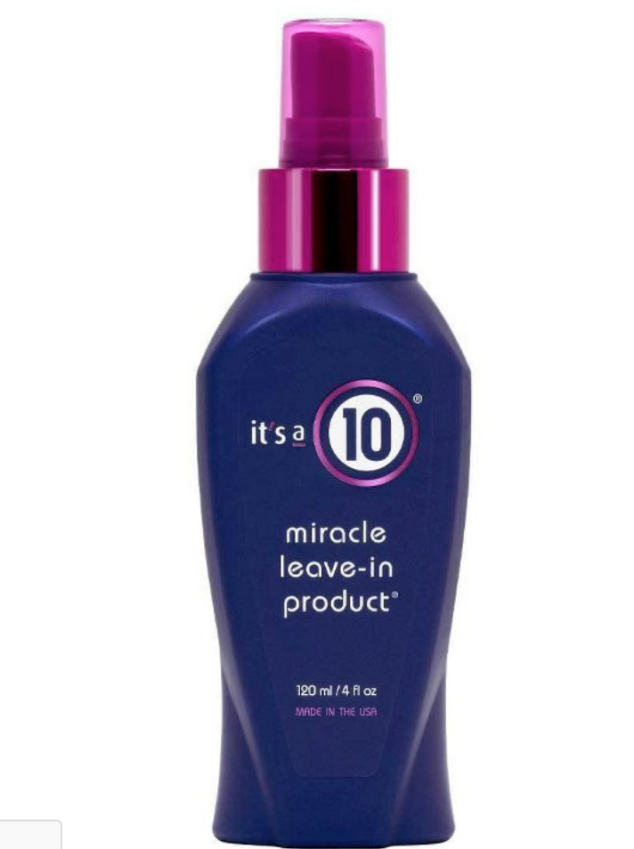 Repairs dry damaged hair. Stops hair breakage.
Adds shine, smoothes & controls frizz.
Smoothes & controls frizz. Creates silkiness.
Seals & protects hair color. Enhances natural body.
Detangles, prevents split ends. Flat iron & thermal protector.
Again, these are 5 products that I've used in my hair, my daughter's, and my nieces and really love. These don't take the place of a deep conditioner, conditioner treatment, conditioning repair cream, or even a heat protectant. You really want to make sure you have hair products that will take care of those needs, too. The best part is that there are dozens upon dozens of drugstore hair products that will accomplish that goal.
If you're looking for some great hair ties, I've rounded up 5 of the BEST No Crease Hair Ties.