I'm all about a cute rainbow hairstyle for my daughter. She's obsessed with rainbows and loves it when we come up with a creative and cute way to incorporate rainbows into just about anything, especially her hairstyles.
Rainbow Hairstyle
When it comes to rainbow colors, you can find hair bows and scrunchies at just about any hair accessory store. They have cute and adorable options for the hair. But for me, I love being able to go to Michael's Craft Store and purchase regular ribbons in a variety of different colors. The best ways to get great deals on ribbons is to keep yourself in the loop as to when sales are going on. I can get ribbons for as cheap as $1.
At the end of the day, it's all about creating a beautiful hairstyle that gives off that rainbow vibe. My daughter loves the bright colors of ribbons in her hair and it's a great way to come up with creative and cute hairstyles for school, camp, or everyday style. When you have vibrant colors of ribbons in your hair, it's just such a pretty pop of color.
I'm going to share two hairstyles that work on medium hair and long hair, but I think with a little tweaking you could make them work on short hair, too. The point is to create some rainbow highlights with the ribbons, which you can do on short hair… it just won't look exactly the same.
My daughter has medium-length hair, so when it comes to hairstyles, I love to create updos that incorporate braids and buns, and ponytails. She's all about styles that keep her long hair off of her neck, so that makes it just that much easier to come up with some cuter styles, too. There are so many different ways to do your hair, but I love being able to share super easy and quick ways. I love sharing fun ideas that can easily be used in the hair, especially if they have a rainbow style.
Rainbow Bubble Braid
This is the cutest and easiest bubble braid for you to do. I love this rainbow hairstyle because it's just simple and adorable. It's perfect for school, camp, special occasions, etc. I love that it's a hairstyle that makes people smile. It's just super cute.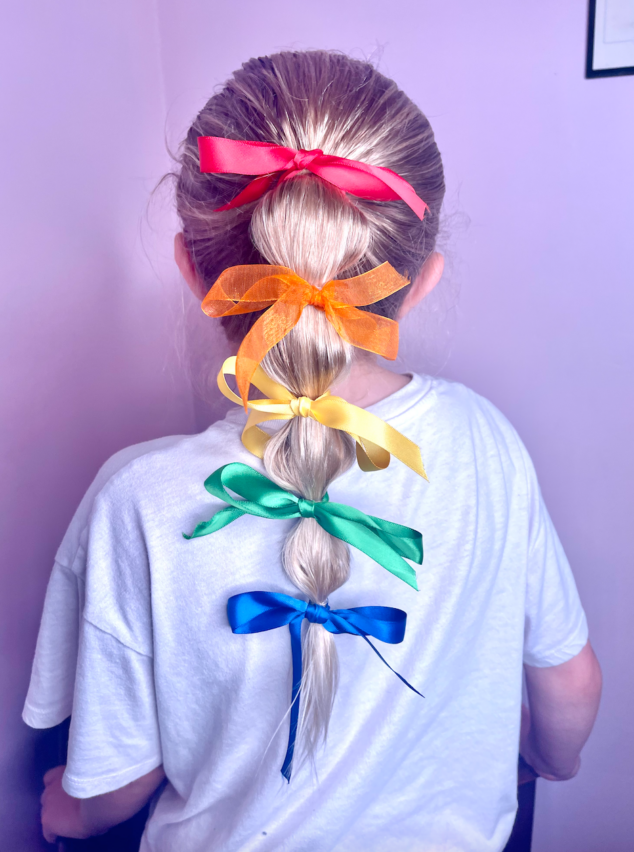 Here is my full hair tutorial:
View this post on Instagram
Bubble Braid Bubble Pigtails
Here is another way to create a fun rainbow hairstyle by doing a bubble braid, but this time making them into pigtails. I love how this one is just as cute and just as fun. It's a fun spin on your basic pigtails.
These are the best and cutest rainbow hairstyle options for you! Have some fun creating these and let me know how it goes. I love it when people share on social media and tag me (@AudreyMcClellan). I try to always reshare when I see them!
Also, don't forget! I simply buy all of my ribbons at Michael's. It's just your basic craft ribbon, so stock up all year long!
Here are some additional hairstyles for you to try: