Looking for braid hacks? I'm the first one to admit that I'm not the best at braiding hair. I'm all about hair hacks and trying to find the best ones out there, especially when it comes to braiding hacks.
Braid Hacks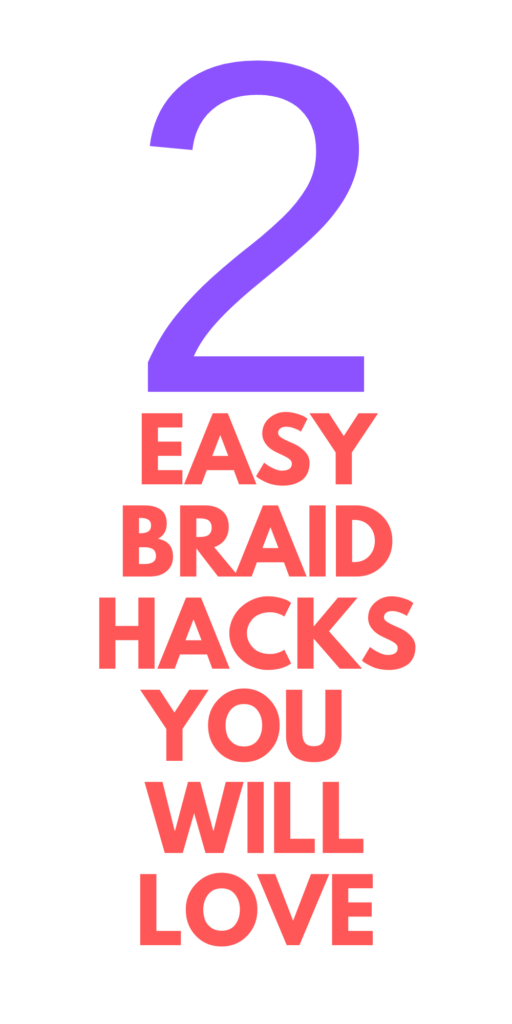 Whether you have short hair or long hair, there are braid hacks that can work for your hair. I have to say, braids are one of the most beautiful hairstyles of all. Whether you're looking to do waterfall braids, a fishtail braid, a french braid, a loose braid, a dutch braid, a mermaid braid, or even a french plait, there is a hack for it.
I've chatted with so many people who can do a basic braid (which is a classic braid – three-stand), but when it comes to more intricate braids people get a little confused. I get it, believe me! I'm someone who loves to share easy braid ideas because I know it's not simple for everyone to braid, especially when it comes to different hair types. I have super thick hair, whereas my daughter has thinner hair, so for our hair types braids look different on my hair than they do on her hair.
I'm happy to share with you today a simple hack when it comes to braiding. These two braid hacks are super easy to do and important hacks to have in your hair styling. I hope these step video tutorials help you out and walk you through each step in the process. As you will be able to tell pretty quickly, there's really not that much to these two braid hacks. I just feel hair hacks are easy ways to get gorgeous hair without thinking about it.
In-and-Out Braid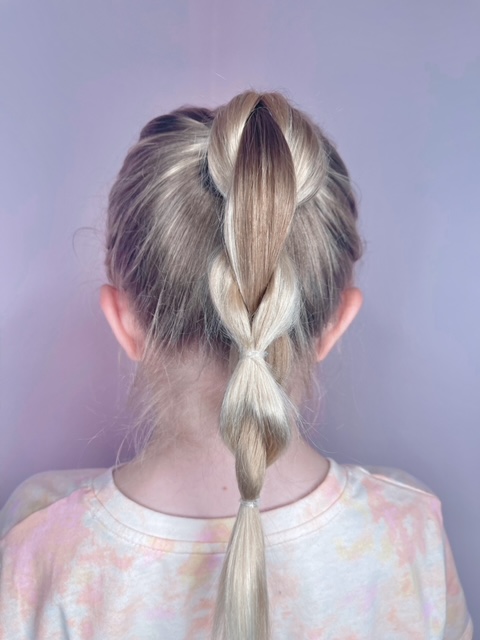 This is one of the easiest hair hacks and one that my mom used to do on me when I was a little girl. If you're a busy mom (or dad!), this is a great one to do on early school mornings. Try this one on dry hair or wet hair, and you can even do this on your own hair, too.
View this post on Instagram
Start with your hair in a ponytail and then divide your hair into two sections, one on top and one on the bottom. Take the top section and had a hair tie (or elastic band) about two to three inches down the section of the hair. I can fit three elastics on Victoria's hair, but this will vary depending on how long your hair is.
Then take the section on top with the elastic bands and take the top small section and split it open and then start weaving the section underneath back and forth down this section. You will see the hair start to work its way into a beautiful braid. You could even divide your hair into pigtails and create double braids with this braid hack down each of them. This takes minimal effort and it's just truly a great style.
Pull Through Braid Hack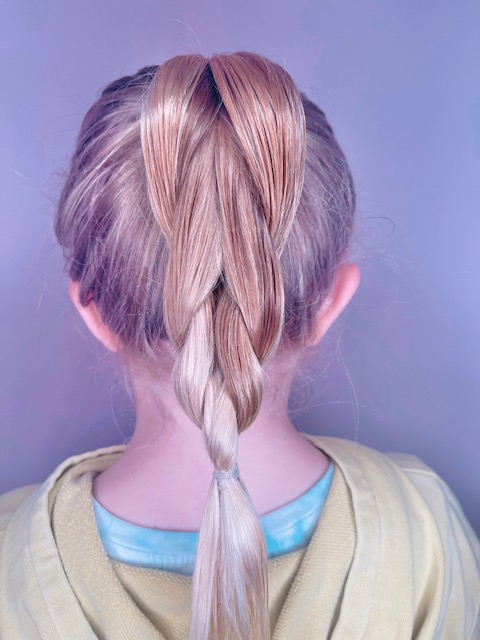 This easy braid hack is a great one to do with clean hair or dirty hair. I've often found that this style looks the best on two or three day old hair because it just allows it to fall better. Start with a high ponytail and then divide the hair into two equal sections. Then add elastic bands to the bottom of each ponytail (about two or three inches up from the bottom).
Then you simply split the top section in half and pull the bottom one through. Then split the "new" top section and pull the bottom one through. Repeat on the sections of hair over and over and you will see a braid start to form. These simple braids are so pretty and so cute as they appear. The end result is absolutely perfect for any occasion. This braid tutorial is a keeper and you will love this one! 🙂 I'm telling you, you're going to love this braid look.
As you can see, I love sharing easy hairstyles that anyone can do. These are both braid hacks that I feel are good for just about anyone. I love perfect braids, but it's not always easy to accomplish if you're not a braider, so I hope these hacks truly help you when creating a braid. I know my whole life I've struggled with creating a french braid, but through an easy french braid hack I've been able to "accomplish" the look without actually french braiding.
I know that it's not always easy to get hairstyles down when you see them once, so feel free to watch these as many times as you need to get them down. If I go too fast for you, just let me know. I can slow it down and make it a little bit easier to see and understand.
Hair Products To Use
I'm all about the best hair products to use when you're styling your hair. The good news is that you don't have to spend a ton of money when you're buying hair products. My best advice for your hair styling wardrobe (I'm not sure what else to kill it – lol!), is to have these products on hand:
Dry Shampoo
Bobby Pins
Hair Ties (full blog post – these are the best ones to buy)
Hair Elastics (full blog post – these are the best ones to buy) *don't ever use rubber bands in your hair, this will damage it.
Leave-in Conditioner
Argan Oil
I know that finding the time to do hairstyles in the morning can be tough, so I'm hoping by providing some pretty simple styles that I can help you out in the morning. I know that there are mornings when I literally have maybe 3 minutes to do something on my daughter's hair, so I rely on these hacks to get me through. I love that I'm able to have her hair look cute and pretty for the day ahead in a short amount of time.
Make sure you let me know if you try any of these braid hacks! I love sharing them on social media! It always warms my heart when I see other moms and dads try some of the hairstyles out at home. I know that we're all in this together and anything we can do to help each other out can be a really big deal sometimes! 🙂
Follow us on Instagram and TikTok!