Halloween is only a couple of weeks away! I've been having a good time sharing a bunch of Halloween-inspired hairstyles, but I know that sometimes it's just easier to toss on an accessory and call it a hair day! 🙂
Cute Halloween Hair Accessories
When it comes to cute Halloween hair accessories, I'm all about making it easy. I'm someone who knows that it's not always easy in the morning to do a hairstyle, so sometimes the best thing to do is to grab a headband, hair clips, or hair clips. You can easily and quickly pop these into your hair to change the look to make it spooky and fun!
If you have been looking high and low for some cute Halloween hair accessories, let me help you out. I've found some great ones that are reasonable and also fun to wear!
My Favorite Accessories
Here are 8 of my favorite Halloween hair accessories for the season:
(1) Halloween Critters Glittery Snap Hair Clips – 6 Pack – $7.99

With pretty kitties, not-so-scary spiders, and cute jack-o-lanterns, you'll have all the hair clips you'll need for Halloween season! This pack includes two of each glittery design shown, so you can mix 'em or match 'em!
Buy here.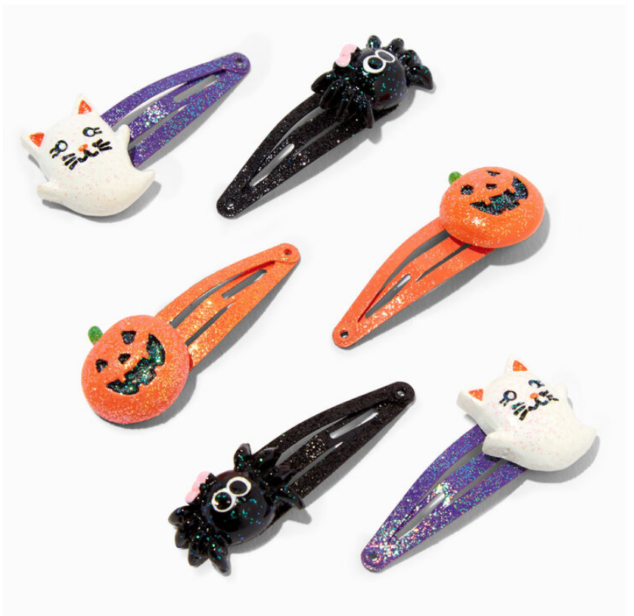 (2) Claire's Club Sherpa Bear Ear Headband – $4.79
Secure this adorable headband right now! This bear ear headband features a faux sherpa material. The super soft plush fabric makes this headband comfortable to wear all day long.
Buy here.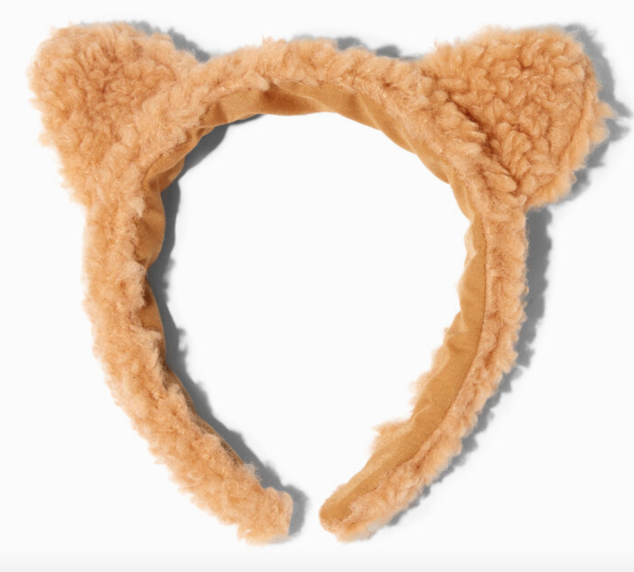 (3) Halloween Skulls Knotted Bow Headband – $9.99
A big bow headband like this turns just about any outfit into a Halloween outfit! The black headband is covered all over with white skulls, and it has a fun knotted bow. Wear it for Day of the Dead parties, too!
Buy here.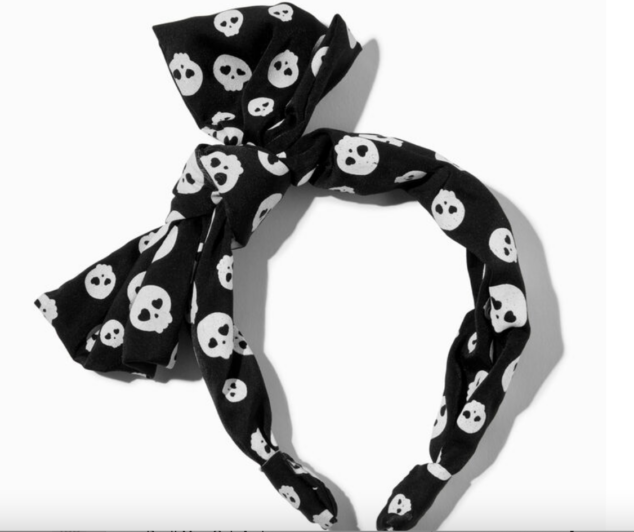 (4) Halloween Faux Fur Glitter Cat Ears Hair Twister Set 3pc – $8.00
Style your hair with the Halloween Faux Fur Glitter Cat Ears Hair Twister Set 3pc in Dark Orange. Pack of three scrunchies in orange and black. Each of these three hair accessories have different designs to give you the option to choose. Plus, the Halloween faux fur glitter cat ears match the holiday vibe.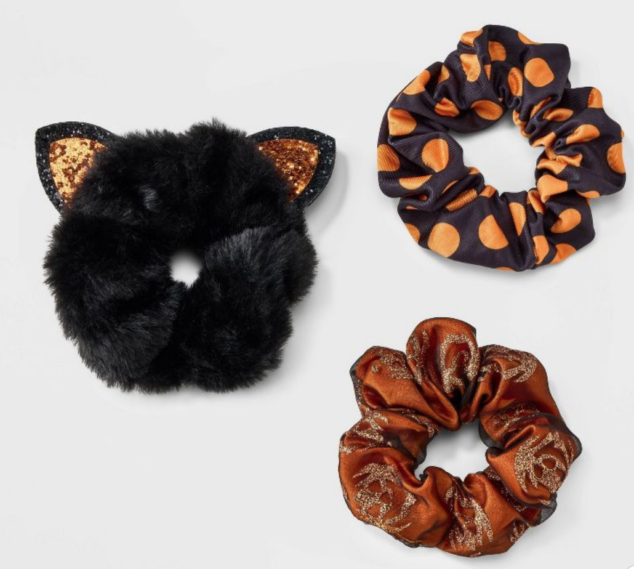 Buy here.
(5) Halloween Spider Hair Clips Sparkle Crystal Monster Hairpins – $8.95

These Halloween spider hair clips are of crystal embellished surfaces, No sharp ends, gentle and comfortable accessories that minimize snags and reduce breakages. It holds on your head tightly without hurting your hair and brings a beautiful hairstyle.
Buy here.
(6) Claire's Club Ombre Bubble Braid Faux Hair Headband – $7.79
Feel like a mermaid as color cascades down this faux braid from pink, to teal, and ending on a gorgeous purple hue. Headband can be added to any hairstyle for pigtails look that is out of this world.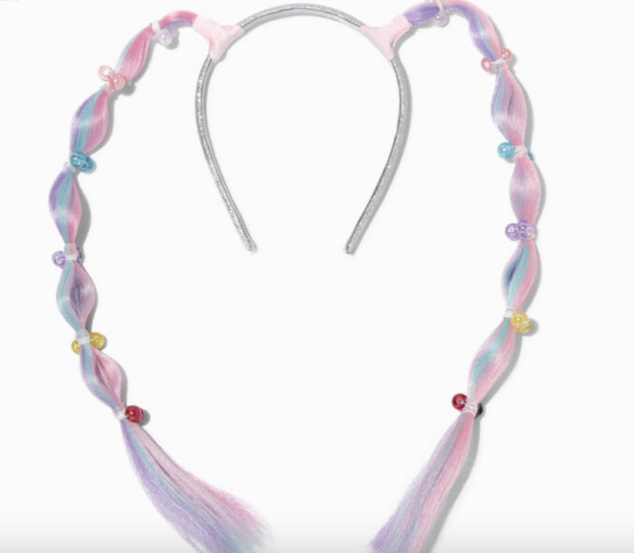 Buy here.
(7) 12 Pcs Hair Bows Clips 3″ Boutique Alligato Halloween Bow Grosgrain Ribbon Accessories – $7.88
Cute huge hair bows with soft grosgrain ribbon and Silver Alligator hair clips, fit all dress up, you can also use it to clothes, headbands, bags etc.
Buy here.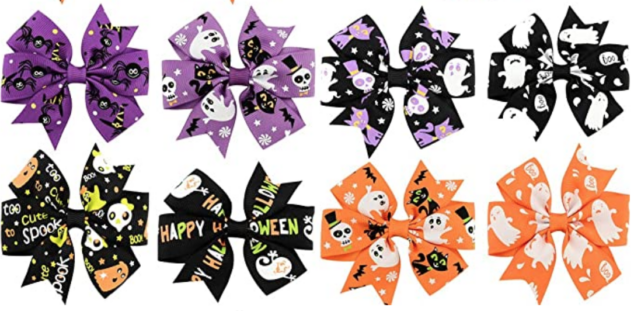 (8) Red & Yellow Faux Hair Clip In Extensions – 2 Pack – $4.00.
Add a pop of color to any look with zero commitment! Instantly add these show-stopping colors to your hair with this pack of faux hair clip in extensions! From a peeking out behind your ears or trendy face framing pieces, style them into whatever fits your fashion vibe.
Buy here.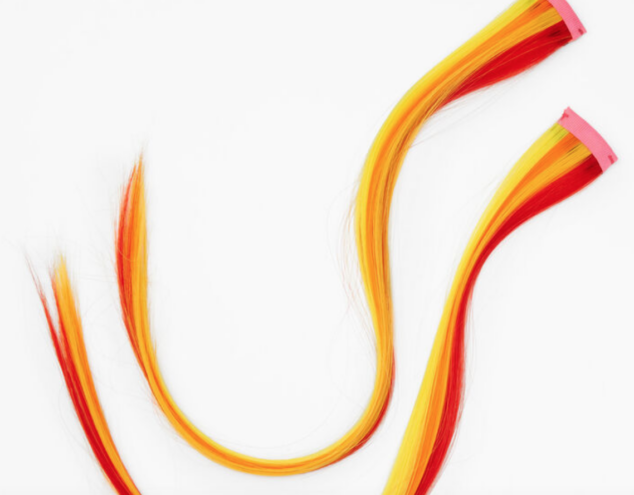 Hopefully, some of these cute Halloween hair accessories catch your eye! There are a bunch more, but these jumped out at me (and I've purchased a few of them already!).
If you need some hair inspiration for Halloween:
Cute and Easy Halloween Hairstyles