Are you looking for Halloween hairstyles? Well, look no further! This blog hair for Halloween post is the perfect guide to find all sorts of different ways to style your hair for this spooky holiday. There are plenty of styles that you can do with your natural locks, as well as some awesome costume-specific looks. So go ahead and take a look below for some inspiration on what kind of 'do will work best for you this Halloween!
Hair for Halloween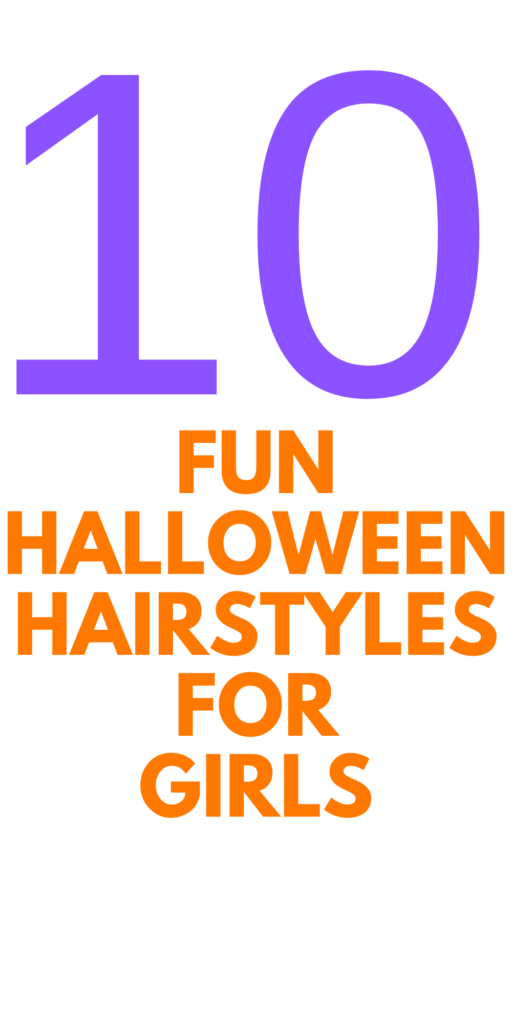 Whether you have long hair or short hair, creating a spooky look with your hair is so much fun! So many people think of their Halloween costume as the best way to dress up, but you can have so much fun with simple Halloween hairstyles, too! If you're heading to a Halloween Party, school, work, or just out for fun… these hairstyles for Halloween will delight you.
These Easy Halloween hairstyles will range from being able to do on dry hair or damp hair. Many of these can be done last minute and the good thing is it doesn't matter your hair texture or length, you can make one (or more) of these work. Hair for Halloween is just fun to do. You can create some pretty terrific styles with basic items like an elastic band, bobby pins, temporary hair dye, hair chalk, a cute hair tie, teasing comb, hair balm, a curling wand, dry shampoo, and flat iron.
Halloween is the perfect time to have some hair fun! We love to spend some time during this time of year buying Halloween accessories for hair and thinking outside of the box. It's a great thing to be able to have options on hand when creating spooky hair. That's right, hair accessories when creating fun hair for Halloween is what you need in your arsenal.
Hairstyles for Halloween
It's fun to create these spooky Halloween looks on little girls because it gets them excited for the holiday all month long! I start creating iconic hairstyles on Victoria as soon as October rolls around because it's the season to have some costume fun. I think taking her hair to the next level is just a fun way to add some extra excitement into the Halloween holiday, too. You don't need hot tools for any of these.
Mini Pumpkin Bubble Braid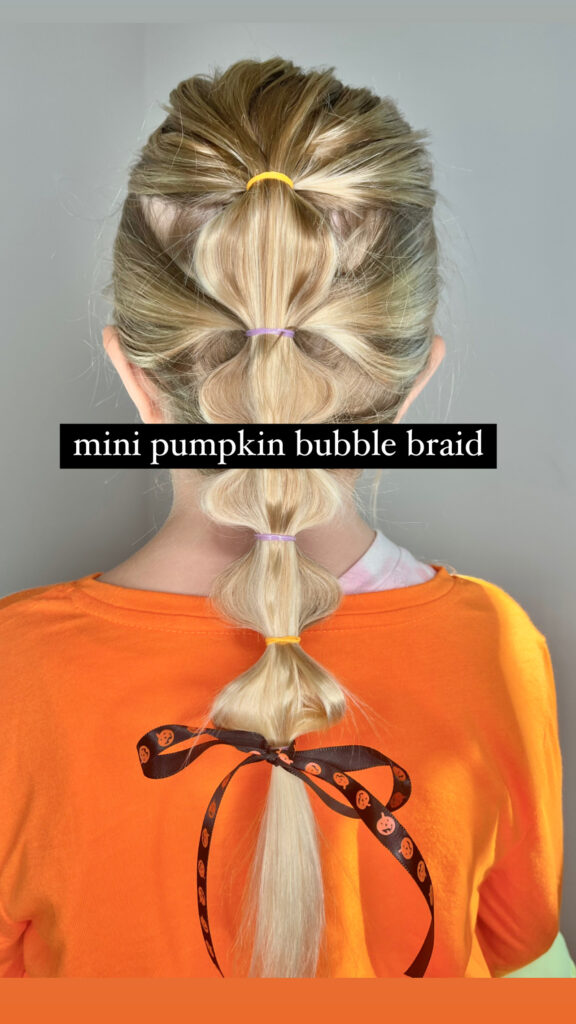 I love this pumpkin hairstyle because it's just so darn cute! You do need to have longish hair for this hairstyle and it will only be visible from the back of your head, but that's OK! It's a showstopper and it's a sweet and cute one to do for anyone at any age (even the "ahem" older ladies!). You simply create a bubble braid down the back of your head and as you go back to puff out the sections, make them round like pumpkins. You could even add orange ribbons to each section to add to the Halloween fun.
View this post on Instagram
Monster Hairstyle for Halloween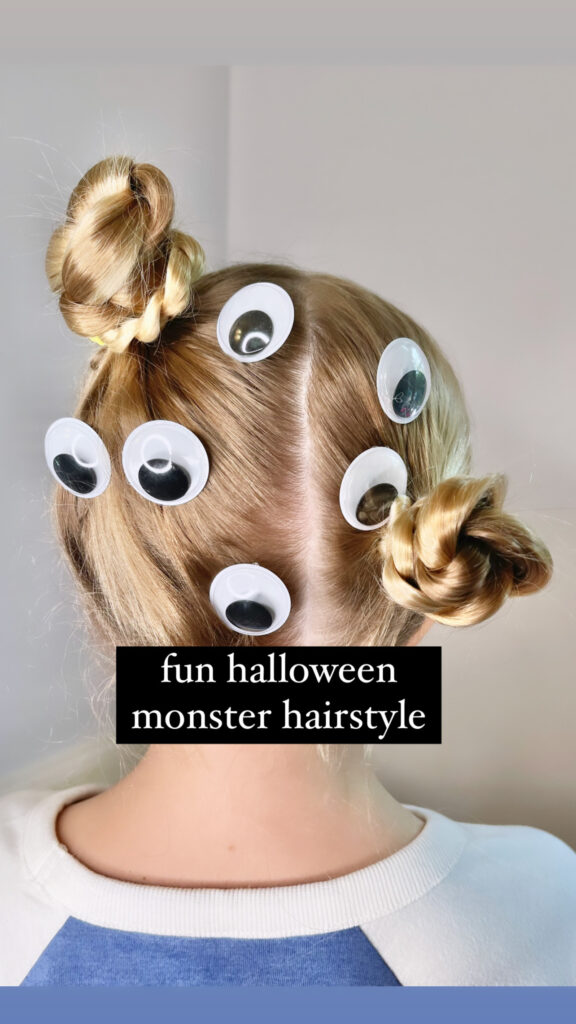 You don't necessarily need long locks for this one. You can make it work with any length, as long as you have the ability to put your hair up in either buns, braids or ponytails. The key here is creating monster eyes all over the back of your head. This one is so silly and cute, but also super fun. For the monster eyes, I took bobby pins and hot glued googly eyes onto them. I then just placed them randomly throughout the back of her head. Super easy to do!
View this post on Instagram
Spider Cupcake Hairstyle for Halloween
This is the kind of hair for Halloween that I love because it's unexpected. If you have natural curls, this one will work beautifully because the cupcakes will be full and you won't have to add extra volume to them. I start with damp hair on this style to make it easier to section the hair into two parts and also pull the cupcake papers over the ponytail. It's really difficult to do with dry hair, so my advice is to make sure it's dampened before attempting. Add some fun spider accessories on top for some added spooky fun!
View this post on Instagram
Spider Web Bun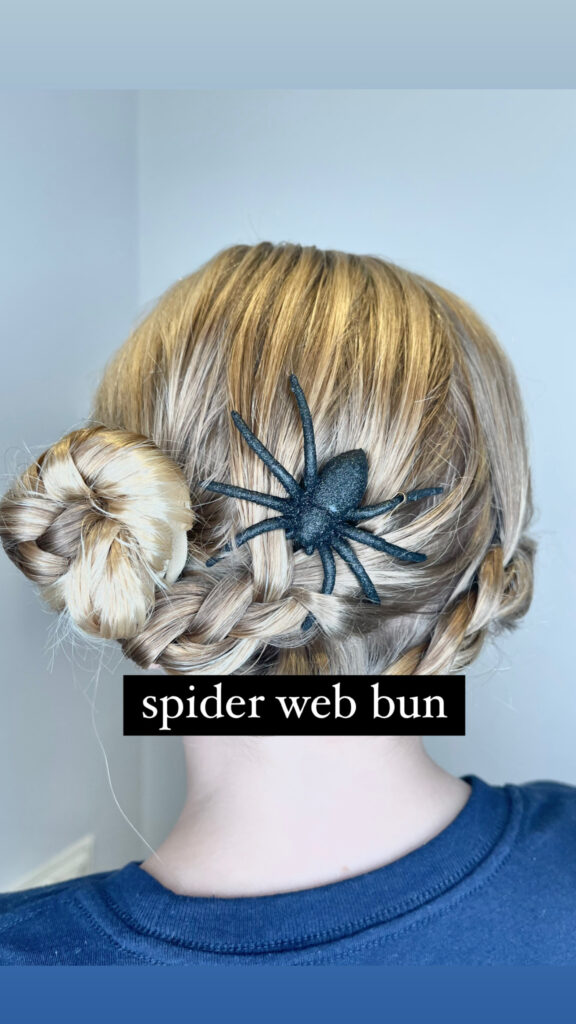 There's no perfect hair color for this hairstyle, this is just plain fun and spooky. I'm all about finding different ideas when you have accessories that can be utilized in a variety of different ways. This spider I use all the time and I love it. What I love about this one is that you don't have to create perfect braids to make it pop. Just make three braids down the back of the hair and then take the remaining hair and wrap it into a bun. You have easily created your Halloween hair spider web.
View this post on Instagram
Sweet and Simple Hairstyle for Halloween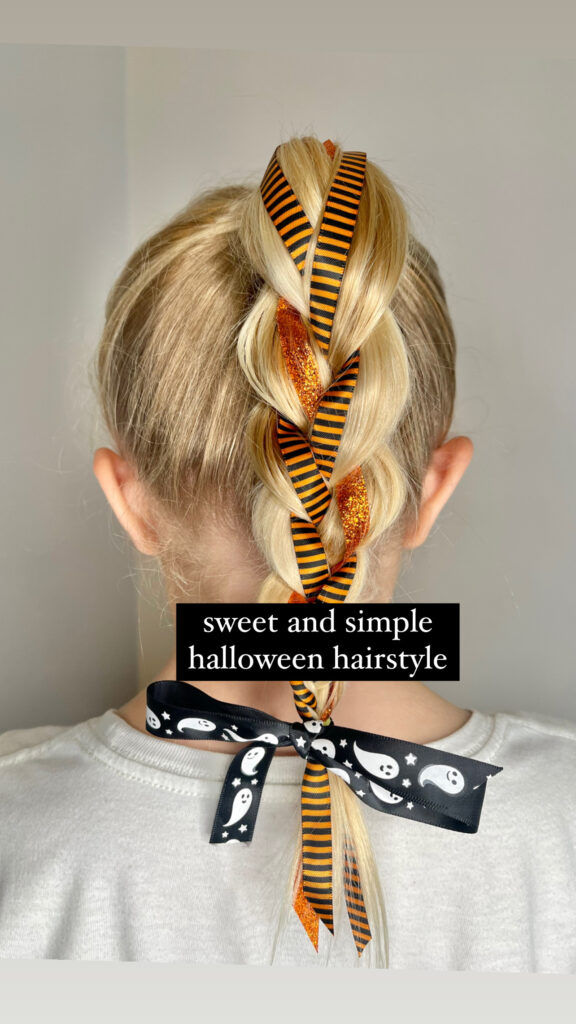 I know with my daughter it's nice to have a sweet and simple hairstyle on hand, too. For this one all you need to do is create a high ponytail and then add ribbons into the elastic band. The key to this style is to braid the ribbon into the sections. You can also do this with a low ponytail if you don't want to create a high one, but I prefer the high. This one is just a fun hair for Halloween that is fun for your child to wear to school or to a Halloween party.
View this post on Instagram
Creepy Spider Bun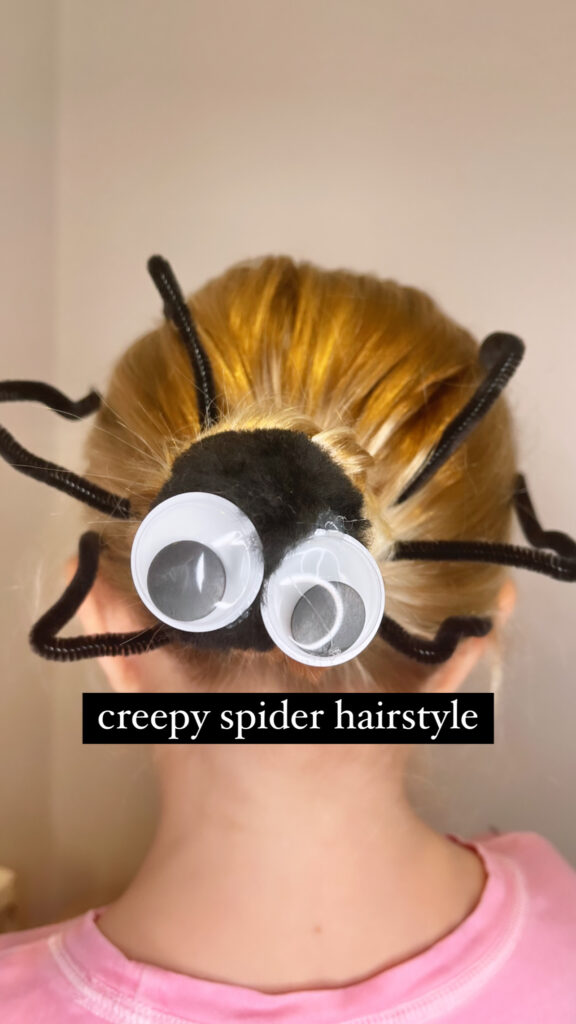 This is a DIY Hairstyle for Halloween. Spiders are so spooky and this is a cool one to create and even add to a classic costume. Take your hair and create a wrap bun in the back. Then take black pipe cleaners and use them as spider legs. I use three on each side. Then hot glue a black pom pom to a bobby pin and add googly eyes for the spider's head. Insert the bobby pin into the center of the wrap bun. You will love the look of this one. This is a hairstyle for Halloween people will stop and ask you about.
View this post on Instagram
Simple Halloween Hairstyle with Spider Rings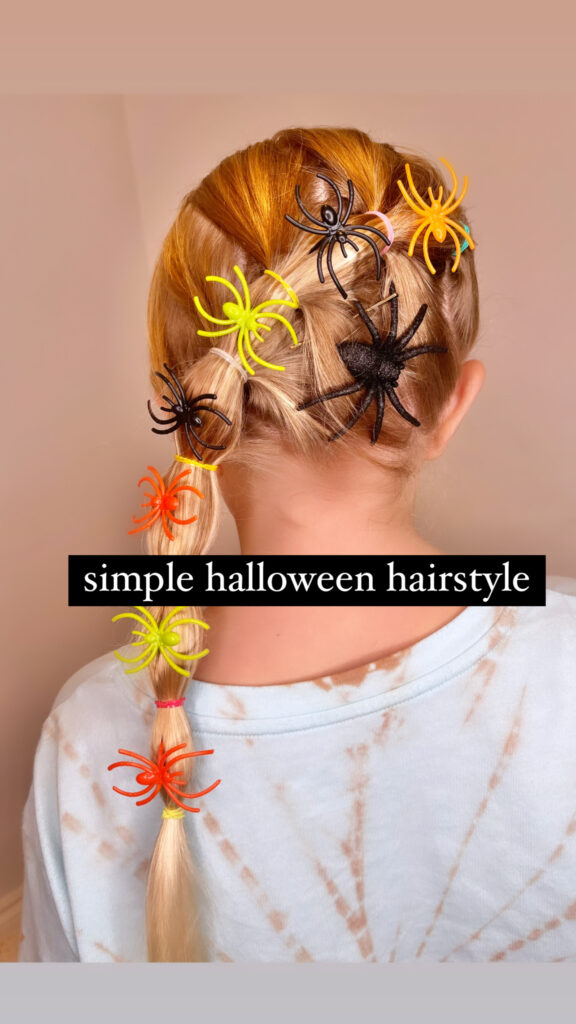 Create a side ponytail and then slowly angle the ponytail down as you create a bubble braid. I love that you slowly work in the rest of your hair as you go. If you're not sure what to wear for Halloween, this one could be the perfect costume for you because it's so easy and creative. Add spider rings into each section of the bubble braid.
View this post on Instagram
Spider Messy Buns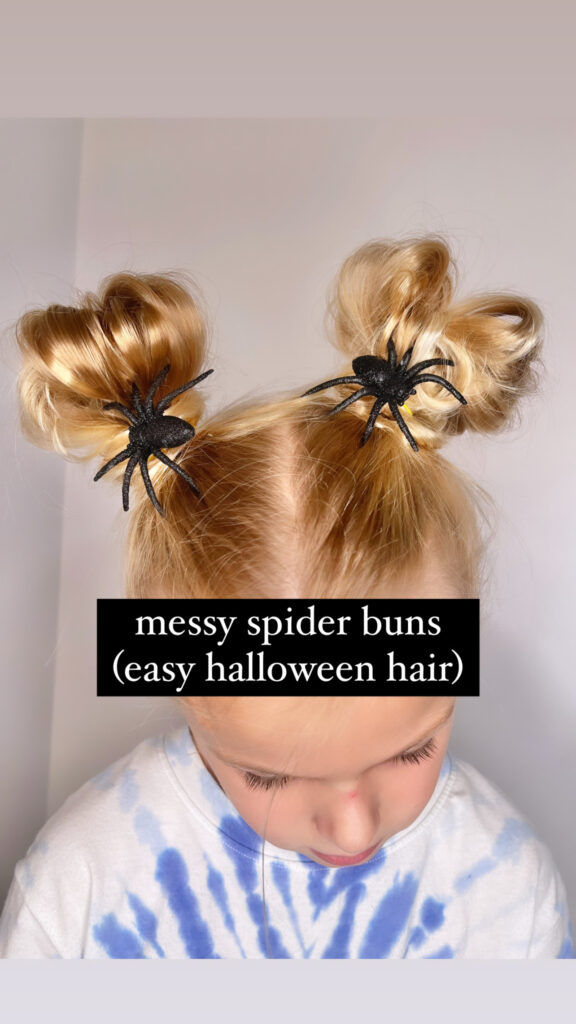 I love creating messy buns on my daughter's hair, so I thought this would be a fun way to create a different look with them. She's obsessed with Billie Eilish, so I tell her this is a style she would look good in, too for Halloween. Just take your section of hair on top and create a messy bun. You can easily see how I created mine with Victoria, but there are so many ways to create a basic messy bun. Do whatever is easiest for you. Just make sure the ends of the hair are tucked and wrapped in. The best part is adding spooky spiders on top for the Halloween touch! You can wear this style with a white dress and make it spooky, too! This is a great Halloween hair look.
View this post on Instagram
Cute Pumpkin Bun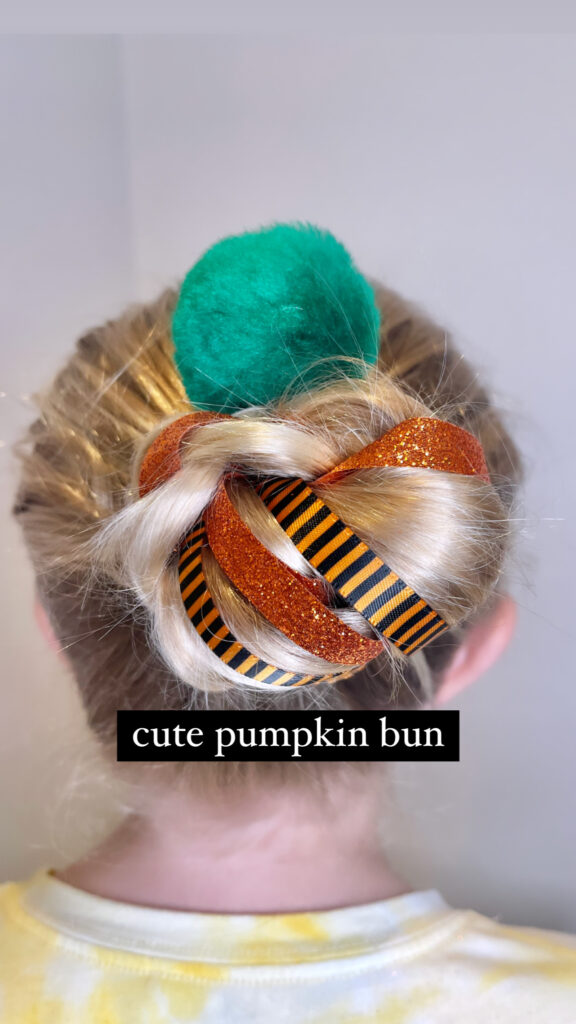 This is a great pumpkin bun to create for Halloween. You simply create a ponytail and add orange ribbons to your hair. Braid each section and then wrap it into a bun, you will see that it quickly creates an orange bun. This is a sweet bun hairstyle to do for Halloween. I grabbed a green pom pom and hot glued it onto a bobby pin. If you don't want to add the ribbon, you can add an orange temporary color, too. For this one, the rest of your costume could be simply orange clothing.
View this post on Instagram
Spooky Spider Hairstyle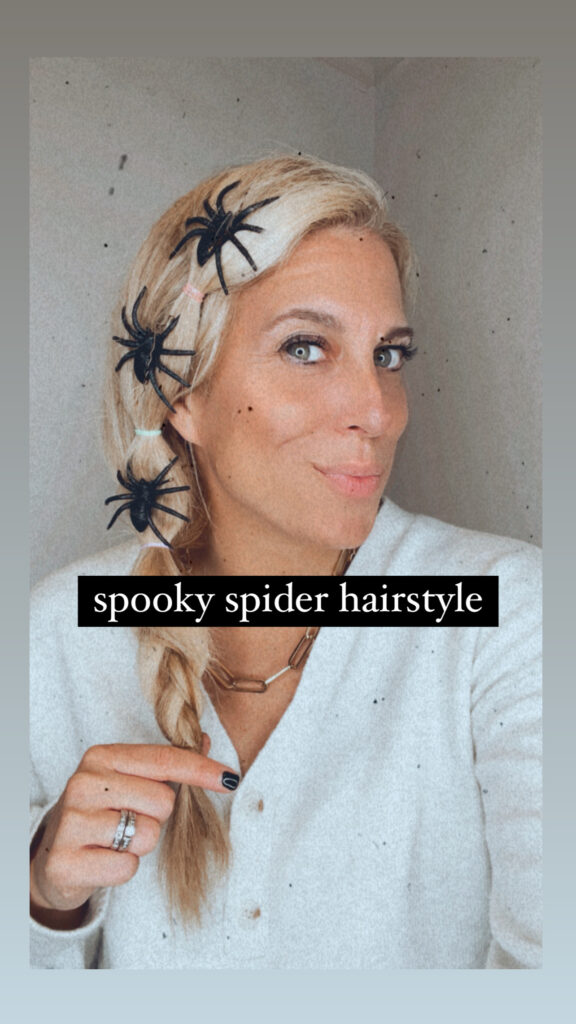 I've had a lot of women reach out asking about a sexy look for Halloween for the hair, so I wanted to make sure I shared at least a couple! This is a side bubble braid where you take small sections of hair and band back. Adding in the spiders when you're done is the key to this one. This is a great one if trying to create vampire hair or even a spooky mermaid hair creation. You can make this hairstyle as fabulous or as scaled back as possible. You could create voluminous waves with a curling iron, add lots of hair volume or extra texture. This is a cute one to see in front of your head, so have some fun with this one!
View this post on Instagram
Halloween Fishtail Braid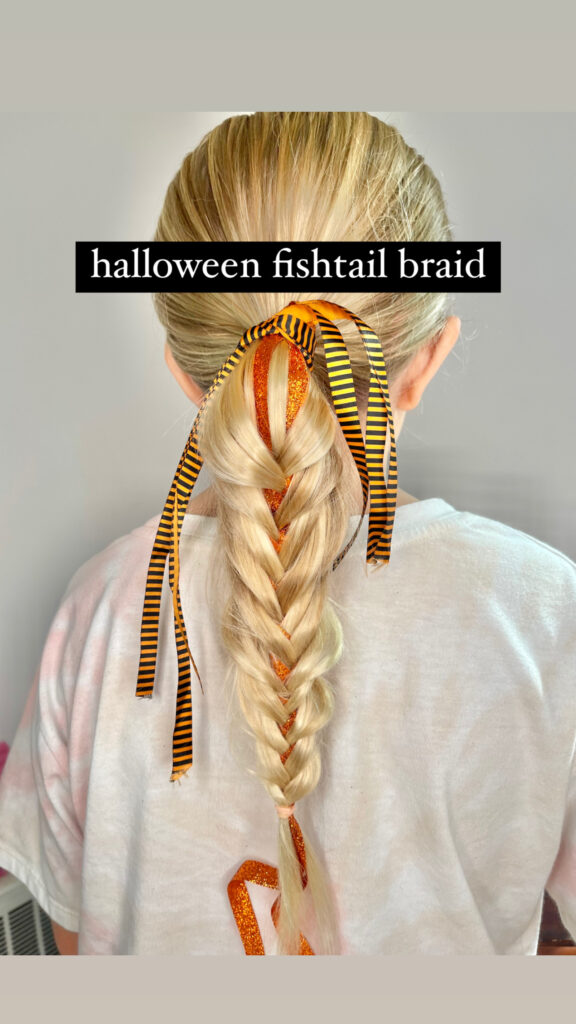 This is a very cute fishtail braid hairstyle that you can do on yourself or your daughter. This is a fun hairstyle for you to do for any holiday!
View this post on Instagram
Wednesday Addams Hairstyle
I'm all about sharing some of the iconic Halloween hairstyles, too. This is a great hairstyle that you can do on your hair or someone else's. This is a fabulous hairstyle to wear with a black dress, too in order get that Wednesday Addams vibe.
View this post on Instagram
Cute Ribbon Side Braid
This is a super cute hairstyle for girls. All you need is some ribbon and you need to know how to do a three-strand braid. I'm obsessed with this cute and sweet hairstyle.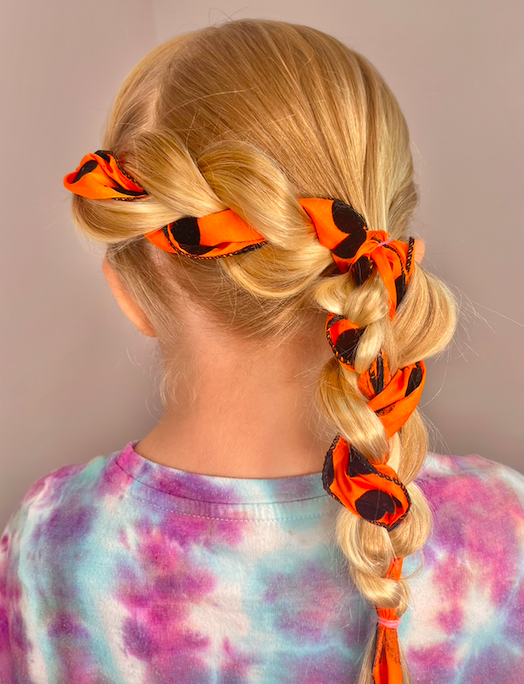 View this post on Instagram
Spooky Spider Web Hairstyle
This is a simple and cute spooky hairstyle for Halloween for you to do on your child's hair.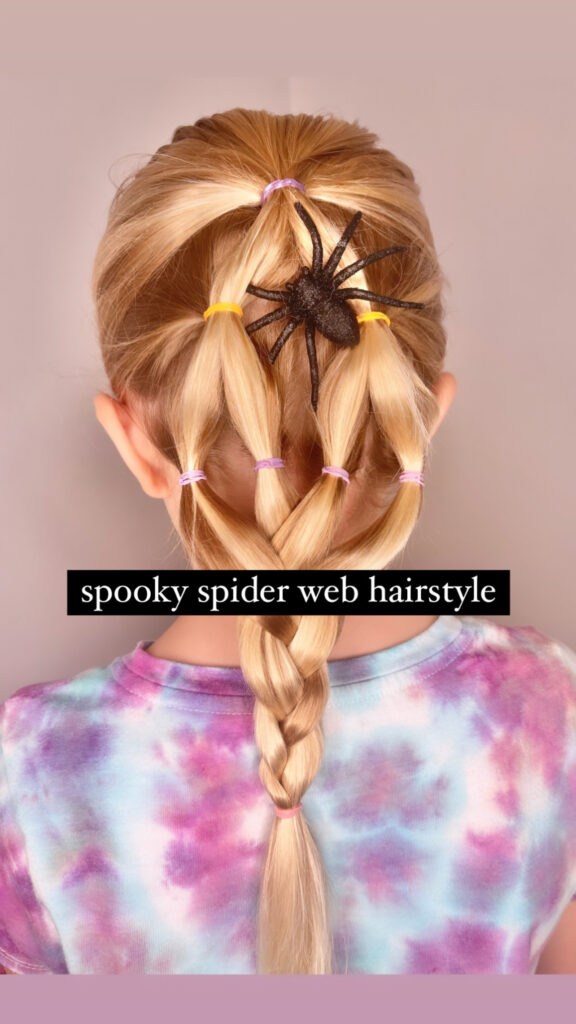 View this post on Instagram
Halloween Fun Hairstyle
Here is a fun hairstyle you can do on yourself!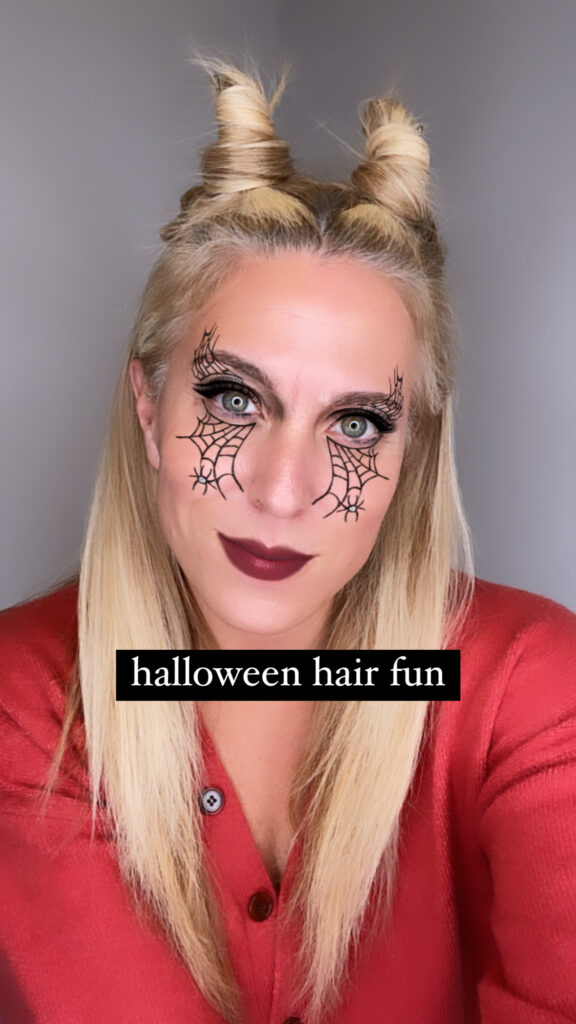 View this post on Instagram
Animal Ears for Halloween
I created this as a cat, but it could be just about anything! Victoria is obsessed with cats and dogs, so I kept it pretty simple. I had a follower tell me it looked like a giraffe! So see? It could be anything!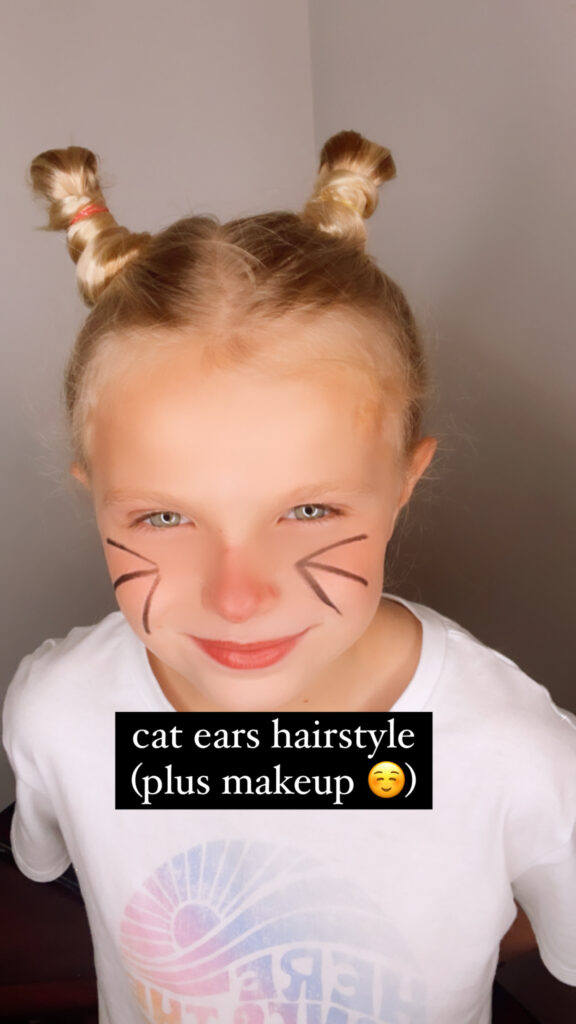 View this post on Instagram
Pumpkin Bun Hair Tutorial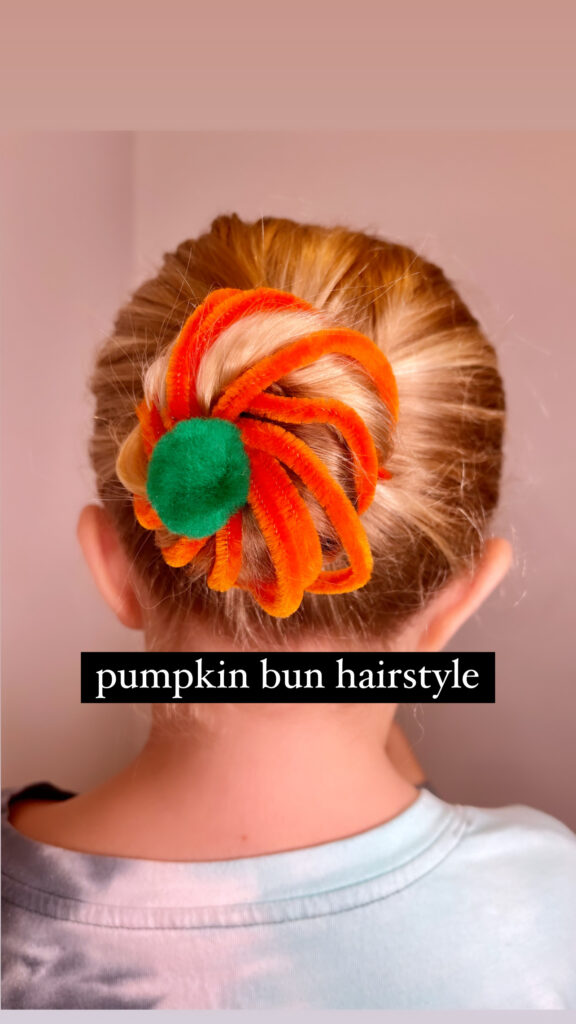 How cute is this pumpkin bun? This is such a fantastic one to do for the Halloween season. I love that this one looks so cute once it's done.
View this post on Instagram
30 second Halloween Hairstyle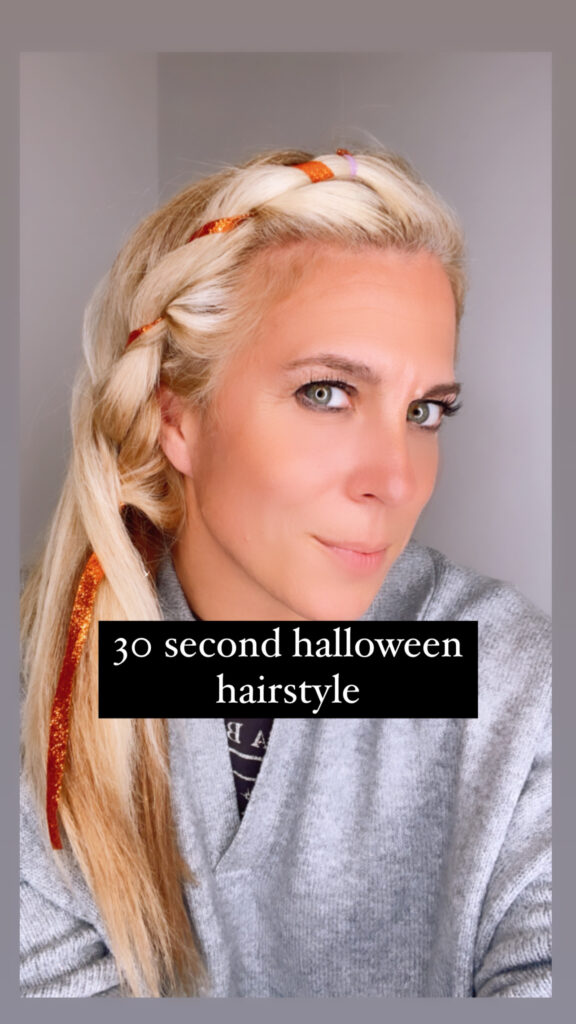 Looking for a quick hairstyle to do for Halloween? This is a quick wrap braid that you can do on your hair. This is a fun and easy hairstyle.
View this post on Instagram
Spider Web Ponytail
Loving how adorable this one comes out! The best part about this one is that it's super easy to do. You just need to make sure you have spider web on hand to make it look extra spooky.
View this post on Instagram
I hope these Halloween hairstyles work for you! Bonus points if you try any and share on social media. Make sure you tag me @AudreyMcClellan to let me know if they work for you. I will be sharing more hair for Halloween throughout the month. Once you have your hair down, just add your Halloween makeup and you're good to go! These styles will be perfect to use every October, so make sure you bookmark this blog post, too!
Here is some additional Hair for Halloween styles that you can try on your hair, too:
Follow me on Instagram and TikTok for daily hair inspiration.
Wishing you all a Happy Halloween