Are you a Disney fan? Here are 5 Disney Hairstyles that you can try on your child or yourself! These are all Hairstyles inspired by Disney and are sure to add to the fan excitement.
When you're visiting Disney World or Disneyland, one of the best parts is dressing up. Whether you're in matching Disney tees, Disneybounding, or in Disney costumes, it adds to the experience. We ended up doing Disney Hairstyles since it's our thing, and we had so much fun creating different styles for each day!
Disney Hairstyles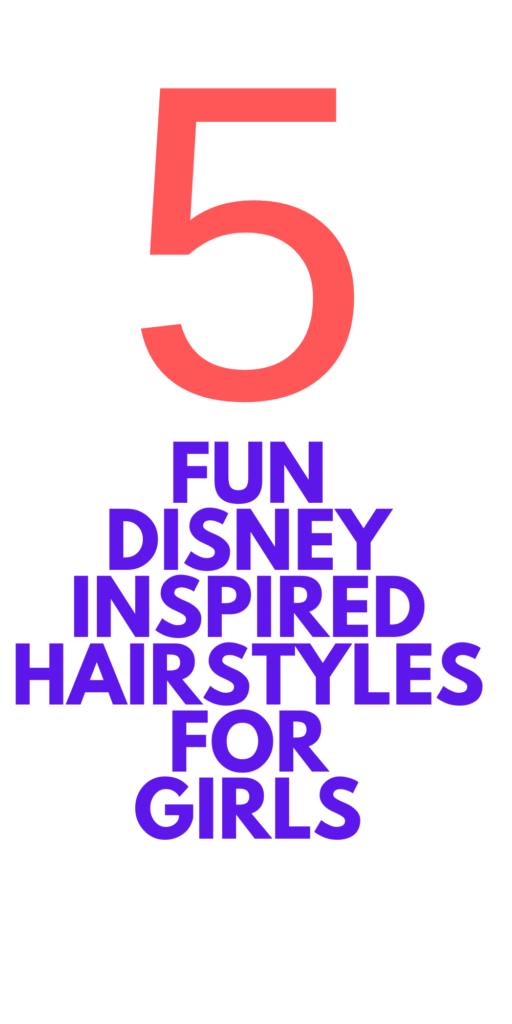 Since we were at Disney World for 5 days, we thought it would be fun to create 5 different Disney Hairstyles. I wanted them to be fun, easy, and doable for moms to do on their child's hair or their own. I didn't want anything intricate or difficult because that takes away from the experience. I also wanted to make sure the hairstyles were comfortable for a day walking around Disney World Parks.
I wanted a touch of everything to share with you. I wanted to share Disney Princess Hairstyles, Star Wars Hairstyles, and even Mickey Mouse Ears Hairstyles. There are dozens and dozens of Disney-inspired Hairstyles you can do, but I wanted to find 5 that would work for just about anyone.
Minnie Mouse Ears with Braids
When you head to Disney Parks you'll see a TON of Ears being worn. These are iconic for tourists and fans because it's a fun and easy way to add some Disney love to your outfit. I personally love wearing my Ears because they're fun and make people smile.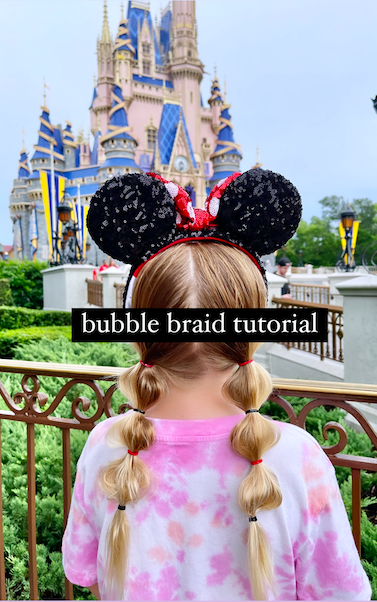 Here is a fun hairstyle that we created in front of the Castle at Disney World. This is an easy one because all you need to do is just part your hair in the back and divide hair into 2 sections, creating pigtails. Simply braid the pigtails and viola! You've got your Minnie Mouse Ears with Braids.
View this post on Instagram
Rey Star Wars Hair
If you're a Star Wars fan, you're most likely a fan of Rey. She's the one my daughter is obsessed with and couldn't wait to "see" at Hollywood Studios. I wanted to showcase a fun Rey Hairstyle while visiting Star War Galaxy's Edge. This one got a ton of attention on Instagram, which was fun for me to see!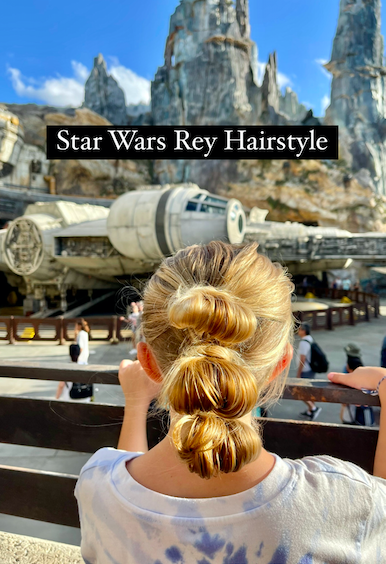 The reason I love this Disney Hairstyle so much is because it's a hairstyle that you can do in less than a few minutes, and it's just one that stands out because it's easily identified as Rey's hairstyle.
View this post on Instagram
Cinderella Hairstyle
This cute top knot is perfect when you're looking to channel Cinderella. It's one of those Disney Hairstyles that you see tons of little girls walking around in, all while rocking the cute Cinderella Princess dress, too. I feel like it's a hairstyle that you can wear with just about any princess costume, but it's iconic to Cinderella.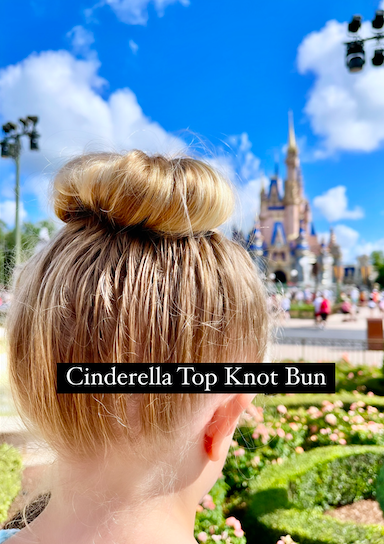 This one is a cute one because all you need to do is be able to put your hair in a high ponytail. If you can do that, you can create an easy top knot. If you've been looking for an easy top knot hair tutorial, this is it for you. It's simple and (as you can tell) you can even do on the GO!
View this post on Instagram
Mickey Mouse Ears (or Minnie Mouse Ears)
Looking for a cute Mickey Mouse Hair Tutorial? Here is a simple one for you to do with your child. This one looks like 2 little Mickey (or Minnie) Ears. If you don't have Mickey Mouse Ears or Minnie Mouse Ears on you, this one makes up for it!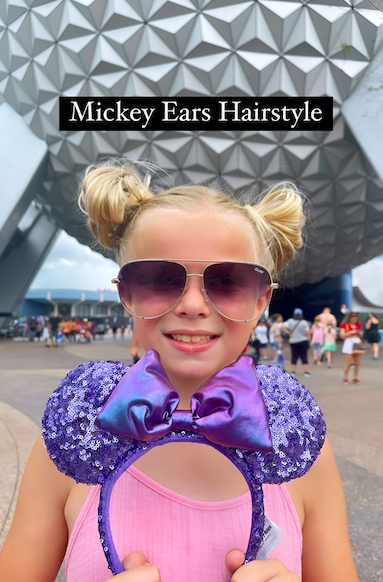 In order to make this hair tutorial work, you just need to make sure you can do 2 high pigtails in your child's hair. If your hair is long enough to do that, you'll be fine! I personally think this is the cutest style of all when it comes to creating some adorable Disney Hairstyles.
View this post on Instagram
Bubble Braids for Disney
This is another Disney Hairstyle you can do on the GO! I love this one because it goes great with Mickey Mouse Ears. I'm obsessed with creating hairstyles that look good with Mickey Mouse Ears (or Minnie!). I think it's fun to be able to showcase hairstyles that work with the Disney Ears!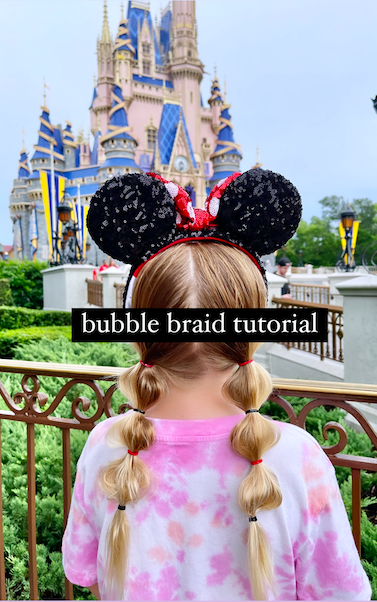 In order to make this one work, you just need to make sure you have longer hair, too. This is the cutest hairstyle for any age. You just need to make sure you have enough elastic bands on you to make it work.
View this post on Instagram
Let these Disney Hairstyles get you off to a GOOD start! You'll hopefully find one that works for you and your child. These are easy to do and fun to create! The best part is that your child will get lots of people commenting on how cute the hairstyles look. Take some time to be able to have some Disney fun!
Hair Products Used
If you're looking for what products I used in these videos:
No Damage Multi Colored Hair Bands – I love these because they're thinner and smaller, so they work really well on hairstyles. They come in a package of 1000 for about $6.00. You'll have these elastics for months and months.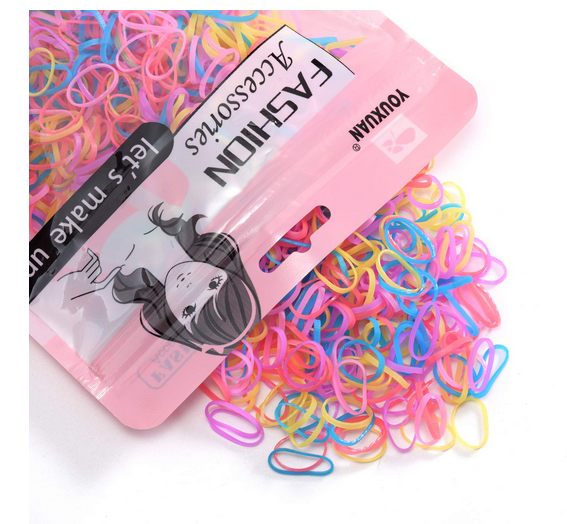 HASK Repairing ARGAN OIL 5-in-1 Leave In Conditioner Spray – I just bought this last week and I'm OBSESSED with it. First off – the smell is incredible and it works beautifully. This 5-in-1 Leave-In Conditioner penetrates the hair shaft, gently cleansing while it repairs damage and breakage, leaving even the most rebellious hair frizz-free, silky-soft and super glossy. It's color safe, gluten free, sulfate free, paraben free.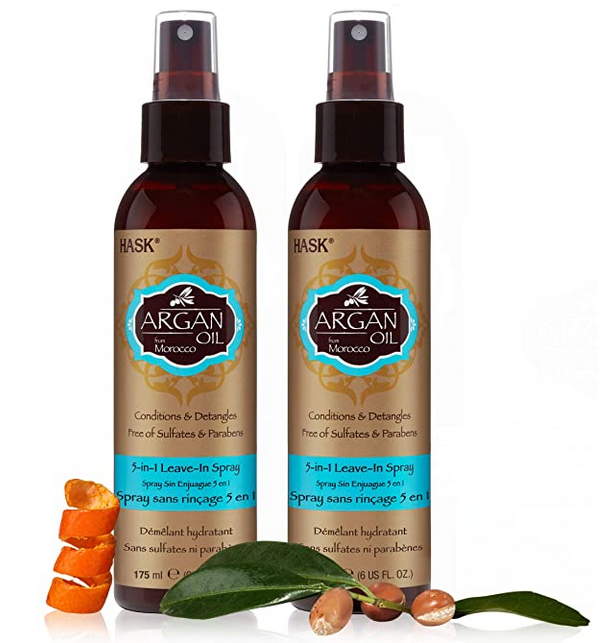 Olivia Garden Ceramic + Ion Turbo Vent Oval Hair Brush – Looking for a great roll brush? This a great hairbrush that I use daily with Victoria. It's easy to use and brush through hair. When talking about my favorite hair products this is always on the top of my list.

High quality boar bristles for styling

Ionic bristles for detangling & brushing

Curved side for lift & shape, flat side for straightening

Eliminates frizz & flyaways

Smooth shiny finish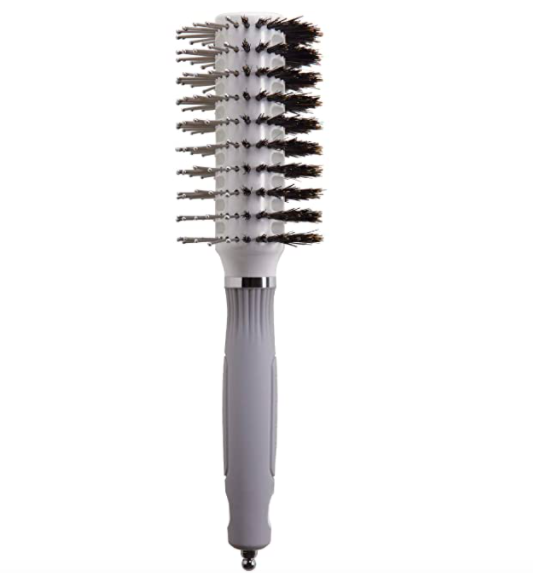 If you're looking for more hair products, check out My Favorite Hair Products.
Make sure you check out these hairstyles for running late, too. These are Busy Mom Hairstyles that are great for you to try on your own.