Looking for a recipe for sour cream pancakes? I've got a great one for you that I did in partnership with Hood Sour Cream. These pancakes will melt in your mouth and you'll love the extra fluffiness about them.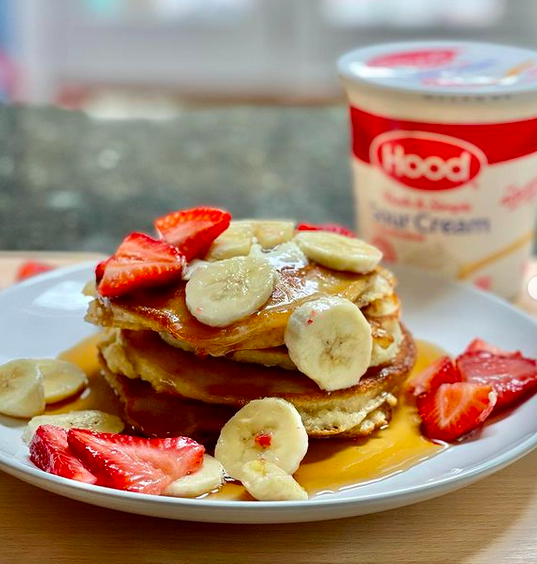 There's just something about pancakes in the summer! We love making Sour Cream Pancakes with fruit topping when summer rolls around. It's one of our McClelland staples! The pancakes are light, fluffy, and DELICIOUS (yes, all caps!).
Recipe for Sour Cream Pancakes
It's not always easy finding foods that all my five kids will eat and enjoy, but these Sour Cream Pancakes do the trick for all of us. This is also a super simple recipe for sour cream pancakes. They're a perfect Saturday or Sunday morning yummy treat that fills you up and leaves you excited for more.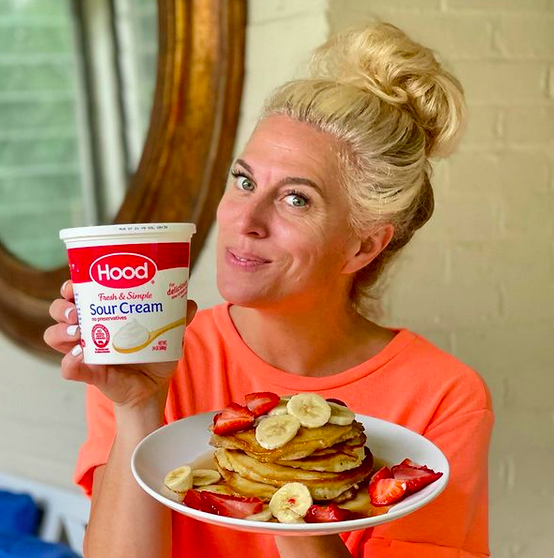 Why are you using sour cream when making pancake batter? The simple answer: sour cream in pancakes gives the batter a different consistency where it's easier to get a good pancake mold. My mom used to always say to me, "It's our secret ingredient!" (Until I realized others did it, too!)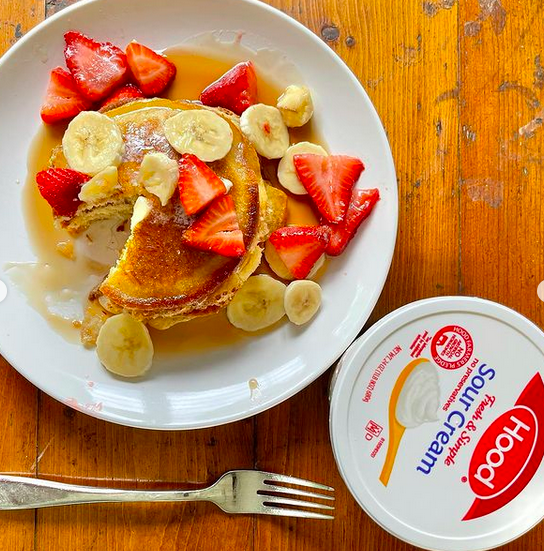 Try this recipe for sour cream pancakes, I promise you'll love it. The big secret is just to make sure it's Hood Sour Cream (yes, it makes such a difference!). One of the best parts about prepping and making these pancakes is having my husband in the kitchen right next to me.

Sour Cream Pancake Ingredients: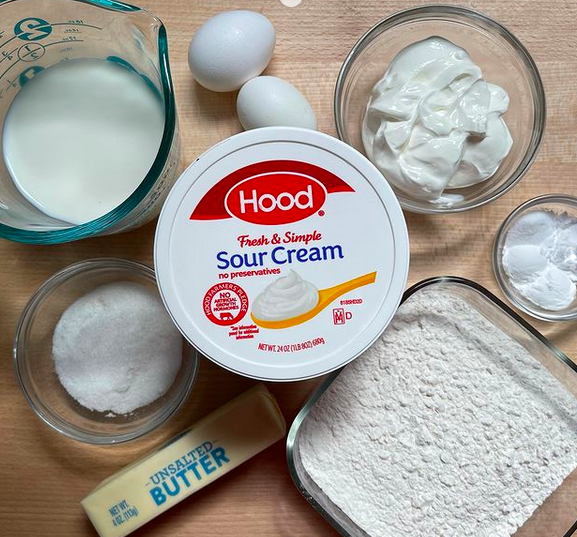 1 1/2 cups of flour
3/4 cup Hood sour cream
2 tablespoons sugar
2 teaspoons baking powder
1 teaspoon baking soda
1/2 teaspoon salt
1 cup milk
2 eggs
4 tablespoons butter
Fruit topping (optional)
(Optional: 1/4 teaspoon cinnamon)
Steps for Making Sour Cream Pancakes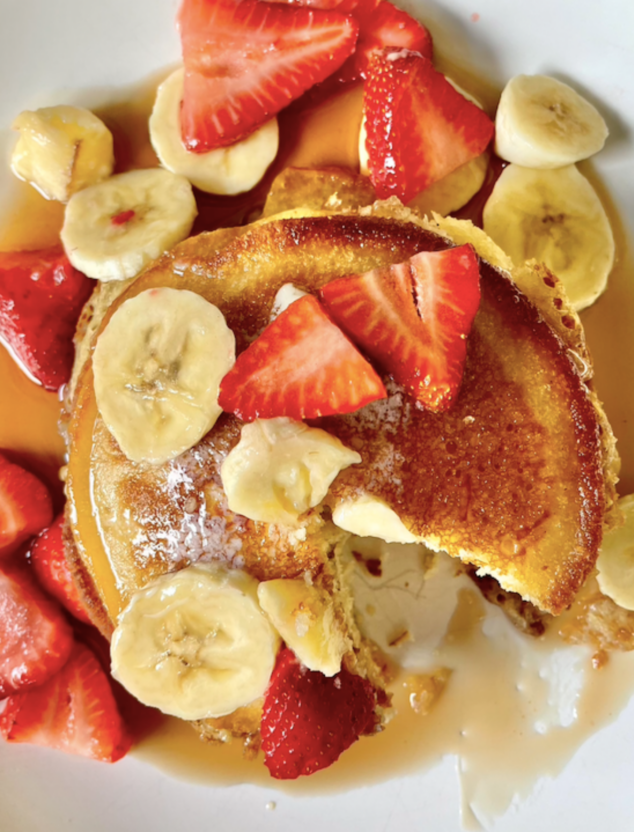 1. Mix together flour, sugar, baking powder, baking soda, salt.
2. In a separate bowl, mix together milk, eggs, butter, sour cream.
3. Add the dry ingredients to the wet mixture and mix well.
4. Either on a griddle or nonstick pan, add butter and start scooping your pancake batter on it. Allow the pancakes to cook enough before flipping to the other side (normally 2 to 3 minutes).
5. Plate your pancakes and add desired fruit topping.
Batter Consistency
Just so you have an idea as to what it looks like, this is the consistency of the batter. It's just a perfect mix, not too thick, but not too liquidy. I always prefer to have a reference when I'm making something, so I hope this photo helps.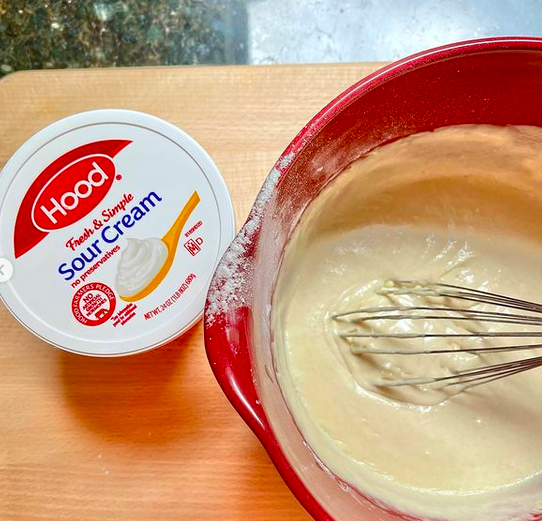 How to Make the Perfect Pancake
One of the most common questions when it comes to making pancakes is, "How do you make the perfect pancake?" Everyone has their own little secret for creating perfectly round ones. For us? We use a 1/2 cup measuring cup to make sure we have the same amount of batter in each one.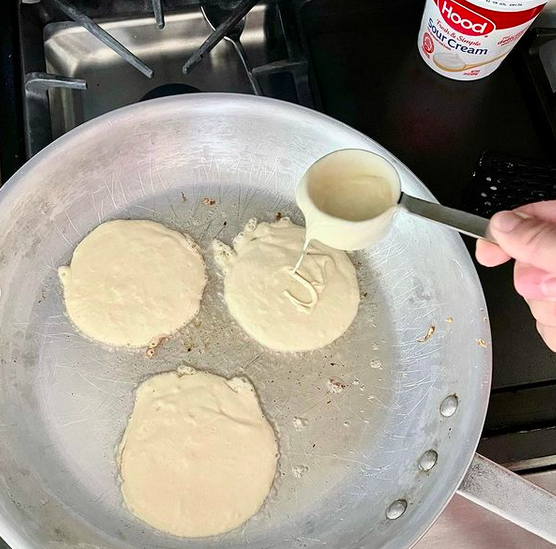 These are super delicious! I promise you'll love these! This recipe for sour cream pancakes is one you will want to bookmark and save! And remember, you can add any kind of fruit topping you want. Whether you want fruit or some sort of spread, you will become obsessed with these!
Make sure you check out these other recipes for breakfast, too:
Easy Peanut Butter Banana Muffins made with MUSSELMAN'S AppleSauce
Pumpkin Spice Granola Recipe – Gluten Free