Nature's Path Organic Red Berry Crunch Cereal ~ with some added chocolate fun!
One cereal that I absolutely love is Nature's Path Organic Red Berry Crunch.
I discovered it one day, quite awhile back, while perusing the organic aisles of my local grocery store — liked what I saw, loved what I tasted and haven't stopped eating it since.
I've even got my husband over to my side of the cereal aisle, a guy who formerly loved the sugary cereal he grew up with way back in the 1960's. Now, he won't eat anything other than Nature's Path.
But this all leads me to some little chocolate secret fun with cereal.
This fun doesn't involve any of our 11, soon-to-be 12, grandkids, either!
Well, maybe this little chocolate fun is mainly for Grandma here… but who's telling?
Here goes.
I love to layer my Red Berry Crunch —
First, with blueberries.
Next, sliced bananas.
Sometimes, a few flax seeds or slivered almonds.
But always finishing with Chocolate Morsels… most times 2 or 3, but on a really wild and cr-azy day, I might just toss on 4…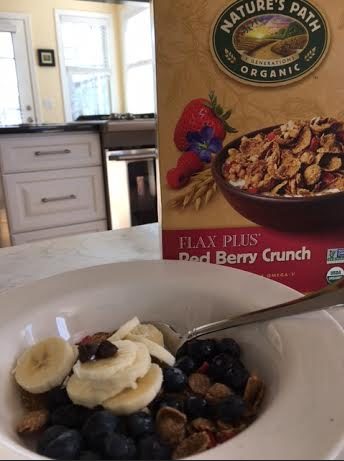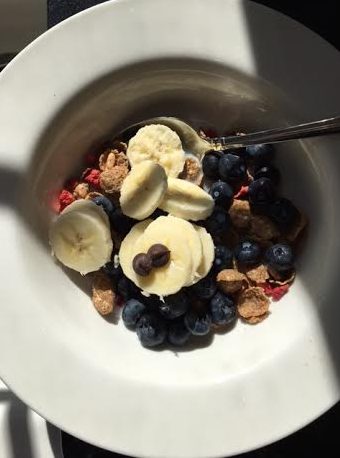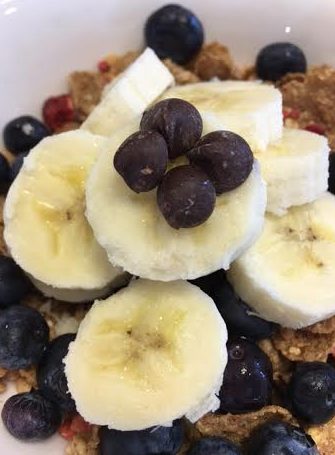 What?!
So why do I do this?!
I think it reminds me of those days so, so long ago when I'd get up to my Mom calling me for breakfast and I'd be in a big hurry to pack up my book bag, put on my coat/hat/gloves and stuff in the winters of New Hampshire (after living in California, New Hampshire was some kind of dream to a child!) and run to the bus stop with my friends or head out to go sledding or ice-skating on weekends — or run to the big field to play baseball, or climb trees, catch frogs and swing over the swimming hole in the summer.
But my Mom always had breakfast ready and I couldn't leave my house without, as my Mom called it, "Something in your stomach."
And yes, in those days, "something" often meant pancakes with chocolate morsels or or muffins with chocolate morsels or some decadent chocolate cereal.
I did survive all that chocolate, and even evolved into a healthy-eating, health-conscious teenager, adult, Mom and now Grandma… and runner and triathlete, to boot.
I am very, very careful of what I consume, but that little touch of chocolate on my very healthy cereal just brings back such a wanderlust time in my life, a time of sweet moments all strung together to make my childhood as sweet as sweet could be.
And how sweet my life still is!