I'm beyond obsessed with my leather moto jacket. Beyond obsessed. I honestly (dare I say it) think every woman in the world should own a women's leather moto jacket. It's just an easy piece that you can literally toss over anything to make it look chic and fabulous. I wear mine ALL the time. I actually have a few of them to choose from and I just love pairing it with different styles and different looks. I'm big into my fashion series "Work, Weekend, Play" – so I wanted to bring my moto jacket into this series today!
Women's Leather Moto Jacket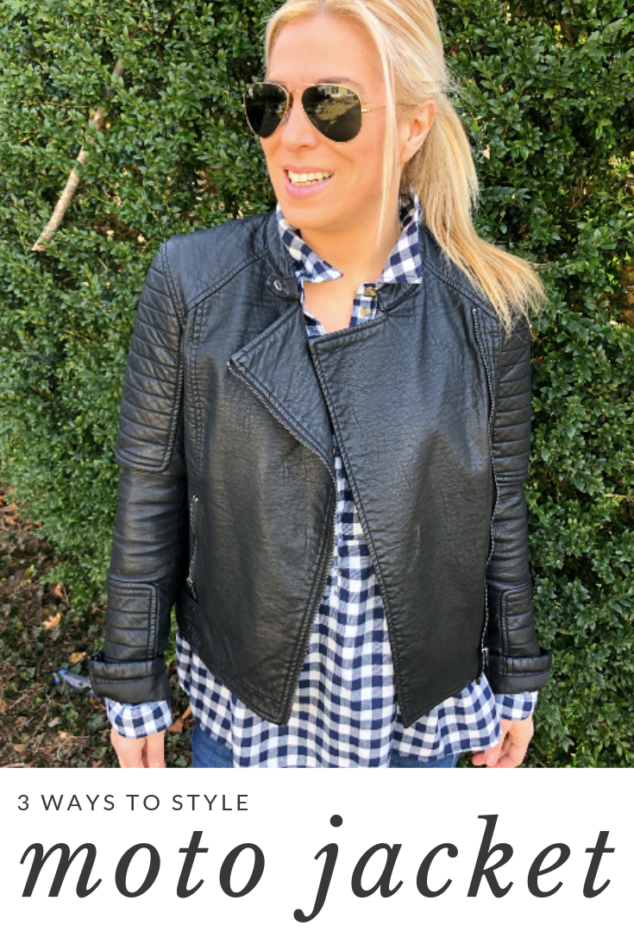 It's all about Work, Weekend, Play! How can you take (1) item and wear it (3) different ways. I'm big into fashion, but I'm more into making sure that you can get longevity out of the fashion items in your closet. Why waste a dime if you can't wear something in a variety of ways? I'm all about trying to make something work and wearing it endlessly!
My leather moto jacket is from Cupcakes and Cashmere. I grabbed this at T.J.Maxx last year for about $40! I really scored big, but they have the most adorable ones online still, too!
First up – let's talk WORK!
Women's Leather Moto Jacket – WORK STYLE
Let me preface this post with this – I am NOT pregnant. I'm dying that these photos make me look pregnant, but I refuse to reshoot them because it's literally just how I'm standing. I'm not a professional model (or pretend that I am one)… so I'm just being mad real here with you. I grabbed this adorable J.Crew Factory Little Black Dress last week online for next to nothing! I love it because it really is the kind of dress I can wear 100 times a year! I love the little flutter and ruffle on the bottom, it just works! I topped it with my women's leather moto jacket because I wanted to stay away from the traditional blazer.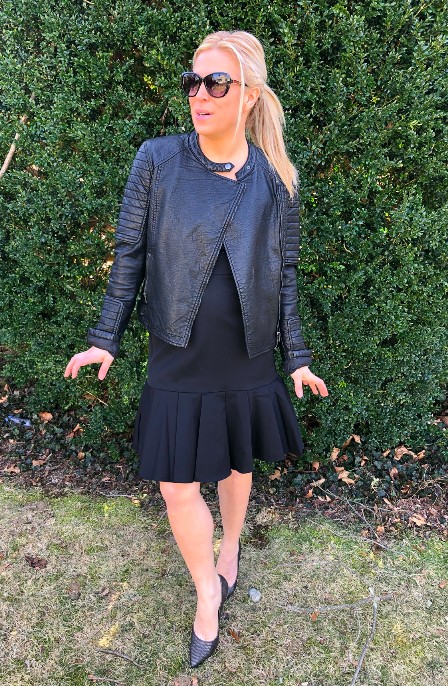 See – scrap the blazer! You don't need to be tailored up to your neck! Have some fun by adding this super cool Women's Leather Moto Jacket!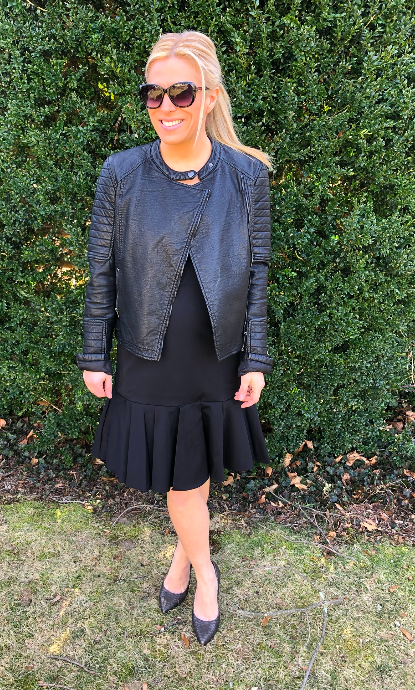 Women's Leather Moto Jacket – PLAY STYLE
There's nothing I love more than heading out on a date with my husband or just bring with some really close girlfriends for dinner! I like to look chic and trendy when I'm out with anyone, so I wanted to show that when you're out to "play" you can easily pull off your Women's Leather Moto Jacket. I grabbed my fave Old Navy ripped jeans and my American Eagle peplum top, along with my suede black booties for a little play! By adding my leather moto jacket right on top, I feel like it just makes this look work! I love how it gives it an edgy and cool look. I might be 40, but I'm not fashion dead! I like to feel pretty and confident when I'm out!!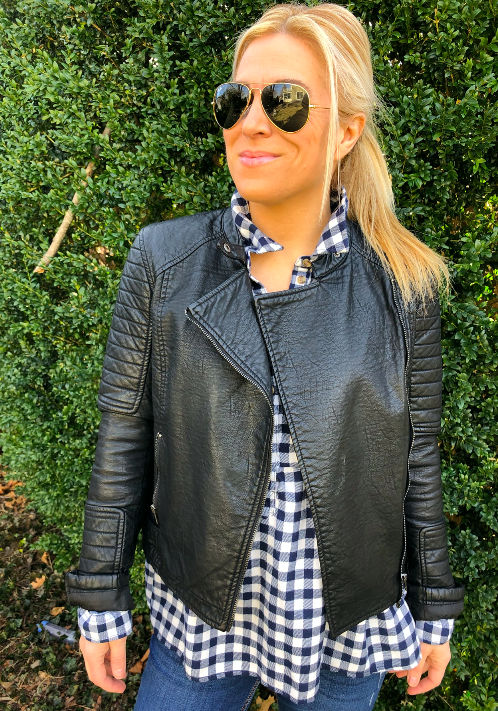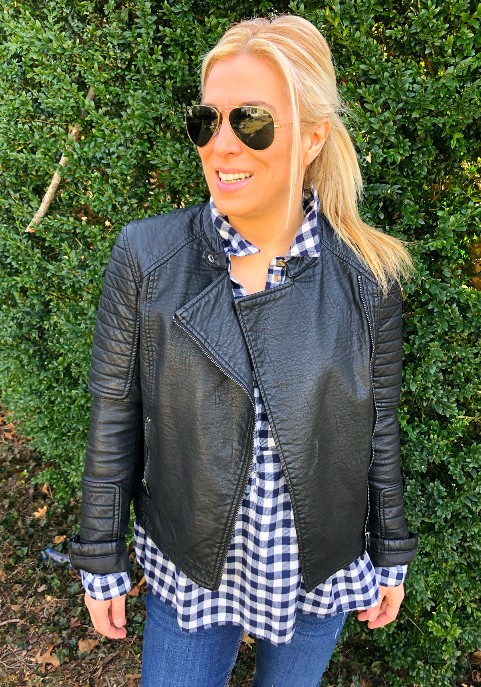 I popped the collar on my blouse because the neckline on my Women's Leather Moto Jacket is a little low, so I wanted to give it a little of a popped look! I also like how the blouse hangs under it, too!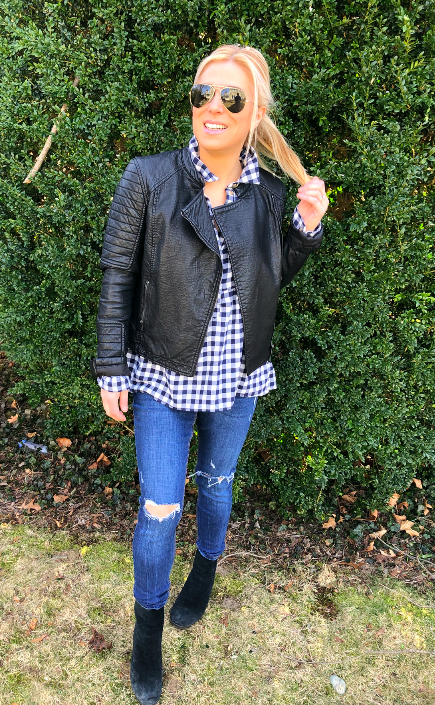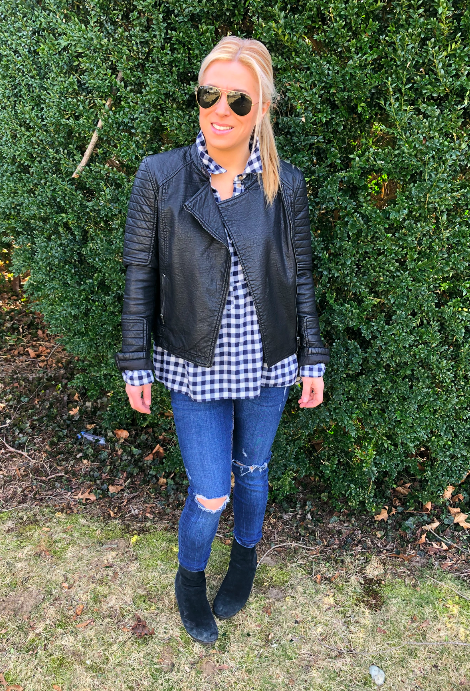 In all honesty – this is the kind of look you could wear to just about anything! You could pull this off for a casual Friday at work… school meeting… soccer game… grocery shopping! You name it, you could use this look!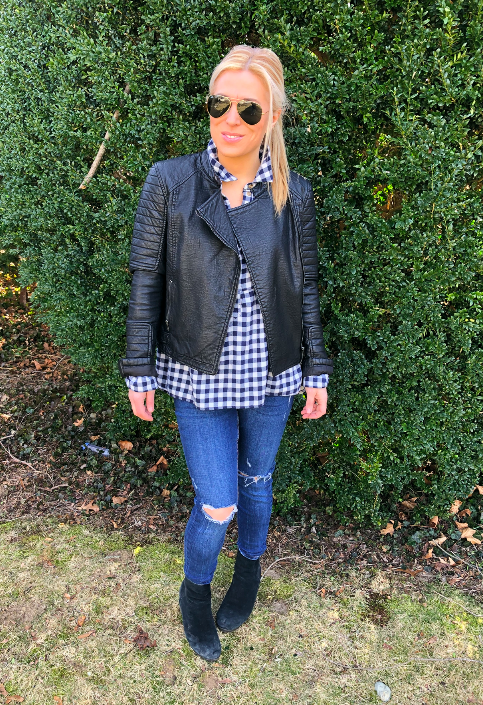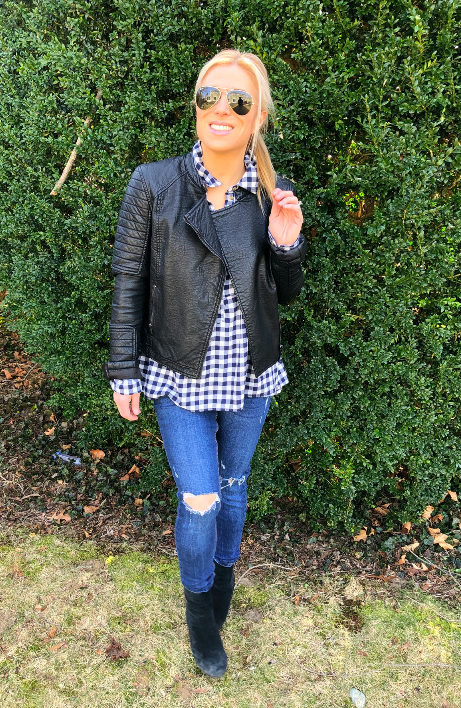 I like wearing a different print underneath, too! I feel like it makes the outfit and the Women's Leather Moto Jacket pop even more!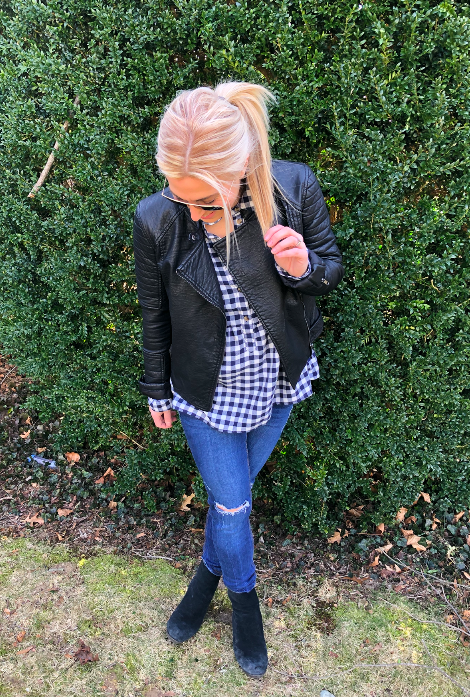 Women's Leather Moto Jacket – WEEKEND STYLE
OK – this is what you will see me in hanging out around town! I love dressing down on the weekends with my kids because we're usually always on the go! Relaxed is the only way to do it! I say this look on a girl a few weeks ago while in Victoria's Secret and I literally copied her to a T! She had on black workout pants, athletic sneakers (these are my FAVORITE NEW Fresh Foam from New Balance) and a heavy sweatshirt! She topped the look with a leather moto jacket and I was in fashion love with it! I came home and mimicked her look the next day! I thought it look relaxed and chic and fresh all at the same time!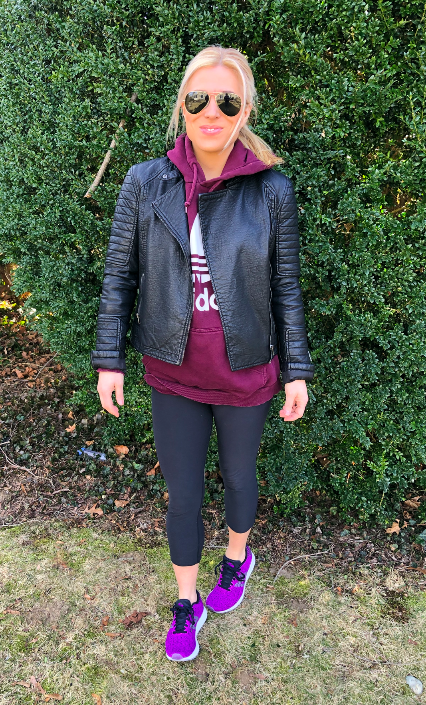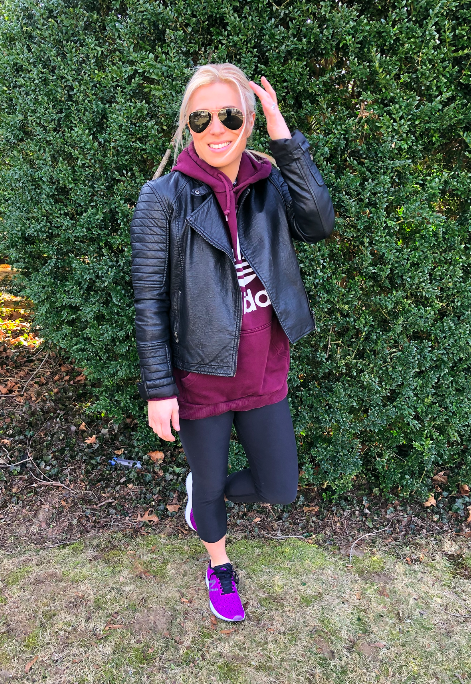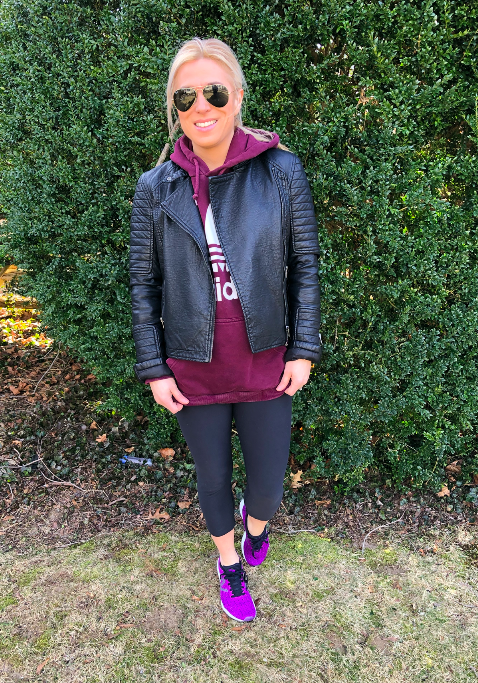 As you can see the leather moto jacket really does just change up the look! It's really easy to pop right on and I love, love, love how the style just pulls together beautifully! Even my husband loves this look – total extra bonus score right there!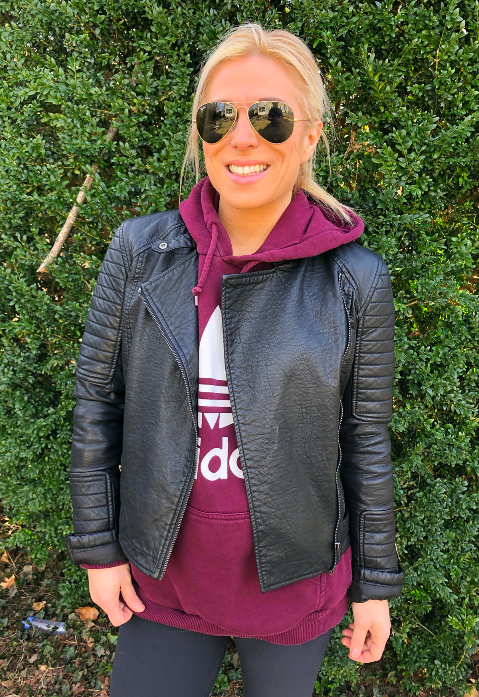 These are my (3) distinct looks for how to style a leather moto jacket – weekend wear, work wear and some playtime fun! I love being able to really showcase the different ways you can make it work for you and your fashion self!
Check out the Work / Weekend / Play SERIES!
WHERE TO FIND LEATHER MOTO JACKETS (Mine is from Cupcakes and Cashmere)